Enbridge's Hidden Agenda to Export Dangerous Tar Sands Through Ontario Exposed
Oct. 24, 2012 02:23PM EST
Energy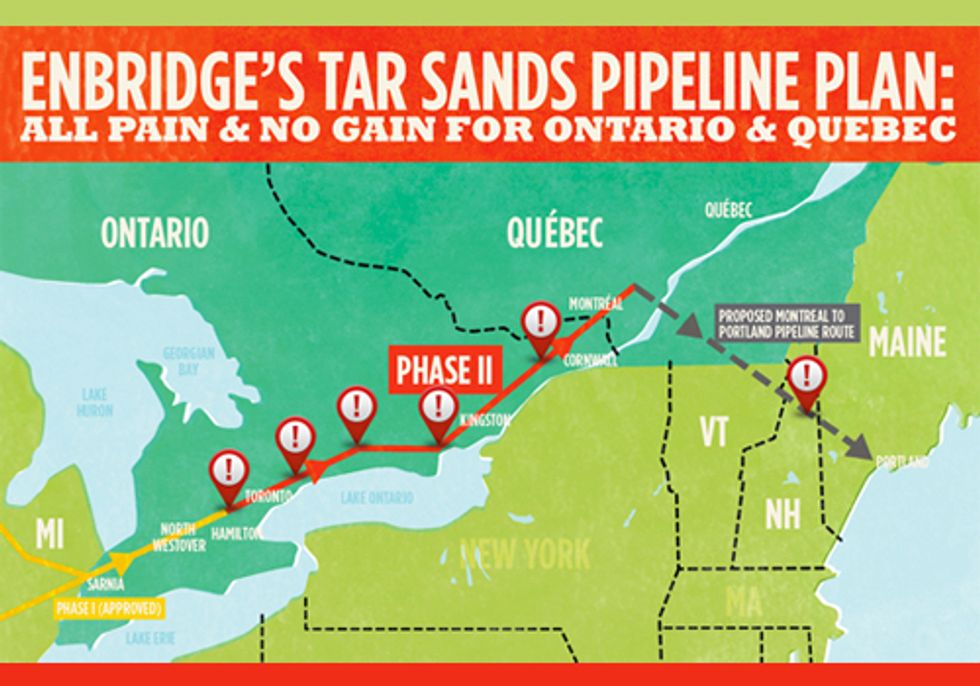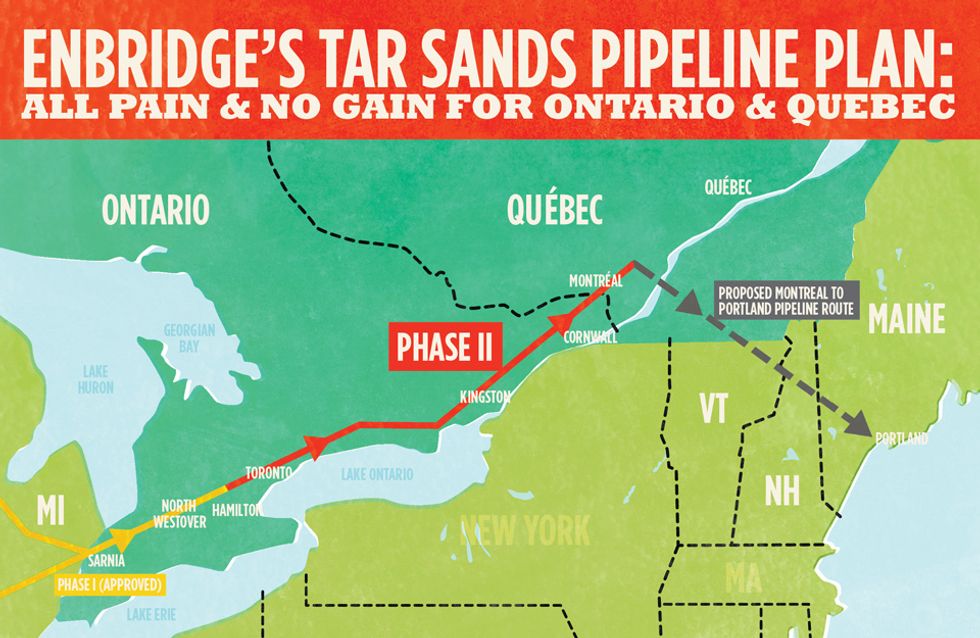 Enbridge's real plan for Line 9 was revealed yesterday in a document filed with the National Energy Board (NEB), which shows Enbridge plans not only to reverse the flow of oil through the pipeline to Montreal, but also to change what the pipeline can carry from normal oil to more dangerous tar sands oil, and dramatically expand the amount of oil carried by the pipeline.
"We've been concerned for months Enbridge is planning to ship more risky tar sands oil across Canada's most populated region, but the company repeatedly denied that was its intention," said Adam Scott of Environmental Defence. "Enbridge's plan could put the drinking water of millions of people at risk of a tar sands oil spill, all in the name of exporting more raw tar sands oil south."
Tar sands oil is more corrosive to pipes and more dangerous to ship through pipelines, putting water and farmland along Line 9's route at greater risk of oil spills. When tar sands oil spills, it is much harder and more costly to clean up than conventional oil, and it causes more damage to human and environmental health. Line 9 crosses major rivers in Ontario like the Rouge, Humber, Grand and Rideau, all of which feed into Lake Ontario, putting the drinking water for millions of people at risk of pollution.
In the spring, public hearings were held in Ontario into "Phase 1" of the Line 9 reversal from Sarnia to Hamilton. At the time, Enbridge repeatedly claimed the oil sent through the reversed pipeline would be light crude oil, or normal oil, and the NEB failed to consider increased risk of oil spills if raw tar sands oil were shipped instead. In the document released yesterday, Enbridge confirmed it will ask permission to change what goes through the pipeline to allow heavy crude, which can include tar sands oil.
Enbridge's plan to increase the volume of oil shipped through Line 9 to 300,000 barrels per day (bpd) suggests this is about exporting raw oil, not domestic refining jobs. The amount Line 9 could carry is more than double the amount currently refined in Montreal each day.
Recently obtained Freedom of Information documents revealed that Canadian diplomatic officials have been lobbying the Maine government on tar sands, likely setting the stage for a reversal of the pipeline from Montreal to Portland, Maine.
"The public has been kept in the dark about the full scale of Enbridge's plans all along. Given the company's track record of oil spills and failure to come clean about its plans, why should the Canadian public trust them now?" added Scott.
Environmental Defence recently discovered that the Line 9 pipeline is dangerously exposed to the elements where it crosses the Rouge River, increasing the risk of a spill for Rouge Park and the nearby community.
Visit EcoWatch's ENERGY and PIPELINE pages for more related news on this topic.
EcoWatch Daily Newsletter
Recent Stories from EcoWatch