Enbridge Seeks Exemption to Fast Track Pipeline Before Opposition Builds
Jul. 08, 2013 04:30PM EST
Energy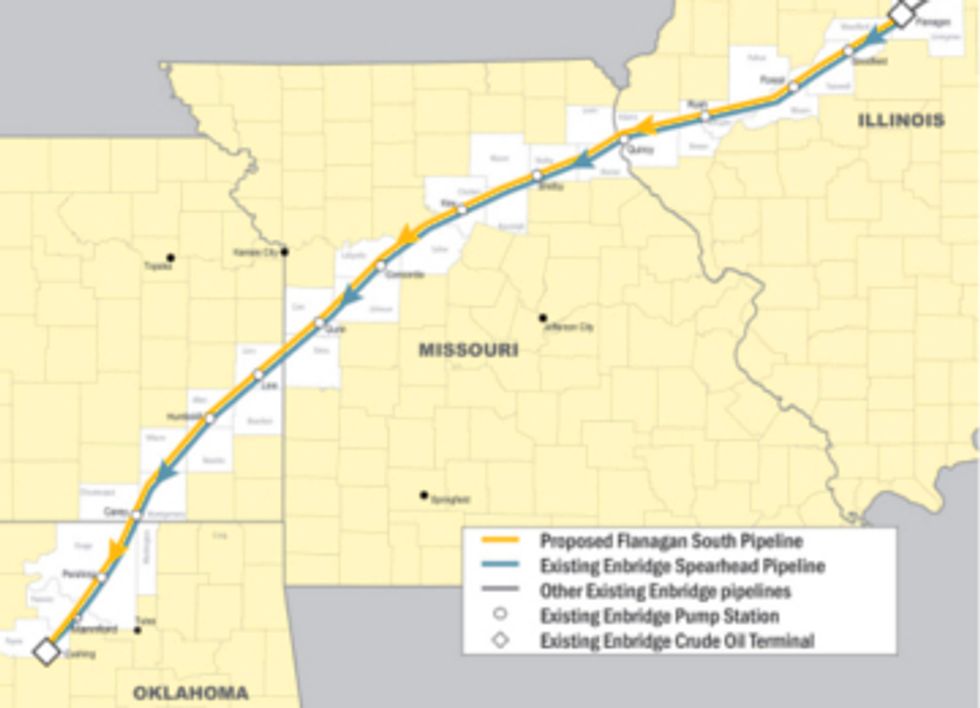 It may sound like a familiar story: a proposed pipeline that will carry hundreds of thousands of barrels of Canadian oil sands crude across the Midwest prairies is embroiled in a permit controversy.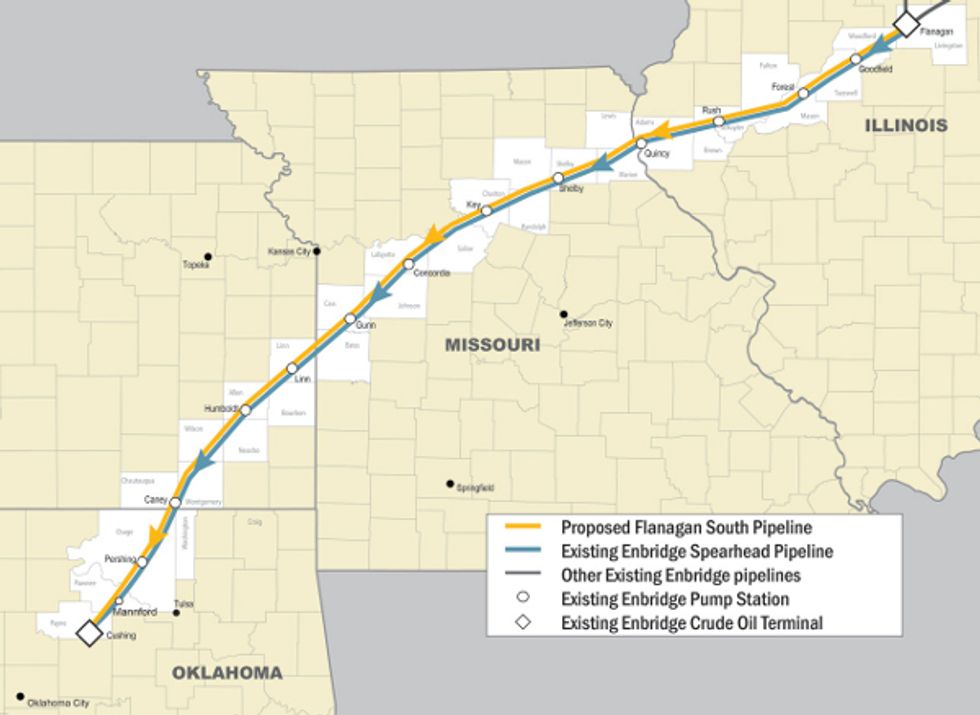 But this is not a story about Keystone XL.
Enbridge Energy's proposed Flanagan South pipeline, like Keystone XL, would connect with existing pipes to ferry crude oil from Alberta—and Montana and North Dakota—to refineries in the Midwest and the Gulf Coast. The 600 miles of 36-inch pipe would run from southwest of Chicago across Illinois, Missouri and southeast Kansas before connecting with the oil hub of Cushing, OK.
Both pipelines would have a hefty capacity: 830,000 barrels a day for Keystone XL; 600,000 barrels a day initially for the Flanagan South, and 783,000 barrels per day once combined with the Spearhead, an existing pipeline that largely runs parallel to the proposed Flanagan route.
Since Flanagan South doesn't cross an international border, it doesn't require State Department approval, the current point of contention for Keystone XL. However, Enbridge is trying to use a regulatory shortcut known as Nationwide Permit 12 that might allow it to get its pipe in the ground before it provokes the sort of opposition now marshaled against Keystone XL.
Nationwide 12
According to its website, Enbridge is aiming to begin construction in August.
Before it can get started, though, Enbridge must get approval from the U.S. Army Corps of Engineers. The Corps regulates projects that require disturbing wetlands, and Flanagan South, which would cross the Missouri and Mississippi rivers along with many smaller waterways, would require digging in wetland areas, then refilling them.
"We're looking at trying to finalize our review, probably close to August," said Lucius Duerksen, a regulatory specialist in the Corps' Kansas City office. Duerksen is coordinating the four Corps offices in Illinois, Missouri and Oklahoma that are involved in reviewing the Flanagan project.
The Corps must determine whether the Flanagan project qualifies for Nationwide Permit 12 status, allowing Enbridge to bypass the usual lengthy permit process and get to work much faster than they otherwise would. Also, under Nationwide 12, no public notification is required.
Nationwide 12 is a popular option with pipeline developers. TransCanada, developer of Keystone XL, attempted to use that process. In response, the Sierra Club filed two lawsuits. A request for a temporary injunction against granting the permit to TransCanada is before a federal appellate judge in Washington DC. A lawsuit alleging that Nationwide 12 is a violation of the Clean Water Act and the National Environmental Policy Act (NEPA) is now before a federal district judge in Oklahoma.
Flanagan is a reprise of the Keystone XL dispute, according to Doug Hayes, one of the Sierra Club staff attorneys who filed the two now-pending lawsuits.
"It's happening all over again," he said. "The Corps is completely refusing to disclose any information about this to the public."
The Sierra Club is a member of RE-AMP, which also publishes Midwest Energy News.
'We'll Do This Without Public Input'
In May, the Sierra Club filed a Freedom of Information Act request with the four Corps offices involved in the Flanagan case. The Club sought "expedited" access to documents related to the application for a Nationwide 12 permit. Expedited access puts a request at the front, rather than the back, of the queue.
Two of the offices have denied the request. The other two haven't yet responded to it, according to the Sierra Club. If the group isn't granted expedited access, Hayes said, documents most likely would not arrive for at least a year. And given that Enbridge intends to have the pipeline operating by mid-2014, any documents received in a year "will be useless information," according to Hayes.
"The Corps seems to be saying, 'We'll do this without public input, and the only way people will get information is with a lawsuit.' "
Nationwide 12 is one of 52 expedited permits, each addressing a general type of project. The nationwide permits are reviewed every five years, at which point the public is alerted and invited to comment. Then, if a given project fits the parameters of one of the permit types, it can gain approval fairly quickly with a minimum of hoops to pass through.
A pipeline project can qualify for Nationwide 12 status if, for example, it disturbs no more than a half-acre of wetland in a "single and complete project." The Corps interprets "single and complete" as the crossing of one stream, rather than an entire pipeline project.
"The way to get around that is to say that each crossing is a separate project," said Hayes, the Sierra Club's lawyer. That interpretation, in his view, "violates the intent of the Clean Water Act."
It means that pipeline developers can go the Nationwide 12 route even if they will cross hundreds or thousands of streams, provided no single one would disturb more than a half-acre of wetland. The proposed Keystone XL route would cross about 2,227 streams; Flanagan South, about 2,000.
The Nationwide 12 permit also is reserved for projects that would cause no more than what the Clean Water Act terms, "minimal individual and cumulative adverse environmental impact." In other words, "insignificant projects," Hayes said.
He wonders whether the Corps will characterize a 600-mile pipeline with 2,000 stream crossings as a small disruption. Like most major pipeline projects, Flanagan South would require a temporary construction right-of-way 85 feet wide, which it would clear and level. After burying the 36-inch wide pipe four feet below ground, a 50-foot-wide right-of-way would be maintained in a treeless state to maintain easy access to the pipeline.
If they can convince the Corps that their project fits within the general parameters of the permit language, pipeline developers can be granted Nationwide 12 status in a relatively quick and easy fashion, rather than the arduous individual permit process with its required public hearing.
'It's This Smokescreen'
Nationwide 12 was used in Louisiana and Arkansas for a 26-mile pipeline that will receive about 20 million gallons a day of treated waste from two chemical companies, one oil refinery and the wastewater treatment plant of El Dorado, AR, and then deposit it into the Ouachita River. It's projected to be completed in October.
Cheryl Slavant, the designated riverkeeper of the Ouachita RiverKeepers, said that like Doug Hayes' experience, information has been hard to come by. She receives regular e-mails from the Corps about projects affecting the Ouachita River.
The Corps, as Slavant sees it, is "allowed to pick and choose who has to follow what law. A little guy who wants to build a house has to have a public hearing. They take a sledgehammer to the little guy, and give a pass to the big guy."
"All we're trying to do is make sure people follow the law," said Greg Raimondo, a Corps spokesman in the Vicksburg office.
Slavant had her opportunity to weigh in on this and other wetland-disrupting projects a few years ago when the Corps was seeking input before renewing the Nationwide Permit 12, said Mike Miller, the pipeline project manager in the Vicksburg office.
"It's this smokescreen," said the Sierra Club's Hayes. "At each point in the process, the Corps points to an analysis they supposedly did at another point. The effect in the end is that they never analyze the environmental impact under the National Environmental Policy Act."
NEPA would require regulators to assess the likelihood and potential impact of an oil spill from a pipeline like the Flanagan. When Hayes studied the 45 pages of Nationwide Permit 12, he found "not a single mention of oil spills."
As a result, he contends that regulators have little insight as to what environmental hazards might result from pipeline projects: whether it's the 26-mile pipeline delivering waste to the Ouachita River, or the 600-mile Flanagan pipeline that next summer may be ferrying crude across the middle of the country.
Visit EcoWatch's FRACKING page for more related news on this topic.
——–

Radiation-contaminated water tanks and damaged reactors at the Fukushima Daiichi nuclear power plant on Feb. 25, 2016 in Okuma, Japan. Christopher Furlong / Getty Images
Japan will release radioactive wastewater from the failed Fukushima nuclear plant into the Pacific Ocean, the government announced on Tuesday.
The water will be treated before release, and the International Atomic Energy Agency said the country's plans were in keeping with international practice, The New York Times reported. But the plan is opposed by the local fishing community, environmental groups and neighboring countries. Within hours of the announcement, protesters had gathered outside government offices in Tokyo and Fukushima, according to NPR.
"The Japanese government has once again failed the people of Fukushima," Greenpeace Japan Climate and Energy Campaigner Kazue Suzuki said in a statement. "The government has taken the wholly unjustified decision to deliberately contaminate the Pacific Ocean with radioactive wastes."
The dilemma of how to dispose of the water is one ten years in the making. In March 2011, an earthquake and tsunami in northeastern Japan killed more than 19,000 people and caused three of six reactors at the Fukushima Daiichi nuclear power plant to melt down, The New York Times explained. This resulted in the biggest nuclear disaster since Chernobyl, and the cleanup efforts persist more than a decade later.
To keep the damaged reactors from melting down, cool water is flushed through them and then filtered to remove all radioactive material except for tritium. Up until now, the wastewater has been stored on site, but the government says the facility will run out of storage room next year. Water builds up at 170 tons per day, and there are now around 1.25 million tons stored in more than 1,000 tanks.
The government now plans to begin releasing the water into the ocean in two years time, according to a decision approved by cabinet ministers Tuesday. The process is expected to take decades.
"On the premise of strict compliance with regulatory standards that have been established, we select oceanic release," the government said in a statement reported by NPR.
Opposition to the move partly involves a lack of trust around what is actually in the water, as NPR reported. Both the government and Tokyo Electric Power Co., which operates the plant, say that the water only contains tritium, which cannot be separated from hydrogen and is only dangerous to humans in large amounts.
"But it turned out that the water contains more radioactive materials. But they didn't disclose that information before," Friends of the Earth Japan campaigner Ayumi Fukakusa told NPR. "That kind of attitude is not honest to people. They are making distrust by themselves."
In February, for example, a rockfish shipment was stopped when a sample caught near Fukushima tested positive for unsafe levels of cesium.
This incident also illustrates why local fishing communities oppose the release. Fish catches are already only 17.5 percent of what they were before the disaster, and the community worries the release of the water will make it impossible for them to sell what they do catch. They also feel the government went against its promises by deciding to release the water.
"They told us that they wouldn't release the water into the sea without the support of fishermen," fishery cooperative leader Kanji Tachiya told national broadcaster NHK, as CBS News reported. "We can't back this move to break that promise and release the water into the sea unilaterally."
Japan's neighbors also questioned the move. China called it "extremely irresponsible," and South Korea asked for a meeting with the Japanese ambassador in Seoul in response.
The U.S. State Department, however, said that it trusted Japan's judgement.
"In this unique and challenging situation, Japan has weighed the options and effects, has been transparent about its decision, and appears to have adopted an approach in accordance with globally accepted nuclear safety standards," the department said in a statement reported by The New York Times.
But environmentalists argue that the government could have found a way to continue storing waste.
"Rather than using the best available technology to minimize radiation hazards by storing and processing the water over the long term, they have opted for the cheapest option, dumping the water into the Pacific Ocean," Greenpeace's Suzuki said.
From Your Site Articles
Related Articles Around the Web
EcoWatch Daily Newsletter
Antarctica's Thwaites Glacier, aka the doomsday glacier, is seen here in 2014. NASA /
Wikimedia Commons
/ CC0
Scientists have maneuvered an underwater robot beneath Antarctica's "doomsday glacier" for the first time, and the resulting data is not reassuring.
Antarctica's Thwaites Glacier is referred to as the doomsday glacier because every year it contributes four percent to global sea level rise and acts as a stopper for the West Antarctic Ice Sheet. If the glacier were to collapse and take the sheet with it, that would raise global sea levels by around 10 feet. Now, a study published in Science Advances on April 9 warns that there is more warm water circling below the glacier than previously believed, making that collapse more likely.
"Our observations show warm water impinging from all sides on pinning points critical to ice-shelf stability, a scenario that may lead to unpinning and retreat," the study authors wrote. Pinning points are areas where the ice connects with the bedrock that provides stability, Earther explained.

The new paper is based on a 2019 expedition where an autonomous submarine named Ran explored the area beneath the glacier in order to measure the strength, salinity, oxygen content and temperature of the ocean currents that move beneath it, the International Thwaites Glacier Collaboration explained in a press release.
"These were the first measurements ever performed beneath the ice front of Thwaites glacier," Anna Wåhlin, lead author and University of Gothenburg oceanography professor, explained in the press release. "Global sea level is affected by how much ice there is on land, and the biggest uncertainty in the forecasts is the future evolution of the West Antarctic Ice Sheet."
This isn't the first instance revealing the presence of warm water beneath the glacier. In January 2020, researchers drilled a bore hole through the glacier and recorded temperature readings of more than two degrees Celsius above freezing, EcoWatch reported at the time.

However, Ran's measurements were taken earlier and allow scientists to understand the warmer water's movement in more detail. Scientists now know that water as warm as 1.05 degrees Celsius is circulating around the glacier's vulnerable pinning points.
"The worry is that this water is coming into direct contact with the underside of the ice shelf at the point where the ice tongue and shallow seafloor meet," Alastair Graham, study co-author and University of Southern Florida associate professor of geological oceanography, told Earther. "This is the last stronghold for Thwaites and once it unpins from the sea bed at its very front, there is nothing else for the ice shelf to hold onto. That warm water is also likely mixing in and around the grounding line, deep into the cavity, and that means the glacier is also being attacked at its feet where it is resting on solid rock."
While this sounds grim, the fact that researchers were able to obtain the data is crucial for understanding and predicting the impacts of the climate crisis.
"The good news is that we are now, for the first time, collecting data that will enable us to model the dynamics of Thwaite's glacier. This data will help us better calculate ice melting in the future. With the help of new technology, we can improve the models and reduce the great uncertainty that now prevails around global sea level variations," Wåhlin said in the press release.
From Your Site Articles
Related Articles Around the Web
Journalists film a protest by the environmental organization BUND at the Datteln coal-fired power plant in North Rhine-Westphalia, Germany on April 23, 2020. Bernd Thissen / picture alliance via Getty Images
By Jessica Corbett
Lead partners of a global consortium of news outlets that aims to improve reporting on the climate emergency released a statement on Monday urging journalists everywhere to treat their coverage of the rapidly heating planet with the same same level of urgency and intensity as they have the COVID-19 pandemic.
Airborne microplastics are turning up in remote regions of the world, including the remote Altai mountains in Siberia. Kirill Kukhmar / TASS / Getty Images
However, a new study from researchers at Cornell and Utah State University highlights the increasing threat of airborne microplastics "spiraling around the globe," The Guardian reported.
Plastic waste breaks down into smaller pieces until it becomes microscopic and gets swept up into the atmosphere, where it rides the jet stream and travels across continents, the Cornell Chronicle reported. Researchers discovered this has led to a global plastic cycle as microplastics permeate the environment, according to The Guardian.
"We found a lot of legacy plastic pollution everywhere we looked; it travels in the atmosphere and it deposits all over the world," Janice Brahney, lead author of the study and Utah State University assistant professor of natural resources, told the Cornell Chronicle. "This plastic is not new from this year. It's from what we've already dumped into the environment over several decades."
In the study, published in the journal Proceedings of the National Academy of Sciences, researchers tested the most likely sources of more than 300 samples of airborne microplastics from 11 sites across the western U.S. To their surprise, the researchers found that almost none of the atmospheric microplastics came from plastic waste in cities and towns. "It just didn't work out that way," Professor Natalie Mahowald from Cornell University, who was part of the research team, told The Guardian.
It turns out that 84 percent of atmospheric microplastics came from roads, 11 percent from oceans and five percent from agricultural soil dust, the scientists wrote.
"We did the modeling to find out the sources, not knowing what the sources might be," Mahowald told the Cornell Chronicle. "It's amazing that this much plastic is in the atmosphere at that level, and unfortunately accumulating in the oceans and on land and just recirculating and moving everywhere, including remote places."
The scientists say the level of plastic pollution is expected to increase, raising "questions on the impact of accumulating plastics in the atmosphere on human health. The inhalation of particles can be irritating to lung tissue and lead to serious diseases," The Guardian reported.
The study coincides with other recent reports by researchers, who confirmed the existence of microplastics in New Zealand and Moscow, where airborne plastics are turning up in remote parts of snowy Siberia.
In the most recent study, scientists also learned that plastic particles were more likely to be blown from fields than roads in Africa and Asia, The Guardian reported.
As plastic production increases every year, the scientists stressed that there remains "large uncertainties in the transport, deposition, and source attribution of microplastics," and wrote that further research should be prioritized.
"What we're seeing right now is the accumulation of mismanaged plastics just going up. Some people think it's going to increase by tenfold [per decade]," Mahowald told The Guardian. "But maybe we could solve this before it becomes a huge problem, if we manage our plastics better, before they accumulate in the environment and swirl around everywhere."
A laborer works at the site of a rare earth metals mine at Nancheng county, Jiangxi province, China on Oct. 7, 2010. Jie Zhao / Corbis via Getty Images
By Michel Penke
More than every second person in the world now has a cellphone, and manufacturers are rolling out bigger, better, slicker models all the time. Many, however, have a bloody history.
Though made in large part of plastic, glass, ceramics, gold and copper, they also contain critical resources. The gallium used for LEDs and the camera flash, the tantalum in capacitors and indium that powers the display were all pulled from the ground — at a price for nature and people.
"Mining raw materials is always problematic, both with regard to human rights and ecology," said Melanie Müller, raw materials expert of the German think tank SWP. "Their production process is pretty toxic."
The gallium and indium in many phones comes from China or South Korea, the tantalum from the Democratic Republic of Congo or Rwanda. All in, such materials comprise less than ten grams of a phone's weight. But these grams finance an international mining industry that causes radioactive earth dumps, poisoned groundwater and Indigenous population displacement.
Environmental Damage: 'Nature Has Been Overexploited'
The problem is that modern technologies don't work without what are known as critical raw materials. Collectively, solar panels, drones, 3D printers and smartphone contain as many as 30 of these different elements sourced from around the globe. A prime example is lithium from Chile, which is essential in the manufacture of batteries for electric vehicles.
"No one, not even within the industry, would deny that mining lithium causes enormous environmental damage," Müller explained, in reference to the artificial lakes companies create when flushing the metal out of underground brine reservoirs. "The process uses vast amounts of water, so you end up with these huge flooded areas where the lithium settles."
This means of extraction results in the destruction and contamination of the natural water system. Unique plants and animals lose access to groundwater and watering holes. There have also been reports of freshwater becoming salinated due to extensive acidic waste water during lithium mining.
But lithium is not the only raw material that causes damage. Securing just one ton of rare earth elements produces 2,000 tons of toxic waste, and has devastated large regions of China, said Günther Hilpert, head of the Asia Research Division of the German think tank SWP.
He says companies there have adopted a process of spraying acid over the mining areas in order to separate the rare earths from other ores, and that mined areas are often abandoned after excavation.
"They are no longer viable for agricultural use," Hilpert said. "Nature has been overexploited."
China is not the only country with low environmental mining standards and poor resource governance. In Madagascar, for example, a thriving illegal gem and metal mining sector has been linked to rainforest depletion and destruction of natural lemur habitats.
States like Madagascar, Rwanda and the DRC score poorly on the Environmental Performance Index that ranks 180 countries for their effort on factors including conservation, air quality, waste management and emissions. Environmentalists are therefore particularly concerned that these countries are mining highly toxic materials like beryllium, tantalum and cobalt.
But it is not only nature that suffers from the extraction of high-demand critical raw materials.
"It is a dirty, toxic, partly radioactive industry," Hilpert said. "China, for example, has never really cared about human rights when it comes to achieving production targets."
Dirty, Toxic, Radioactive: Working in the Mining Sector
One of the most extreme examples is Baotou, a Chinese city in Inner Mongolia, where rare earth mining poisoned surrounding farms and nearby villages, causing thousands of people to leave the area.
In 2012, The Guardian described a toxic lake created in conjunction with rare earth mining as "a murky expanse of water, in which no fish or algae can survive. The shore is coated with a black crust, so thick you can walk on it. Into this huge, 10 sq km tailings pond nearby factories discharge water loaded with chemicals used to process the 17 most sought after minerals in the world."
Local residents reported health issues including aching legs, diabetes, osteoporosis and chest problems, The Guardian wrote.
South Africa has also been held up for turning a blind eye to the health impacts of mining.
"The platinum sector in South Africa has been criticized for performing very poorly on human rights — even within the raw materials sector," Müller said.
In 2012, security forces killed 34 miners who had been protesting poor working conditions and low wages at a mine owned by the British company Lonmin. What became known as the "Marikana massacre" triggered several spontaneous strikes across the country's mining sector.
Müller says miners can still face exposure to acid drainage — a frequent byproduct of platinum mining — that can cause chemical burns and severe lung damage. Though this can be prevented by a careful waste system.
Some progress was made in 2016 when the South African government announced plans to make mining companies pay $800 million (€679 million) for recycling acid mine water. But they didn't all comply. In 2020, activists sued Australian-owned mining company Mintails and the government to cover the cost of environmental cleanup.
Another massive issue around mining is water consumption. Since the extraction of critical raw materials is very water intensive, drought prone countries such as South Africa, have witnessed an increase in conflicts over supply.

For years, industry, government and the South African public debated – without a clear agreement – whether companies should get privileged access to water and how much the population may suffer from shortages.
Mining in Brazil: Replacing Nature, People, Land Rights
Beyond the direct health and environmental impact of mining toxic substances, quarrying critical raw materials destroys livelihoods, as developments in Brazil demonstrate.
"Brazil is the major worldwide niobium producer and reserves in [the state of] Minas Gerais would last more than 200 years [at the current rate of demand]," said Juliana Siqueira-Gay, environmental engineer and Ph.D. student at the University of São Paulo.
While the overall number of niobium mining requests is stagnating, the share of claims for Indigenous land has skyrocketed from 3 to 36 percent within one year. If granted, 23 percent of the Amazon forest and the homeland of 222 Indigenous groups could fall victim to deforestation in the name of mining, a study by Siqueira-Gay finds.
In early 2020, Brazilian President Jair Bolsonaro signed a bill which would allow corporations to develop areas populated by Indigenous communities in the future. The law has not yet entered into force, but "this policy could have long-lasting negative effects on Brazil's socio-biodiversity," said Siqueira-Gay.
One example are the niobium reserves in Seis Lagos, in Brazil's northeast, which could be quarried to build electrolytic capacitors for smartphones.
"They overlap the Balaio Indigenous land and it would cause major impacts in Indigenous communities by clearing forests responsible for providing food, raw materials and regulating the local climate," Siqueira-Gay explained.
She says scientific good practice guidelines offer a blueprint for sustainable mining that adheres to human rights and protects forests. Quarries in South America — and especially Brazil — funded by multilaterial banks like the International Finance Corporation of the World Bank Group have to follow these guidelines, Siqueira-Gay said.
They force companies to develop sustainable water supply, minimize acid exposure and re-vegetate mined surfaces. "First, negative impacts must be avoided, then minimized and at last compensated — not the other way around."
Reposted with permission from DW.
From Your Site Articles
Related Articles Around the Web