This website uses cookies to ensure you get the best experience while browsing it. By clicking 'Got It' you're accepting these terms.
Enbridge Seeks Exemption to Fast Track Pipeline Before Opposition Builds
Jul. 08, 2013 03:30PM EST
Energy
It may sound like a familiar story: a proposed pipeline that will carry hundreds of thousands of barrels of Canadian oil sands crude across the Midwest prairies is embroiled in a permit controversy.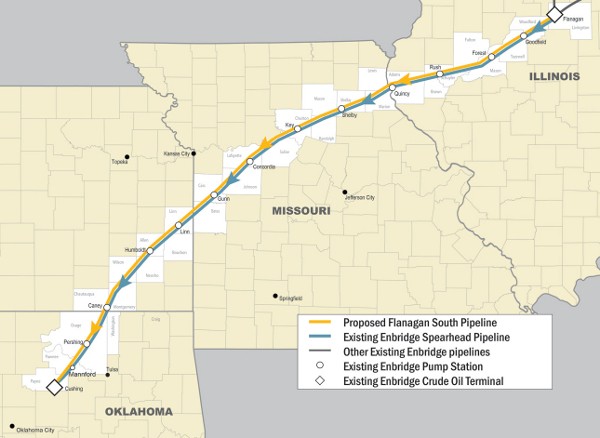 But this is not a story about Keystone XL.
Enbridge Energy's proposed Flanagan South pipeline, like Keystone XL, would connect with existing pipes to ferry crude oil from Alberta—and Montana and North Dakota—to refineries in the Midwest and the Gulf Coast. The 600 miles of 36-inch pipe would run from southwest of Chicago across Illinois, Missouri and southeast Kansas before connecting with the oil hub of Cushing, OK.
Both pipelines would have a hefty capacity: 830,000 barrels a day for Keystone XL; 600,000 barrels a day initially for the Flanagan South, and 783,000 barrels per day once combined with the Spearhead, an existing pipeline that largely runs parallel to the proposed Flanagan route.
Since Flanagan South doesn't cross an international border, it doesn't require State Department approval, the current point of contention for Keystone XL. However, Enbridge is trying to use a regulatory shortcut known as Nationwide Permit 12 that might allow it to get its pipe in the ground before it provokes the sort of opposition now marshaled against Keystone XL.
Nationwide 12
According to its website, Enbridge is aiming to begin construction in August.
Before it can get started, though, Enbridge must get approval from the U.S. Army Corps of Engineers. The Corps regulates projects that require disturbing wetlands, and Flanagan South, which would cross the Missouri and Mississippi rivers along with many smaller waterways, would require digging in wetland areas, then refilling them.
"We're looking at trying to finalize our review, probably close to August," said Lucius Duerksen, a regulatory specialist in the Corps' Kansas City office. Duerksen is coordinating the four Corps offices in Illinois, Missouri and Oklahoma that are involved in reviewing the Flanagan project.
The Corps must determine whether the Flanagan project qualifies for Nationwide Permit 12 status, allowing Enbridge to bypass the usual lengthy permit process and get to work much faster than they otherwise would. Also, under Nationwide 12, no public notification is required.
Nationwide 12 is a popular option with pipeline developers. TransCanada, developer of Keystone XL, attempted to use that process. In response, the Sierra Club filed two lawsuits. A request for a temporary injunction against granting the permit to TransCanada is before a federal appellate judge in Washington DC. A lawsuit alleging that Nationwide 12 is a violation of the Clean Water Act and the National Environmental Policy Act (NEPA) is now before a federal district judge in Oklahoma.
Flanagan is a reprise of the Keystone XL dispute, according to Doug Hayes, one of the Sierra Club staff attorneys who filed the two now-pending lawsuits.
"It's happening all over again," he said. "The Corps is completely refusing to disclose any information about this to the public."
The Sierra Club is a member of RE-AMP, which also publishes Midwest Energy News.
'We'll Do This Without Public Input'
In May, the Sierra Club filed a Freedom of Information Act request with the four Corps offices involved in the Flanagan case. The Club sought "expedited" access to documents related to the application for a Nationwide 12 permit. Expedited access puts a request at the front, rather than the back, of the queue.
Two of the offices have denied the request. The other two haven't yet responded to it, according to the Sierra Club. If the group isn't granted expedited access, Hayes said, documents most likely would not arrive for at least a year. And given that Enbridge intends to have the pipeline operating by mid-2014, any documents received in a year "will be useless information," according to Hayes.
"The Corps seems to be saying, 'We'll do this without public input, and the only way people will get information is with a lawsuit.' "
Nationwide 12 is one of 52 expedited permits, each addressing a general type of project. The nationwide permits are reviewed every five years, at which point the public is alerted and invited to comment. Then, if a given project fits the parameters of one of the permit types, it can gain approval fairly quickly with a minimum of hoops to pass through.
A pipeline project can qualify for Nationwide 12 status if, for example, it disturbs no more than a half-acre of wetland in a "single and complete project." The Corps interprets "single and complete" as the crossing of one stream, rather than an entire pipeline project.
"The way to get around that is to say that each crossing is a separate project," said Hayes, the Sierra Club's lawyer. That interpretation, in his view, "violates the intent of the Clean Water Act."
It means that pipeline developers can go the Nationwide 12 route even if they will cross hundreds or thousands of streams, provided no single one would disturb more than a half-acre of wetland. The proposed Keystone XL route would cross about 2,227 streams; Flanagan South, about 2,000.
The Nationwide 12 permit also is reserved for projects that would cause no more than what the Clean Water Act terms, "minimal individual and cumulative adverse environmental impact." In other words, "insignificant projects," Hayes said.
He wonders whether the Corps will characterize a 600-mile pipeline with 2,000 stream crossings as a small disruption. Like most major pipeline projects, Flanagan South would require a temporary construction right-of-way 85 feet wide, which it would clear and level. After burying the 36-inch wide pipe four feet below ground, a 50-foot-wide right-of-way would be maintained in a treeless state to maintain easy access to the pipeline.
If they can convince the Corps that their project fits within the general parameters of the permit language, pipeline developers can be granted Nationwide 12 status in a relatively quick and easy fashion, rather than the arduous individual permit process with its required public hearing.
'It's This Smokescreen'
Nationwide 12 was used in Louisiana and Arkansas for a 26-mile pipeline that will receive about 20 million gallons a day of treated waste from two chemical companies, one oil refinery and the wastewater treatment plant of El Dorado, AR, and then deposit it into the Ouachita River. It's projected to be completed in October.
Cheryl Slavant, the designated riverkeeper of the Ouachita RiverKeepers, said that like Doug Hayes' experience, information has been hard to come by. She receives regular e-mails from the Corps about projects affecting the Ouachita River.
The Corps, as Slavant sees it, is "allowed to pick and choose who has to follow what law. A little guy who wants to build a house has to have a public hearing. They take a sledgehammer to the little guy, and give a pass to the big guy."
"All we're trying to do is make sure people follow the law," said Greg Raimondo, a Corps spokesman in the Vicksburg office.
Slavant had her opportunity to weigh in on this and other wetland-disrupting projects a few years ago when the Corps was seeking input before renewing the Nationwide Permit 12, said Mike Miller, the pipeline project manager in the Vicksburg office.
"It's this smokescreen," said the Sierra Club's Hayes. "At each point in the process, the Corps points to an analysis they supposedly did at another point. The effect in the end is that they never analyze the environmental impact under the National Environmental Policy Act."
NEPA would require regulators to assess the likelihood and potential impact of an oil spill from a pipeline like the Flanagan. When Hayes studied the 45 pages of Nationwide Permit 12, he found "not a single mention of oil spills."
As a result, he contends that regulators have little insight as to what environmental hazards might result from pipeline projects: whether it's the 26-mile pipeline delivering waste to the Ouachita River, or the 600-mile Flanagan pipeline that next summer may be ferrying crude across the middle of the country.
Visit EcoWatch's FRACKING page for more related news on this topic.
——–

EcoWatch Daily Newsletter
Ocean Heroes Bootcamp
By Coda Christopherson (11) and Lea Eiders (15)
Growing up in a plastic-free home, I was sheltered from the plastic waste crisis. I (Coda) went to a very progressive school that had vegan lunch items, farm animals and ran on solar power. My mom produces zero-waste events and my dad is a sailor, so we're very passionate about the ocean. When I was nine years old, we moved back to Manhattan Beach, California and I started 3rd grade in a public school. This was the first time I really understood that plastic-free living is not the norm; single-use plastics were everywhere, especially in the cafeteria. Once I recognized this problem, I knew I had to make a difference.
A major California avocado producer issued a voluntary recall of the popular fruit over concerns they could be contaminated with Listeria monocytogenes, USA Today reported.
Henry Avocado issued the recall Saturday after a routine government inspection at its California packing facility turned up positive test results for the bacteria on "environmental samples," the company said in a statement. No illnesses have been reported.
Acting Secretary David Bernhardt visited Watson Hopper Inc., a manufacturer of rigs and oil drilling equipment in Hobbs, New Mexico on Feb. 6, 2019.
Tami A. Heilemann / DOI
Oil executives gathered for a conference laughed about their "unprecedented" access to Trump administration officials, according to a recording obtained by Reveal from the Center for Investigative Reporting.
In the recording, taken at a June 2017 meeting of the Independent Petroleum Association of America (IPAA) at a Ritz-Carlton in Southern California, members expressed excitement about one official in particular: David Bernhardt, who had been nominated that April to be deputy secretary at the Department of Interior (DOI). Bernhardt would be confirmed the following month.
"We know him very well, and we have direct access to him, have conversations with him about issues ranging from federal land access to endangered species, to a lot of issues," IPAA political director Dan Naatz said in the recording.
Pixabay
Saw palmetto (Serenoa repens) is a type of palm native to the southeastern U.S.
Jeff K / Flickr / CC BY-NC 2.0
By Elizabeth Henderson
The certified organic label has helped save many generational farms and enabled people like me, who do not come from agricultural backgrounds, to become successful farmers. Organic farming has brought environmental benefits—healthier soils, freedom from toxic pesticides and herbicides—to 6.5 million acres in the U.S.
PhotoAlto / Laurence Mouton / Getty Images
By Ana Reisdorf, MS, RD
You've probably heard the buzz around collagen supplements and your skin by now. But is the hype really that promising? After all, research has pointed to both the benefits and downsides of collagen supplements — and for many beauty-conscious folk, collagen isn't vegan.
Pixabay
By Marlene Cimons
Neil Pederson's introduction to tree rings came from a "sweet and kindly" college instructor, who nevertheless was "one of the most boring professors I'd ever experienced," Pederson said. "I swore tree rings off then and there." But they kept coming back to haunt him.
Aerial view of the explosion site of a chemical factory on March 22 in Yancheng, Jiangsu Province of China. Caixin Media / VCG / Getty Images)
At least 47 people have died in an explosion at a plant in Yancheng, China Thursday run by a chemical company with a history of environmental violations, Sky News reported.