Elon Musk's SolarCity to Begin Mass-Producing 'World's Most Efficient' Solar Panel
Oct. 05, 2015 12:25PM EST
Business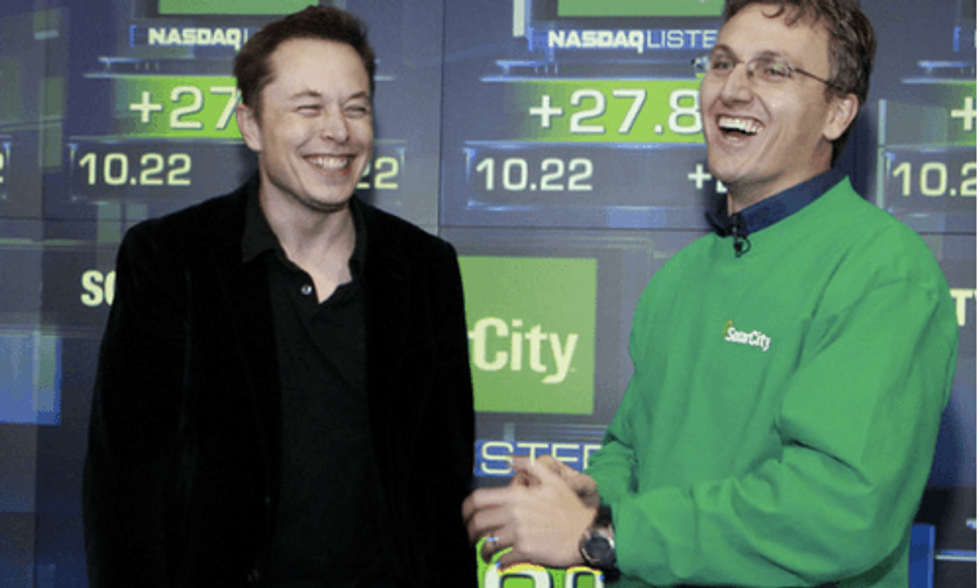 SolarCity and its chairman Elon Musk have introduced "the world's most efficient rooftop solar panel" at a conference in New York City on Friday.
"This is the most advanced solar panel in the world," Musk said.
Elon Musk is very excited about efficiency advancements in his company's solar panels. http://t.co/HaqOsefeEs http://t.co/dhTwbpoJ4M

— Jim Roberts (@Jim Roberts)1443811558.0
According to a SolarCity press release, these new panels acheive a peak efficiency of 22.04 percent, a determination based on third-party testing provider, Renewable Energy Test Center.
The panels claim to produce 30-40 percent more juice and "generates more power per square foot and harvests more energy over a year than any other rooftop panel in production," SolarCity said.
SolarCity expects to build about 9,000 to 10,000 units a day at its own major, 1 GW factory in Buffalo, New York once the the facility reaches full capacity in 2017.
At 22.04 percent, yes, the efficiency purportedly achieved by SolarCity's new panels is very impressive. However, with photovoltaic technology growing in leaps and bounds, the actual world's most efficient solar cell has about double the efficiency of SolarCity's new panels at 44.7 percent. Additionally, most solar panels available on the market today already have roughly similar efficiencies between 15 and 20 percent, according to CleanTechnica.
What SolarCity has done, actually, is create the biggest bang for your buck. "Essentially," as The Verge explained, SolarCity is providing "the most efficiency for the lowest cost."
The new panels, a hybrid of traditional crystalline panels and silicon, will be the same size as the industry standard but will be cheaper through a proprietary process "that significantly reduces the manufacturing cost relative to other high-efficiency technologies," the company said.
As Reuters pointed out, SolarCity—known as the top solar installer in the U.S.—entered the solar panel manufacturing game after it acquired Silevo, a solar panel manufacturer, last year. Thus, by making their own panels system costs are expected to drop by 15 to 20 cents a watt, chief executive Lyndon Rive told Reuters.
Musk also explained to Mashable when SolarCity looked at their third-party panel manufacturers, "They were happy to make a standard efficiency 15 panel panel year-over-year that looked not that great. So we thought we had to make our own panels."
SolarCity's co-founder and chief technology officer Peter Rive (Musk's cousin) told Mashable the new panels are cheap to produce and will continue to make money for the company even if government tax breaks for panel installation expire.
"That's been the singular focus of the company … to continue to get the costs down," Rive said.
"I'm really excited about this … it's the best solar panel on the planet and it empowers us from 2017 and beyond to control our own destiny," he added.
SolarCity says it expects to install the new panels on rooftops and carports for homes, businesses, schools and other organizations, as well as utility-scale solar fields and other large-scale, ground level installations.
YOU MIGHT ALSO LIKE
'Fracking Village' Gets Green Light to Go 100% Solar
How to Finance the Global Transition from Fossil Fuels to Renewable Energy
Iceland: World's Largest Clean Energy Producer Per Capita
EcoWatch Daily Newsletter