Elon Musk vs. Warren Buffett: The Billionaire Battle Over the Future of Solar Power
Jan. 30, 2016 11:30AM EST
Business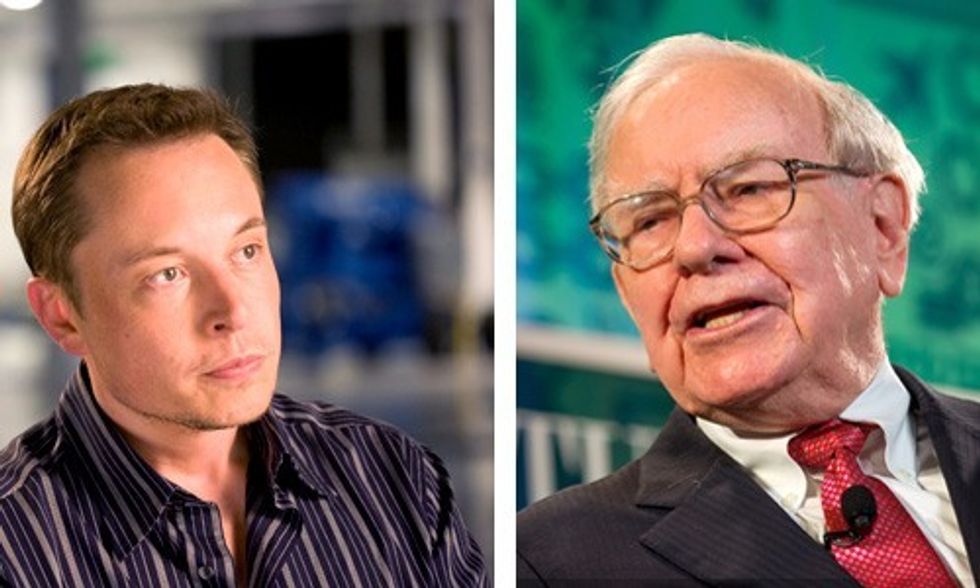 The future of solar power has become a "battle of billionaires," Bloomberg Business reports. It's a battle that has pitted Elon Musk's SolarCity against Nevada public utility NV Energy, part of Warren Buffett's business empire.
SolarCity, co-founded by Musk a decade ago, has become America's largest manufacturer and leaser of solar panels, operating in nearly two dozen states and generating about $350 million in annual revenue.
SolarCity has done particularly well in Nevada since entering the market there in 2014. Thanks to economic incentives and Nevada's solar abundance, SolarCity quickly became the state's leading installer of rooftop panels as Nevada amassed the highest percentage of solar energy of any state in the union.
Musk vs. Buffett: Billionaires battle over Nevada #solar rules, via @bw https://t.co/DFK6t00XCM https://t.co/YWT5NgqLxN

— Marc Gunther (@Marc Gunther)1454043847.0
But SolarCity and solar energy in general are threatened in Nevada. Part of SolarCity's success hinges on the fact that the state (like more than 40 other U.S. states) requires utilities to buy excess energy generated by homeowners' solar panels. This is known as net metering, which allows homeowners to offset the cost of their panels by selling any electricity they don't use back to the grid. But NV Energy is fighting these policies tooth and nail.
According to Bloomberg Business:
First, NV Energy deployed its lobbyists to limit the total amount of energy homeowners and small businesses were allowed to generate to 3 percent of peak capacity for all utilities. Then it expertly argued its case before regulators, who rewrote the rules for net-metering customers.
In December it scored a major win: Nevada's Public Utilities Commission imposed rules that not only make it more expensive to go solar, but also make it uneconomical for those who've already signed up. Similar regulatory skirmishes are playing out in dozens of other states, but no other has gone as far as Nevada to undermine homeowners who've already installed solar arrays.
Clearly Nevada residents are not at all pleased and solar energy advocates worry that Nevada's policies could have a ripple effect in other states. However, clean energy scored two victories last week. On Monday, NV Energy announced a "grandfathering proposal," allowing the old rate structure for existing customers. And on Thursday, California's Public Utilities Commission narrowly voted to uphold net metering. Still, battles continue across the country as utilities continue to wage war against distributed generation solar.
For more on Nevada's solar fight, watch this video from Bloomberg Business:
YOU MIGHT ALSO LIKE
Solar Energy Fight Heats Up in Nevada
The Rooftop Solar Wars Continue
Air France airplanes parked at the Charles de Gaulle/Roissy airport on March 24, 2020. SAMSON / AFP via Getty Images
France moved one step closer this weekend to banning short-haul flights in an attempt to fight the climate crisis.
A bill prohibiting regional flights that could be replaced with an existing train journey of less than two and a half hours passed the country's National Assembly late on Saturday, as Reuters reported.
"We know that aviation is a contributor of carbon dioxide and that because of climate change we must reduce emissions," Industry Minister Agnes Pannier-Runacher told Europe 1 radio, according to Reuters.
The measure now has to pass the French Senate, then return to the lower house for a final vote. It would end regional flights between Paris's Orly airport and cities like Nantes and Bordeaux, The Guardian explained. It would not, however, impact connecting flights through Paris's Charles de Gaulle/Roissy airport.
The bill is part of a legislative package which aims to reduce France's emissions by 40 percent of 1990 levels by 2030, Reuters reported. It is a watered-down version of a proposal suggested by France's Citizens' Convention on Climate, BBC News explained. This group, which was formed by President Emmanuel Macron in 2019 and included 150 ordinary citizens, had put forward a ban on flights that could be replaced with an existing train journey of under four hours.
However, the journey length was lowered after protests from KLM-Air France, which had suffered heavy losses due to the coronavirus pandemic, and regions who were concerned about being left out of national transit networks, as The Guardian explained.
"We have chosen two and a half hours because four hours risks isolating landlocked territories including the greater Massif Central, which would be iniquitous," transport minister Jean-Baptiste Djebbari said, as The Guardian reported.
However, some environmental and consumer groups objected to the changes. The organization UFC-Que Choisir compared plane routes with equivalent train journeys of under four hours and found that the plane trips emitted an average of 77 times more carbon dioxide per passenger than the train journeys. At the same time, the train alternatives were cheaper and only as much as 40 minutes longer.
"[T]he government's choice actually aims to empty the measure of its substance," the group said, according to The Guardian.
The new measure also opens the French government to charges of hypocrisy. It bailed out Air France-KLM to the tune of a seven-billion euro loan last year, though it did require the airline to drop some domestic routes as a condition. Then, days before the measure passed, it more than doubled its stake in the airline, BBC News reported. However, Pannier-Runacher insisted to Europe 1 radio that it was possible to balance fighting climate change and supporting struggling businesses.
"Equally, we must support our companies and not let them fall by the wayside," she said, as Reuters reported.
This is not the first time that climate measures and aviation bailouts have coincided in the wake of the coronavirus pandemic. Austrian Airlines replaced its Vienna-Salzburg flight with additional train service after it received government money dependent on cutting greenhouse gas emissions, BBC News reported.
The number of flights worldwide declined almost 42 percent in 2020 when compared with 2019. It is expected that global aviation may not fully recover until 2024, according to Reuters.
EcoWatch Daily Newsletter
A woman looks at a dead gray whale on the beach in the SF Bay area on May 23, 2019; a new spate of gray whales have been turning up dead near San Francisco. Justin Sullivan / Getty Images
Four gray whales have washed up dead near San Francisco within nine days, and at least one cause of death has been attributed to a ship strike.
A small tourist town has borne the brunt of a cyclone which swept across the West Australian coast.
ABC News (Australia) / YouTube
A general view shows the remains of a dam along a river in Tapovan, India, on February 10, 2021, following a flash flood caused by a glacier break on February 7. Sajjad Hussain / AFP / Getty Images
By Rishika Pardikar
Search operations are still underway to find those declared missing following the Uttarakhand disaster on 7 February 2021.
This story originally appeared in Eos and is republished here as part of Covering Climate Now, a global journalism collaboration strengthening coverage of the climate story.
Indigenous youth, organizers with the Dakota Access and Line 3 pipeline fights and climate activists march to the White House to protest against pipeline projects on April 1, 2021. Bill Clark / CQ-Roll Call, Inc via Getty Images
By Jessica Corbett
Indigenous leaders and climate campaigners on Friday blasted President Joe Biden's refusal to shut down the Dakota Access Pipeline during a court-ordered environmental review, which critics framed as a betrayal of his campaign promises to improve tribal relations and transition the country to clean energy.