This website uses cookies to ensure you get the best experience while browsing it. By clicking 'Got It' you're accepting these terms.
Elon Musk Unveils Tesla Model 3: Accelerating Sustainable Transport Is 'Important for the Future of the World'
Apr. 01, 2016 09:55AM EST
Elon Musk has unveiled the hotly anticipated Model 3—aka Tesla's mainstream electric vehicle—at his Los Angeles design studio last night.
The Tesla chief immediately jumped into the big questions during the big reveal: Why does Tesla exist? Why is Tesla doing this? Why are we making electric cars? Why does it matter?
"Because it's very important to accelerate the transition to sustainable transport," Musk said, eliciting cheers from the crowd.
"This is really important for the future of the world."
He then presented slides on the record levels of carbon concentration, increased global temperatures as well as the 53,000 deaths a year in the U.S. that can be attributed to auto emissions.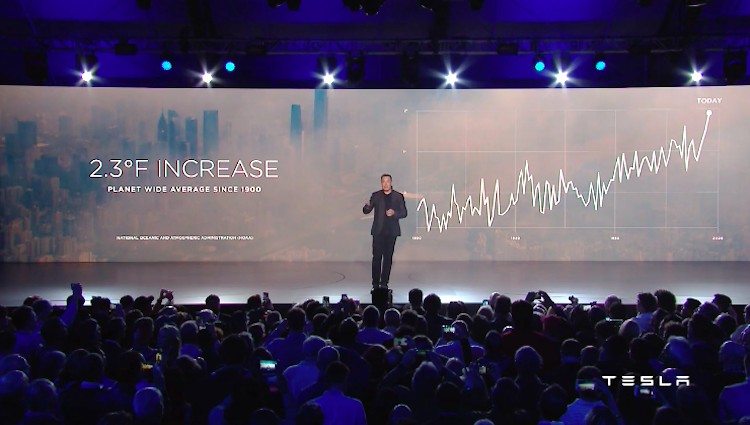 "It's very important to accelerate the transition to sustainable transport," said Musk.
Musk said Tesla's newest EV will be priced at $35,000 (about half the cost of its predecessors), and delivery to customers will start at the end of 2017.
As for the car's specs, it has a 5-star safety rating, 215 miles of range, goes 0-60 in less than 6 seconds and all versions will have Tesla's famed autopilot and supercharging capabilities as standard features.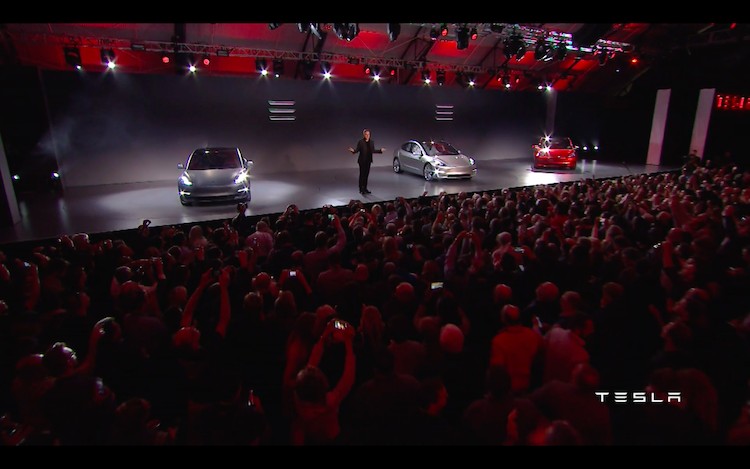 Supercharging, Musk said, "gives you freedom of travel," boasting that Tesla's vast, global network of high-speed charging stations means "you will be able to go virtually anywhere."
The cars come in black, silver and red and fits five adults "comfortably" since a lack of a combustion engine moves seating closer to the front of the car, and an all-glass roof allows for more headroom, Musk said. It can even hold a 7-foot surfboard in the car's interior.
By any estimation, it looks like the Model 3 is already a success. Fans stood in long lines in front of Tesla stores around the world ready to put down their deposits to reserve the car.
Tesla aims to produce 500,000 of these vehicles a year with the aid of its massive lithium-ion Gigafactory in Nevada, which will cut costs of the car's battery pack and enable a lower-priced car.
Musk said during his presentation last night there were already 115,000 pre-orders in the first 24 hours, meaning their goal of selling 500,000 cars a year is already a fifth of the way there. He also plans to increase Tesla's storefront locations, service stations and supercharging stations to prepare for new Tesla's new drivers.
"Almost no matter where you are ... you'd be able to buy a car and get it serviced," he envisioned.
The multi-hyphenate entrepreneur, who is also involved in space exploration and solar power industries, has said many times before that the electric vehicle market plays an important role in a sustainable energy future. At the North American International Auto Show in Detroit last year, Musk said the trend is toward electric: "The price of gasoline at any one time is irrelevant," and electric vehicles are the future.
After the unveiling, Musk teased on Twitter that this was only the beginning: "Thanks for tuning in to the Model 3 unveil Part 1! Part 2 is super next level, but that's for later …"
Watch the full presentation here:
YOU MIGHT ALSO LIKE
Bloomberg: The Electric Car Revolution Is Here to Stay
Koch Brothers Plotting Multimillion Dollar War on Electric Vehicles
Elon Musk Shows His Love for Dramatic Tesla Video With Powerful Message
Tesla Model S for Kids Gets Next Generation Pumped About EVs
AleksandarNakic / Getty Images
By Kate Murphy
No matter the time of year, there's always a point in each season when my skin decides to cause me issues. While these skin issues can vary, I find the most common issues to be dryness, acne and redness.

David Woodfall / The Image Bank / Getty Images
By Sam Nickerson
The U.S. Environmental Protection Agency (EPA) in April 2018 proposed relaxing standards related to how it assesses the effects of exposure to low levels of toxic chemicals on public health.
Now, correspondence obtained by the LA Times revealed just how deeply involved industry lobbyists and a controversial, industry-funded toxicologist were in drafting the federal agency's proposal to scrap its current, protective approach to regulating toxin exposure.
Steve Irwin poses with a three foot long alligator at the San Francisco Zoo on June 26, 2002. Justin Sullivan / Getty Images
February 22 is the birthday of conservationist and beloved TV personality "Crocodile Hunter" Steve Irwin, who would have been 57 years old today.
Irwin's life was tragically cut short when the barb from a stingray went through his chest while he was filming in 2006, but his legacy of loving and protecting wildlife lives on, most recently in a Google Doodle today honoring his birthday.
Left: Youtube / Screenshot, Right: alle12 / Getty Images
By Dan Nosowitz
That video showed the extrusion of a bubblegum-pink substance oozing into a coiled pile, something between Play-Doh, sausage and soft-serve strawberry ice cream. Branded "pink slime"—the name came from an email sent by a USDA microbiologist in 2002—this stuff was actually beef, destined for supermarkets and fast-food burgers.
Climate activist Greta Thunberg addresses the European Commission on Feb. 21 in Brussels, Belgium. Sylvain Lefevre / Getty Images
By Julia Conley
Sixteen-year-old climate action leader Greta Thunberg stood alongside European Commission President Jean-Claude Juncker Thursday in Brussels as he indicated—after weeks of climate strikes around the world inspired by the Swedish teenager—that the European Union has heard the demands of young people and pledged a quarter of $1 trillion budget over the next seven years to address the crisis of a rapidly heating planet.

In the financial period beginning in 2021, Juncker said, the EU will devote a quarter of its budget to solving the crisis.