This website uses cookies to ensure you get the best experience while browsing it. By clicking 'Got It' you're accepting these terms.


The best of EcoWatch, right in your inbox. Sign up for our email newsletter!
Elon Musk: Tesla Battery Will 'Fundamentally Change the Way the World Uses Energy'
May. 01, 2015 09:19AM EST
Renewable energy sources like solar and wind have always been limited by their intermittency, but now Tesla CEO Elon Musk has unveiled a suite of batteries to store electricity for homes, businesses and utilities, saying a greener grid furthers the company's mission to provide pollution-free energy, reports Bloomberg.
For the future to be good, we need electric transport, solar power and (of course) ... pic.twitter.com/8mwVWukQDL

— Elon Musk (@elonmusk) April 29, 2015
"We've obviously been working on building a world-class battery, a super-efficient and affordable way to store energy," Khobi Brooklyn, a Tesla spokeswoman, told The New York Times. "It's just that we've been putting that battery in cars most of the time."
The Tesla P85D just won the 2015 AAA Best Green Car Award, marking the second year in a row an all electric Tesla Model S has taken top honors from AAA. But Tesla has been disrupting more than just the auto industry for a while now. In February, Musk announced a partnership with SolarCity to use rooftop solar panels fitted with Tesla's batteries to allow customers to keep that energy in-house. It's all part of Tesla's plans to revolutionize the energy grid.
"Our goal here is to fundamentally change the way the world uses energy," Musk told Bloomberg. "We're talking at the terawatt scale. The goal is complete transformation of the entire energy infrastructure of the world."
Tesla's home battery, the "Powerwall," is a rechargeable lithium-ion battery that mounts on the wall and comes in 7 kilowatt-hour or 10 kilowatt-hour versions, the company said in a statement. A larger product, the "Powerpack," can store more energy to power businesses. Deliveries will begin in late summer at prices starting at $3,000.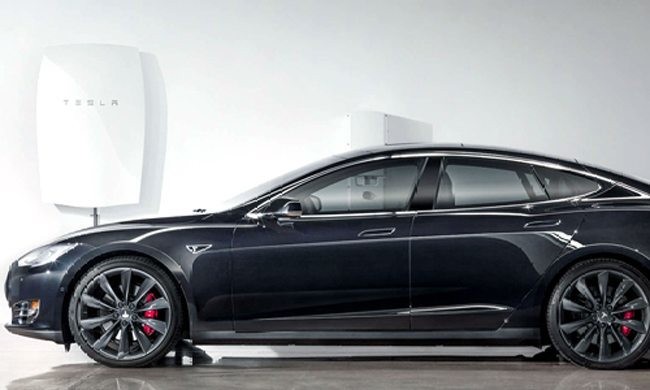 Battery storage for renewable power is finally coming of age. "The battery is designed to enable so-called 'load-shifting' by charging during times when electricity prices are lower due to less demand, and discharging when demand and prices are high," says Bloomberg. It can also store solar power generated during daytime and release it at night, and serve as backup during outages, Tesla says.
Tesla hopes that its $5 billion "gigafactory" under construction near Reno, Nevada will drive down the cost of the batteries for both cars and energy-storage products through mass production. More such factories will be needed to help make the transition from fossil fuels to renewable energy, Musk said.
Tesla's batteries are already being used by companies such as Wal-Mart, Cargill and Jackson Family Wines, and Green Mountain Power plans to sell its home batteries to customers. Tesla has also partnered with Southern California Edison to install batteries for utilities, while Amazon and Target will pilot the batteries.
YOU MIGHT ALSO LIKE
Elon Musk Says Tesla Has Conquered 'Range Anxiety'
Net Zero Carbon Emissions: An Idea Whose Time Has Come
EcoWatch Daily Newsletter
A metal fence marked with the U.S. Border Patrol sign prevents people to get close to the barbed/concertina wire covering the U.S./Mexico border fence, in Nogales, Arizona, on Feb. 9. ARIANA DREHSLER / AFP / Getty Images
D'Bone Collector Museum head Darrell Blatchley shows plastic found inside the stomach of a Cuvier's beaked whale in the Philippines this weekend. - / AFP / Getty Images
Yet another whale has died after ingesting plastic bags. A young male Cuvier's beaked whale was found washed up in Mabini, Compostela Valley in the Philippines Friday, CNN reported. When scientists from the D' Bone Collector Museum in Davao investigated the dead whale, they found it had died of "dehydration and starvation" after swallowing plastic bags―40 kilograms (approximately 88 pounds) worth of them!
Pexels
By Jeff Turrentine
"Be careful what you wish for; you just might get it." This is something that everybody has to learn at some point. Lately, the lesson has hit home for a group of American automakers.
Art direction: Georgie Johnson. Illustrations: Freya Morgan
By Joe Sandler Clarke
"Don't expect us to continue buying European products," Malaysia's former plantations minister Mah Siew Keong told reporters in January last year. His comments came just after he had accused the EU of "practising a form of crop apartheid."

A few months later Luhut Pandjaitan, an Indonesian government minister close to President Joko 'Jokowi' Widodo, warned his country would retaliate if it was "cornered" by the EU.
Torres and his parents walk along the Rio Grande. Luis Torres / Earthjustice
By Luis Torres
For some people who live along the U.S.-Mexico border, President Trump's attempt to declare a national emergency and extend the border wall is worse than a wasteful, unconstitutional stunt. It's an attack on their way of life that threatens to desecrate their loved ones' graves.
Flooding caused by last week's bomb cyclone storm has broken records in 17 places across the state of Nebraska, CNN reported Sunday. Around nine million people in 14 states along the Mississippi and Missouri Rivers were under a flood watch, CNN meteorologist Karen Maginnis said.
A car destroyed by Cyclone Idai in Beira, Mozambique. ADRIEN BARBIER / AFP / Getty Images
At least 150 people have died in a cyclone that devastated parts of Mozambique, Zimbabwe and Malawi over the weekend, The Associated Press reported Sunday. Cyclone Idai has affected more than 1.5 million people since it hit Mozambique's port city of Beira late Thursday, then traveled west to Zimbabwe and Malawi. Hundreds are still missing and tens of thousands are without access to roads or telephones.
"I think this is the biggest natural disaster Mozambique has ever faced. Everything is destroyed. Our priority now is to save human lives," Mozambique's Environment Minister Celso Correia said, as AFP reported.