This website uses cookies to ensure you get the best experience while browsing it. By clicking 'Got It' you're accepting these terms.


The best of EcoWatch, right in your inbox. Sign up for our email newsletter!
Elon Musk Gives Indian Prime Minister Tour of Tesla Factory, Talks Battery Storage and Solar
Sep. 29, 2015 11:17AM EST
Business
Indian Prime Minister Narendra Modi recently met Tesla Motors CEO Elon Musk to discuss the implications of the Tesla Powerwall—the company's battery energy storage technology—for India.
It was a simple official visit and as per media reports, there was no talk of Tesla setting up manufacturing facilities in India. The company, however, stated earlier that India could be "one of the potential markets in Asia to have a local assembly plant" if the government moves towards a pro-electric vehicle policy.
If and when that happens, the real opportunity for India here is to leapfrog the conventional grid and move straight to distributed generation (and consumption) of power, something similar to what happened in the telecom sector where most of the country got connected via mobile telephony, without having to go through the landline model.
But the important thing which the visit did achieve was to start discussions on Powerwall usage in India. As a proof, you can look at the comments from those discussing the (un)economics of the battery and spammers trying to drive some traffic to their sites. Even at its launch, the Powerwall was discussed in the niche forums in India quite extensively.
At both times, the battery got dismissed outright as "a too costly to consider" solution.
I have one small issue (and one big rant) with these (as I call them) pseudo-economic-experts. The problem with their discourse is that, to use an idiom, they miss the forest for the trees. They have no idea of the future and certainly no understanding of how technology pricing works.
At least for us in the cleantech space, this has become a regular (boring) cycle now.
Think of any new development—and all these people want to talk about is its cost right now. If the current costs are high (which, unsurprisingly, they are), the product/technology gets labeled as just another toy for rich green people.
Don't get me wrong—the cost is a very important issue. But it is insane to dismiss the whole idea as forever infeasible.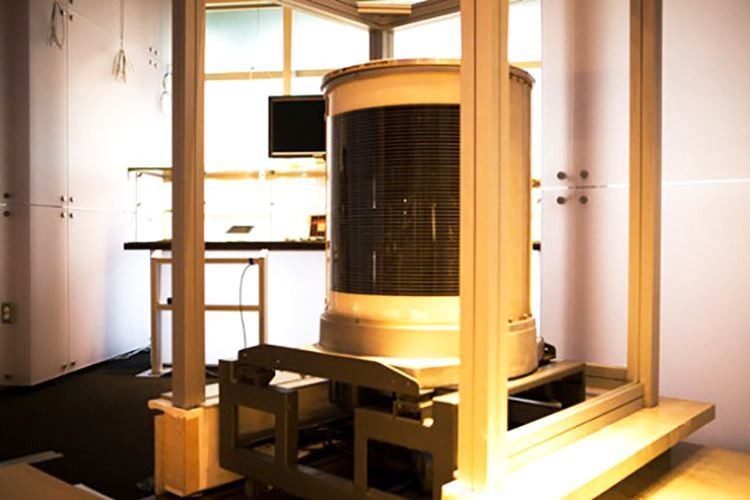 World's first hard drive with a mighty 5 MB storage. Photo credit: Wired
My personal favorite anecdotes to counter these "experts" is to talk about cost disruptions in (quite obviously) solar PV and memory storage devices. Another famous quote to pull off at times like these is what Thomas Watson (CEO of IBM) allegedly said in 1943—"I think there is a world market for maybe five computers."
I believe that to reject a technology by focusing only on its current cost rather than its future potential creates an artificial barrier for the technology. This is especially harmful for the cleantech industry, as it pushes the affordability tipping point by reducing the number of early adopters (what I mean).
If it were left to me, I would classify this group in the same basket as oil companies trying to hide climate change data or their friends soft selling cigarettes by asking the wrong questions.
Similar is the case with rooftop solar. Even though it generally makes complete economic sense to go solar, ordinary folks get biased due to the confusion created by passing remarks from pseudo experts. This reduces the number of people who want to make the jump, starves the market, banks hesitate from financing such projects/products and from there onwards you can figure out the vicious cycle yourself.
Now, let's get to the non-rant part of this post.
Why exactly are batteries (this post only talks about lithium-ion batteries) so expensive? The answer for the major part is simply due to the scale of deployment.
While solar PV has reached 200 GW of installed capacity, batteries are still taking baby steps at best. The graph below compares the rate of deployment with falling costs for the two technologies (source).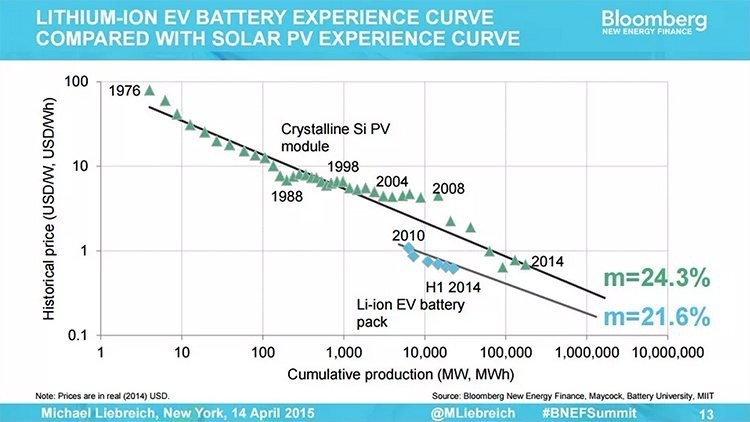 Experience curve of PV vs. that of Li-ion batteries. Photo credit: BNEF
In spite of this, a product like the Tesla Powerwall, though expensive at its current cost for the U.S. (save probably Hawaii), would be welcomed with open arms in Germany and Australia. Check this Wikipedia page to figure out other probable countries. The former two are important, though, because of their solar installations.
As this excellent (though a little dated) presentation from Roland Berger explains, the main costs are associated with the high cost of raw materials and materials processing as well as the costs of the cell, packaging and manufacturing. Raw materials and processing alone account for around 40 percent of cell costs and have huge potential for cost reduction.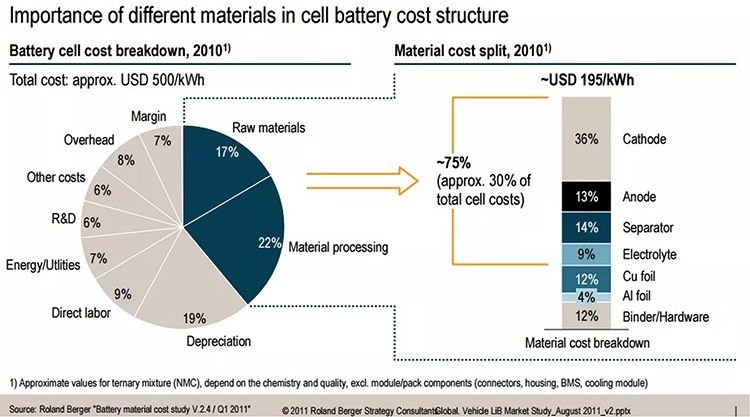 Quite interestingly, the presentation published back in 2011 expected Li-ion battery prices to fall to $250/kWh by 2020. An article on MIT Entrepreneur Review, during the same period, holds a similar viewpoint:
"With the right battery chemistry, it's feasible for costs to go as low as $300/kWh for lithium iron phosphate or lithium manganese oxide cells. That's in the best of scenarios."
But if you have been paying attention, we are already there. These industrial-scale batteries will cost $250 per kWh of storage capacity—five years ahead of the schedule.
An article published in Nature backs up these claims (paywall). Björn Nykvist & Måns Nilsson (Stockholm Environment Institute) show that industry-wide cost estimates declined by approximately 14 percent annually between 2007 and 2014, from above $1,000 per kWh to around $410 per kWh. The cost of battery packs used by market-leading battery electric vehicle (EV) manufacturers is even lower, at $300 per kWh.
Winfried Hoffman at the consulting firm ASE agrees. In an interview with PV Magazine last year, he put it quite bluntly that battery storage costs will fall considerably faster that most experts are currently projecting. The interview post goes on to say:
"If the battery has 80 percent usable capacity and holds 5,000 cycles, the cost of stored electricity in this evaluation will fall from €0.20/kWh ($0.25) in 2012 to €0.05/kWh ($0.06) in 2030. Should the solar power generation costs fall to €0.05-€0.10/kWh, electricity costs that are more than competitive with the cost of household electricity will result."
The cost of solar PV is expected to fall about 40 percent over the next two years. With battery costs plummeting similarly, the next round of solar rush is set to witness a wave of a lifetime. And countries like India are waiting impatiently.
How can you help? Don't be myopic. Don't push the future further away.
YOU MIGHT ALSO LIKE
Tesla CEO Elon Musk: VW Scandal Shows Time's Up for Fossil Fuels
7 Signs Renewable Energy Is Here to Stay
10 Greenest Cities in the World
EcoWatch Daily Newsletter
Aerial view of the explosion site of a chemical factory on March 22 in Yancheng, Jiangsu Province of China. Caixin Media / VCG / Getty Images)
At least 47 people have died in an explosion at a plant in Yancheng, China Thursday run by a chemical company with a history of environmental violations, Sky News reported.
A fishmonger in Elmina, a fishing port in the Central Region of Ghana. Environmental Justice Foundation
By Daisy Brickhill
Each morning, men living in fishing communities along Ghana's coastline push off in search of the day's catch. But when the boats come back to shore, it's the women who take over.
Pexels
By Sam Nickerson
Links between excess sugar in your diet and disease have been well-documented, but new research by Harvard's School of Public Health might make you even more wary of that next soda: it could increase your risk of an early death.
The study, published this week in the American Heart Association's journal Circulation, found that drinking one or two sugar-sweetened beverages (SSBs) each day — like sodas or sports drinks — increases risk of an early death by 14 percent.
Tyson Foods is recalling approximately 69,093 pounds of frozen chicken strips because they may have been contaminated with pieces of metal, the U.S. Department of Agriculture (USDA) Food Safety and Inspection Service (FSIS) announced Thursday.
The affected products were fully-cooked "Buffalo Style" and "Crispy" chicken strips with a "use by" date of Nov. 30, 2019 and an establishment number of "P-7221" on the back of the package.
"FSIS is concerned that some product may be in consumers' freezers," the recall notice said. "Consumers who have purchased these products are urged not to consume them. These products should be thrown away or returned to the place of purchase."
Environmental exposure to pesticides, both before birth and during the first year of life, has been linked to an increased risk of developing autism spectrum disorder, according to the largest epidemiological study to date on the connection.
The study, published Wednesday in BMJ, found that pregnant women who lived within 2,000 meters (approximately 1.2 miles) of a highly-sprayed agricultural area in California had children who were 10 to 16 percent more likely to develop autism and 30 percent more likely to develop severe autism that impacted their intellectual ability. If the children were exposed to pesticides during their first year of life, the risk they would develop autism went up to 50 percent.
The ExxonMobil Torrance Refinery in Torrance, California.
waltarrrr / Flickr
ExxonMobil could be the second company after Monsanto to lose lobbying access to members of European Parliament after it failed to turn up to a hearing Thursday into whether or not the oil giant knowingly spread false information about climate change.
The call to ban the company was submitted by Green Member of European Parliament (MEP) Molly Scott Cato and should be decided in a vote in late April, The Guardian reported.
Bernie Sanders holds his first presidential campaign rally at Brooklyn College on March 02 in Brooklyn, New York. Kena Betancur / VIEWpress / Corbis. Getty Images
Bernie Sanders has become the first contender in the crowded 2020 Democratic presidential primary field to pledge to offset all of the greenhouse gas emissions released by campaign travel, The Huffington Post reported Thursday.