This website uses cookies to ensure you get the best experience while browsing it. By clicking 'Got It' you're accepting these terms.
Elephants Being Slaughtered for Ivory Faster Than They Can Reproduce
Mar. 03, 2016 11:27AM EST
Animals
Despite a decrease in poaching, the overall African elephant population has fallen for the fourth year in a row, according to new data released by the United Nations to mark World Wildlife Day.
Years of unprecedented elephant poaching for ivory have threatened the survival of these gentle giants. As The Guardian reported, elephant poaching peaked in 2011, when it accounted for about 75 percent of all deaths.
The new UN report said that 60 percent of elephant deaths are at the hands of poachers, meaning that the overall elephant pollution is likely falling. At least 20,000 elephants were killed for ivory in 2015.
Roughly 100 African elephants are killed each day, according to 96 Elephants, a campaign ran by the Wildlife Conservation Society. Poachers seeking ivory, meat and body parts, have decimated elephant populations, leaving only 400,000 remaining compared to 1,200,000 in the 1980s.
"African elephant populations continue to face an immediate threat to their survival, especially in central and west Africa where high levels of poaching are still evident," secretary general of the Convention on the Trade in Endangered Species (CITES), John Scanlon, told The Guardian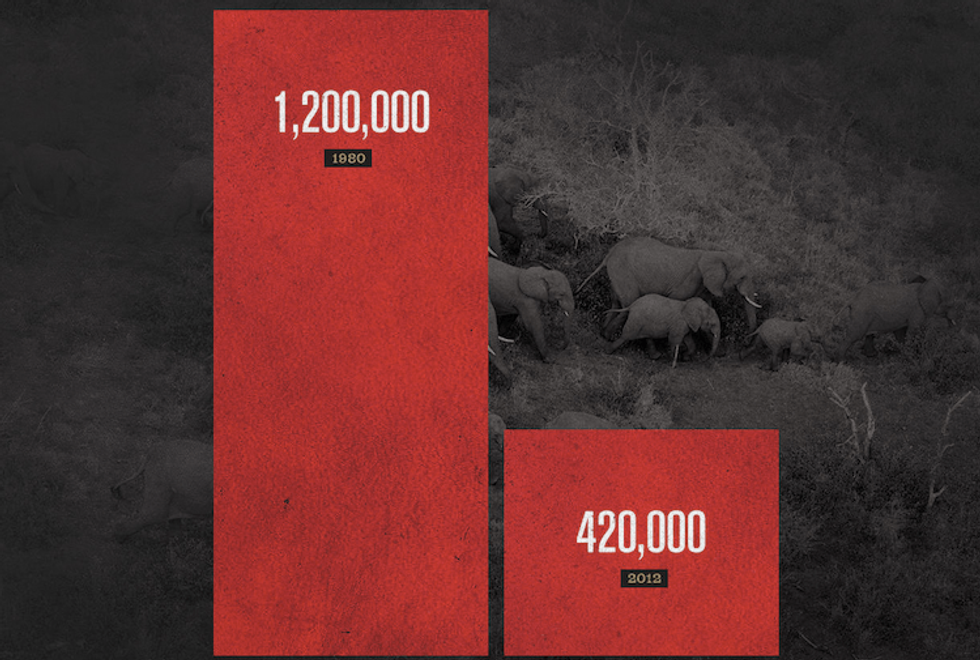 The 1980s—the heyday for the illegal ivory trade—was disastrous for elephants.  Photo credit: 96 Elephants
According to The Guardian, the new UN report revealed a "troubling" upward trend in elephant poaching in the Kruger national park in South Africa for the first time in 2015. The proportion of elephants killed by poaching jumped from 17 percent in 2014 to 41 percent last year.
"While [this] is still below the sustainability threshold, the substantial increase in what had been one of the most secure sites for elephants in Africa is a cause for concern," the report said.
In the video below, Scanlon points out that the current wildlife crisis is not a natural phenomenon. Unlike a drought, a flood or a cyclone, wildlife trafficking is a direct result of people's actions.
"People are the cause of this serious threat to wildlife and people must be the solution, which also requires us to tackle human greed, ignorance and indifference," he says.
The third annual World Wildlife Day is being commemorated globally today to raise awareness around the world's wild animals and plants under the theme "The Future of Wildlife is in our Hands." African and Asian elephants will be a main focus of the day under the theme "The future of elephants is in our hands."
"Time is running out to end the poaching crisis that threatens some of the world's most iconic species," UN Secretary-General Ban Ki-moon said in a statement. "To combat poaching and trafficking of protected species it is essential to address both the demand and supply of illegal wildlife products through agreed goals and targets and international instruments, such as [CITES]."
"For too long, the world has been witness to heartbreaking images of the mass slaughter of elephants for their tusks," he continued. "According to CITES, the killing of African elephants and trafficking in their ivory remain alarmingly high. Asian elephants are also subject to growing levels of poaching."
Scanlon told The Guardian that there are some encouraging signs—parts of East Africa, like Kenya, has seen a decline in the poaching trend.
"This is showing us all what is possible through a sustained and collective effort with strong political support," he said. "The momentum generated over the past few years is translating into deeper and stronger efforts to fight these crimes on the front line, where it is needed most—from the rangers in the field, to police and customs at ports and across illicit markets."
In particular, Kenya has introduced a series of recent measures to stop the illegal practice, including electronic tracking devices for rhinos and elephants, The BBC reported. USAID observed that the nation's Wildlife Conservation and Management Bill and Policy of 2013 has effectively increased penalties for poaching and trafficking, and in the first test of the new law, a Chinese man caught with a 7.5 pound elephant tusk was sentenced to pay a 20 million Kenya shilling fine ($230,000) or spend seven years in prison.
Kenya will also host a major global summit on illegal poaching and wildlife trafficking this April. As part of the two-day event, the country will set fire to its massive stockpile of ivory that has an estimated black market price of $270 million.
"Kenya plans to use the occasion to torch as many as 120 tonnes of ivory, the largest stockpile of ivory ever destroyed by any country, as proof of our commitment to zero tolerance for poaching and illegal ivory trade," Presidential Spokesman Manoah Esipisu told reporters.
YOU MIGHT ALSO LIKE
12 Breathtaking Photos of Yellowstone National Park
Scientists Find Answer to Why Thousands of Sea Lion Pups Are Starving
World's First and Only Sunglasses Made From 100% Reclaimed Fishing Nets
David Suzuki: We Must Save the Honeybees and Here's How You Can Help
EcoWatch Daily Newsletter
A new study shows that half of all Arctic warming and corresponding sea-loss during the late 20th century was caused by ozone-depleting substances. Here, icebergs discharged from Greenland's Jakobshavn Glacier. Kevin Krajick / Earth Institute /
EurekAlert!
The world awakened to the hole in the ozone layer in 1985, which scientists attributed it to ozone depleting substances. Two years later, in Montreal, the world agreed to ban the halogen compounds causing the massive hole over Antarctica. Research now shows that those chemicals didn't just cut a hole in the ozone layer, they also warmed up the Arctic.
Diane Wilson holds up a bag full of nurdles she collected from one of Formosa's outfall areas on Jan. 15. Julie Dermansky / DeSmogBlog
On the afternoon of Jan. 15, activist Diane Wilson kicked off a San Antonio Estuary Waterkeeper meeting on the side of the road across from a Formosa plastics manufacturing plant in Point Comfort, Texas.
After Wilson and the waterkeeper successfully sued Formosa, the company agreed to no longer release even one of the tiny plastic pellets known as nurdles into the region's waterways. The group of volunteers had assembled that day to check whether the plant was still discharging these raw materials of plastics manufacturing.
Malaysian Environment Minister Yeo Bee Yin (front 2nd L) and officials inspect a container containing plastic waste shipment on Jan. 20, 2020 before sending back to the countries of origin. AFP via Getty Images
The Southeast Asian country Malaysia has sent 150 shipping containers packed with plastic waste back to 13 wealthy countries, putting the world on notice that it will not be the world's garbage dump, as CNN reported. The countries receiving their trash back include the United States, the United Kingdom, France and Canada.
Trump leaves after delivering a speech at the Congress Centre during the World Economic Forum annual meeting in Davos on Jan. 21, 2020. JIM WATSON / AFP via Getty Images