Elephant Grass and Prairie Switchgrass: Second Generation Biofuels to Power American Cars
In tomorrow's world, it won't be just the corn on the great American plains that is as high as an elephant's eye. It will be the elephant grass as well.
To deliver on U.S. promises to reduce fossil fuel use, American motorists in future will drive on miscanthus—as elephant grass is also known—and prairie switchgrass.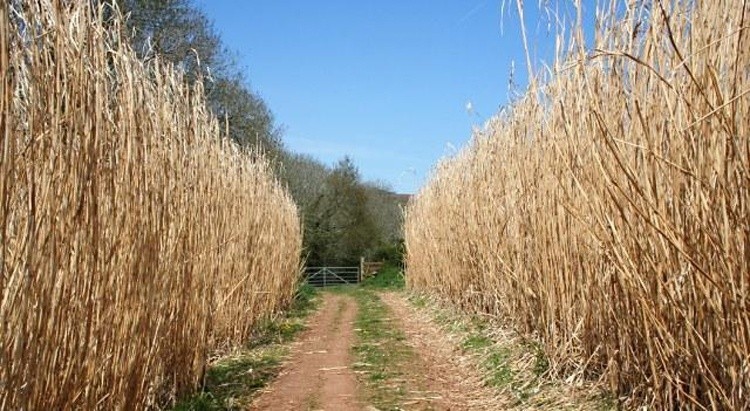 Photo credit: Tony Atkin / Wikimedia Commons
Researchers led by Evan DeLucia, professor of biology at the University of Illinois, report in a new journal, Nature Energy, that to exploit biofuels—which recycle carbon already in the atmosphere, and are therefore technically "carbon-neutral"—Americans will have to think again about how they manage the change away from fossil fuels.
Right now, the U.S. Environmental Protection Agency's Renewable Fuel Standards foresee that by 2022 American motorists will start up their cars with 15 billion gallons (57 billion liters) of ethanol from corn. But this could be augmented by 16 billion gallons (60 billion litres) of biofuel derived from perennial grasses.
Energy Source
The switch to the prairie's native switchgrass (Panicum virgatum) and Eurasian elephant grass (Miscanthus giganteus) will be necessary because there are problems with corn as a source of energy.
One is that, in an increasingly hungry world, it reduces the overall levels of food available. The second is that corn requires annual planting, fertilising and harvesting. Perennial grasses simply grow, and can be mown once a year.
So by turning over surplus land to swift-growing grasses, and at the same time reducing the levels of carbon dioxide released from cultivation, the U.S. could meet its target of a 7 percent reduction in its annual transportation emissions by 2022. If farmers went on gradually to switch from corn to the grasses, the reduction could get as high as 12 percent.
Professor DeLucia said: "Greenhouse gas savings from bioenergy have come under varying levels of attack, and this paper goes a long way to showing that, contrary to what some are saying, these savings can be potentially large if cellulosic biofuels from dedicated energy crops meet a large share of the mandate.
"This is a viable path forward to energy security, reducing greenhouse gases and providing a diversified crop portfolio for farmers in the U.S."
The researchers used a climate model to test what would happen if land now being used to grow corn (Zea mays) for ethanol—currently, 40 percent of the corn harvest is used for biofuel—was switched to the two candidate grasses.
Store More Carbon
"Our results were staggering," Professor DeLucia said. "Since both of those plants are perennial, you don't till every year. The grasses also require less fertilizer, which is a source of nitrous oxide, and they store more carbon in the ground than corn."
The switch could turn the U.S. Midwest from a net source of greenhouse gas emissions to a "sink" absorbing them. The study assumed that, rather than the most productive soil, the low-yielding land would be converted to grasses for biofuel.
It also factored in some of the other consequences: if the extra billions of gallons of fuel led to a fall in fuel prices, would Americans drive more, and eliminate the carbon savings? Even if that did happen, such a change has the potential to reduce U.S. emissions overall.
But growers have to be sure that energy policies will be consistent, according to the paper's co-author, Madhu Khanna, professor in the Department of Agricultural and Consumer Economics at the University of Illinois.
"The moral of this whole story is that we need to find a way to expand the production of second generation biofuel crops and maybe even displace corn ethanol," she said.
YOU MIGHT ALSO LIKE
Why Mars as a Backup Planet Isn't a Good Idea
Scientists Link Extreme Weather to Climate Change
3 Reasons Big Coal Had a Bad Week
Obama Builds on His Climate Legacy by Making Historic Change to Coal Leasing on Public Lands
Disturbing footage of a snake in Goa, India vomiting an empty soft drink bottle highlights the world's mounting plastic pollution crisis.
Keep reading...
Show less
By Melissa Hellmann
When her eldest son was in elementary school in the Oakland Unified School District, Ruth Woodruff became alarmed by the meals he was being served at school. A lot of it was frozen, processed foods, packed with preservatives. At home, she was feeding her children locally sourced, organic foods.
Keep reading...
Show less
May. 28, 2017 01:33PM EST
Laurie Woolever
By James O'Hare
There are 20 million people in the world facing famine in South Sudan, Somalia, Nigeria and Yemen. In developed nations, too, people go hungry. Venezuela, for instance, is enduring food insecurity on a national level as a result of economic crisis and political corruption. In the U.S., the land of supposed excess, 12.7 percent of households were food insecure in 2015, meaning they didn't know where their next meal would come from.
Keep reading...
Show less
May. 28, 2017 01:22PM EST
Melwater, Greenland ice sheet. Diane Tuft
Artists are taking the climate crisis into frame and the results are emotional, beautiful and stirring.
So you've seen the best climate change cartoons and shared them with your friends. You've showed your family the infographics on climate change and health, infographics on how the grid works and infographics about clean, renewable energy. You've even forwarded these official National Oceanic and Atmospheric Administration graphs that explain the 10 clear indicators of climate change to your colleagues at the office.
Keep reading...
Show less
May. 27, 2017 01:11PM EST
As the Trump administration moves full speed ahead on boosting the oil and fossil fuel industry, opposition to increased pipeline construction is cropping up in different communities around the country.
Keep reading...
Show less
May. 27, 2017 01:02PM EST
Minke whale stranding near Havergate Island in Suffolk. MCGA.
By Simon Evans
Last Saturday, two dead whales washed up on the coast of Suffolk, in eastern England, and a third was spotted floating at sea.
What happened next illustrates how news can spread and evolve into misinformation, when reported by journalists rushing to publish before confirming basic facts or sourcing their own quotes.
Keep reading...
Show less
May. 27, 2017 01:22PM EST
By Monica Amarelo and Paul Pestano
Sun safety is a crucial part of any outdoor activity for kids, and sunscreen can help protect children's skin from harmful ultraviolet rays. Kids often get sunburned when they're outside unprotected for longer than expected. Parents need to plan ahead and keep sun protection handy in their cars or bags.
Keep reading...
Show less
May. 27, 2017 01:02PM EST
By Joe McCarthy
A lot of people take part in community clean-up efforts—spending a Saturday morning picking up litter in a park, mowing an overgrown field or painting a fence.
Keep reading...
Show less