This website uses cookies to ensure you get the best experience while browsing it. By clicking 'Got It' you're accepting these terms.
Eight Arrested at Bank of America Headquarters Protesting Mountaintop Removal Coal Mining
Nov. 15, 2011 11:35AM EST
Energy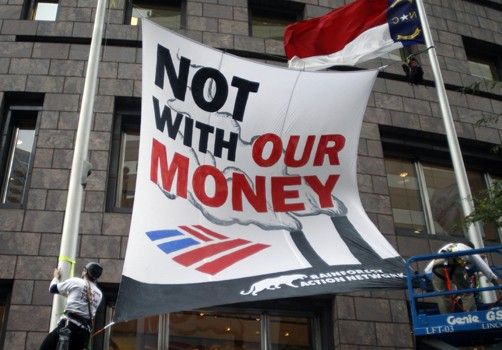 Eight people were arrested Nov. 15 protesting Bank of America's reckless financing practices, including the banks role as the lead financier of coal. Two people were arrested after unfurling a banner reading "Not with Our Money" from atop two 50-foot flagpoles at the entrance of Bank of America's headquarters in downtown Charlotte, N.C. Six more were arrested below—two while supporting the climbers, and four while blocking the main entrance to the bank's headquarters.
"As the authorities attempt to evict Occupy protestors from public spaces, they are going to start showing up at Bank of America doorsteps across the country. Bank of America is in the center of the Occupy Movement because of its reckless financial practices that put profit before people and planet," said Amanda Starbuck, Rainforest Action Network's (RAN) Energy and Finance campaign director. "If Bank of America would like to regain the trust of the 99 percent, it must adopt sound economic and environmental policies that reflect the values of its customers. Bank of America can start by getting out of bed with the coal industry, and shifting its funding toward renewable energy sources that will have long term benefits for our environment, our health and our economy."
"Bank of America is foreclosing on our neighbors and it's foreclosing on our climate. To be honest, I'm embarrassed that I'm still a customer," said Jamie Trowbridge, an Appalachian State University student who was one of the two climbers arrested at the protest. "Coal is dirty at every stage in its lifecycle. No longer will Bank of America fund coal with my money. When I get back to school, I'm going to cut up my BoA debit card, and help other students do the same."
In the past two years alone, Rainforest Action Network has found that Bank of America has pumped $4.3 billion into the U.S. coal industry—$1.3 billion more than other top banks. With the Nov. 15 protest, environmentalists have joined the mounting outrage at Bank of America's reckless financing practices, a critique which has been on display with the Occupy Wall Street Movement and with the record transfer of customer accounts to credit unions. According to the Credit Union National Association, 700,000 consumers across the nation have joined credit unions since Sept. 29 and credit unions have added $4.5 billion in new savings accounts.
Bank of America funds every sector of the U.S. coal industry, including companies that operate the most controversial coal-fired power plants and the most devastating forms of strip mining, including mountaintop removal coal mining.
The action comes only a month after RAN announced its Not One More Dollar, which asks Bank of America customers to close their accounts until Bank of America stops subsidizing the coal industry. The international environmental group has garnered the support of thousands of Bank of America customers, who in the last few weeks have pledged to close their accounts, citing the bank's insistence on underwriting the coal industry.
Coal is responsible for 40 percent of greenhouse gas emissions and the U.S. is the world's second largest coal producer. Coal-fired energy generation is responsible for pollutants that damage cardiovascular and respiratory health and threaten healthy child development.
Sign our letter and tell Bank of America Not with Our Money.
For more information, click here.
—————
Rainforest Action Network runs hard-hitting campaigns to break North America's fossil fuels addiction, protect endangered forests and Indigenous rights, and stop destructive investments around the world through education, grassroots organizing, and non-violent direct action. For more information, please visit www.ran.org
EcoWatch Daily Newsletter
Variety of fermented food korean traditional kimchi cabbage and radish salad. white and red sauerkraut in ceramic plates over grey spotted background. Natasha Breen / REDA&CO / Universal Images Group / Getty Image
Even if you've never taken probiotics, you've probably heard of them.
These supplements provide numerous benefits because they contain live microorganisms, such as bacteria or yeast, which support the healthy bacteria in your gut (1, 2, 3, 4).
Pexels
Singapore will become the first country in the world to place a ban on advertisements for carbonated drinks and juices with high sugar contents, its health ministry announced last week. The law is intended to curb sugar consumption since the country has some of the world's highest diabetes rates per capita, as Reuters reported.
A typical adult takes around 20,000 breaths per day. If you live in a megacity like Beijing, with many of those lungfuls you're likely to inhale a noxious mixture of chemicals and pollutants.
Fred Stone holds his brown swiss cow Lida Rose at his Arundel dairy farm on March 18 after a press conference where he spoke about PFAS chemical contamination in his fields. Gregory Rec / Portland Portland Press Herald via Getty Images
By Susan Cosier
First there was Fred Stone, the third-generation dairy farmer in Maine who discovered that the milk from his cows contained harmful chemicals. Then came Art Schaap, a second-generation dairy farmer in New Mexico, who had to dump 15,000 gallons of contaminated milk a day.
Protesters attend the 32nd annual Fur-Free Friday demonstration on Nov. 23, 2018 in Beverly Hills, California. Ella DeGea / Getty Images
California Governor Gavin Newsom signed into law a bill that that bans the sale and manufacture of fur products in the state. The fur ban, which he signed into law on Saturday, prohibits Californians from selling or making clothing, shoes or handbags with fur starting in 2023, according to the AP.
By Simon Evans
During the three months of July, August and September, renewables generated an estimated total of 29.5 terawatt hours (TWh), compared with just 29.1TWh from fossil fuels, the analysis shows.
A demonstrator waves an Ecuadorian flag during protests against the end of subsidies to gasoline and diesel on Oct. 9 in Quito, Ecuador. Jorge Ivan Castaneira Jaramillo / Getty Images
Protesters block the road outside Mansion House in London during an XR climate change protest. Gareth Fuller / PA Images via Getty Images