This website uses cookies to ensure you get the best experience while browsing it. By clicking 'Got It' you're accepting these terms.


The best of EcoWatch, right in your inbox. Sign up for our email newsletter!
Edelman PR Firm Scurries to Fix Climate Change Denial Debacle
Aug. 18, 2014 11:46AM EST
This past April, Climate Investigations Center sent out a survey, querying the world's largest PR firms on whether they would accept a client who denied the reality of climate change.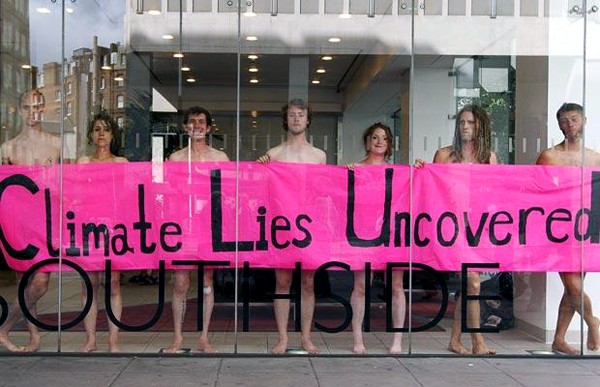 The results, published in The Guardian two weeks ago, included responses from 10 of the 25 firms they sent the survey to.
The Guardian said:
Some of the world's top PR companies have for the first time publicly ruled out working with climate change deniers, marking a fundamental shift in the multi-billion dollar industry that has grown up around the issue of global warming. Public relations firms have played a critical role over the years in framing the debate on climate change and its solutions–as well as the extensive disinformation campaigns launched to block those initiatives.
But one company, Edelman, the world's largest independently owned PR company, handled the inquiry in a clumsy manner that's stirred up controversy and bad press for the company.
While noting the Edelman is actively working to reduce its own carbon footprint, The Guardian reported:
Edelman's client list includes the American Petroleum Institute, the main energy lobby, which opposes Barack Obama's climate change agenda. Edelman also carried out campaigns supporting the Keystone XL pipeline, a proposed pipeline to carry tar sands oil from Canada to refineries on the Gulf coast of Texas.
An initial response to CIC from Edelman inadvertently included an internal email which said: "I don't believe we are obligated in any way to respond. There are only wrong answers for this guy."
Oops!
That comment was sent out by Mark Hass, then head of Edelman U.S. He's no longer with the company for reasons that aren't entirely clear.
Then last week, Edelman CEO Richard Edelman called Motherboard senior editor Brian Merchant, sounding "sincerely distraught," Merchant reported.
The previous day, an article by Merchant, "How the World's Biggest PR Firm Helps Promote Climate Change Denial," discussed in detail how Edelman clients, including American Petroleum Institute and the controversial American Legislative Exchange Council (ALEC) which has been pushing legislation mandating the teaching of climate change "skepticism" in schools, have worked to downplay or even deny human-caused climate change, with help from the PR firm. He related that "Edelman helps polluting companies use TV ads, astroturf groups, and slick websites to promote climate change denial around the globe."
His article charged that "The Investigative Fund alleges that some of Edelman's pro-oil and gas projects are so blatantly politically targeted that it should be registered as a lobbying group—and that by not doing so, it's breaking the law. ... Edelman is so aggressive in blurring the lines with its promotion of fossil fuel companies, it may be engaging in illegal behavior."
Clearly, that's not good PR for the PR firm.
"I just want you to know we're not bad people, that's all," Edelman told Merchant in that contrite phone call.
When Merchant asked if he felt his firm's position on climate change had been misrepresented, Edelman said "Yes. Deeply. Deeply. I don't blame the Guardian reporter any more than I blame you—I blame the ham-head who filled out the questionnaire to be a little, uh, slick. I do want you to know I respect what you did as a journalist and, you know, you haunted me."
However, the next day, the company's website said that Merchant had misrepresented its position on climate change. And Edelman tried to walk back on his awkward comments in his call to Merchant, saying in an email "My intention was to simply clarify Edelman does not accept client assignments that deny climate change. I regret several of the remarks I made beyond that."
Then this weekend, the New York Times covered the flap, as the company continues to try to undo the damage surrounding its remarks. It reported that Ben Boyd, Edelman's New York president for practices, sectors and offerings, said in an interview on Friday, "Lesson learned" and that in the future "We will treat ourselves like we treat a client. Just because you advise clients on the complexities of today's world that doesn't mean they're easier to manage."
Boyd also sent the Climate Investigation Center an amended set of answers to the original survey last week.
Kert Davies of Climate Investigation Center said he hopes the organization's survey and the attention surrounding the responses will influence PR firms' decisions to take on clients who work against mitigating the impact of climate change.
He told Motherboard:
We got their attention and hope that Edelman and others will be making decisions as a company with climate change more top of mind here forward. But there is a long way to go. These ad firms still have multimillion-dollar contracts with fossil fuel companies to promote more oil, gas and coal mining and drilling, access to public lands, and avoidance of taxes and regulations. If they are doing a campaign to promote fossil fuels and they avoid talking about the climate impacts, that's climate denial.
YOU ALSO MIGHT LIKE
Why ALEC Said 'No Thanks' to Renewable Energy Members
Part I: How the Media Help the Koch Brothers and ExxonMobil Spread Climate Doubt
New Front Group for Big Oil Promotes Tar Sands as Safe and Secure
EcoWatch Daily Newsletter
A metal fence marked with the U.S. Border Patrol sign prevents people to get close to the barbed/concertina wire covering the U.S./Mexico border fence, in Nogales, Arizona, on Feb. 9. ARIANA DREHSLER / AFP / Getty Images
D'Bone Collector Museum head Darrell Blatchley shows plastic found inside the stomach of a Cuvier's beaked whale in the Philippines this weekend. - / AFP / Getty Images
Yet another whale has died after ingesting plastic bags. A young male Cuvier's beaked whale was found washed up in Mabini, Compostela Valley in the Philippines Friday, CNN reported. When scientists from the D' Bone Collector Museum in Davao investigated the dead whale, they found it had died of "dehydration and starvation" after swallowing plastic bags―40 kilograms (approximately 88 pounds) worth of them!
Pexels
By Jeff Turrentine
"Be careful what you wish for; you just might get it." This is something that everybody has to learn at some point. Lately, the lesson has hit home for a group of American automakers.
Art direction: Georgie Johnson. Illustrations: Freya Morgan
By Joe Sandler Clarke
"Don't expect us to continue buying European products," Malaysia's former plantations minister Mah Siew Keong told reporters in January last year. His comments came just after he had accused the EU of "practising a form of crop apartheid."

A few months later Luhut Pandjaitan, an Indonesian government minister close to President Joko 'Jokowi' Widodo, warned his country would retaliate if it was "cornered" by the EU.
Torres and his parents walk along the Rio Grande. Luis Torres / Earthjustice
By Luis Torres
For some people who live along the U.S.-Mexico border, President Trump's attempt to declare a national emergency and extend the border wall is worse than a wasteful, unconstitutional stunt. It's an attack on their way of life that threatens to desecrate their loved ones' graves.
Flooding caused by last week's bomb cyclone storm has broken records in 17 places across the state of Nebraska, CNN reported Sunday. Around nine million people in 14 states along the Mississippi and Missouri Rivers were under a flood watch, CNN meteorologist Karen Maginnis said.
A car destroyed by Cyclone Idai in Beira, Mozambique. ADRIEN BARBIER / AFP / Getty Images
At least 150 people have died in a cyclone that devastated parts of Mozambique, Zimbabwe and Malawi over the weekend, The Associated Press reported Sunday. Cyclone Idai has affected more than 1.5 million people since it hit Mozambique's port city of Beira late Thursday, then traveled west to Zimbabwe and Malawi. Hundreds are still missing and tens of thousands are without access to roads or telephones.
"I think this is the biggest natural disaster Mozambique has ever faced. Everything is destroyed. Our priority now is to save human lives," Mozambique's Environment Minister Celso Correia said, as AFP reported.