This website uses cookies to ensure you get the best experience while browsing it. By clicking 'Got It' you're accepting these terms.


The best of EcoWatch, right in your inbox. Sign up for our email newsletter!
EcoWatch Joins Growing Number of Certified B Corporations
Oct. 17, 2013 12:51PM EST
Business
EcoWatch is proud to announce its standing as a Certified B Corporation.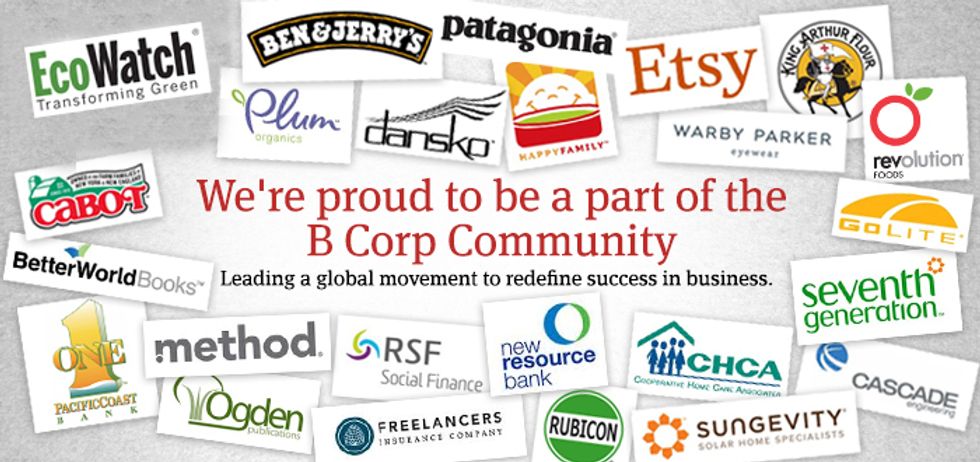 Wayne, PA-based nonprofit B Lab has certified more than 800 companies worldwide that voluntarily embrace social and environmental responsibility in their day-to-day decisions. Each firm must pass an assessment, meet a tough set of standards and apply for recertification every two years. EcoWatch scored a 91 on its B Impact report. Companies are eligible for certification if they score 80 or higher.
"Business leaders have a new freedom to make decisions that are in the best interests of society as well as their bottom line," B Lab co-founder Jay Coen Gilbert said. "We are delighted to have companies like EcoWatch band together to turn the tide and leverage the power of business to solve social and environmental problems."
B Corp status enables companies to work together in support of legislation and partner with like-minded entities while achieving things all businesses desire—attracting investors, garnering press and differentiating themselves from competitors.
"The value of meeting the legal requirement for B Corp certification is that it bakes sustainability into the DNA of your company as it grows," according to the B Corp website.
Notable B Corps include Nutiva, Ben & Jerry's, Patagonia and Seventh Generation. In all, there are 850 B Corps in 27 countries and 60 industries worldwide. On July 17, Delaware became the 19th state (plus D.C.) to enact benefit corporation legislation.
"Media plays a vital role in educating people on the most critical issues of our time," said EcoWatch board member Robert F. Kennedy, Jr. "EcoWatch is leading the charge in using online news to drive fundamental change and unite all shades of green to ensure the health and longevity of our planet."
EcoWatch is at the forefront of cutting-edge news that educates and motivates readers to engage in protecting human health and the environment. EcoWatch founder and CEO Stefanie Spear is confident that B Corp certification will greatly enhance EcoWatch's ability to fulfill its mission.
"We are moving ahead on all fronts to bring people together to transform green," Spear said. "We want to strategically align ourselves with companies that prioritize social and environmental equity. Becoming a Certified B Corporation was a natural move for us."
YOU MIGHT ALSO LIKE
120 Companies Win 'Best for the World' Ranking
Chipotle Becomes First Fast Food Chain to Go GMO-Free
Fortune 500s Hit the Hill on Earth Day to Urge Congress to Take Action on Climate Change
EcoWatch Daily Newsletter
A school in Queensland, Australia sent a note home to parents asking them to send their children with extra water bottles since its water supply has run dry, according to the Australian Broadcasting Corporation (ABC).
European Commission President Ursula von der Leyen delivers a press statement on the European Green Deal at the EU headquarters in Brussels, Belgium on Dec. 11, 2019. Xinhua / Zheng Huansong via Getty Images
The European Commission introduced a plan to overhaul the bloc's economy to more sustainable, climate-conscious policies and infrastructure, with the goal of being carbon-neutral by 2050, according to CNBC.
Young activists shout slogans on stage after Greta Thunberg (not in the picture) took part in the plenary session during the COP25 Climate Conference on Dec. 11 in Madrid, Spain. Pablo Blazquez Dominguez / Getty Images
By Andrea Germanos
Young activists took over and occupied the main stage at the COP25 climate conference in Madrid, Spain Wednesday and demanded world leaders commit to far more ambitious action to address the ecological emergency.
A NASA image showing the ozone hole at its maximum extent for 2015. NASA Goddard Space Flight Center
The Montreal Protocol, a 1987 international treaty prohibiting the production of chlorofluorocarbons (CFCs) to save the ozone layer, was the first successful multilateral agreement to successfully slow the rate of global warming, according to new research. Now, experts argue that similar measures may lend hope to the climate crisis.
Police in Wales are in the midst of an unusual investigation: the sudden death of more than 200 starlings.