This website uses cookies to ensure you get the best experience while browsing it. By clicking 'Got It' you're accepting these terms.
Economic Growth Continues to Drive China's Growing Need for Energy
Sep. 24, 2012 01:17PM EST
Energy
China is the world's largest energy consumer. China's economy, which has grown at an average real rate of about 10 percent per year over the last 10 years, is a key driver of the increase in energy consumption, both in China and internationally. Economic growth in China is still robust—China's gross domestic product grew an estimated 7.8 percent in the first half of 2012—but its growth is slower than in recent years, as is its growth in energy consumption. EIA's China Country Analysis Brief details its energy use, production, and industry.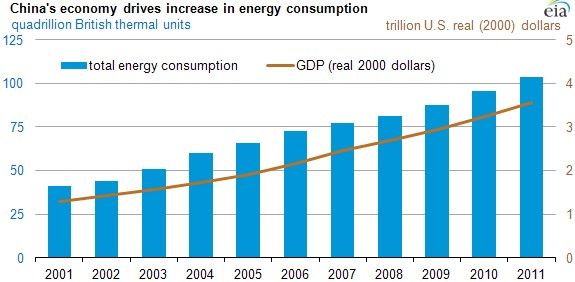 Electricity
China had the most installed generating capacity in the world in 2011, at 1,073 gigawatts, slightly higher than the U.S.
About 80 percent of China's electricity generation came from conventional thermal sources, primarily coal, in 2011.
Both China's electric generating capacity and its electricity generation doubled between 2005 and 2011.
Coal
China was the largest producer and consumer of coal in the world in 2011, and accounted for almost half the world's coal consumption.
China became a net coal importer in 2009 for the first time in over 20 years.
China has the third-largest coal reserves in the world.
Oil
China was the world's second-largest consumer of oil and liquids in 2011, as well as second-largest oil importer (trailing the U.S. in both categories).
China's total oil consumption is slated to continue increasing; EIA forecasts that growth in China's demand for oil will represent 64 percent of projected world oil demand growth during 2011-2013.
Natural gas
China was the fourth-largest global consumer of natural gas in 2011.
Use and production of natural gas in China is rapidly increasing; natural gas production more than tripled over the last decade.
Consumption of natural gas in 2011 was nearly 50 percent higher than in 2009.
Nuclear
Nuclear power made up only 2 percent of total electricity generation in 2010. As of mid-2012, China had 15 operating reactors, with a total capacity of nearly 13 gigawatts, and 26 new reactors under construction, with a capacity of about 29 gigawatts.
Renewables
While renewables made up a small fraction of the country's total electricity generation, China was the world's leading producer of hydroelectric power in 2010, and the second-largest producer of electricity from wind power.
For more information on China, see EIA's Country Analysis Brief on China.
Visit EcoWatch's ENERGY page for more related news on this topic.
EcoWatch Daily Newsletter
Large food companies are following in the footsteps of fast-food restaurants such as Burger King and KFC by offering meat alternatives. Getty Images
By Elizabeth Pratt
Hormel, Kellogg's, and Kroger are among the large companies now planning to offer "fake meat" products at grocery stores.
Experts say the trend toward plant-based meats coincides with consumers' desires to eat less meat.
However, experts urge consumers to closely check package labels as a product isn't necessarily healthy just because it's described as plant-based.
In grocery stores and fast-food outlets around the U.S., a revolution is taking place.
Colombia rainforest. Marcel Oosterwijk / CC BY-SA 2.0
Many of us think of the Amazon as an untouched wilderness, but people have been thriving in these diverse environments for millennia. Due to this long history, the knowledge that Indigenous and forest communities pass between generations about plants, animals and forest ecology is incredibly rich and detailed and easily dwarfs that of any expert.
picture-alliance / Newscom / R. Ben Ari
By Wesley Rahn
Plastic byproducts were found in 97 percent of blood and urine samples from 2,500 children tested between 2014 and 2017, according to a study by the German Environment Ministry and the Robert Koch Institute.

Pexels
Medically reviewed by Daniel Bubnis, MS, NASM-CPT, NASE Level II-CSS
Hot yoga has become a popular exercise in recent years. It offers many of the same benefits as traditional yoga, such as stress reduction, improved strength, and flexibility.
Lara Hata / iStock / Getty Images
By SaVanna Shoemaker, MS, RDN, LD
Rice is a staple in many people's diets. It's filling, inexpensive, and a great mild-tasting addition to flavorful dishes.
An image of the trans-alaskan oil pipeline that carries oil from the northern part of Alaska all the way to valdez. This shot is right near the arctic national wildlife refuge. kyletperry / iStock / Getty Images Plus
The Trump administration has initialized the final steps to open up nearly 1.6 million acres of the protected Alaskan National Wildlife Refuge to allow oil and gas drilling.