This website uses cookies to ensure you get the best experience while browsing it. By clicking 'Got It' you're accepting these terms.
Economic Growth Continues to Drive China's Growing Need for Energy
Sep. 24, 2012 01:17PM EST
Energy
China is the world's largest energy consumer. China's economy, which has grown at an average real rate of about 10 percent per year over the last 10 years, is a key driver of the increase in energy consumption, both in China and internationally. Economic growth in China is still robust—China's gross domestic product grew an estimated 7.8 percent in the first half of 2012—but its growth is slower than in recent years, as is its growth in energy consumption. EIA's China Country Analysis Brief details its energy use, production, and industry.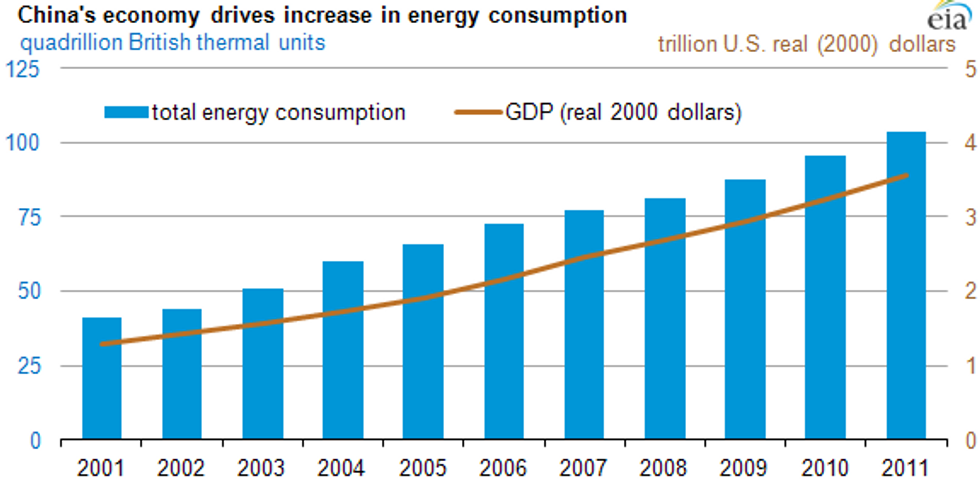 Electricity
China had the most installed generating capacity in the world in 2011, at 1,073 gigawatts, slightly higher than the U.S.
About 80 percent of China's electricity generation came from conventional thermal sources, primarily coal, in 2011.
Both China's electric generating capacity and its electricity generation doubled between 2005 and 2011.
Coal
China was the largest producer and consumer of coal in the world in 2011, and accounted for almost half the world's coal consumption.
China became a net coal importer in 2009 for the first time in over 20 years.
China has the third-largest coal reserves in the world.
Oil
China was the world's second-largest consumer of oil and liquids in 2011, as well as second-largest oil importer (trailing the U.S. in both categories).
China's total oil consumption is slated to continue increasing; EIA forecasts that growth in China's demand for oil will represent 64 percent of projected world oil demand growth during 2011-2013.
Natural gas
China was the fourth-largest global consumer of natural gas in 2011.
Use and production of natural gas in China is rapidly increasing; natural gas production more than tripled over the last decade.
Consumption of natural gas in 2011 was nearly 50 percent higher than in 2009.
Nuclear
Nuclear power made up only 2 percent of total electricity generation in 2010. As of mid-2012, China had 15 operating reactors, with a total capacity of nearly 13 gigawatts, and 26 new reactors under construction, with a capacity of about 29 gigawatts.
Renewables
While renewables made up a small fraction of the country's total electricity generation, China was the world's leading producer of hydroelectric power in 2010, and the second-largest producer of electricity from wind power.
For more information on China, see EIA's Country Analysis Brief on China.
Visit EcoWatch's ENERGY page for more related news on this topic.
EcoWatch Daily Newsletter
A new study shows that half of all Arctic warming and corresponding sea-loss during the late 20th century was caused by ozone-depleting substances. Here, icebergs discharged from Greenland's Jakobshavn Glacier. Kevin Krajick / Earth Institute /
EurekAlert!
The world awakened to the hole in the ozone layer in 1985, which scientists attributed it to ozone depleting substances. Two years later, in Montreal, the world agreed to ban the halogen compounds causing the massive hole over Antarctica. Research now shows that those chemicals didn't just cut a hole in the ozone layer, they also warmed up the Arctic.
Diane Wilson holds up a bag full of nurdles she collected from one of Formosa's outfall areas on Jan. 15. Julie Dermansky / DeSmogBlog
On the afternoon of Jan. 15, activist Diane Wilson kicked off a San Antonio Estuary Waterkeeper meeting on the side of the road across from a Formosa plastics manufacturing plant in Point Comfort, Texas.
After Wilson and the waterkeeper successfully sued Formosa in 2017, the company agreed to no longer release even one of the tiny plastic pellets known as nurdles into the region's waterways. The group of volunteers had assembled that day to check whether the plant was still discharging these raw materials of plastics manufacturing.
Malaysian Environment Minister Yeo Bee Yin (front 2nd L) and officials inspect a container containing plastic waste shipment on Jan. 20, 2020 before sending back to the countries of origin. AFP via Getty Images
The Southeast Asian country Malaysia has sent 150 shipping containers packed with plastic waste back to 13 wealthy countries, putting the world on notice that it will not be the world's garbage dump, as CNN reported. The countries receiving their trash back include the United States, the United Kingdom, France and Canada.
Trump leaves after delivering a speech at the Congress Centre during the World Economic Forum annual meeting in Davos on Jan. 21, 2020. JIM WATSON / AFP via Getty Images