This website uses cookies to ensure you get the best experience while browsing it. By clicking 'Got It' you're accepting these terms.
Ebola and Climate Change: 'We Are Running Out of Time,' says World Bank President
Oct. 13, 2014 10:55AM EST
Climate
Not acting on climate change could have the same results as the inaction on Ebola with significant human and economic impact, warned World Bank Group president Jim Yong Kim in a speech Friday to the International Monetary Fund/World Bank Group annual meeting. He said that addressing both would further the World Bank's goal of ending extreme poverty by 2030.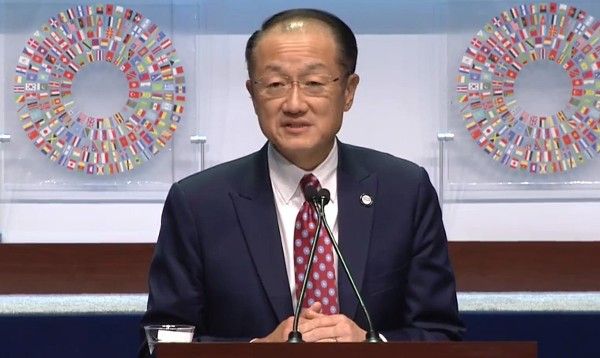 "In a world where natural disasters, conflict, financial shocks and epidemics are becoming more frequent and destructive, we at the World Bank Group must do everything we can to become even more relevant," he said. "Indeed, we've been fully engaged lately in fighting two of these global threats: the Ebola epidemic and climate change."
"Ebola and climate change have a few things in common," he said. "Most importantly, we are running out of time to find solutions to both. Also, until very recently, the plans to fight them were either nonexistent or inadequate. And inaction is literally killing people–one because of the rapid spread of a deadly virus, the other from the poisoning of the atmosphere and the oceans. And finally, perhaps most critically from our point of view, resolving these problems is essential to development, whether from the perspective of human suffering, economic growth or public health."
Kim, an infectious disease physician, called the initial global response to Ebola "inadequate and slow" but said "Once engaged, we've moved with creativity, speed and purpose." He said that the World Bank's world on climate change over the last two years provided a blueprint for its response to Ebola.
"Soon after I started at the World Bank [July 2012], I asked my team a simple question: What's the plan to fight climate change?" he said. "The responses received from our staff and even from leaders in the climate change community were mostly tactical: new technologies here, some efficiencies there. While important, they were not equal to the challenge of keeping a global increase in temperature below 2 degrees Celsius. So, working with others, we developed our own strategy that we hoped could take us a long way toward achieving this objective."
That five-part plan including carbon pricing, eliminating fossil fuel subsidies, building cleaner cities, encouraging climate-friendly agriculture, and investing in renewable energy sources. He described in detail the World Bank's campaign on carbon pricing: building a coalition of cooperating governments and businesses.
"At the start of the campaign, we counted 22 countries that would support this goal," said Kim. "With lobbying, the number kept climbing. Less than a week before the deadline, China, the world's largest emitter of carbon dioxide, agreed to support carbon pricing. It became the 54th country to endorse the statement. In the four days before the [UN Climate] summit, 20 more countries signed on.  At the time of the announcement, 74 governments and more than 1,000 companies and investors had agreed to put a price on carbon. Together, the countries account for up to 54 percent of the world's carbon emissions, 52 percent of the world's GDP and nearly 50 percent of the world's population."
"Later today, ministers, CEOs and the World Bank Climate Group will join me to turn this pledge into action," he said.
"We must maintain this commitment because increasing global fragility and volatility will challenge us more and more every day," he concluded. "In our march to end extreme poverty, conflict, typhoons, floods, droughts, financial shocks and epidemics may at times slow us. But they will not stop us. The Bank will be aggressive and creative and apply large-scale solutions to help states manage, prepare for, recover from and conquer these risks, so they can grow and flourish."
YOU MIGHT ALSO LIKE
Climate Change Bigger Health Emergency Than Ebola
How Climate Change Exacerbates the Spread of Disease, Including Ebola
EcoWatch Daily Newsletter
DESIREE MARTIN / AFP / Getty Images
Wildfires raging on Gran Canaria, the second most populous of Spain's Canary Islands, have forced around 9,000 people to evacuate.
Wolves in Mount Rainier, Washington. Ron Reznick / VW Pics / Universal Images Group via Getty Images
The last four members of an embattled wolf pack were killed in Washington State Friday, hours before the court order that could have saved them.
Plateau Creek near De Beque, Colorado, where land has been leased for oil and gas production. Helen H. Richardson / The Denver Post / Getty Images
By Randi Spivak
Slashing two national monuments in Utah may have received the most attention, but Trump's Interior Department and U.S. Forest Service have been quietly, systematically ceding control of America's public lands to fossil fuel, mining, timber and livestock interests since the day he took office.
Aerial view of lava flows from the eruption of volcano Kilauea on Hawaii, May 2018. Frizi / iStock / Getty Images
Hawaii's Kilauea volcano could be gearing up for an eruption after a pond of water was discovered inside its summit crater for the first time in recorded history, according to the AP.
Global SO2 Emission Hotspot Database / Greenpeace
A new report by Greenpeace International pinpointed the world's worst sources of sulfur dioxide pollution, an irritant gas that harms human health. India has seized the top spot from Russia and China, contributing nearly 15 percent of global sulfur dioxide emissions.
The huge surge this year in Amazon deforestation is leading some European countries to think twice about donations to the Amazon Fund. LeoFFreitas / Moment / Getty Images
By Sue Branford and Thais Borges
Ola Elvestrun, Norway's environment minister, announced Thursday that it is freezing its contributions to the Amazon Fund, and will no longer be transferring €300 million ($33.2 million) to Brazil. In a press release, the Norwegian embassy in Brazil stated:
Gina Lopez, the Philippine secretary of the environment, at a meeting with residents affected by a mine tailing disaster. Keith Schneider
Gina Lopez, a former Philippine environment secretary, philanthropist and eco-warrior, died on Aug. 19 from brain cancer. She was 65.
Trump speaks to contractors at the Shell Chemicals Petrochemical Complex on Aug. 13 in Monaca, Pennsylvania. Jeff Swensen / Getty Images
Thousands of union members at a multibillion dollar petrochemical plant outside of Pittsburgh were given a choice last week: Stand and wait for a speech by Donald Trump or take the day off without pay.