This website uses cookies to ensure you get the best experience while browsing it. By clicking 'Got It' you're accepting these terms.
Eating More Slowly Can Help You Lose Weight
Feb. 13, 2016 09:07AM EST
Many people eat their food fast and carelessly.
However, eating slowly may be a much smarter approach.
In fact, studies show that slower eating can help you feel more full and lose weight.
This article explores the benefits of eating more slowly, for both weight loss and overall health.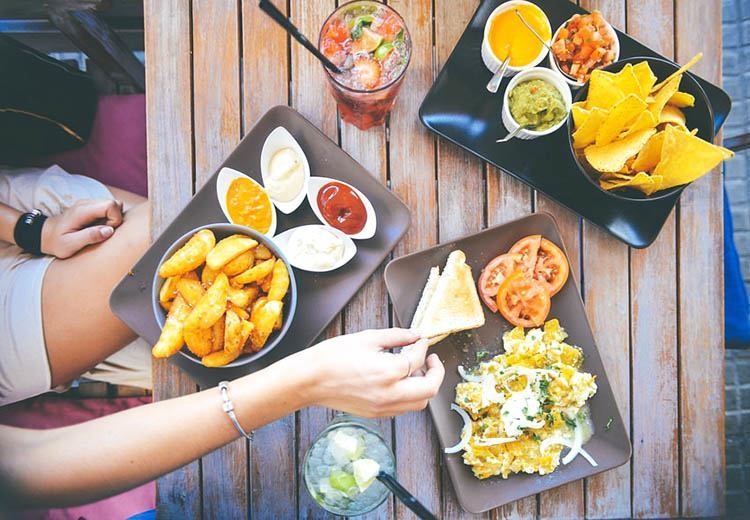 Eating Too Fast Can Cause Weight Gain
People who describe themselves as fast eaters tend to be heavier than those who say they eat more slowly (1, 2, 3, 4, 5).
In fact, fast eaters are up to 115 percent more likely to be obese, compared to slower eaters (3).
They also tend to gain weight over time, which may be partially due to eating too fast.
In one study, researchers surveyed more than 4,000 middle-aged men and women, asking them how fast they ate their food (5).
Those who said they ate "very fast" tended to be heavier and had gained the most body weight since age 20.
Another study looked at the weight changes of 529 men over an 8-year period. Those who reported being "fast" eaters gained more than twice as much as self-described "slow" or "medium" eaters (6).
Bottom Line: Studies show that people who eat quickly tend to be heavier and gain more weight over time, compared to slower eaters.
Eating Slowly Helps You Eat Less
Your appetite and calorie intake is largely controlled by hormones.
Normally after eating, your gut suppresses a hormone called ghrelin, which controls hunger. It also releases the anti-hunger hormones cholecystokinin (CCK), peptide YY(PYY) and glucagon-like peptide-1 (GLP-1) (7).
These hormones relay a message to the brain, letting it know that you've eaten and that nutrients are being absorbed.
This reduces appetite, makes you feel full and helps you stop eating.
Interestingly, this process takes about 20 minutes, so slowing down gives your brain the time it needs to receive these signals.
Eating Slowly Can Increase Satiety Hormones
Eating too quickly often leads to overeating, as your brain doesn't have the time it needs to receive the fullness signals.
Additionally, eating slowly has been shown to decrease the amount of food consumed at a meal (8, 9, 10).
This is partially due to an increase in the level of anti-hunger hormones that occurs when meals aren't rushed.
In one study, 17 healthy people of normal weight were fed 300 ml (10 oz) of ice cream on two different occasions (8).
During one session, each person consumed the ice cream within 5 minutes. At the other session, they ate it slowly over the course of 30 minutes.
Their satiety hormone levels increased significantly more after eating the ice cream slowly and they reported feeling more full after eating.
In a follow-up study, this time in overweight and obese diabetics, slowing down did not increase satiety hormones. However, it significantly increased fullness and satisfaction ratings (11).
Other research has shown that obese young people aged 9–17 experience higher levels of satiety hormones when a meal is consumed slowly (12, 13).
Eating Slowly Can Decrease Calorie Intake
In one study, normal-weight and overweight people were observed eating lunch at different paces.
Both groups consumed fewer calories at the slow-paced meal than at the fast-paced meal, although the difference was greater in the normal-weight group (10).
All participants also felt more full for longer after eating more slowly, reporting less hunger 60 minutes after the slow-paced meal than after the faster meal.
This spontaneous reduction in calorie intake should lead to weight loss over time.
Bottom Line: For most people, eating slowly increases the gut hormones responsible for satiety. Eating slowly can also reduce calorie intake and help you feel more full.
Eating Slowly Promotes Thorough Chewing
In order to eat slowly, you actually need to chew your food several times before swallowing it.
This can help you reduce calorie intake and lose weight.
In fact, several studies have found that people with weight problems tend to chew their food less than normal-weight people do (14, 15).
In one study, researchers asked 45 people to eat pizza until full, while chewing at different rates: normal, 1.5 times normal and twice as much as normal (16).
The average calorie intake decreased by 9.5 percent when people chewed 1.5 times more than normal and nearly 15 percent when they chewed twice as much as usual.
Another small study found that calorie intake decreased and satiety hormone levels increased when the number of chews per bite increased from 15 to 40 (17).
However, there may be a limit to how much chewing you can do and still enjoy a meal. One study found that chewing each bite for 30 seconds reduced snacking later on, but also significantly reduced meal enjoyment (18).
Bottom Line: Chewing food thoroughly slows down your eating pace and reduces the number of calories you take in, which can lead to weight loss.
Other Benefits of Eating Slowly
Eating slowly and chewing thoroughly can improve fullness and help you lose weight.
However, slowing down can also improve your health and quality of life in other ways:
Increase your enjoyment of food.
Help you absorb nutrients better.
Make you feel calmer and more in control.
Bottom Line: There are many other good reasons to eat more slowly, including improved digestion, improved dental health and reduced stress.
How to Slow Down and Lose Weight
Here's some advice to help you get started with eating more slowly:
Avoid extreme hunger: It's hard eat slowly when you're really hungry. To prevent extreme hunger, keep some healthy snacks on hand.
Chew more: Count how many times you normally chew a bite of food and then double that amount. You may be surprised at how little you usually chew.
Set utensils down: Putting down your fork between bites of food will help you eat more slowly and savor each bite.
Drink water: Make sure to drink plenty of water or other non-caloric beverages with meals.
Use a timer: Set your kitchen timer for 20 minutes and do your best not to finish before the buzzer goes off. Aim for a slow, consistent pace throughout the meal.
Turn off distractions: Try to avoid electronic screens while eating. If you must watch TV, choose a 20–30 minute show and make your meal last the whole time.
Take deep breaths: If you begin to eat too quickly, take some deep breaths. This will help you refocus and get back on track.
Practice mindful eating: Mindful eating techniques can help you pay more attention to what you're eating and gain control of your cravings.
Be patient: Change takes time and it actually takes about 66 days for a new behavior to become a habit (19). Eventually, eating slowly will happen naturally.
Bottom Line: With practice, eating slowly will become easier and more sustainable.
Slow Down and Enjoy Your Food
Eating too quickly can lead to weight gain and decreased enjoyment of food.
However, slowing down can increase fullness and promote weight loss. It also provides several other health benefits and can improve your quality of life.
So when it comes to meals, take it slow and enjoy every bite.
This article was reposted from our media associate Authority Nutrition.
YOU MIGHT ALSO LIKE
10 Foods You Should Eat to Reduce Stress and Anxiety
What You Need to Know About the Paleo Diet
Is the Chemical Acrylamide in Coffee Harmful to Your Health?
Prince William and British naturalist David Attenborough attend converse during the World Economic Forum annual meeting, on January 22 in Davos, Switzerland. Fabrice Cofferini /AFP / Getty Images
Britain's Prince William interviewed famed broadcaster David Attenborough on Tuesday at the World Economic Forum's annual meeting in Switzerland.
During the sit-down, the 92-year-old naturalist advised the world leaders and business elite gathered in Davos this week that we must respect and protect the natural world, adding that the future of its survival—as well as humanity's survival—is in our hands.
Electric vehicle sales took off in 2018, with a record two million units sold around the world, according to a new Deloitte analysis.
What's more, the accounting firm predicts that another 21 million electric cars will be on the road globally over the next decade due to growing market demand for clean transportation, government subsidies, as well as bans on fossil fuel cars.
Teenager Alex Weber and friends collected nearly 40,000 golf balls hit into the ocean from a handful of California golf courses.
Alex Weber /
CC BY-ND
Southwest Greenland had the most consistent ice loss from 2003 to 2012. Eqalugaarsuit, Ostgronland, Greenland on Aug. 1, 2018.
Rob Oo / CC BY 2.0
Greenland is melting about four times faster than it was in 2003, a new study published Monday in the Proceedings of the National Academy of Sciences found, a discovery with frightening implications for the pace and extent of future sea level rise.
"We're going to see faster and faster sea level rise for the foreseeable future," study lead author and Ohio State University geodynamics professor Dr. Michael Bevis said in a press release. "Once you hit that tipping point, the only question is: How severe does it get?"
Finally, some good news about the otherwise terrible partial government shutdown. A federal judge ruled that the Trump administration cannot issue permits to conduct seismic testing during the government impasse.
The Justice Department sought to delay—or stay—a motion filed by a range of coastal cities, businesses and conservation organizations that are suing the Trump administration over offshore oil drilling, Reuters reported. The department argued that it did not have the resources it needed to work on the case due to the shutdown.
Most people have heard of the Amazon, South America's famed rainforest and hub of biological diversity. Less well known, though no less critical, is the Pantanal, the world's largest tropical wetland.
Like the Amazon, the Pantanal is ecologically important and imperiled. Located primarily in Brazil, it also stretches into neighboring Bolivia and Paraguay. Covering an area larger than England at more than 70,000 square miles, the massive wetland provides irreplaceable ecosystem services that include the regulation of floodwaters, nutrient renewal, river flow for navigability, groundwater recharge and carbon sequestration. The wetland also supports the economies of the four South American states it covers.
Demonstrators participate in a protest march over agricultural policy on Jan. 19 in Berlin, Germany. Carsten Koall / Getty Images Europe
By Andrea Germanos
Organizers said 35,000 people marched through the streets of the German capital on Saturday to say they're "fed up" with industrial agriculture and call for a transformation to a system that instead supports the welfare of the environment, animals and rural farmers.

The fire that erupted after a pipeline explosion in Mexico Friday. FRANCISCO VILLEDA / AFP / Getty Images
By Patrick Rogers
If you have ever considered making the switch to an environmentally friendly electric vehicle, don't drag your feet. Though EV prices are falling, and states are unveiling more and more public charging stations and plug-in-ready parking spots, the federal government is doing everything it can to slam the brakes on our progress away from gas-burning internal combustion engines. President Trump, likely pressured by his allies in the fossil fuel industry, has threatened to end the federal tax credits that have already helped put hundreds of thousands of EVs on the road—a move bound to harm not only our environment but our economy, too. After all, the manufacturing and sale of EVs, hybrids, and plug-in hybrids supported 197,000 jobs in 2017, according to the most recent U.S. Energy and Employment Report.