This website uses cookies to ensure you get the best experience while browsing it. By clicking 'Got It' you're accepting these terms.
Eat, Drink and Be Local at RIPE! Fest
Sep. 19, 2012 07:56AM EST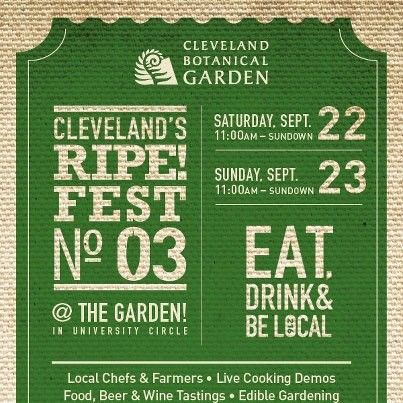 Cleveland's "RIPE! Fest No. 03" brings you a bounty of flavorful fare from local farms and restaurants, as well as homegrown bands, a marketplace of merchandise by Northeast Ohio artisans and lots of children's activites. RIPE! Fest runs 11 a.m. to sundown on Saturday, Sept. 22 and Sunday, Sept. 23 at Cleveland Botanical Garden at 11030 East Blvd., Cleveland, Ohio 44106.
This third annual celebration of all things local promises to delight your senses with a weekend full of live music, local cuisine, food trucks, freshly picked produce, gardening workshops, beer and wine tastings and creative culinary demonstrations by top Cleveland chefs.
Interactive children's activities at RIPE! Fest No. 03 include veggie-carving demonstrations, puppet shows, healthy snacks, harvest crafts, pedal-tractor rides and cider pressing.
An expansive marketplace featuring local and sustainability-minded merchants will offer everything from jewelry and candles to soap and artwork. Workshop topics include Front Yard Fruits, Eat Your Yard, Chickens and Eggs and Edible Gardening for Fall.
RIPE! Fest No. 3 offers something for people of all ages and promises to attract an eclectic mix of Northeast Ohioans, including farmers, families, musicians, chefs, gardeners and more.
Other activities surrounding this year's RIPE! Fest include:
• Autumn's Eve Dinner: A fabulous four-course meal featuring locally grown ingredients prepared by Cleveland-area chefs—all to benefit the local teens who take part in the Garden's Green Corps urban-farming program. 6 p.m. on Thursday, Sept. 20. Dine at community tables under the stars on Wade Oval. Chefs Tony Smoody of Bon Appétit, Douglas Katz of fire food & drink and Ben Bebenroth of Spice of Life Catering Co. are the culinary masters behind the Autumn's Eve Dinner. Live bluegrass and Americana by Ferguson 35. Individual tickets start at $150, and reservations are requested by calling 216.721.1600 ext. 100.
• Not Quite RIPE! Sound Check Party: An early taste of RIPE! Fest full of live music, great food and premium brews. 5 to 10 p.m. on Friday, Sept. 21. Featuring Cleveland's favorite polka player, DJ Kishka, and live bands pOUT and Chasing Kelly. Complimentary eats are provided by Chipotle Mexican Grill. Tickets are $6 for Garden members and $11 for non-members.
• RIPE! Fest Pancake Flip-Off: A friendly competition to see whose pancakes stack up best when some of Cleveland's top chefs put their batter to the test. 10 a.m. to Noon on Sunday, Sept. 23 on the Garden's Geis Terrace. Chefs include Karen Small of Flying Fig, Eric Williams of Momocho, Scott Kim of SASA, Douglas Katz of fire food & drink, Paul Minnillo of Flour and Ricardo Sandoval of Fat Cats, Felice and The Lava Lounge. Proceeds benefit Green Corps, the Garden's urban-farming program for teens. Admission is $10 per Garden member and $15 per non-member. Child admission is $6 per member and $8 per non-member. Tickets include admission to the Sunday portion of RIPE! Fest No. 03.
Tickets for RIPE! Fest are $8 per adult Garden member adult, $5 per member child, $13 per non-member adult and $7 per non-member child. Tickets purchased in advance are discounted to $6 per member adult, $4 per member child, $11 per non-member adult and $6 per non-member child. To get your tickets for RIPE! Fest, the Autumn's Eve Dinner, the Not Quite RIPE! Sound Check Party and the RIPE! Fest Pancake Flip-Off, visit cbgarden.org or call 216.721.1600 ext. 100.
Visit EcoWatch's SUSTAINABLE AGRICULTURE page for more related news on this topic.
EcoWatch Daily Newsletter
Colombia rainforest. Marcel Oosterwijk / CC BY-SA 2.0
Many of us think of the Amazon as an untouched wilderness, but people have been thriving in these diverse environments for millennia. Due to this long history, the knowledge that Indigenous and forest communities pass between generations about plants, animals and forest ecology is incredibly rich and detailed and easily dwarfs that of any expert.
picture-alliance / Newscom / R. Ben Ari
By Wesley Rahn
Plastic byproducts were found in 97 percent of blood and urine samples from 2,500 children tested between 2014 and 2017, according to a study by the German Environment Ministry and the Robert Koch Institute.

Pexels
Medically reviewed by Daniel Bubnis, MS, NASM-CPT, NASE Level II-CSS
Hot yoga has become a popular exercise in recent years. It offers many of the same benefits as traditional yoga, such as stress reduction, improved strength, and flexibility.
Lara Hata / iStock / Getty Images
By SaVanna Shoemaker, MS, RDN, LD
Rice is a staple in many people's diets. It's filling, inexpensive, and a great mild-tasting addition to flavorful dishes.
An image of the trans-alaskan oil pipeline that carries oil from the northern part of Alaska all the way to valdez. This shot is right near the arctic national wildlife refuge. kyletperry / iStock / Getty Images Plus
The Trump administration has initialized the final steps to open up nearly 1.6 million acres of the protected Alaskan National Wildlife Refuge to allow oil and gas drilling.
Kaboompics / Pexels
Tensions between lawmakers and several large manufacturing companies came to a head on Capitol Hill this week during a hearing on toxic fluorochemicals in U.S. drinking water.