This website uses cookies to ensure you get the best experience while browsing it. By clicking 'Got It' you're accepting these terms.
Earth's Annual Resource Allotment Runs Out Today
Aug. 19, 2014 09:24AM EST
Climate
Like maxxing out a credit card, Earth has spent its allocation of resources for the year as of today, according to international sustainability think tank Global Footprint Network.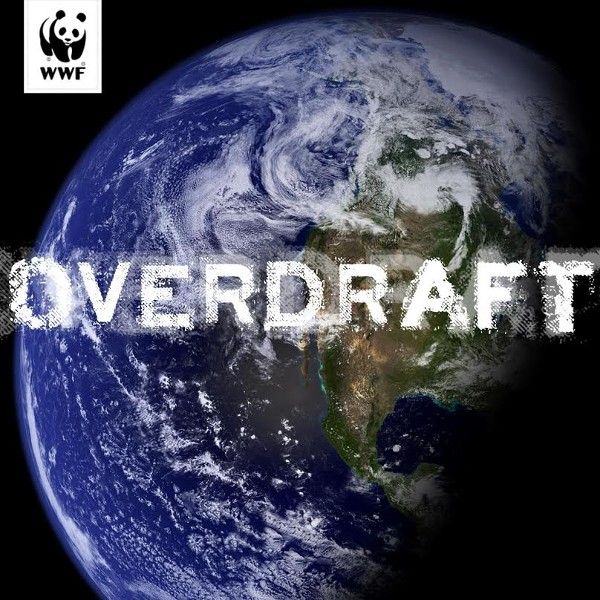 That's the idea behind Earth Overshoot Day, which marks when the globe's demand for natural resources for the year exceeds the amount it produces annually. And, like digging into retirement savings, that's when we start spending our reserves.
Global Footprint Network says:
Just as a bank statement tracks income against expenditures, Global Footprint Network measures humanity's demand for and supply of natural resources and ecological services. And the data is sobering. Global Footprint Network estimates that approximately every eight months, we demand more renewable resources and C02 sequestration than what the planet can provide for an entire year.
It adds, "While only a rough estimate of time and resource trends, Earth Overshoot Day is as close as science can be to measuring the gap between our demand for ecological resources and services, and how much the planet can provide."
According to the group, sometime in the early '70s, worldwide consumption of resources began to outstrip what we are able to produce, and now our demand in relation to our resources is equal to that of 1.5 Earths. Among the impacts: climate change, which Global Footprint Network calls "the most obvious and arguably pressing result," shrinking forests, species loss, fisheries collapse, higher commodity prices and even civil unrest, as people compete for increasingly scarce resources.
"Global overshoot is becoming a defining challenge of the 21st century. It is both an ecological and an economic problem," said Mathis Wackernagel, president of Global Footprint Network and the co-creator of the Ecological Footprint metric. "Countries with resource deficits and low income are exceptionally vulnerable. Even high-income countries that have had the financial advantage to shield themselves from the most direct impacts of resource dependence need to realize that a long-term solution requires addressing such dependencies before they turn into a significant economic stress."
The group estimates that 86 percent of the world's population lives in areas that have a resource deficit. Among the biggest spending countries are the United Arab Emirates, which uses 12.3 times the amount it replaces, and Japan, which uses seven times more. The U.S. uses about 2.2 times more than it generates.
But the picture isn't all bleak. Many countries are taking steps to address the issue, including resource hog the United Arab Emirates. It's tackling carbon emissions, and its Energy Efficient Lighting Standards will make only energy-efficient indoor lighting products available there by the end of the year. The Philippines, which consumes 1.9 times more than it produces, is set become the first country in southeast Asia to adopt the Ecological Footprint. And Morocco is exploring a 15-year strategy for sustainable agriculture.
YOU ALSO MIGHT LIKE
Tug-of-War between Carrying Capacity and Rising Demand—Can We Keep This Up?
Asia Overtakes Rest of the World in Consumption of Materials
The Central Contradiction of Capitalism that Piketty Overlooked
EcoWatch Daily Newsletter
Fabian Krause / EyeEm / Getty Images
Water protectors of all persuasions gathered in talking circles at Borderland Ranch in Pe'Sla, the heart of the sacred Black Hills, during the first Sovereign Sisters Gathering. At the center are Cheryl Angel in red and white and on her left, Lyla June. Tracy Barnett
By Tracy L. Barnett
Sources reviewed this article for accuracy.
For Sicangu Lakota water protector Cheryl Angel, Standing Rock helped her define what she stands against: an economy rooted in extraction of resources and exploitation of people and planet. It wasn't until she'd had some distance that the vision of what she stands for came into focus.
Hedges, 2019 © Hugh Hayden. All photos courtesy of Lisson Gallery
By Patrick Rogers
"I'm really into trees," said the sculptor Hugh Hayden. "I'm drawn to plants."
BruceBlock / iStock / Getty Images
Thanks to their high concentration of powerful plant compounds, foods with a natural purple hue offer a wide array of health benefits.
Environmental Investigation Agency
Last week, the Peruvian Palm Oil Producers' Association (JUNPALMA) promised to enter into an agreement for sustainable and deforestation-free palm oil production. The promise was secured by the U.S. based National Wildlife Federation (NWF) in collaboration with the local government, growers and the independent conservation organization Sociedad Peruana de Ecodesarrollo.
Pixabay
Leaked documents show that Jair Bolsonaro's government intends to use the Brazilian president's hate speech to isolate minorities living in the Amazon region. The PowerPoint slides, which democraciaAbierta has seen, also reveal plans to implement predatory projects that could have a devastating environmental impact.
XL CATLIN SEAVIEW SURVEY / THE OCEAN AGENCY
Hope may be on the horizon for the world's depleted coral reefs thanks to scientists who successfully reproduced endangered corals in a laboratory setting for the first time, according to Reuters.