Earthquakes Tied to Fracking Boom, Two New Studies Confirm
Oklahoma was never big earthquake country, but in the last six years their numbers have surged, going from an average of two a year over 3.0 magnitude to 538 last year, surpassing California as the U.S.'s most seismically active state. Regions in Texas and Ohio that rarely felt an earthquake are now seeing wave after wave of them; eight states overall have seen big increases.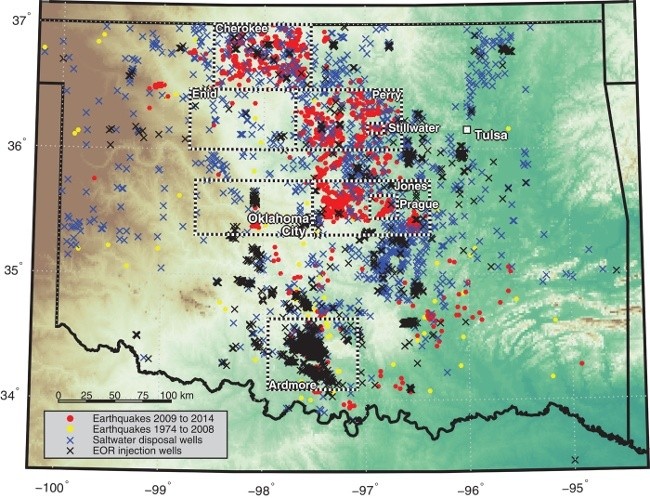 Studies keep showing that the earthquakes start happening when wastewater from fracking is injected underground. Scientists say it's because those large quantities of water, forced underground by heavy pressure, activate dormant fault lines. Now two more such studies have been added to the pile of evidence.
One of the studies, published in the journal Science, comes from a team of scientists from the University of Colorado at Boulder and the U.S. Geological Survey (USGS). The largest study to date, they analyzed information on earthquakes and 180,000 injection wells from Colorado to the east coast. They tied 18,000 of the wells, primarily in Colorado and Oklahoma, to earthquakes.
"This is the first study to look at correlations between injection wells and earthquakes on a broad, nearly national scale," said University of Colorado doctoral student Matthew Weingarten, the study's lead author. "We saw an enormous increase in earthquakes associated with these high-rate injection wells, especially since 2009, and we think the evidence is convincing that the earthquakes we are seeing near injection sites are induced by oil and gas activity."
They found that "high-rate" injection wells, which pumped more than 300,000 gallons of water a month underground, were more likely to cause tremors than low-rate wells and that wastewater injection wells were more likely to cause earthquakes than so-called "oil recovery" wells which inject fluid to push remaining oil out of depleted wells. They also found that injection wells were tied to earthquakes ranging from 4.7 to 5.6 magnitude in Arkansas, Colorado, Oklahoma and Texas in 2011 and 2012.
"People can't control the geology of a region or the scale of seismic stress," said Weingarten. "But managing rates of fluid injection may help decrease the likelihood of induced earthquakes in the future."
The second study, published last week in the journal Science Advances, was done by a pair of geologists at Stanford University. They looked specifically at the increased seismicity in certain areas of Oklahoma that rarely saw earthquakes before 2009—"no state has experienced a more significant increase in seismicity in recent years than Oklahoma," they said. They  found that it followed big increases in wastewater water from drilling operations that was injected into underground wells nearby.
"The number of small- to moderate-sized earthquakes in much of the central and eastern United States began to increase markedly around 2009," the study noted. "Some of this seismicity appears to be associated with increases in saltwater disposal that originates as 'flow-back' water after multistage hydraulic fracturing operations. Over the past five years, parts of Oklahoma have experienced marked increases in the number of small- to moderate-sized earthquakes. In three study areas that encompass the vast majority of the recent seismicity, we show that the increases in seismicity follow five- to 10-fold increases in the rates of saltwater disposal. Adjacent areas where there has been relatively little saltwater disposal have had comparatively few recent earthquakes."
In Oklahoma in particular, there has been pushback from the state's powerful oil and gas sector, which has tried to silence scientists speaking out about the tremors. State seismologist Austin Holland was called into a meeting with oil and gas billionaire Harold Hamm, head of Oklahoma City-based Continental Resources; Hamm is frequently referred to as the founding father of fracking.
"Holland had been studying possible links between a rise in seismic activity in Oklahoma and the rapid increase in oil and gas production, the state's largest industry," reported Bloomberg. "Hamm requested that Holland be careful when publicly discussing the possible connection between oil and gas operations and a big jump in the number of earthquakes, which geological researchers were increasingly tying to the underground disposal of oil and gas wastewater, a byproduct of the fracking boom that Continental has helped pioneer."
Holland said that the Stanford study was a major factor in the recent statement issued by the Oklahoma Geological Survey, for which Holland works, saying it was "very likely" that the earthquakes there are due to the injection of water into deep injection wells.
"The Stanford scientists' findings were carefully considered before we issued the statement, and contributed to the scientific credibility of the statement," said Holland.
"We've been waiting for exactly this type of study," said Oklahoma's Secretary of Energy & Environment Michael Teague. "These findings help us understand the case better so that we can evaluate options that we can take to go forward in finding ways to reduce the quakes."
YOU MIGHT ALSO LIKE
8 States Dealing With Huge Increases in Fracking Earthquakes
Confirmed: Oklahoma Earthquakes Caused By Fracking
Staggering Rise in Fracking Earthquakes Triggers Kansas to Take Action
Laurie Woolever
By James O'Hare
There are 20 million people in the world facing famine in South Sudan, Somalia, Nigeria and Yemen. In developed nations, too, people go hungry. Venezuela, for instance, is enduring food insecurity on a national level as a result of economic crisis and political corruption. In the U.S., the land of supposed excess, 12.7 percent of households were food insecure in 2015, meaning they didn't know where their next meal would come from.
Keep reading...
Show less
Shutterstock
By Rachael Link
Though commonly thought to be a vegetable, cucumber is actually a fruit.
Keep reading...
Show less
Melwater, Greenland ice sheet. Diane Tuft
Artists are taking the climate crisis into frame and the results are emotional, beautiful and stirring.
So you've seen the best climate change cartoons and shared them with your friends. You've showed your family the infographics on climate change and health, infographics on how the grid works and infographics about clean, renewable energy. You've even forwarded these official National Oceanic and Atmospheric Administration graphs that explain the 10 clear indicators of climate change to your colleagues at the office.
Keep reading...
Show less
May. 27, 2017 01:11PM EST
As the Trump administration moves full speed ahead on boosting the oil and fossil fuel industry, opposition to increased pipeline construction is cropping up in different communities around the country.
Keep reading...
Show less
May. 27, 2017 01:02PM EST
Minke whale stranding near Havergate Island in Suffolk. MCGA.
By Simon Evans
Last Saturday, two dead whales washed up on the coast of Suffolk, in eastern England, and a third was spotted floating at sea.
What happened next illustrates how news can spread and evolve into misinformation, when reported by journalists rushing to publish before confirming basic facts or sourcing their own quotes.
Keep reading...
Show less
May. 27, 2017 01:22PM EST
By Monica Amarelo and Paul Pestano
Sun safety is a crucial part of any outdoor activity for kids, and sunscreen can help protect children's skin from harmful ultraviolet rays. Kids often get sunburned when they're outside unprotected for longer than expected. Parents need to plan ahead and keep sun protection handy in their cars or bags.
Keep reading...
Show less
May. 27, 2017 01:02PM EST
By Joe McCarthy
A lot of people take part in community clean-up efforts—spending a Saturday morning picking up litter in a park, mowing an overgrown field or painting a fence.
Keep reading...
Show less
May. 26, 2017 03:22PM EST
Rink Glacier in western Greenland, with a meltwater lake visible center. NASA/OIB
Scientists have had their eyes on Greenland as its iconic glaciers have begun disappearing due to a warming climate. But, what they didn't expect to see was a whole new type of melting.
Keep reading...
Show less


Get EcoWatch in your inbox