This website uses cookies to ensure you get the best experience while browsing it. By clicking 'Got It' you're accepting these terms.
Earthquake, Drought and Wildfires Ravage California
Aug. 25, 2014 10:17AM EST
Climate
We probably can't blame the earthquake that hit California's Napa Valley this weekend on climate change. But it's one more thing that the beleaguered residents of the so-called "Golden State" have to deal with. And while we can't do much to address the fact that the state sits on geographical fault lines, other issues have a human element.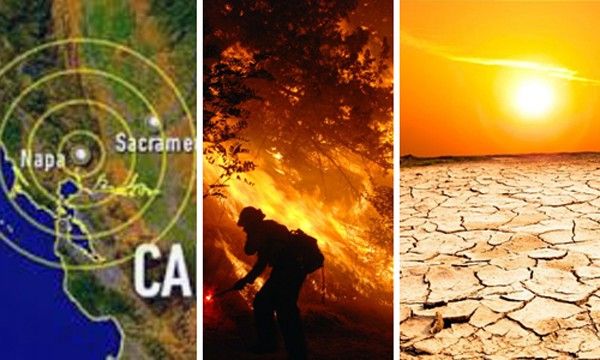 The magnitude 6.0 earthquake, which occurred early Sunday morning, is the largest to hit the state since 1989's Loma Prieta quake. It injured several hundred people.
The earthquake is understandably dominating the headlines coming out of California, while the fallout from the state's record drought is being reported almost daily.
In East Porterville in the rural San Joaquin, several hundred homes have no tap water because their wells have dried up. That's due to an exceptionally low flow in the Tule River, which fills the wells.
Volunteers and county workers are delivering bottled water provided by the county to these homes, but those deliveries are only a stop-gap solution. The area's high poverty rate makes it difficult for residents to affordable ongoing solutions, such as digging new wells.
Tulare County has been hearing from residents about their diminished water supply since February, but the trickle of calls has become a gusher. The Fresno Bee reports that nearly 1,000 people are now impacted by the dry wells.
"I grew up here. I've never seen this many people out of water," Tulare County District Five Supervisor Mike Ennis told the Fresno Bee.
Up in the state's northwest corner in Trinity County, already threatened by salmon die-offs due to low water flow in the Salmon and Klamath rivers, a wildfire that started late Sunday afternoon is threatening homes in Weaverville. About 200 homes were evacuated as crews worked to build containment lines that had about 25 percent of the fire under control by this morning. But local officials said they were concerned about gusting winds and dry conditions causing the fire to flare up again.
The Redding, California newspaper the Redding Searchlight reports that four other wildfires are currently burning tens of thousands of acres in the area as well.
TckTckTck, the Global Call for Climate Action reports:
High temperatures and drought in the American West, both linked to climate change, lead to the dry conditions and tree deaths that enable more frequent and intense wildfires. The American wildfire season is getting longer, and the number of very large fires has doubled in California and many other states since the 1970s.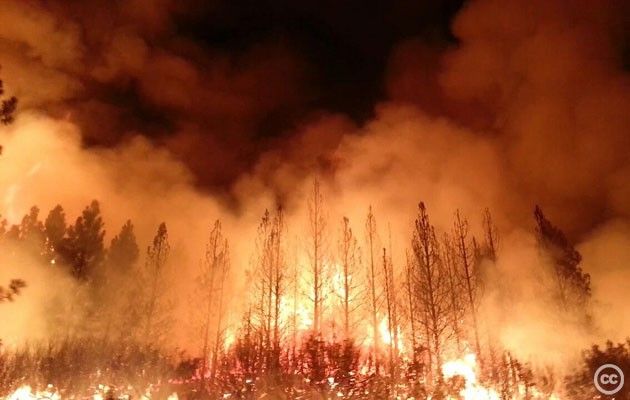 YOU ALSO MIGHT LIKE
The California Drought: Who Gets Water and Who's Hung Out to Dry?
California Drought Threatens Salmon as River Water Levels Drop
Gov. Jerry Brown Discusses Role of Climate Change in California's 10 Wildfires in the Past Week
EcoWatch Daily Newsletter
Artist's conception of solar islands in the open ocean. PNAS
Millions of solar panels clustered together to form an island could convert carbon dioxide in seawater into methanol, which can fuel airplanes and trucks, according to new research from Norway and Switzerland and published in the Proceedings of the National Academy of Sciences journal, PNAS, as NBC News reported. The floating islands could drastically reduce greenhouse gas emissions and dependence on fossil fuels.
Marcos Alves / Moment Open / Getty Images
More than 40 percent of insects could go extinct globally in the next few decades. So why did the U.S. Environmental Protection Agency (EPA) last week OK the 'emergency' use of the bee-killing pesticide sulfoxaflor on 13.9 million acres?
EcoWatch teamed up with Center for Biological Diversity via EcoWatch Live on Facebook to find out why. Environmental Health Director and Senior Attorney Lori Ann Burd explained how there is a loophole in the The Federal Insecticide, Fungicide, and Rodenticide Act under section 18, "that allows for entities and states to request emergency exemptions to spraying pesticides where they otherwise wouldn't be allowed to spray."
Simple swaps that cut down on kitchen trash.
Sponsored
By Kayla Robbins
Along with the bathroom, the kitchen is one of the most daunting areas to try and make zero waste.
View of downtown Miami, Florida from Hobie Island on Feb. 2, 2019.
Michael Muraz / Flickr
The Democratic candidates for president descended upon Miami for a two-night debate on Wednesday and Thursday. Any candidate hoping to carry the state will have to make the climate crisis central to their campaign, as The New York Times reported.
By Sharon Kelly
On Monday, the Wall Street Journal featured a profile of Scott Sheffield, CEO of Pioneer Natural Resources, whose company is known among investors for its emphasis on drawing oil and gas from the Permian basin in Texas using horizontal drilling and hydraulic fracturing, or fracking.
Pexels
By Craig K. Chandler
The federal government has available to it, should it choose to use them, a wide range of potential climate change management tools, going well beyond the traditional pollution control regulatory options. And, in some cases (not all), without new legislative authorization.
Denis Poroy / Getty Images
By Dan Gray
Processed foods, in their many delicious forms, are an American favorite.
But new research shows that despite increasing evidence on just how unhealthy processed foods are, Americans have continued to eat the products at the same rate.
By Sarah Steffen
With a profound understanding of their environmental surroundings, indigenous communities around the world are often cited as being pivotal to tackling climate change.