This website uses cookies to ensure you get the best experience while browsing it. By clicking 'Got It' you're accepting these terms.
Earthquake, Drought and Wildfires Ravage California
Aug. 25, 2014 10:17AM EST
Climate
We probably can't blame the earthquake that hit California's Napa Valley this weekend on climate change. But it's one more thing that the beleaguered residents of the so-called "Golden State" have to deal with. And while we can't do much to address the fact that the state sits on geographical fault lines, other issues have a human element.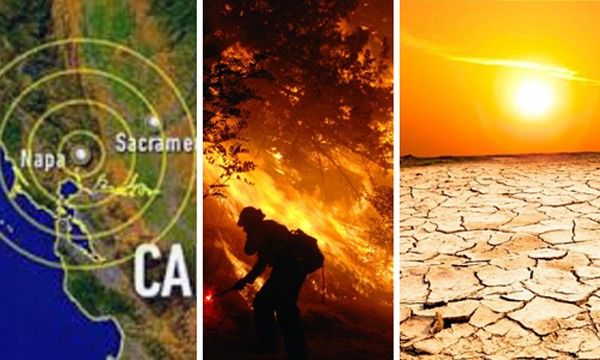 The magnitude 6.0 earthquake, which occurred early Sunday morning, is the largest to hit the state since 1989's Loma Prieta quake. It injured several hundred people.
The earthquake is understandably dominating the headlines coming out of California, while the fallout from the state's record drought is being reported almost daily.
In East Porterville in the rural San Joaquin, several hundred homes have no tap water because their wells have dried up. That's due to an exceptionally low flow in the Tule River, which fills the wells.
Volunteers and county workers are delivering bottled water provided by the county to these homes, but those deliveries are only a stop-gap solution. The area's high poverty rate makes it difficult for residents to affordable ongoing solutions, such as digging new wells.
Tulare County has been hearing from residents about their diminished water supply since February, but the trickle of calls has become a gusher. The Fresno Bee reports that nearly 1,000 people are now impacted by the dry wells.
"I grew up here. I've never seen this many people out of water," Tulare County District Five Supervisor Mike Ennis told the Fresno Bee.
Up in the state's northwest corner in Trinity County, already threatened by salmon die-offs due to low water flow in the Salmon and Klamath rivers, a wildfire that started late Sunday afternoon is threatening homes in Weaverville. About 200 homes were evacuated as crews worked to build containment lines that had about 25 percent of the fire under control by this morning. But local officials said they were concerned about gusting winds and dry conditions causing the fire to flare up again.
The Redding, California newspaper the Redding Searchlight reports that four other wildfires are currently burning tens of thousands of acres in the area as well.
TckTckTck, the Global Call for Climate Action reports:
High temperatures and drought in the American West, both linked to climate change, lead to the dry conditions and tree deaths that enable more frequent and intense wildfires. The American wildfire season is getting longer, and the number of very large fires has doubled in California and many other states since the 1970s.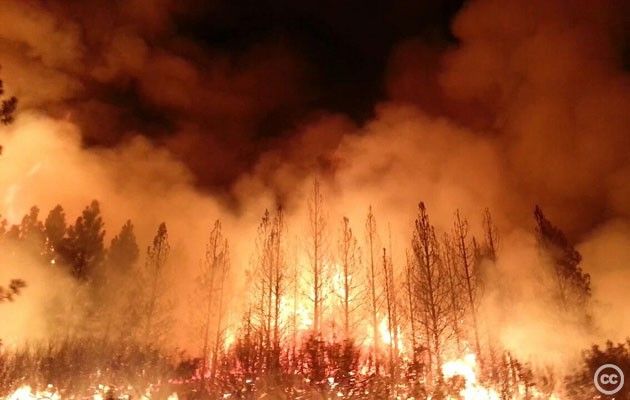 YOU ALSO MIGHT LIKE
The California Drought: Who Gets Water and Who's Hung Out to Dry?
California Drought Threatens Salmon as River Water Levels Drop
Gov. Jerry Brown Discusses Role of Climate Change in California's 10 Wildfires in the Past Week
EcoWatch Daily Newsletter
By Anita Desikan
The Trump administration is routinely undermining your ability — and mine, and everyone else's in this country — to exercise our democratic rights to provide input on the administration's proposed actions through the public comment process. Public comments are just what they sound like: an opportunity for anyone in the public, both individuals and organizations, to submit a comment on a proposed rule that federal agencies are required by law to read and take into account. Public comments can raise the profile of an issue, can help amplify the voices of affected communities, and can show policymakers whether a proposal has broad support or is wildly unpopular.
Alena Gamm / EyeEm / Getty Images
Picture this: a world where chocolate is as rare as gold. No more five-dollar bags of candy on Halloween. No more boxes of truffles on Valentine's day. No more roasting s'mores by the campfire. No more hot chocolate on a cold winter's day.
Who wants to live in a world like that?
Fabian Krause / EyeEm / Getty Images
Water protectors of all persuasions gathered in talking circles at Borderland Ranch in Pe'Sla, the heart of the sacred Black Hills, during the first Sovereign Sisters Gathering. At the center are Cheryl Angel in red and white and on her left, Lyla June. Tracy Barnett
By Tracy L. Barnett
Sources reviewed this article for accuracy.
For Sicangu Lakota water protector Cheryl Angel, Standing Rock helped her define what she stands against: an economy rooted in extraction of resources and exploitation of people and planet. It wasn't until she'd had some distance that the vision of what she stands for came into focus.
Hedges, 2019 © Hugh Hayden. All photos courtesy of Lisson Gallery
By Patrick Rogers
"I'm really into trees," said the sculptor Hugh Hayden. "I'm drawn to plants."
BruceBlock / iStock / Getty Images
Thanks to their high concentration of powerful plant compounds, foods with a natural purple hue offer a wide array of health benefits.