'Earth Focus' Premiere Exposes Coal Ash's Toxic Impact on American Families
Every year, U.S. power plant generate more than 100 million tons of coal ash, the nation's largest industrial pollutant next to municipal waste. The conversation about coal's role in climate change has obscured this fact to much of the public, but not those in communities like Juliette, GA.
Residents there, as well as in a few small, Pennsylvania towns, helped KCETLink uncover America's Dirty Secret: Coal Ash. That's the name of the upcoming episode Earth Focus, a weekly show that airs nationally on DIRECTV and DISH Network, and in Southern and Central California on KCET, the nation's largest independent, public TV station in the U.S.
"We wanted to ensure that the voices of the communities affected by coal ash pollution are heard," Earth Focus producer Raisa Scriabine said. "Whether it's in Pennsylvania or Georgia, it's the people that bear the consequences of a poorly regulated industry."
The episode includes interviews from people like Donna Welch, whose home has faucets that have dripped radioactive water as a result of the coal ash that Georgia Power dumps into an unlined, 750-acre pond outside of Plant Scherer near Atlanta.
"The uranium in my body was very high and we ultimately found out that our water is also radioactive," Welch said.
Plant Scherer burns 1,200 tons of coal every hour, which resulted in 2,200 tons of coal ash in recent years. When companies aren't dumping it into ponds that get into local drinking supplies, coal ash is also used to create bricks, roofing material and more. It contains toxins like lead, arsenic and mercury.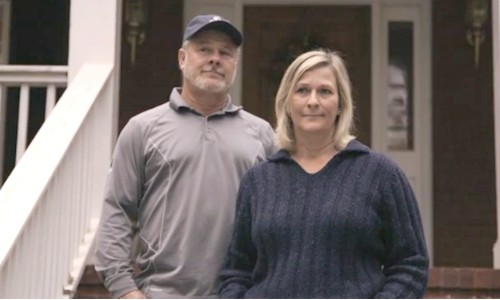 In places like Cranberry, PA, people are suffering from a rare form of cancer they believe is attributed to coal ash dumping, despite the U.S. Environmental Protection Agency leaving its regulation up to individual states.
"It is vascular so it goes through every part, every vein in your body," Cranberry resident Debra Trently said. "You are having a lot of pain in every direction."
The program premieres on KCET in California Wednesday at 8:30 p.m. Nationally, it premieres on Link TV, via DISH (channel 9410) and DIRECTV (channel 375) at 9 p.m., Eastern Standard Time on Thursday, May 22.
The season will continue through late July with episodes on fracking, climate change, endangered animals and more.
KCETLink is a merger formed by KCET and Link Media. Mary Bookwalter, a member of Rachel's Network, a national nonprofit organization of women environmental philanthropists, funded the first episode of Earth Focus. Rachel's Network is one of several organizations helping to fund the entire season.
EARTH FOCUS airs every Thursday at 9 p.m. ET (6 p.m. PT) on Link TV—channel 375 on DIRECTV and channel 9410 on DISH Network. Episodes are also available to watch online at linktv.org/earthfocus.
——–
YOU ALSO MIGHT LIKE
Duke Energy Caught Dumping Wastewater from Coal Ash Lagoon Into Local Watershed
Coal Ash Spill Leaves Most North Carolina Voters Craving Stronger Environmental Leadership
Exclusive: Duke Energy Ongoing Coal Ash Spill Into Dan River
——–
A coalition of conservation groups and others announced Thursday that a historic number of comments and petitions of support have been submitted to the U.S. Department of the Interior in support of Bears Ears National Monument. Despite the entirely inadequate 15-day comment period ending on May 26, more than 685,000 comments in support of Bears Ears National Monument have been collected.
Keep reading...
Show less
Rink Glacier in western Greenland, with a meltwater lake visible center. NASA/OIB
Scientists have had their eyes on Greenland as its iconic glaciers have begun disappearing due to a warming climate. But, what they didn't expect to see was a whole new type of melting.
Keep reading...
Show less
Mountain View Fire
By Lena Moffitt
An oil tanker in Mead, Colorado exploded, killing one and injuring three on Thursday. Authorities are continuing to investigate the cause of the explosion.
Keep reading...
Show less
Banner created by Alliance for Climate Education
Keep reading...
Show less
Twenty-two GOP senators sent a letter Thursday urging Donald Trump to pull out of the Paris agreement. They argued remaining in the deal could "upend" the administration's ability "to fulfill its goal of rescinding the Clean Power Plan."
Keep reading...
Show less
By Cheryl Johncox
The Federal Energy Regulatory Commission (FERC) rejected on Thursday Energy Transfer Partners' request to resume horizontal directional drilling at two sites for its Rover fracked gas pipeline. This rejection comes after numerous leaks into Ohio's wetlands, and Clean Air and Clean Water act violations. FERC has halted the process at only eight locations of the 32 where drilling is taking place under Ohio's wetlands and streams.
Keep reading...
Show less
By Nadia Prupis
A majority of people in eight countries say they are ready to change their lifestyles if it would prevent climate catastrophe, a survey on global threats released Wednesday found.
Keep reading...
Show less
May. 25, 2017 01:55PM EST
Bill Maher is sick of billionaires' obsession with Mars, more like "Mars-a-Lago," he said.
In a new animation produced by ATTN:, the popular talk show host of Real Time, discusses the perils of our planet, including how "climate change is killing us."
Keep reading...
Show less