Earth First! Protests Tar Sands Plans in Utah
Feb. 24, 2012 04:11PM EST
Energy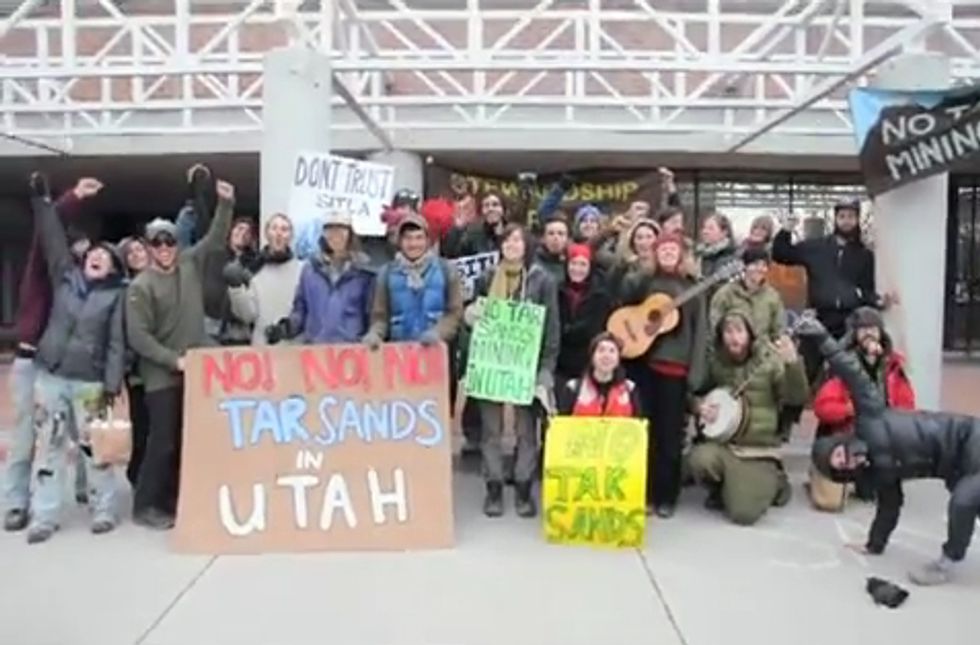 On Feb. 20, Earth First! protested tar sands exploration in Utah outside the School and Institutional Trust Lands Administration (SITLA) offices in downtown Salt Lake City. Earth First! activists staged the protest with local organizers from Utah Tar Sands Resistance and Canyon Country Rising Tide. The offices were closed for Presidents' Day, but a clear message was left at the doorstep—a mock oil spill accompanied by a mural reading "Hey SITLA: Tar Sands Outta Utah!"
The project would lease school trust lands for tar sands extraction in the Book Cliffs area, directly impacting PR Springs, a site which is also used for camping and recreation.
"Destruction of education trust lands through tar sands mining is contrary to the mandate of this agency, which requires them to maintain the land for the long term," said Mark Purdy of Utah Tar Sands Resistance.
According to an article in the Desert News:
"The proposed mining operation would occupy a 213-acre site in the East Tavaputts Plateau straddling the borders of Uintah and Grand counties. An ore processing facility would accommodate up to 3,500 tons of ore per day in the production of bitumen. The extraction process would require 1.5 barrels to 2 barrels of water per barrel of bitumen produced… The company will have to post a reclamation bond of nearly $1.7 million before any work is allowed to begin at the site.
Another company, MCW Energy, is proposing a pilot project to test its proprietary solvent in the extraction of bitumen on 1,000 stockpiled tons of tar sands three miles west of Vernal in Uintah County.
Opponents have appealed permits issued related to the PR Springs project, with hearings set for next month."
EcoWatch Daily Newsletter