This website uses cookies to ensure you get the best experience while browsing it. By clicking 'Got It' you're accepting these terms.
Half of Earth's Satellites Restrict Use of Climate Data
Apr. 03, 2018 07:30AM EST
Climate
Dust storms in the Gulf of Alaska, captured by NASA's Aqua satellite. NASA
By Mariel Borowitz
Scientists and policymakers need satellite data to understand and address climate change. Yet data from more than half of unclassified Earth-observing satellites is restricted in some way, rather than shared openly.
When governments restrict who can access data, or limit how people can use or redistribute it, that slows the progress of science. Now, as U.S. climate funding is under threat, it's more important than ever to ensure that researchers and others make the most of the collected data.
---
Why do some nations choose to restrict satellite data, while others make it openly available? My book, "Open Space," uses a series of historical case studies, as well as a broad survey of national practices, to show how economic concerns and agency priorities shape the way nations treat their data.
The Price of Data
Satellites can collect comprehensive data over the oceans, Arctic areas and other sparsely populated zones that are difficult for humans to monitor. They can collect data consistently over both space and time, which allows for a high level of accuracy in climate change research.
For example, scientists use data from the U.S.-German GRACE satellite mission to measure the mass of the land ice in both the Arctic and Antarctic. By collecting data on a regular basis over 15 years, GRACE demonstrated that land ice sheets in both Antarctica and Greenland have been losing mass since 2002. Both lost ice mass more rapidly since 2009.
Satellites collect valuable data, but they're also expensive, typically ranging from $100 million to nearly $1 billion per mission. They're usually designed to operate for three to five years, but quite often continue well beyond their design life.
Many nations attempt to sell or commercialize data to recoup some of the costs. Even the U.S. National Oceanic and Atmospheric Administration and the European Space Agency—agencies that now make nearly all of their satellite data openly available—attempted data sales at an earlier stage in their programs. The U.S. Landsat program, originally developed by NASA in the early 1970s, was turned over to a private firm in the 1980s before later returning to government control. Under these systems, prices often ranged from hundreds to thousands of dollars per image.
In other cases, agency priorities prevent any data access at all. As of 2016, more than 35 nations have been involved in the development or operation of an Earth observation satellite. In many cases, nations with small or emerging space programs, such as Egypt and Indonesia, have chosen to build relatively simple satellites to give their engineers hands-on experience.
Since these programs aim to build capacity and demonstrate new technology, rather than distribute or use data, data systems don't receive significant funding. Agencies can't afford to develop data portals and other systems that would facilitate broad data access. They also often mistakenly believe that demand for the data from these experimental satellites is low.
If scientists want to encourage nations to make more of their satellite data openly available, both of these issues need to be addressed.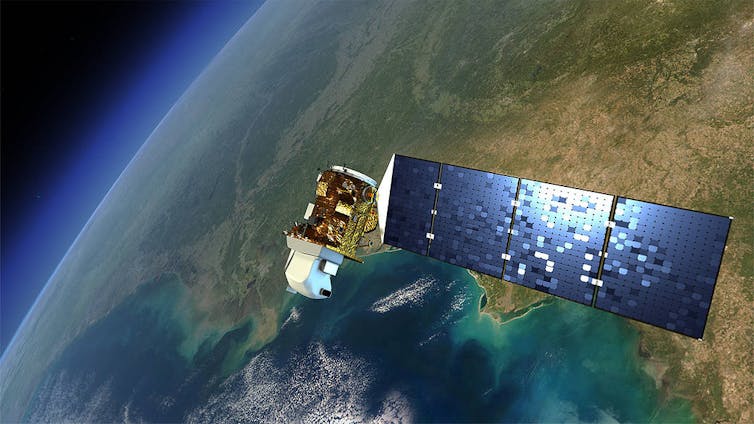 Landsat 8, an American Earth observation satellite. NASA, CC BY
Promoting Access
Since providing data to one user doesn't reduce the amount available for everyone else, distributing data widely will maximize the benefits to society. The more that open data is used, the more we all benefit from new research and products.
In my research, I've found that making data freely available is the best way to make sure the greatest number of people access and use it. In 2001, the U.S. Geological Survey sold 25,000 Landsat images, a record at the time. Then Landsat data was made openly available in 2008. In the year following, the agency distributed more than 1 million Landsat images.
For nations that believe demand for their data is low, or that lack resources to invest in data distribution systems, economic arguments alone are unlikely to spur action. Researchers and other user groups need to raise awareness of the potential uses of this data and make clear to governments their desire to access and use it.
Intergovernmental organizations like the Group on Earth Observations can help with these efforts by connecting research and user communities with relevant government decision-makers. International organizations can also encourage sharing by providing nations with global recognition of their data-sharing efforts. Technical and logistical assistance—helping to set up data portals or hosting foreign data in existing portals—can further reduce the resource investment required by smaller programs.
Future Promise
Satellite technology is improving rapidly. I believe that agencies must find ways to take advantage of these developments while continuing to make data as widely available as possible.
Satellites are collecting more data than ever before. Landsat 8 collected more data in its first two years of operation than Landsat 4 and 5 collected over their combined 32-year lifespan. The Landsat archive currently grows by a terabyte a day.
This avalanche of data opens promising new possibilities for big data and machine learning analyses—but that would require new data access systems. Agencies are embracing cloud technology as a way to address this challenge, but many still struggle with the costs. Should agencies pay commercial cloud providers to store their data, or develop their own systems? Who pays for the cloud resources needed to carry out the analysis: agencies or users?
Satellite data can contribute significantly to a wide range of areas—climate change, weather, natural disasters, agricultural development and more—but only if users can access the data.
Reposted with permission from our media associate The Conversation.
Related Articles Around the Web
From Your Site Articles
EcoWatch Daily Newsletter
David Gilmour performs at Anfiteatro Scavi di Pomei on July 7, 2016 in Pompei, Italy. Francesco Prandoni / Redferns / Getty Images
David Gilmour, guitarist, singer and songwriter in the rock band Pink Floyd, set a record last week when he auctioned off 126 guitars and raised $21.5 million for ClientEarth, a non-profit environmental law group dedicated to fighting the global climate crisis, according to CNN.
U.S. Secretary of Agriculture Sonny Perdue speaks during a forum April 18, 2018 in Washington, DC. Alex Wong / Getty Images
The Trump administration ratcheted up its open hostility to climate science in a move that may hide essential information from the nation's farmers.
Simple swaps that cut down on kitchen trash.
Sponsored
By Kayla Robbins
Along with the bathroom, the kitchen is one of the most daunting areas to try and make zero waste.
Protestors and police stand on ether side of railway tracks. dpa / picture-alliance
Police have cleared 250 climate activists who stayed overnight at the Garzweiler brown coal mine in western Germany, officials said Sunday.
Cecilie_Arcurs / E+ / Getty Images
By Megan Jones and Jennifer Solomon
The #MeToo movement has caused profound shake-ups at organizations across the U.S. in the last two years. So far, however, it has left many unresolved questions about how workplaces can be more inclusive and equitable for women and other diverse groups.

Cigarette butts are the most-littered item found at beach clean ups. John R. Platt
By Tara Lohan
By now it's no secret that plastic waste in our oceans is a global epidemic. When some of it washes ashore — plastic bottles, plastic bags, food wrappers — we get a stark reminder. And lately one part of this problem has been most glaring to volunteers who comb beaches picking up trash: cigarette butts.

Andrea Rodgers, second from the right, takes notes during a hearing in the Juliana v. U.S. case before the 9th Circuit Court of Appeals in Portland, Oregon on June 4. Colleague Elizabeth Brown sits to her left, while colleague Julia Olson sits on her right, with co-council Philip Gregory on Julia's right. Robin Loznak / Our Children's Trust
By Fran Korten
On June 4, Andrea Rodgers was in the front row of attorneys sitting before a three-judge panel of the 9th Circuit Court. The court session, held in Portland, Oregon, was to determine whether the climate change lawsuit (Juliana v. United States) brought by 21 young plaintiffs should be dismissed, as requested by the U.S. government, or go on to trial.
Seventy Extinction Rebellion protesters were arrested outside The New York Times building Saturday.
SCOOTERCASTER / YouTube screenshot