This website uses cookies to ensure you get the best experience while browsing it. By clicking 'Got It' you're accepting these terms.
Early Exposure to BPA Linked to Anxiety and Hyperactivity in Boys
Aug. 21, 2013 12:24PM EST
By Miriam Capon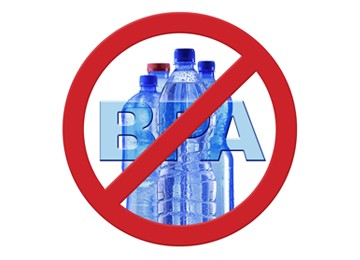 Photo courtesy of Shutterstock
We frequently see warnings about using products that contain Bisephenol A (BPA) and many plastic products are now being made with "BPA-Free" alternatives. BPA can be found in polycarbonate plastics, canned food liners and some thermal receipts. Bisphenol A is a man-made, carbon-based product which has hormone-like properties. In 2008 a study showed that 95 percent of Americans had BPA in their urine, which goes to show just how much people are still being exposed to it. Many studies have shown that Bisphenol A is a hormone-altering chemical.
The University of California, Berkley, has released new findings from a study that shows that boys who were exposed to higher levels of Bisphenol-A as a fetus, were more likely to suffer from hyperactivity, aggression, depression and anxiety at the age of seven. To conduct the study, researchers measured BPA concentrations in 292 pregnant mothers, and then measured the BPA levels in the children at age five. At age seven the teachers and mothers of the children assessed them. Finally, at age nine they were assessed for Attention Deficit Hyperactivity Disorder (ADHD), although no link was found between BPA and ADHD in girls or boys exposed in the womb or during early childhood. No association was found in the female children, and the authors admit to being unsure of why there is a difference in the genders.
This study consisted of women and children who had lower concentrations of BPA in their systems than the U.S. average. Seventy percent of the participants lived below the poverty line, and nearly all were Hispanic. In a previous study of low-income African Americans and affects of prenatal BPA, boys had more behavioral problems, but girls had fewer problems.
It seems that there is quite a bit of growing evidence that some of the largest behavioral problems that children are faced with in the U.S. could be from exposure to BPA as a fetus. This is a subject that is being heavily researched, and which will continue to be looked into, especially as there is evidence that some of the "BPA-Free" alternatives may not be as safe as they are being marketed to be. Regardless, it is important that BPA be taken out of products so that people are not consuming toxic levels of it. It is especially important that pregnant women be able to avoid BPA, as well as products made for infants/children be made safe.
Visit EcoWatch's HEALTH page for more related news on this topic.

Visitors to the Grand Canyon may have been exposed to unsafe radiation levels, for almost two decades. George Rose / Getty Images
Grand Canyon visitors and employees who passed through the national park's museum collection building were exposed to radiation for nearly two decades, AZCentral reported Monday.
That's because, until last year, three five-gallon paint buckets filled with uranium ore were stored in the building, according to a Feb. 4 email sent out to all National Park Service employees by Grand Canyon safety, health and wellness manager Elston "Swede" Stephenson.
The Grand Canyon celebrates its 100th birthday as a national park this month, but it just earned itself a protector who is even older!
Portland alley advocates estimate there are 76 miles of alleys in their city—all potential green public spaces. This northeast Portland neighborhood is one of many projects reclaiming forgotten concrete pathways for nature and people. Derek Dauphin
By Lynn Freehill-Maye
Rachel Schutz hated watching the kids play outside, and not because she was a curmudgeon. As director of an after-school program in a Latino neighborhood near ­Portland, Oregon, she likes the outdoors, the piney tang that hangs in the damp air.
RiverNorthPhotography / E+ / Getty Images
Today, the U.S. celebrates Presidents' Day, a day to commemorate the leadership and legacy of the so-far only men who have governed the country since its founding.
Bogdan Kurylo / iStock / Getty Images
By Jeff Turrentine
If you think this is going to be yet another column admonishing you for not doing enough to curb the amount of single-use plastic in our waste stream, you can relax. You don't need a lecture at this point.