This website uses cookies to ensure you get the best experience while browsing it. By clicking 'Got It' you're accepting these terms.
DuPont Receives 30,000 Claims for Tree-Killing Pesticide
Jul. 06, 2012 08:28AM EST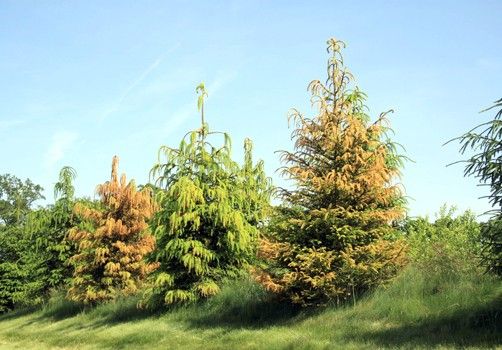 The agribusiness conglomerate DuPont has received more than 30,000 damage claims arising from its sale of a pesticide that resulted in death and injury to hundreds of thousands of evergreen trees, particularly Norway spruce and white pine. DuPont marketed the pesticide, sold under the trade name Imprelis, based on a conditional registration that the U.S. Environmental Protection Agency (EPA) granted in 2010.
Soon after Imprelis became commercially available the next spring, EPA began receiving widespread reports of tree death and injury from landscapers and residential users who had applied the pesticide according to its label conditions. EPA issued an immediate stop sale order for Imprelis on August 11, 2011 after DuPont submitted reports of more than 7,000 reports of tree damage.
The New York Times reports that DuPont has set aside $225 million for claims that have already been submitted, and that the payout could ultimately reach $575 million. These figures do not include costs related to a class-action lawsuit filed by thousands of homeowners, landscapers and others, consolidated in federal court in Philadelphia. Some claimants are frustrated by the pace of the claims process and communications from the company.
"We're hearing nothing," said Janet DaPrato of Columbus, Ohio, who had two trees die last year and has had two more die since. "We put in a claim for two trees, and now the problem is getting worse."
Conditional registration is allowed under Section 3(c)(7) of the Federal Insecticide, Fungicide and Rodenticide Act prior to the registrant submitting all statutorily required data. EPA is authorized to grant a conditional registration on the assumption that no unreasonable adverse effects on environmental and human health will result. As the case of Imprelis confirms, conditional registration actually allows EPA to bypass statutory safeguards and rush pesticides with unknown and unevaluated risks to market. It often takes years before EPA receives the relevant data, and sometimes that data is not submitted before the 15-year reregistration review cycle required for all pesticides.
EPA's decision to grant conditional registration to the systemic insecticide clothianidin further illustrates the dangers of approving a pesticide before completing a rigorous and comprehensive appraisal of its risks. EPA granted a conditional registration to clothianidin in 2003 despite the absence of a required field study satisfying the statutory requirement that the pesticide not impose "unreasonable adverse risks" to pollinators, including honey bees. Nine years later, EPA still lacks an acceptable study satisfying this legal requirement yet the agency continues to allow the widespread use of clothianidin and similar neonicotinoid insecticides. Substantial new research is emerging that neonicotinoid insecticides have cumulative, sublethal effects on bees including neurobehavioral and immune system disruptions that are contributing to the Colony Collapse Disorder that is decimating bee hives globally. To take action to reverse the catastrophic damage caused by clothianidin and other neonicotinoid insecticides, visit Beyond Pesticide's Pollinators and Pesticides webpage.
The active ingredient in Imprelis, aminocyclopyrachlor, is biologically active in soil and rapidly absorbed by roots and leaves. Aminocyclopyrachlor is in the chemical class of the pyrimidine carboxylic acids, which is similar to pyridine carboxylic acid herbicides that includes the herbicides aminopyralid, clopyralid and picloram.
The two classes of herbicides share characteristics, including high persistence in the environment, systemic incorporation into plants and high toxicity during seedling emergence. The pyridine carboxylic acid herbicides are so persistent that they resist breakdown even when passing through the gut of ruminants that consume forage on which the pesticides have been applied. Organic farmers and gardeners have linked herbicide-contaminated manure and compost obtained from non-organic farms and dairies to severe crop damages.
Visit EcoWatch's BIODIVERSITY page for more related news on this topic.
EcoWatch Daily Newsletter
Tuna auctions are a tourist spectacle in Tokyo. Outside the city's most famous fish market, long queues of visitors hoping for a glimpse of the action begin to form at 5 a.m. The attraction is so popular that last October the Tsukiji fish market, in operation since 1935, moved out from the city center to the district of Toyosu to cope with the crowds.

gmnicholas / E+ / Getty Images
Kristan Porter grew up in a fishing family in the fishing community of Cutler, Maine, where he says all roads lead to one career path: fishing. (Porter's father was the family's lone exception. He suffered from terrible seasickness, and so became a carpenter.) The 49-year-old, who has been working on boats since he was a kid and fishing on his own since 1991, says that the recent warming of Maine's cool coastal waters has yielded unprecedented lobster landings.
Aerial view of lava flows from the eruption of volcano Kilauea on Hawaii, May 2018. Frizi / iStock / Getty Images
Hawaii's Kilauea volcano could be gearing up for an eruption after a pond of water was discovered inside its summit crater for the first time in recorded history, according to the AP.
The Eqip Sermia Glacier is seen behind a moraine left exposed by the glacier's retreat during unseasonably warm weather on Aug. 1 at Eqip Sermia, Greenland. Sean Gallup / Getty Images
hadynyah / E+ / Getty Images
By Johnny Wood
The Ganges is a lifeline for the people of India, spiritually and economically. On its journey from the Himalayas to the Bay of Bengal, it supports fishermen, farmers and an abundance of wildlife.
The river and its tributaries touch the lives of roughly 500 million people. But having flowed for millennia, today it is reaching its capacity for human and industrial waste, while simultaneously being drained for agriculture and municipal use.
Here are some of the challenges the river faces.
By Jake Johnson
As a growing number of states move to pass laws that would criminalize pipeline protests and hit demonstrators with years in prison, an audio recording obtained by The Intercept showed a representative of a powerful oil and gas lobbying group bragging about the industry's success in crafting anti-protest legislation behind closed doors.
Reposted with permission from our media associate Common Dreams.

DESIREE MARTIN / AFP / Getty Images
Wildfires raging on Gran Canaria, the second most populous of Spain's Canary Islands, have forced around 9,000 people to evacuate.