This website uses cookies to ensure you get the best experience while browsing it. By clicking 'Got It' you're accepting these terms.
Dumping ALEC Is Not Enough to Combat Climate Change
Mar. 30, 2015 07:28AM EST
Climate
BP has withdrawn support to ALEC, a group known for misrepresenting climate science, but appearances can be deceptive. Oil, gas and coal companies remain firmly behind climate disinformation campaigns.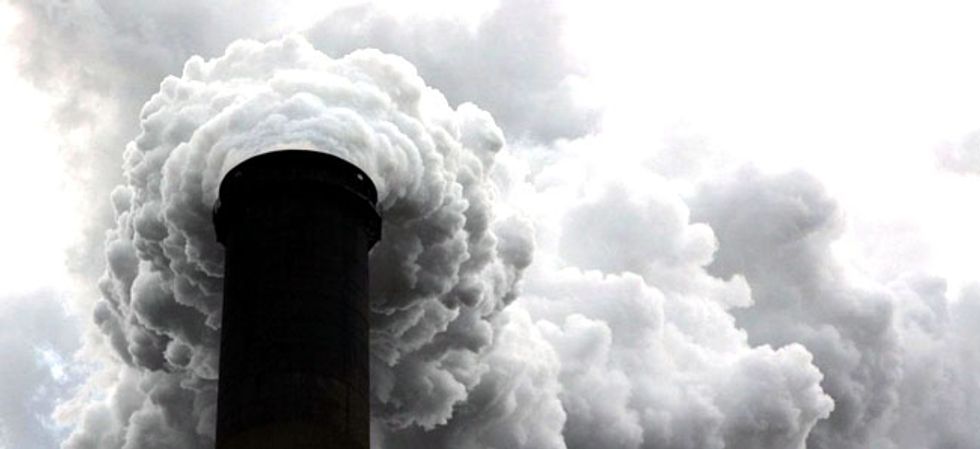 The oil giant BP has announced that they will no longer fund the American Legislative Exchange Council (ALEC), a lobbying group that routinely misrepresents climate science to U.S. state legislators. It is the latest sign that some of the world's largest fossil fuel companies appear to be warming to the overwhelming evidence that the unabated use of their products poses severe risks of disrupting the climate.
Last month, BP and Royal Dutch Shell announced their support for shareholder resolutions calling on them to commit to reduce heat-trapping emissions, invest in renewable energy, and show how their current business model would hold up against the strict limits on future emissions needed to limit the risk of major climate disruption.
Shell chief executive Ben van Buerden recently stated that "climate change is real and a threat we want to act upon. We are not aligning with skeptics."
Even ExxonMobil, which spent $16 million between 1998 and 2005 to fund groups that spread disinformation about climate science, now prominently acknowledges on their website that "rising greenhouse gas emissions pose significant risks to society and ecosystems."
But appearances can be deceiving.
For one, BP still channels funds through its political action committee to climate science-denying U.S. policymakers such as Senator James Inhofe, chair of the Senate's environment and public works committee. While such direct contributions to politicians are a matter of public record, companies continue to sow climate doubt and influence climate policy in ways that are far more opaque.
For instance, recently released documents show that ExxonMobil gave more than $75,000 between 2008 and 2010 to secretly support the work of Willie Soon, a contrarian climate researcher at the Harvard-Smithsonian Center for Astrophysics, well after the company announced it would halt such funding. Soon's research has sought to downplay the human influence on global warming.
This follows revelations that Southern Company, one of the largest utilities in the U.S., spent $400,000 between 2006 and 2015 to fund Soon, supporting his research, Congressional testimony, and other "deliverables" while specifying that its funding be disclosed only with express company permission.
Robert Gehri, the Southern Company employee who authorized this funding was one of a dozen industry representatives who, on behalf of the American Petroleum Institute, created a $6 million campaign in 1998 that misled the public about climate science. Among other strategies, he oversaw the covert funding of "independent" scientists.
Some of the largest fossil fuel companies—now publicly accepting mainstream climate science—continue to support climate denial through influential lobbying groups and trade associations. Shell, Chevron and ExxonMobil still fund ALEC, which misleadingly describes climate change as "a historical phenomenon for which debate will continue over the significance of natural and [human-caused] contributions."
With their support, ALEC promotes "model legislation" to repeal state renewable energy standards and roll back other climate and energy policies.
Shell, BP, Chevron and ExxonMobil are also members and funders of the API and the Western States Petroleum Association (WSPA). Late last year, a leaked presentation from WSPA revealed a stealth campaign to block climate policies in California by backing a constellation of astroturf groups with names such as the "California Drivers Alliance" and "Californians Against Higher Taxes."
Exactly how much fossil fuel companies have spent to support disinformation remains shrouded in secrecy, in part because they are not required to report their political and public relations spending. Robert Brulle, a social scientist at Drexel University, estimates that hundreds of millions of dollars have flowed from corporations, ideological foundations and groups that oppose climate policy and often sow doubt about mainstream climate science.
Such spending is big money in politics, but it pales in comparison to the staggering costs of climate change. New York City alone estimates it will cost nearly $20 billion over a decade to protect its citizens against rising seas and more extreme weather. The bipartisan Risky Business Project estimates that over the next 15 years, sea level rise and storm surge are expected to increase damage from East and Gulf Coast storms by $2 billion to $3.5 billion. They also conclude that more extreme heat could cause corn, wheat, soy and cotton yields to decline 10 percent or more in some southern and midwestern counties.
Who will pay these and other costs of preparing for now inevitable changes? Right now, by default, this responsibility falls largely to taxpayers.
But shouldn't fossil fuel companies bear some responsibility to pay for the harms resulting from their products?
Tobacco companies were found liable for damage from cigarettes. Those companies also deceived the public about the realities of scientific research on smoking. In fact, they funded some of the same scientists and groups fossil fuel companies have relied on to spread misinformation. The tobacco companies were held accountable, in part, because they colluded to deceive the public and policymakers about the risks their products caused.
Similarly, after scientific evidence on the cancer-causing risks of asbestos was established, producers of asbestos and manufacturers of products containing it were also held liable for damages.
The magnitude of the fossil energy industry's contribution to the climate problem is enormous. Researchers have found that just 90 entities—including the world's largest investor-owned fossil fuel companies such as Chevron, ExxonMobil, BP and Shell—are responsible for extracting the coal, oil and gas that have produced about two-thirds of all industrial carbon pollution. For decades, these same companies have sought to obscure the risks of using their products and sought to deny and delay regulation—increasing the risks society faces from a changing climate.
It is not too late for fossil fuel companies to take responsible action. Shell and BP's support for shareholder resolutions calling on them to invest in low-carbon energy is a first step. But investors—and society at large—should expect far more.
We should expect fossil fuel companies to stop supporting climate disinformation and distance themselves publicly from trade associations and lobbying groups that do. We should expect them to make their political spending transparent. And we should expect them to pay a fair share of the costs of limiting the damages from climate change, which a more expedited transition to low carbon economy could have—and should have—avoided.
This post originally appeared as an op-ed in The Guardian. Peter Frumhoff is the director of scientist and policy at Union of Concerned Scientists. Naomi Oreskes is a professor of the history of science at Harvard University. 
YOU MIGHT ALSO LIKE
Renowned Scientists Urge Museums to Drop Climate-Denier Donors, BP Dumps ALEC
Why Is Climate Denier David Koch on Board of Nation's Leading Natural History Museums
EcoWatch Daily Newsletter
Pro-environment demonstrators on the streets of Washington, DC during the Jan. 20, 2017 Trump inauguration.
Mobilus In Mobili
/ Flickr /
CC BY-SA 2.0
By Dr. Brian R. Shmaefsky
One year after the Flint Water Crisis I was invited to participate in a water rights session at a conference hosted by the US Human Rights Network in Austin, Texas in 2015. The reason I was at the conference was to promote efforts by the American Association for the Advancement of Science (AAAS) to encourage scientists to shine a light on how science intersects with human rights, in the U.S. as well as in the context of international development. My plan was to sit at an information booth and share my stories about water quality projects I spearheaded in communities in Bangladesh, Colombia, and the Philippines. I did not expect to be thrown into conversations that made me reexamine how scientists use their knowledge as a public good.
Mt. Rainier and Reflection Lake on Sept. 10, 2015. Crystal Geyser planned to open a bottling plant near Mt. Rainier, emails show.
louelke - on and off / Flickr
Bottled water manufacturers looking to capture cool, mountain water from Washington's Cascade Mountains may have to look elsewhere after the state senate passed a bill banning new water permits, as The Guardian reported.
Large storage tank of Ammonia at a fertilizer plant in Cubatão, Sao Paulo State, Brazil. Luis Veiga / The Image Bank / Getty Images
The shipping industry is coming to grips with its egregious carbon footprint, as it has an outsized contribution to greenhouse gas emissions and to the dumping of chemicals into open seas. Already, the global shipping industry contributes about 2 percent of global carbon emissions, about the same as Germany, as the BBC reported.
At high tide, people are forced off parts of the pathway surrounding DC's Tidal Basin. Andrew Bossi /
Wikimedia
The Jefferson Memorial in Washington, DC overlooks the Tidal Basin, a man-made body of water surrounded by cherry trees. Visitors can stroll along the water's edge, gazing up at the stately monument.
But at high tide, people are forced off parts of the path. Twice a day, the Tidal Basin floods and water spills onto the walkway.
Lioness displays teeth during light rainstorm in Kruger National Park, South Africa. johan63 / iStock / Getty Images
Ahead of government negotiations scheduled for next week on a global plan to address the biodiversity crisis, 23 former foreign ministers from various countries released a statement on Tuesday urging world leaders to act "boldly" to protect nature.