Dubbing New EPA Carbon Plan 'Obamacare For The Air,' Mainstream Media Fails to See Republican Extremism
The Daily Beast is dubbing the U.S. Environmental Protection Agency's (EPA) new clean power plan "Obamacare for the Air" in part because it is "intensely polarizing." But the reason that the standards are "polarizing" is that, just like with Obamacare's individual mandate, Republicans have abandoned their previous support for addressing this pressing issue with market-based policies as they move further to the extreme right.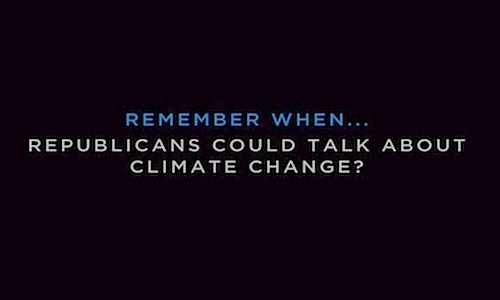 On June 2, the EPA proposed the first standards for carbon pollution from existing power plants, which would allow states flexibility on how to achieve the pollution cuts. States could, for instance, mandate installations of new clean power technology or join regional cap-and-trade programs that take a market-based approach to promoting clean power. The Daily Beast's Jason Mark labeled the standards "Obamacare for the Air" because both plans are "numbingly complex," "based on a market system," "likely to transform a key sector of the economy," and "guaranteed to be intensely polarizing." The Christian Science Monitor's David Unger similarly compared the standards to Obamacare in part because they are "controversial." The editor in chief of the Daily Beast, John Avalon adopted the analogy on CNN's New Day, calling it a "long-time liberal priority." 
Both articles left out why the EPA standards are contentious among the political class: it's not because the proposals are "liberal," but rather because the Republican party has shifted so far to the right that it now attacks proposals that it once advocated for. Many prominent Republicans supported a cap-and-trade program before Barack Obama was elected president, just as they once supported the individual mandate in Obamacare. In fact, the greenhouse gas emissions cuts that Sen. John McCain (R-AZ) proposed during the 2008 election were far more extensive than the EPA's current proposal. The video below by Media Matters Action Network shows how Republicans used to talk about climate change in ways that they never would today:
As the Republican Party shifted to the right, so too did the conservative media. The Wall Street Journal editorial board previously stated that "the Bush Administration should propose a domestic cap-and-trade program for carbon dioxide that could, of course, be easily expanded to Canada and Mexico. And then to Latin America. And then the world." Now the paper's editorials deride this conservative idea as "cap-and-tax." Yet mainstream reporters are often loathe to point out this profound shift, sticking instead to "both-sides-to-blame reporting."
EPA's new standards are also similar to Obamacare in that they are more controversial among politicians serving special interests than among the public. Polls of American voters show overwhelming support across party lines for regulating carbon pollution, just as there is significant bipartisan support for most provisions of the Affordable Care Act ("Obamacare"). Industry groups' attacks on the EPA's plan are hardly newsworthy. These same groups have overestimated the cost of action on nearly every policy to address environmental threats, including acid rain.
So, one could call the EPA's plan "Obamacare for the Air." It's a market-based policy that conservatives once advocated, and it's a "B.F.D." that enjoys popular support. Both policies also provide huge public health benefits. Turning away from coal plants, which are on average 42 years old, and toward newer, cleaner power sources not only reduces climate change risks but also reduces lethal ozone and particulate matter pollution. That's why the American Lung Association estimates that the proposed carbon pollution standards would "prevent up to 4,000 premature deaths and 100,000 asthma attacks in the first year they are in place, and prevent up to 6,600 premature deaths and 150,000 asthma attacks in 2030."
--------
YOU MIGHT ALSO LIKE
New EPA Carbon Standards Give Kids a Fighting Chance
Obama and EPA Release Historic Carbon Reduction Plan to Fight Climate Change
How the EPA's Carbon Plan Could Create 274,000 New Jobs
--------
Laurie Woolever
By James O'Hare
There are 20 million people in the world facing famine in South Sudan, Somalia, Nigeria and Yemen. In developed nations, too, people go hungry. Venezuela, for instance, is enduring food insecurity on a national level as a result of economic crisis and political corruption. In the U.S., the land of supposed excess, 12.7 percent of households were food insecure in 2015, meaning they didn't know where their next meal would come from.
Keep reading...
Show less
Shutterstock
By Rachael Link
Though commonly thought to be a vegetable, cucumber is actually a fruit.
Keep reading...
Show less
Melwater, Greenland ice sheet. Diane Tuft
Artists are taking the climate crisis into frame and the results are emotional, beautiful and stirring.
So you've seen the best climate change cartoons and shared them with your friends. You've showed your family the infographics on climate change and health, infographics on how the grid works and infographics about clean, renewable energy. You've even forwarded these official National Oceanic and Atmospheric Administration graphs that explain the 10 clear indicators of climate change to your colleagues at the office.
Keep reading...
Show less
May. 27, 2017 01:11PM EST
As the Trump administration moves full speed ahead on boosting the oil and fossil fuel industry, opposition to increased pipeline construction is cropping up in different communities around the country.
Keep reading...
Show less
May. 27, 2017 01:02PM EST
Minke whale stranding near Havergate Island in Suffolk. MCGA.
By Simon Evans
Last Saturday, two dead whales washed up on the coast of Suffolk, in eastern England, and a third was spotted floating at sea.
What happened next illustrates how news can spread and evolve into misinformation, when reported by journalists rushing to publish before confirming basic facts or sourcing their own quotes.
Keep reading...
Show less
May. 27, 2017 01:22PM EST
By Monica Amarelo and Paul Pestano
Sun safety is a crucial part of any outdoor activity for kids, and sunscreen can help protect children's skin from harmful ultraviolet rays. Kids often get sunburned when they're outside unprotected for longer than expected. Parents need to plan ahead and keep sun protection handy in their cars or bags.
Keep reading...
Show less
May. 27, 2017 01:02PM EST
By Joe McCarthy
A lot of people take part in community clean-up efforts—spending a Saturday morning picking up litter in a park, mowing an overgrown field or painting a fence.
Keep reading...
Show less
May. 26, 2017 03:22PM EST
Rink Glacier in western Greenland, with a meltwater lake visible center. NASA/OIB
Scientists have had their eyes on Greenland as its iconic glaciers have begun disappearing due to a warming climate. But, what they didn't expect to see was a whole new type of melting.
Keep reading...
Show less


Get EcoWatch in your inbox