This website uses cookies to ensure you get the best experience while browsing it. By clicking 'Got It' you're accepting these terms.
Dubbing New EPA Carbon Plan 'Obamacare For The Air,' Mainstream Media Fails to See Republican Extremism
Jun. 02, 2014 02:59PM EST
Climate
The Daily Beast is dubbing the U.S. Environmental Protection Agency's (EPA) new clean power plan "Obamacare for the Air" in part because it is "intensely polarizing." But the reason that the standards are "polarizing" is that, just like with Obamacare's individual mandate, Republicans have abandoned their previous support for addressing this pressing issue with market-based policies as they move further to the extreme right.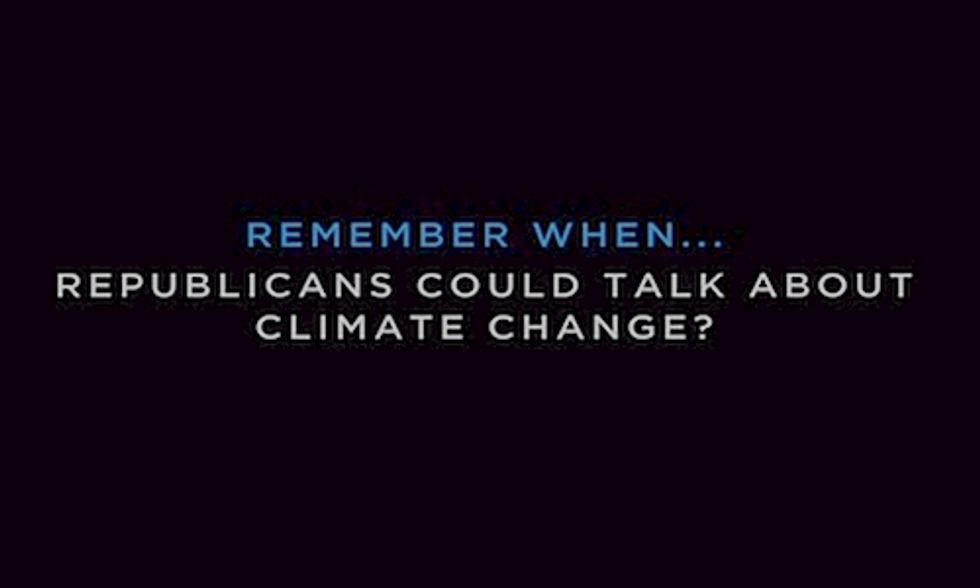 On June 2, the EPA proposed the first standards for carbon pollution from existing power plants, which would allow states flexibility on how to achieve the pollution cuts. States could, for instance, mandate installations of new clean power technology or join regional cap-and-trade programs that take a market-based approach to promoting clean power. The Daily Beast's Jason Mark labeled the standards "Obamacare for the Air" because both plans are "numbingly complex," "based on a market system," "likely to transform a key sector of the economy," and "guaranteed to be intensely polarizing." The Christian Science Monitor's David Unger similarly compared the standards to Obamacare in part because they are "controversial." The editor in chief of the Daily Beast, John Avalon adopted the analogy on CNN's New Day, calling it a "long-time liberal priority." 
Both articles left out why the EPA standards are contentious among the political class: it's not because the proposals are "liberal," but rather because the Republican party has shifted so far to the right that it now attacks proposals that it once advocated for. Many prominent Republicans supported a cap-and-trade program before Barack Obama was elected president, just as they once supported the individual mandate in Obamacare. In fact, the greenhouse gas emissions cuts that Sen. John McCain (R-AZ) proposed during the 2008 election were far more extensive than the EPA's current proposal. The video below by Media Matters Action Network shows how Republicans used to talk about climate change in ways that they never would today:
As the Republican Party shifted to the right, so too did the conservative media. The Wall Street Journal editorial board previously stated that "the Bush Administration should propose a domestic cap-and-trade program for carbon dioxide that could, of course, be easily expanded to Canada and Mexico. And then to Latin America. And then the world." Now the paper's editorials deride this conservative idea as "cap-and-tax." Yet mainstream reporters are often loathe to point out this profound shift, sticking instead to "both-sides-to-blame reporting."
EPA's new standards are also similar to Obamacare in that they are more controversial among politicians serving special interests than among the public. Polls of American voters show overwhelming support across party lines for regulating carbon pollution, just as there is significant bipartisan support for most provisions of the Affordable Care Act ("Obamacare"). Industry groups' attacks on the EPA's plan are hardly newsworthy. These same groups have overestimated the cost of action on nearly every policy to address environmental threats, including acid rain.
So, one could call the EPA's plan "Obamacare for the Air." It's a market-based policy that conservatives once advocated, and it's a "B.F.D." that enjoys popular support. Both policies also provide huge public health benefits. Turning away from coal plants, which are on average 42 years old, and toward newer, cleaner power sources not only reduces climate change risks but also reduces lethal ozone and particulate matter pollution. That's why the American Lung Association estimates that the proposed carbon pollution standards would "prevent up to 4,000 premature deaths and 100,000 asthma attacks in the first year they are in place, and prevent up to 6,600 premature deaths and 150,000 asthma attacks in 2030."
--------
YOU MIGHT ALSO LIKE
New EPA Carbon Standards Give Kids a Fighting Chance
Obama and EPA Release Historic Carbon Reduction Plan to Fight Climate Change
How the EPA's Carbon Plan Could Create 274,000 New Jobs
--------
EcoWatch Daily Newsletter
Malaysian Environment Minister Yeo Bee Yin (front 2nd L) and officials inspect a container containing plastic waste shipment on Jan. 20, 2020 before sending back to the countries of origin. AFP via Getty Images
The Southeast Asian country Malaysia has sent 150 shipping containers packed with plastic waste back to 13 wealthy countries, putting the world on notice that it will not be the world's garbage dump, as CNN reported. The countries receiving their trash back include the United States, the United Kingdom, France and Canada.
Trump leaves after delivering a speech at the Congress Centre during the World Economic Forum annual meeting in Davos on Jan. 21, 2020. JIM WATSON / AFP via Getty Images
Warning: The video above may be upsetting to viewers.
An amusement park in China came under fire on social media this weekend for forcing a pig off a 230 foot-high bungee tower.
Participants at the tree-planting event in Ankazobe district, Madagascar, on Jan. 19. Valisoa Rasolofomboahangy / Mongabay
By Malavika Vyawahare, Valisoa Rasolofomboahangy
Madagascar has embarked on its most ambitious tree-planting drive yet, aiming to plant 60 million trees in the coming months. The island nation celebrates 60 years of independence this year, and the start of the planting campaign on Jan. 19 marked one year since the inauguration of President Andry Rajoelina, who has promised to restore Madagascar's lost forests.
A pedestrian wearing a mask walks in a residential area in Beijing on Jan. 21, 2020. The number of people in China infected by a new SARS-like virus jumped to 291, according to authorities. WANG ZHAO / AFP via Getty Images