This website uses cookies to ensure you get the best experience while browsing it. By clicking 'Got It' you're accepting these terms.
Droughts, Floods and Heatwaves: Blame It on Climate Change
May. 17, 2015 10:21AM EST
As temperatures soar to record heights, blame it on global warming—but only about three-quarters of the time. And when the rain comes down by the bucketful, you can attribute one downpour in five to climate change.
Yet another team of research scientists has looked at the probabilities, and has linked extremes of weather with global warming.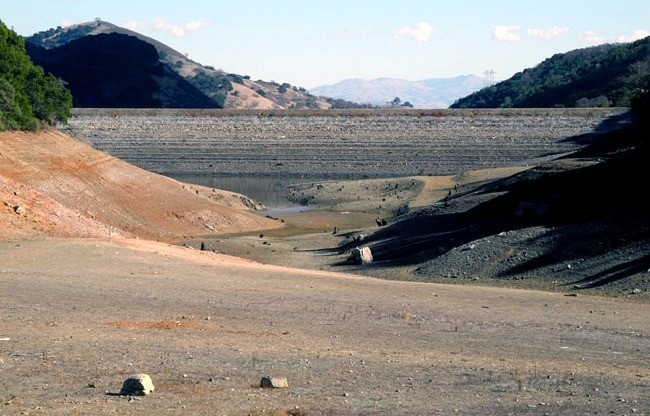 Photo credit: Ian Abbott / Flickr
Extremes have always happened and are, by definition, rare events. So, for the last 30 years, climate scientists have carefully explained that no particular climate event could be identified as the consequence of a rise in global average temperatures driven by the release of carbon dioxide and other greenhouse gases from the burning of fossil fuels.
But some events that were once improbable have now become statistically more probable because of global warming, according to Erich Fischer and Reno Knutti, climate scientists at ETH Zurich—the Swiss Federal Institute of Technology.
They report in Nature Climate Change that they looked at simulations of probabilities and climate records for the period 1901 to 2005, and projections for the period 2006 to 2100.
Rise in temperatures
Then they settled down to calculate the likelihood that a proportion of past heatwaves or floods could be linked to a measured average rise in planetary temperatures so far of 0.85°C.
They worked out how these proportions would change if the average planetary temperatures reach 2°C above the "normal" of the pre-industrial world, and they found that human-induced global warming could already be responsible for 18 percent of extremes of rain or snow, and 75 percent of heatwaves worldwide.
If the temperatures go up to the 2°C that nations have agreed should be the limit, then the probability of precipitation extremes that could be blamed on global warming rises to 40 percent. They are less precise about heatwaves, but any rise could be sharp.
"If temperatures rise globally by 2°C, we would expect twice as many extreme heat events worldwide than we would with a 1.5 percent increase," Dr Fischer says.
"These global warming targets, which are discussed in climate negotiations and which differ little at first glance, therefore have a great influence on the frequency of extremes."
The researchers are talking about probabilities: it will still be difficult ever to say that one event was a random happening, and another a result of climate change. In such research, there are definition problems. What counts as extreme heat in northern England would not be extreme in India or Saudi Arabia.
But such distinctions could become increasingly academic for people who live in the path of unusual heat and extended drought, or flash floods and catastrophic hailstorms.
A scientist recently told the European Geosciences Union that some regions of the planet will see unprecedented drought, driven once again by climate change, before 2050.
Ignored warnings
Yusuke Satoh, of the International Institute for Applied Systems Analysis, warned that under the notorious business-as-usual scenario −where nations ignore such warnings and just go on burning fossil fuels—13 of 26 global regions would see "unprecedented hydrological drought levels" by 2050. Some would see this parching much earlier—the Mediterranean by 2027, and the western U.S. as early as 2017.
Such studies are calculated to help provoke governments, states and water authorities into preparing for climate change, but it just may be that the western U.S. is already feeling the heat. California, in particular, has been in the grip of unprecedented drought, and researchers have already linked this to climate change.
Reservoirs and irrigation systems are built on historical data. "But in the next few decades, these historical data may no longer give us accurate information about current conditions," Dr Satoh says. "The earlier we take this seriously, the better we will be able to adapt."
YOU MIGHT ALSO LIKE
250,000 People Call for Action on Climate Change and an End to Extreme Poverty
Global Carbon Levels Surpass 400 ppm for First Time Ever for Entire Month
Gay Marriage to Blame for California's Epic Drought, Bill Koenig Claims
KarinaKnyspel / iStock / Getty Images
2018 saw a number of studies pointing to the outsized climate impact of meat consumption. Beef has long been singled out as particularly unsustainable: Cows both release the greenhouse gas methane into the atmosphere because of their digestive processes and require a lot of land area to raise. But for those unwilling to give up the taste and texture of a steak or burger, could lab-grown meat be a climate-friendly alternative? In a first-of-its-kind study, researchers from the Oxford Martin School set out to answer that question.
Three scissor-tailed flycatcher fledglings in a mesquite tree in Texas. Texas Eagle / CC BY-NC 2.0
By Gary Paul Nabhan
President Trump has declared a national emergency to fund a wall along our nation's southern border. The border wall issue has bitterly divided people across the U.S., becoming a vivid symbol of political deadlock.
PeopleImages / E+ / Getty Images
By Daniel Ross
Hurricane Florence, which battered the U.S. East Coast last September, left a trail of ruin and destruction estimated to cost between $17 billion and $22 billion. Some of the damage was all too visible—smashed homes and livelihoods. But other damage was less so, like the long-term environmental impacts in North Carolina from hog waste that spilled out over large open-air lagoons saturated in the rains.
Hog waste can contain potentially dangerous pathogens, pharmaceuticals and chemicals. According to the state's Department of Environmental Quality, as of early October nearly 100 such lagoons were damaged, breached or were very close to being so, the effluent from which can seep into waterways and drinking water supplies.
This picture taken on May 21, 2018 shows discarded climbing equipment and rubbish scattered around Camp 4 of Mount Everest. Decades of commercial mountaineering have turned Mount Everest into the world's highest rubbish dump as an increasing number of big-spending climbers pay little attention to the ugly footprint they leave behind. DOMA SHERPA / AFP / Getty Images
China has closed its Everest base camp to tourists because of a buildup of trash on the world's tallest mountain.