Drought Shaming the Rich and Famous: Who Is California's Biggest Water Guzzler?
Oct. 14, 2015 08:10AM EST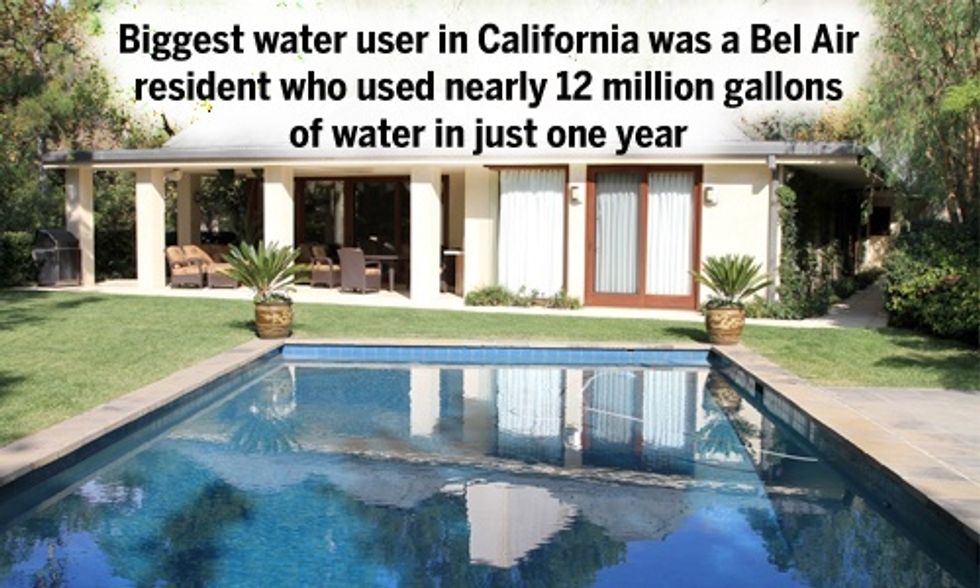 The Center for Investigative Reporting has outed California's biggest residential water users in The Wet Prince of Bel Air: Who Is California's Biggest Water Guzzler? The report, published earlier this month, found 365 California households each used more than 1 million gallons of water from April 2014 to April 2015.
"One million gallons is enough for eight families for a year, according to a 2011 state estimate, and many of California's mega-users pumped far more than that," says The Center for Investigative Reporting. "Of the total, 73 homes used more than 3 million gallons apiece, and another 14 used more than 6 million." The biggest user used a shocking 11.8 million gallons of water. City Lab points out that's as much water as 90 households use in an average year and enough water to fill 18 Olympic-sized swimming pools.
State officials would not reveal the names or addresses of these users out of privacy concerns. They would only give their zip codes. Bel Air tops the list with four of the five biggest water users in the state. The wealthy LA neighborhoods of Beverly Hills, Brentwood and Westwood round out the top 10.
"San Diego's posh La Jolla beachfront community" and the "affluent suburbs of Contra Costa County in the Bay Area" also have a high concentration of what The Center for Investigative Reporting refers to as "mega-users."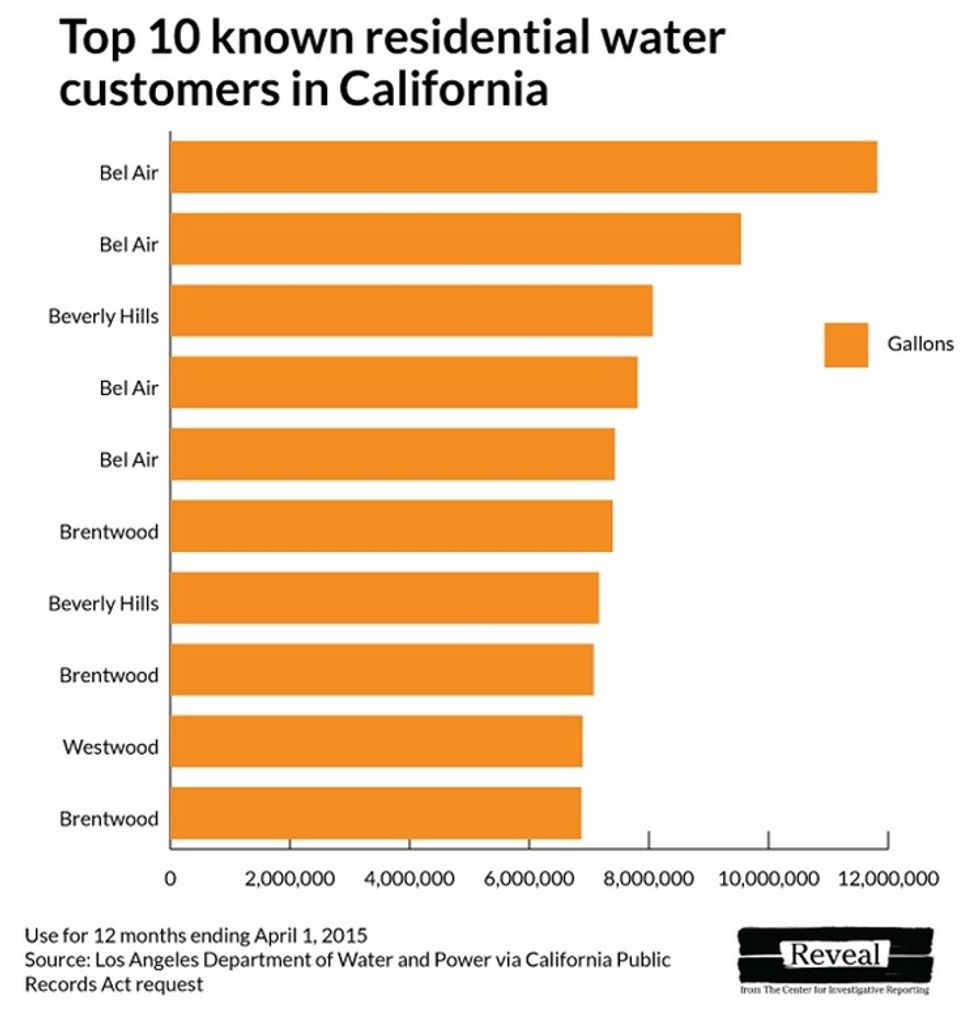 How is all of this profligate water use allowed in a drought? After all, in April Gov. Brown issued the state's first-ever mandatory water restrictions.
"There's no ordinance on the books in Los Angeles to go after an individual customer strictly for their use," explains Martin Adams, senior assistant general manager for the water system at the Department of Water and Power. Only two water agencies in the state (one in Oakland, the other east of Los Angeles in the Coachella Valley) fine mega-users, according to The Center for Investigative Reporting.
As long as residents follow other usage rules (such as watering only on certain days and preventing run off into the street), they can use as much water as they can pay for. Needless to say, this has people up in arms. The biggest water users live in some of the most lavish neighborhoods in not just the state but the country. The Center for Investigative Reporting calls Bel Air "a lushly landscaped, mansion-studded enclave of wealth and celebrity." It's home to some big names, including Elon Musk, Nancy Reagan, Berry Gordy, Jennifer Aniston and Rupert Murdoch to name just a few. The only thing that people love more than drought shaming is drought shaming the rich and famous.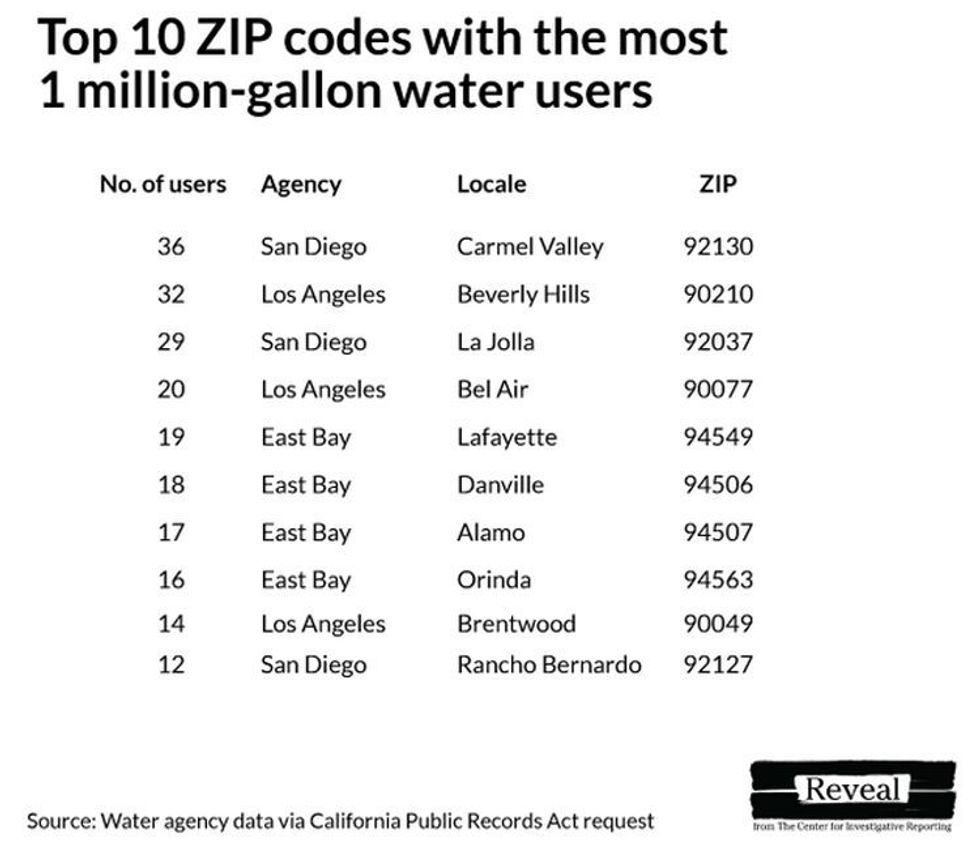 Meanwhile, state officials have lauded Californians for reducing their overall water use. Urban water usage dropped by 31 percent in July compared with 2013. And officials are quick to point out these mega-users account for a small fraction of overall water usage. Adams told The Center for Investigative Reporting "the city's top 100 residential customers account for only about two-tenths of one percent of L.A.'s total usage." The city, Adams said, would rather focus on decreasing overall water usage.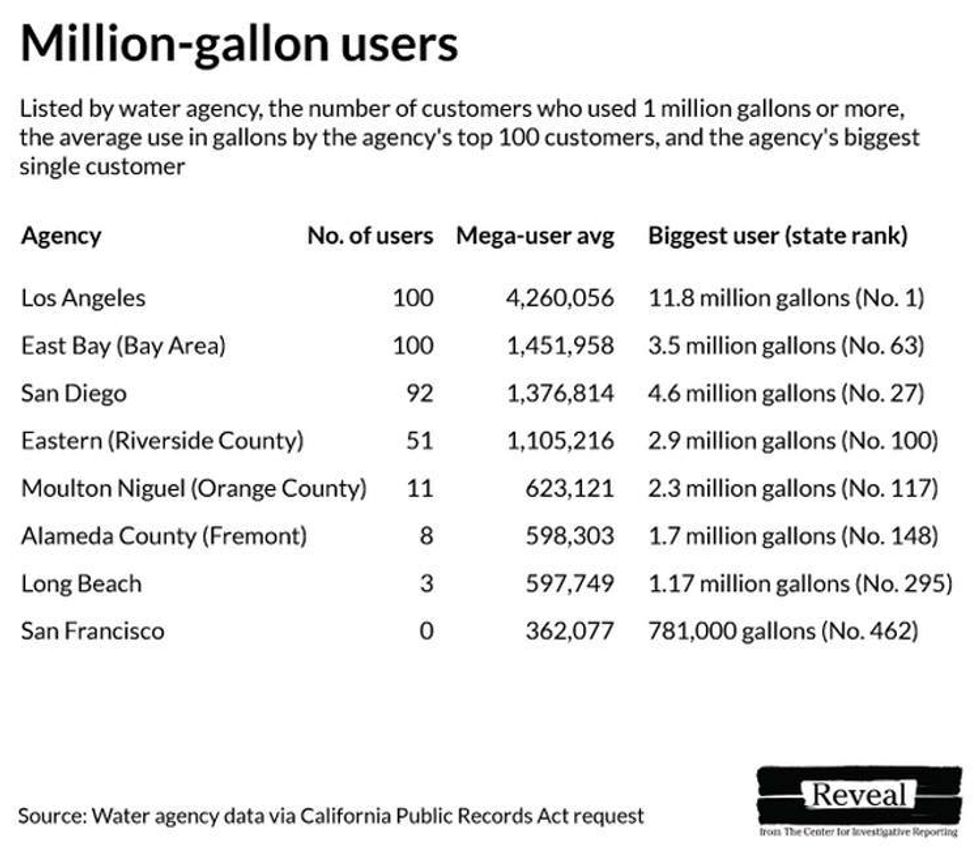 Since the state won't address the issue, concerned citizens have taken the matter into their own hands. As I reported in July, California residents have formed vigilante groups and turned to posting incidents of water waste on drought shaming apps, websites, social media and YouTube.
These individuals and groups say it's "ethically problematic" (as one resident put it) that one household is using nearly 12 million gallons of water, while thousands of low-income California residents are living without tap water.
Steve Lopez reporting for the LA Times says that he has formed a "drought posse" to hunt down the "water-hogging champ of California." Using satellite maps, neighborhood gutter flows and even a camera-equipped drone, these hard-core drought shammers are bent on finding the Bel Air resident who used nearly 12 million gallons of water in a year.
This past Friday, Lopez "went out on patrol with Bel-Air Beverly Crest Neighborhood Council member Maureen Levinson, doing a little surveillance on a Tuscan-style villa with a hillside vineyard." And Lopez and other water-wasting vigilantes may be getting the law on their side soon. Los Angeles City Councilman Paul Koretz introduced a motion on Friday to crack down on wanton water usage, including "severe financial penalties" and even, "as a last resort, shutting off water."
"We were horrified to read that there were abusers of that scale, and we have to figure out how to get a handle on that," Koretz told Lopez, saying that "criminal penalties" may be in order.
"I can't even imagine what you would do if you were trying to use that much water," said Koretz (City Lab humorously came up with ways that Bel Air resident might be using all that water). Koretz's motion called the abuse "a slap in the face to neighbors who have heroically complied with austere water use measures" and greatly reduced LA's total water usage.
The councilman has called for "a report from the Los Angeles Department of Water and Power within 30 days, and the matter is scheduled to be taken up soon by the full City Council," says Lopez.
YOU MIGHT ALSO LIKE
John Oliver Rips Fracking Industry for its Deadly Bakken Boom, Killing One Person Every Six Weeks
Disturbing Images Expose the Horrific Impact of Plastic Trash on Marine Animals
Watch Climate Denier Ted Cruz Bully Sierra Club President in Senate Hearing
Ben Carson Says He Doesn't Believe in Climate Change or Evolution
EcoWatch Daily Newsletter
Related Articles from EcoWatch
Recent Stories from EcoWatch