Drone Footage Captures the Shocking Reality of Rainforest Destruction
Jun. 04, 2015 09:18AM EST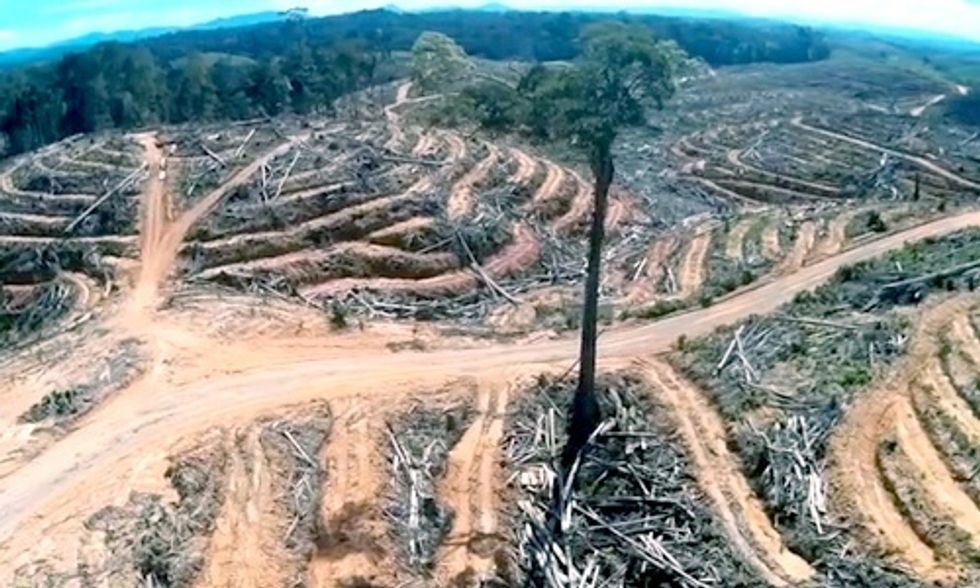 Recent drone footage from the nonprofit Forest Heroes, which works to end global deforestation, shows that, despite recent efforts to reduce deforestation, it is still happening. The drone footage below shows an Indonesian rainforest cleared for a palm oil plantation by the company, Astra Agro Lestari.
Global Canopy Programme′s website Forest 500 identifies, ranks and tracks the governments, companies and financial institutions worldwide that together could virtually eradicate tropical deforestation. It has named Astra Agro Lestari as one of the key players that could help end deforestation. The company is one of the 10 largest palm oil producers in Indonesia and has been operating there for more than 30 years. The Forest 500 gives it the lowest possible rating—1 out of 5—for its forest policies.
While organizations like the Global Canopy Programme work to fight deforestation by addressing the supply side, other organizations like the Union of Concerned Scientists are working to address the demand side of the equation. The Union of Concerned Scientists put out a report this spring, analyzing top international companies' palm oil commitments.
When the organization found that fast food companies had some of the weakest standards for sustainably sourced palm oil, beef and other ingredients, several fast food companies, most notably McDonald's, pledged to eliminate deforestation from their supply chain by the end of the year. Two other top fast food chains—Dunkin' Brands, parent of Dunkin' Donuts and Baskin-Robbins, and Yum! Brands, owner of KFC, Pizza Hut and Taco Bell—made commitments to stop buying palm oil linked to deforestation.
Deforestation not only contributes to climate change, but it has pushed many animals to the brink of extinction. Forest Heroes is urging people to sign a petition calling on Astra Agro Lestari and its parent company Jardine Matheson Holdings Ltd. to end deforestation.
YOU MIGHT ALSO LIKE
We Could Power Entire World on Renewables by 2025, Says Global Apollo Program
Santorum to Pope Francis: Police Bedrooms Not Climate Issues
EcoWatch Daily Newsletter
Related Articles from EcoWatch
Recent Stories from EcoWatch