This website uses cookies to ensure you get the best experience while browsing it. By clicking 'Got It' you're accepting these terms.


The best of EcoWatch, right in your inbox. Sign up for our email newsletter!
Dramatic Increases of Cancer-Causing Radon in PA Homes Linked to Fracking
Apr. 09, 2015 08:45AM EST
Energy
Researchers in Pennsylvania have discovered that the prevalence of radon, a radioactive and carcinogenic gas, in people's homes and commercial buildings that are nearer to fracking sites has increased dramatically in the state since the unconventional and controversial gas drilling practice began in the state just over a decade ago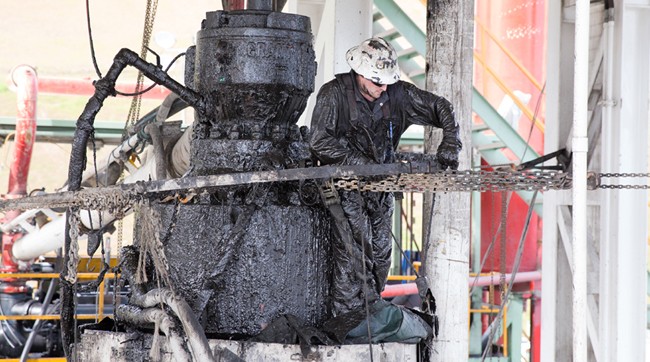 Both odorless and tasteless, radon is a naturally-occurring gas released from bedrock minerals beneath the ground and is found in millions of homes across the country. However, in a study published Thursday in the journal Environmental Health Perspectives, scientists compared the results of state-wide radon testing in Pennsylvania to find a significant correlation between unusually high levels of the deadly gas in some buildings (mostly residential homes) and the proliferation of fracking in certain areas of the state.
As State Impact Pennsylvania, the state's NPR affiliate, reports:
Researchers from Johns Hopkins University analyzed radon readings taken in some 860,000 buildings, mostly homes, from 1989 to 2013 and found that those in rural and suburban areas where most shale gas wells are located had a concentration of the cancer-causing radioactive gas that was 39 percent higher overall than those in urban areas.

It also found that buildings using well water had a 21 percent higher concentration of radon than those served by municipal water systems.

And it showed radon levels in active gas-drilling counties rose significantly starting in 2004 when the state's fracking boom began.
And according to Phys.org:
Since radon is naturally occurring, in areas without adequate ventilation—like many basements—radon can accumulate to levels that substantially increase the risk of lung cancer.

The study's first author is Joan A. Casey, a Robert Wood Johnson Foundation Health & Society Scholar at the University of California-Berkeley and San Francisco, who earned her PhD at the Bloomberg School in 2014. She says it is unclear whether the excess radon in people's homes is coming from radium getting into well water through the fracking process, being released into the air near the gas wells or whether natural gas from shale contains more radon than conventional gas and it enters homes through cooking stoves and furnaces. Another possibility, she says, is that in the past decade buildings have been more tightly sealed, potentially trapping radon that gets inside and leading to increased indoor radon levels. In the past, most radon has entered homes through foundation cracks and other openings into buildings.

"By drilling 7,000 holes in the ground, the fracking industry may have changed the geology and created new pathways for radon to rise to the surface," Casey says. "Now there are a lot of potential ways that fracking may be distributing and spreading radon."
According to its summary, the study "found a statistically significant association between proximity to unconventional natural gas wells drilled in the Marcellus shale and first floor radon concentration," especially during summer months. Though radon is often thought of as seeping up through basement floors, the researchers explain that airborne radon can also enter homes through open windows. After smoking, prolonged exposure to radon gas is considered to be the second-leading cause of lung cancer in the U.S.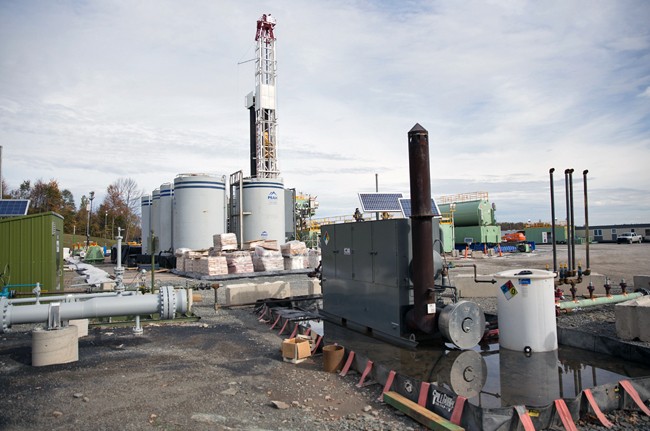 "One plausible explanation for elevated radon levels in people's homes is the development of thousands of unconventional natural gas wells in Pennsylvania over the past 10 years," says study leader Brian S. Schwartz, MD, a professor in the Department of Environmental Health Sciences at the Bloomberg School. "These findings worry us."
Significantly, the new study—Predictors of Indoor Radon Concentrations in Pennsylvania 1989-2013—directly conflicts with a study released by Pennsylvania's Department of Environmental Protection in January of this year which concluded that there was "little potential for additional radon exposure to the public" due to the widespread fracking activities across the state. Despite the conflicting findings, both DEP and the John Hopkins researchers acknowledged it was difficult to compare the studies as they had dissimilar methodologies and measured radon in significantly different ways.
Though gas industry officials were quick to criticize the findings of the new study, Dr. Bernard Goldstein, a former dean of the University of Pittsburgh School of Public Health and a former Environmental Protection Agency official, told NBC News that the industry can no longer ignore such worrying findings associated with its practices.
"The industry needs to abandon this excuse it hides behind which is, 'we've been doing this for 65 years, why are you worried'?" Goldstein said. "That's simply wrong. This ought to be treated as if it's something, like nanotechnology, which is a new thing that needs to be done carefully," he added.
Though people who buy new homes are often required to perform radon testing, Goldstein points out that "people who have been living in the house for a long time generally don't measure" for the deadly gas.
With the expansion of fracking across much of the state, he said, more people living near these drilling operation "should be measuring."
YOU MIGHT ALSO LIKE
Staggering Rise in Fracking Earthquakes Triggers Kansas to Take Action
States Fail to Properly Manage Fracking Waste, Says Groundbreaking Report
EcoWatch Daily Newsletter
PhotoAlto / Laurence Mouton / Getty Images
By Ana Reisdorf, MS, RD
You've probably heard the buzz around collagen supplements and your skin by now. But is the hype really that promising? After all, research has pointed to both the benefits and downsides of collagen supplements — and for many beauty-conscious folk, collagen isn't vegan.
Pixabay
By Marlene Cimons
Neil Pederson's introduction to tree rings came from a "sweet and kindly" college instructor, who nevertheless was "one of the most boring professors I'd ever experienced," Pederson said. "I swore tree rings off then and there." But they kept coming back to haunt him.
Aerial view of the explosion site of a chemical factory on March 22 in Yancheng, Jiangsu Province of China. Caixin Media / VCG / Getty Images)
At least 47 people have died in an explosion at a plant in Yancheng, China Thursday run by a chemical company with a history of environmental violations, Sky News reported.
A fishmonger in Elmina, a fishing port in the Central Region of Ghana. Environmental Justice Foundation
By Daisy Brickhill
Each morning, men living in fishing communities along Ghana's coastline push off in search of the day's catch. But when the boats come back to shore, it's the women who take over.
Pexels
By Sam Nickerson
Links between excess sugar in your diet and disease have been well-documented, but new research by Harvard's School of Public Health might make you even more wary of that next soda: it could increase your risk of an early death.
The study, published this week in the American Heart Association's journal Circulation, found that drinking one or two sugar-sweetened beverages (SSBs) each day — like sodas or sports drinks — increases risk of an early death by 14 percent.
Tyson Foods is recalling approximately 69,093 pounds of frozen chicken strips because they may have been contaminated with pieces of metal, the U.S. Department of Agriculture (USDA) Food Safety and Inspection Service (FSIS) announced Thursday.
The affected products were fully-cooked "Buffalo Style" and "Crispy" chicken strips with a "use by" date of Nov. 30, 2019 and an establishment number of "P-7221" on the back of the package.
"FSIS is concerned that some product may be in consumers' freezers," the recall notice said. "Consumers who have purchased these products are urged not to consume them. These products should be thrown away or returned to the place of purchase."
Environmental exposure to pesticides, both before birth and during the first year of life, has been linked to an increased risk of developing autism spectrum disorder, according to the largest epidemiological study to date on the connection.
The study, published Wednesday in BMJ, found that pregnant women who lived within 2,000 meters (approximately 1.2 miles) of a highly-sprayed agricultural area in California had children who were 10 to 16 percent more likely to develop autism and 30 percent more likely to develop severe autism that impacted their intellectual ability. If the children were exposed to pesticides during their first year of life, the risk they would develop autism went up to 50 percent.