This website uses cookies to ensure you get the best experience while browsing it. By clicking 'Got It' you're accepting these terms.
Dramatic Increases of Cancer-Causing Radon in PA Homes Linked to Fracking
Apr. 09, 2015 08:45AM EST
Energy
Researchers in Pennsylvania have discovered that the prevalence of radon, a radioactive and carcinogenic gas, in people's homes and commercial buildings that are nearer to fracking sites has increased dramatically in the state since the unconventional and controversial gas drilling practice began in the state just over a decade ago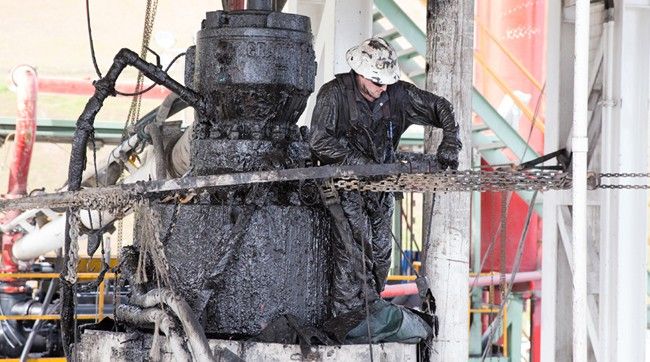 Both odorless and tasteless, radon is a naturally-occurring gas released from bedrock minerals beneath the ground and is found in millions of homes across the country. However, in a study published Thursday in the journal Environmental Health Perspectives, scientists compared the results of state-wide radon testing in Pennsylvania to find a significant correlation between unusually high levels of the deadly gas in some buildings (mostly residential homes) and the proliferation of fracking in certain areas of the state.
As State Impact Pennsylvania, the state's NPR affiliate, reports:
Researchers from Johns Hopkins University analyzed radon readings taken in some 860,000 buildings, mostly homes, from 1989 to 2013 and found that those in rural and suburban areas where most shale gas wells are located had a concentration of the cancer-causing radioactive gas that was 39 percent higher overall than those in urban areas.

It also found that buildings using well water had a 21 percent higher concentration of radon than those served by municipal water systems.

And it showed radon levels in active gas-drilling counties rose significantly starting in 2004 when the state's fracking boom began.
And according to Phys.org:
Since radon is naturally occurring, in areas without adequate ventilation—like many basements—radon can accumulate to levels that substantially increase the risk of lung cancer.

The study's first author is Joan A. Casey, a Robert Wood Johnson Foundation Health & Society Scholar at the University of California-Berkeley and San Francisco, who earned her PhD at the Bloomberg School in 2014. She says it is unclear whether the excess radon in people's homes is coming from radium getting into well water through the fracking process, being released into the air near the gas wells or whether natural gas from shale contains more radon than conventional gas and it enters homes through cooking stoves and furnaces. Another possibility, she says, is that in the past decade buildings have been more tightly sealed, potentially trapping radon that gets inside and leading to increased indoor radon levels. In the past, most radon has entered homes through foundation cracks and other openings into buildings.

"By drilling 7,000 holes in the ground, the fracking industry may have changed the geology and created new pathways for radon to rise to the surface," Casey says. "Now there are a lot of potential ways that fracking may be distributing and spreading radon."
According to its summary, the study "found a statistically significant association between proximity to unconventional natural gas wells drilled in the Marcellus shale and first floor radon concentration," especially during summer months. Though radon is often thought of as seeping up through basement floors, the researchers explain that airborne radon can also enter homes through open windows. After smoking, prolonged exposure to radon gas is considered to be the second-leading cause of lung cancer in the U.S.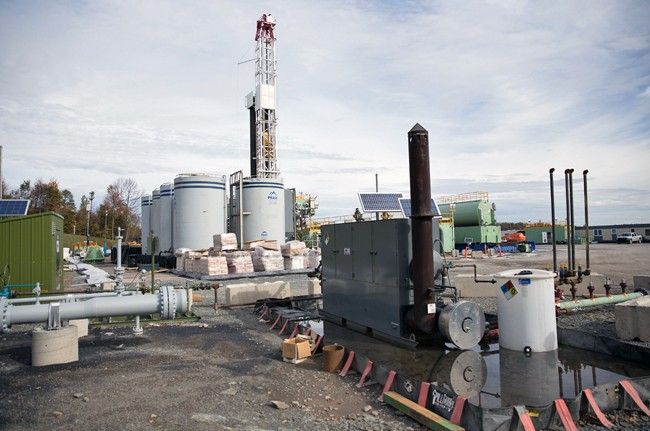 "One plausible explanation for elevated radon levels in people's homes is the development of thousands of unconventional natural gas wells in Pennsylvania over the past 10 years," says study leader Brian S. Schwartz, MD, a professor in the Department of Environmental Health Sciences at the Bloomberg School. "These findings worry us."
Significantly, the new study—Predictors of Indoor Radon Concentrations in Pennsylvania 1989-2013—directly conflicts with a study released by Pennsylvania's Department of Environmental Protection in January of this year which concluded that there was "little potential for additional radon exposure to the public" due to the widespread fracking activities across the state. Despite the conflicting findings, both DEP and the John Hopkins researchers acknowledged it was difficult to compare the studies as they had dissimilar methodologies and measured radon in significantly different ways.
Though gas industry officials were quick to criticize the findings of the new study, Dr. Bernard Goldstein, a former dean of the University of Pittsburgh School of Public Health and a former Environmental Protection Agency official, told NBC News that the industry can no longer ignore such worrying findings associated with its practices.
"The industry needs to abandon this excuse it hides behind which is, 'we've been doing this for 65 years, why are you worried'?" Goldstein said. "That's simply wrong. This ought to be treated as if it's something, like nanotechnology, which is a new thing that needs to be done carefully," he added.
Though people who buy new homes are often required to perform radon testing, Goldstein points out that "people who have been living in the house for a long time generally don't measure" for the deadly gas.
With the expansion of fracking across much of the state, he said, more people living near these drilling operation "should be measuring."
YOU MIGHT ALSO LIKE
Staggering Rise in Fracking Earthquakes Triggers Kansas to Take Action
States Fail to Properly Manage Fracking Waste, Says Groundbreaking Report
EcoWatch Daily Newsletter
A. Battenburg / Technical University of Munich
By Sarah Kennedy
Algae in a pond may look flimsy. But scientists are using algae to develop industrial-strength material that's as hard as steel but only a fraction of the weight.
Variety of fermented food korean traditional kimchi cabbage and radish salad. white and red sauerkraut in ceramic plates over grey spotted background. Natasha Breen / REDA&CO / Universal Images Group / Getty Image
Even if you've never taken probiotics, you've probably heard of them.
These supplements provide numerous benefits because they contain live microorganisms, such as bacteria or yeast, which support the healthy bacteria in your gut (1, 2, 3, 4).
Pexels
Singapore will become the first country in the world to place a ban on advertisements for carbonated drinks and juices with high sugar contents, its health ministry announced last week. The law is intended to curb sugar consumption since the country has some of the world's highest diabetes rates per capita, as Reuters reported.
A typical adult takes around 20,000 breaths per day. If you live in a megacity like Beijing, with many of those lungfuls you're likely to inhale a noxious mixture of chemicals and pollutants.
Fred Stone holds his brown swiss cow Lida Rose at his Arundel dairy farm on March 18 after a press conference where he spoke about PFAS chemical contamination in his fields. Gregory Rec / Portland Portland Press Herald via Getty Images
By Susan Cosier
First there was Fred Stone, the third-generation dairy farmer in Maine who discovered that the milk from his cows contained harmful chemicals. Then came Art Schaap, a second-generation dairy farmer in New Mexico, who had to dump 15,000 gallons of contaminated milk a day.
Protesters attend the 32nd annual Fur-Free Friday demonstration on Nov. 23, 2018 in Beverly Hills, California. Ella DeGea / Getty Images
California Governor Gavin Newsom signed into law a bill that that bans the sale and manufacture of fur products in the state. The fur ban, which he signed into law on Saturday, prohibits Californians from selling or making clothing, shoes or handbags with fur starting in 2023, according to the AP.
By Simon Evans
During the three months of July, August and September, renewables generated an estimated total of 29.5 terawatt hours (TWh), compared with just 29.1TWh from fossil fuels, the analysis shows.
A demonstrator waves an Ecuadorian flag during protests against the end of subsidies to gasoline and diesel on Oct. 9 in Quito, Ecuador. Jorge Ivan Castaneira Jaramillo / Getty Images