Nov. 29, 2011 12:49PM EST
Dr. Vandana Shiva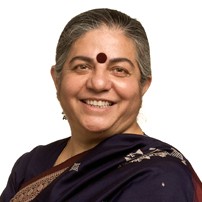 Dr. Vandana Shiva is trained as a Physicist and did her Ph.D. on the subject "Hidden Variables and Non-locality in Quantum Theory" from the University of Western Ontario in Canada. She later shifted to inter-disciplinary research in science, technology and environmental policy, which she carried out at the Indian Institute of Science and the Indian Institute of Management in Bangalore, India.
In 1982, she founded an independent institute, the Research Foundation for Science, Technology and Ecology in Dehra Dun dedicated to high quality and independent research to address the most significant ecological and social issues of our times, in close partnership with local communities and social movements. In 1991, she founded Navdanya, a national movement to protect the diversity and integrity of living resources, especially native seed, the promotion of organic farming and fair trade. For last two decades Navdanya has worked with local communities and organizations serving more than 5,00,000 men and women farmers. Navdanya's efforts have resulted in conservation of more than 3000 rice varieties from all over the country and have established 60seed banks in 16 states across the country. In 2004 she started Bija Vidyapeeth, an international college for sustainable living in Doon Valley in collaboration with Schumacher College, U.K.
Dr. Shiva combines the sharp intellectual enquiry with courageous activism. She is equally at ease working with peasants in rural India and teaching in Universities worldwide.
Time Magazine identified Dr. Shiva as an environmental "hero" in 2003 and Asia Week has called her one of the five most powerful communicators of Asia.
Forbes magazine in November 2010 has identified Dr. Vandana Shiva as one of the top Seven most Powerful Women on the Globe.
Dr. Shiva has contributed in fundamental ways to changing the practice and paradigms of agriculture and food. Her books, "The Violence of Green Revolution" and "Monocultures of the Mind" have become basic challenges to the dominant paradigm of non-sustainable, reductionist Green Revolution Agriculture. Through her books Biopiracy, Stolen Harvest, Water Wars, Dr. Shiva has made visible the social, economic and ecological costs of corporate led globalisation. Dr. Shiva chairs the Commission on the Future of Food set up by the Region of Tuscany in Italy. She is a Board Member of the International Forum on Globalisation and a member of the Steering Committee of the Indian People's Campaign against WTO. She also serves on Government of India Committees on Organic Farming.
The area of Intellectual Property Rights (IPRs) and Biodiversity is another area where Dr. Shiva has contributed intellectually and through campaigns. Through her leadership and commitments, Dr. Shiva and her team at the Research Foundation for Science, Technology and Ecology successfully challenged the biopiracy of Neem, Basmati and Wheat. Besides her activism, she has also served on expert groups of government on Biodiversity and IPR legislation.
Biotechnology and Genetic Engineering are another dimension of Dr. Shiva's campaigning internationally. She has helped movements in Africa, Asia, Latin America, Ireland, Switzerland and Austria with their campaigns against genetic engineering. In 2003, with movements worldwide she launched the global citizens campaign on the WTO GMO dispute between U.S and Europe.
Dr. Shiva's contributions to gender issues are nationally and internationally recognized. Her book, "Staying Alive" dramatically shifted the perception of Third World women. In 1990 she wrote a report for the FAO on Women and Agriculture entitled, "Most Farmers in India are Women." She founded the gender unit at the International Centre for Mountain Development (ICIMOD) in Kathmandu and was a founding Board Member of the Women Environment and Development Organization (WEDO).
She has initiated an international movement of women working of food, agriculture, patents and biotechnology called, Diverse Women for Diversity. The movement was launched formally in Bratislava, Slovakia on 1-2 May 1998. Diverse Women for Diversity has carried out studies for the National Commission of Women and the Department of Science and Technology.
Dr. Shiva is on the National Board of Organic Standards of India. She also works with the Governments of Kerala, Madhya Pradesh, Bihar and Uttaranchal for the promotion of organic farming. She has been invited by the Planning Commission to be a member of the expert group on environment, the expert group on nutrition and the expert group on voluntary sector.
She serves on Prince Charles's expert group on Sustainable Agriculture. Dr. Shiva is a member of President Zapatero's Scientific Committee. She has been invited by the Prime Minister of Bhutan to help Bhutan go 100% organic.
Dr. Shiva's books include Soil not Oil, Earth Democracy, Water Wars, Patents Myth and Reality, Tomorrow's Biodiversity, Stolen Harvest, Biopiracy—The Plunder of Nature and Knowledge, Monocultures of the Mind—Biodiversity, Biotechnology and Agriculture, Ecofeminism, The Violence of the Green Revolution, Ecology and the Politics of Survival, Staying Alive.
Dr. Shiva has been a visiting professor and lectured at the Universities of Oslo, Norway, Schumacher College, U.K. Mt. Holyoke College, U.S., York University, Canada, University of Lulea, Sweden, University of Victoria, Canada, and Universite libre de Bruxelles, Belgium. In 2011, Dr. Shiva was the Wayne Morse Chair at the University of Oregon in Eugene.
Dr. Shiva has received honorary Doctorates from University of Paris, University of Western Ontario, University of Oslo and Connecticut College.
Among her many awards are the Alternative Nobel Prize (Right Livelihood Award, 1993), Order of the Golden Ark, Global 500 Award of UN and Earth Day International Award. Lennon ONO grant for peace award by Yoko Ono in 2009, Sydney Peace Prize in 2010, Doshi Bridgebuilder Award, Calgary Peace Prize and Thomas Merton Award in the year 2011.
Dr. Vandana Shiva has also worked in a feature film "Harmony" (alongwith other prominent global personalities) produced by Prince of Wales which addresses critical global issues and inputs from Global leaders including The Prince of Wales which gives a new perspective on how the world can globally, locally and personally meet the challenges we are facing today.
For more information, visit www.navdanya.org.
In March 2013, ExxonMobil's Pegasus Pipeline sprung a leak,
spilling
210,000 gallons of tar sands crude into a neighborhood of Mayflower, Arkansas.
By Catherine Collentine
In March of 2013, ExxonMobil's Pegasus Pipeline sprung a leak, spilling an estimated 210,000 gallons of toxic tar sands crude into a residential neighborhood of Mayflower, Arkansas.
This week, a federal court ruled that the Obama administration over-penalized Exxon for dumping hundreds of thousands of gallons of a pollutant onto the streets of Mayflower and threw out a number of safety violations levied against Exxon on the basis that the company met its legal obligations to consider the risks associated with the pipeline.
Keep reading...
Show less
Ray Kemble of Dimock, Pa., displays a jug of what he identifies as his contaminated well water. (AP/Matt Rourke)
Ever since the dangerous consequences of natural gas extraction via hydraulic fracturing—popularly known as "fracking"—entered the national consciousness, the small town of Dimock, Pennsylvania has arguably been "ground zero" for water contamination caused by the controversial practice.
Now Cabot Oil & Gas, the massive energy company responsible for numerous fracking wells near Dimock, is suing one of the town's residents for $5 million, claiming that his efforts to "attract media attention" to the pollution of his water well have "harmed" the company. According to the lawsuit, Dimock resident Ray Kemble's actions breached an earlier 2012 settlement that was part of an ongoing federal class action lawsuit over the town's water quality. Kemble has stated that Cabot's fracking turned his groundwater "black, like mud, [with] a strong chemical odor."
Keep reading...
Show less
Equinac
Not again! A baby dolphin died last Friday in southern Spain after beachgoers took the mammal out of the water and passed it around for photos, according to media reports.
The incident was detailed in several Facebook posts from Equinac, a Spanish marine wildlife conservation group.
Keep reading...
Show less
Nick Cobbing / Greenpeace
Peaceful activists, including one American, from a Greenpeace ship, the Arctic Sunrise, have stalled Statoil's oil operations in the Barents Sea off the Norwegian coast. The activists entered the exclusion zone of Statoil's oil rig, Songa Enabler in the Barents Sea with kayaks and inflatable boats, while swimmers protested in the water with banners.
The activists plan to sustain the peaceful protest to stall Statoil's oil drilling as long as possible to send a message that the Norwegian government is failing its commitments to Norway's constitution and the Paris agreement. They are also displaying a constructed giant globe in front of the rig with written statements to the government.
Keep reading...
Show less
President Trump has made sweeping efforts to scrap Obama-era environmental protections, but the current administration's latest moves are oddly specific.
The National Park Service (NPS) announced Wednesday that it has rescinded the 2011 "Water Bottle Ban" that allowed parks to prohibit the sale of disposable plastic water bottles. That same day, news emerged that the Trump administration removed a nine-slot Capital Bikeshare station at the White House that was requested and installed during the Obama years and used by staffers.
Keep reading...
Show less
By Carey Gillam
Newly released government email communications show a persistent effort by multiple officials within the U.S. Environmental Protection Agency (EPA) to slow a separate federal agency's safety review of Monsanto's top-selling herbicide. Notably, the records demonstrate that the EPA efforts came at the behest of Monsanto, and that EPA officials were helpful enough to keep the chemical giant updated on their progress.
The communications, most of which were obtained through Freedom of Information Act (FOIA) requests, show that it was early 2015 when the EPA and Monsanto began working in concert to stall a toxicology review that a unit of the Centers for Disease Control and Prevention (CDC) was conducting on glyphosate, the key ingredient in Monsanto's branded Roundup herbicide products. The details revealed in the documents come as Monsanto is defending itself against allegations that it has tried to cover up evidence of harm with its herbicides.
Keep reading...
Show less
U.S. Geological Survey
Hundreds of Pacific walruses have hauled out of Arctic waters near Alaska's Point Lay due to declining sea ice levels, the U.S. Fish and Wildlife Service announced Wednesday. It's the earliest haul out the agency has ever seen, and scientists fear a repeat of stampedes that have killed hundreds of walruses in recent years.
Loss of sea ice from climate change is a major reason why the Center for Biological Diversity has petitioned the federal government to protect Pacific walruses under the Endangered Species Act. A final listing decision from Fish and Wildlife is expected within the next month.
Keep reading...
Show less
A fracking operation. Lock the Gate Alliance / Flickr

By Kari Lydersen
Four years ago, the Illinois legislature passed a law to regulate high volume hydraulic fracturing, or fracking, after months of contentious negotiations between oil industry interests, environmental watchdogs and community groups.
Leading up to the law's passage, companies had secured hundreds of leases to potentially frack in Southern Illinois.
Keep reading...
Show less