Dr. Vandana Shiva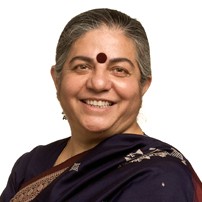 Dr. Vandana Shiva is trained as a Physicist and did her Ph.D. on the subject "Hidden Variables and Non-locality in Quantum Theory" from the University of Western Ontario in Canada. She later shifted to inter-disciplinary research in science, technology and environmental policy, which she carried out at the Indian Institute of Science and the Indian Institute of Management in Bangalore, India.
In 1982, she founded an independent institute, the Research Foundation for Science, Technology and Ecology in Dehra Dun dedicated to high quality and independent research to address the most significant ecological and social issues of our times, in close partnership with local communities and social movements. In 1991, she founded Navdanya, a national movement to protect the diversity and integrity of living resources, especially native seed, the promotion of organic farming and fair trade. For last two decades Navdanya has worked with local communities and organizations serving more than 5,00,000 men and women farmers. Navdanya's efforts have resulted in conservation of more than 3000 rice varieties from all over the country and have established 60seed banks in 16 states across the country. In 2004 she started Bija Vidyapeeth, an international college for sustainable living in Doon Valley in collaboration with Schumacher College, U.K.
Dr. Shiva combines the sharp intellectual enquiry with courageous activism. She is equally at ease working with peasants in rural India and teaching in Universities worldwide.
Time Magazine identified Dr. Shiva as an environmental "hero" in 2003 and Asia Week has called her one of the five most powerful communicators of Asia.
Forbes magazine in November 2010 has identified Dr. Vandana Shiva as one of the top Seven most Powerful Women on the Globe.
Dr. Shiva has contributed in fundamental ways to changing the practice and paradigms of agriculture and food. Her books, "The Violence of Green Revolution" and "Monocultures of the Mind" have become basic challenges to the dominant paradigm of non-sustainable, reductionist Green Revolution Agriculture. Through her books Biopiracy, Stolen Harvest, Water Wars, Dr. Shiva has made visible the social, economic and ecological costs of corporate led globalisation. Dr. Shiva chairs the Commission on the Future of Food set up by the Region of Tuscany in Italy. She is a Board Member of the International Forum on Globalisation and a member of the Steering Committee of the Indian People's Campaign against WTO. She also serves on Government of India Committees on Organic Farming.
The area of Intellectual Property Rights (IPRs) and Biodiversity is another area where Dr. Shiva has contributed intellectually and through campaigns. Through her leadership and commitments, Dr. Shiva and her team at the Research Foundation for Science, Technology and Ecology successfully challenged the biopiracy of Neem, Basmati and Wheat. Besides her activism, she has also served on expert groups of government on Biodiversity and IPR legislation.
Biotechnology and Genetic Engineering are another dimension of Dr. Shiva's campaigning internationally. She has helped movements in Africa, Asia, Latin America, Ireland, Switzerland and Austria with their campaigns against genetic engineering. In 2003, with movements worldwide she launched the global citizens campaign on the WTO GMO dispute between U.S and Europe.
Dr. Shiva's contributions to gender issues are nationally and internationally recognized. Her book, "Staying Alive" dramatically shifted the perception of Third World women. In 1990 she wrote a report for the FAO on Women and Agriculture entitled, "Most Farmers in India are Women." She founded the gender unit at the International Centre for Mountain Development (ICIMOD) in Kathmandu and was a founding Board Member of the Women Environment and Development Organization (WEDO).
She has initiated an international movement of women working of food, agriculture, patents and biotechnology called, Diverse Women for Diversity. The movement was launched formally in Bratislava, Slovakia on 1-2 May 1998. Diverse Women for Diversity has carried out studies for the National Commission of Women and the Department of Science and Technology.
Dr. Shiva is on the National Board of Organic Standards of India. She also works with the Governments of Kerala, Madhya Pradesh, Bihar and Uttaranchal for the promotion of organic farming. She has been invited by the Planning Commission to be a member of the expert group on environment, the expert group on nutrition and the expert group on voluntary sector.
She serves on Prince Charles's expert group on Sustainable Agriculture. Dr. Shiva is a member of President Zapatero's Scientific Committee. She has been invited by the Prime Minister of Bhutan to help Bhutan go 100% organic.
Dr. Shiva's books include Soil not Oil, Earth Democracy, Water Wars, Patents Myth and Reality, Tomorrow's Biodiversity, Stolen Harvest, Biopiracy—The Plunder of Nature and Knowledge, Monocultures of the Mind—Biodiversity, Biotechnology and Agriculture, Ecofeminism, The Violence of the Green Revolution, Ecology and the Politics of Survival, Staying Alive.
Dr. Shiva has been a visiting professor and lectured at the Universities of Oslo, Norway, Schumacher College, U.K. Mt. Holyoke College, U.S., York University, Canada, University of Lulea, Sweden, University of Victoria, Canada, and Universite libre de Bruxelles, Belgium. In 2011, Dr. Shiva was the Wayne Morse Chair at the University of Oregon in Eugene.
Dr. Shiva has received honorary Doctorates from University of Paris, University of Western Ontario, University of Oslo and Connecticut College.
Among her many awards are the Alternative Nobel Prize (Right Livelihood Award, 1993), Order of the Golden Ark, Global 500 Award of UN and Earth Day International Award. Lennon ONO grant for peace award by Yoko Ono in 2009, Sydney Peace Prize in 2010, Doshi Bridgebuilder Award, Calgary Peace Prize and Thomas Merton Award in the year 2011.
Dr. Vandana Shiva has also worked in a feature film "Harmony" (alongwith other prominent global personalities) produced by Prince of Wales which addresses critical global issues and inputs from Global leaders including The Prince of Wales which gives a new perspective on how the world can globally, locally and personally meet the challenges we are facing today.
For more information, visit www.navdanya.org.
By Andy Rowell
Never has the paradox been greater. While the most powerful politician in the world is a climate denier, scientists are now warning that we have just three years to start making radical reductions to greenhouse gases.
Put it another way: that is the term of the Trump presidency. We have three and a bit years left of Trump (if he does not get impeached in the meantime) and we have three years left to save the climate, and begin to bring emissions down by 2020.
Keep reading...
Show less
© Robin Loznak Photography, LLC
U.S. Magistrate Judge Thomas Coffin issued an order Thursday in the climate lawsuit brought by 21 youth, Juliana v. United States, setting a trial date for Feb. 5, 2018 before U.S. District Court Judge Ann Aiken in Eugene, Oregon.
Keep reading...
Show less
Hildegarde Naughton, TD for Galway West
Ireland is set to ban onshore
fracking
after its Senate passed legislation on Wednesday that outlawed the controversial drilling technique.
The Petroleum and Other Minerals Development (Prohibition of Onshore Hydraulic Fracturing) Bill 2016 now awaits Irish President Michael D. Higgins' signature. The president is expected to sign it into law "in the coming days."

Keep reading...
Show less
www.facebook.com
Watch as Dr. Jane Goodall shares her hopes and vision for a healthier, greener world.
The video was created by USAID Tanzania in support of the Jane Goodall Institute.
"You cannot get through a single day without having an impact on the world around you. What you do makes a difference, and you have to decide what kind of difference you want to make," is one of EcoWatch's favorite Dr. Jane Goodall quotes. Read more of her incredible quotes here.
iStock
By Robin Scher
Aging is an inevitable part of life. That doesn't mean it's something to fear. Instead, the natural process our body and skin undergoes as we get older deserves our acknowledgment and our respect. How can you respect the aging process? One great way is to start thinking more about what you eat.
Keep reading...
Show less
By David Turnbull
It's an unfortunate coincidence that this week is the Trump administration's so-called "energy week" and at the same time, a disastrous health care bill is being pushed by Trump's allies in the Senate. These initiatives have a lot in common. Both would redistribute wealth up from ordinary Americans to the wealthiest. Both would make people sick. Both would cost lives.
Keep reading...
Show less
Jun. 28, 2017 01:59PM EST
Dow CEO Andrew Liveris and President Donald Trump in February.
U.S. Environmental Protection Agency (EPA) administrator Scott Pruitt met with Dow Chemical CEO Andrew Liveris before deciding to reverse an earlier EPA decision to ban the company's toxic and widely used pesticide, chlorpyrifos.
According to records obtained by the Associated Press, the EPA boss met with Liveris for about 30 minutes at a Houston hotel on March 9. Later that month, Pruitt announced that he would no longer pursue a ban on chlorpyrifos from being used on food, ignoring his agency's own review that even small amounts of the pesticide could impact fetus and infant brain development.
Keep reading...
Show less
Jun. 28, 2017 12:31PM EST
www.facebook.com
Native communities and environmental justice advocates in Louisiana opened a new resistance camp Saturday to oppose the proposed Bayou Bridge Pipeline project. Called L'eau Est La Vie, or Water is Life, the camp will consist of floating indigenous art structures on rafts and constant prayer ceremonies during its first two weeks.
Keep reading...
Show less