Nov. 29, 2011 12:49PM EST
Dr. Vandana Shiva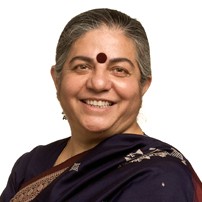 Dr. Vandana Shiva is trained as a Physicist and did her Ph.D. on the subject "Hidden Variables and Non-locality in Quantum Theory" from the University of Western Ontario in Canada. She later shifted to inter-disciplinary research in science, technology and environmental policy, which she carried out at the Indian Institute of Science and the Indian Institute of Management in Bangalore, India.
In 1982, she founded an independent institute, the Research Foundation for Science, Technology and Ecology in Dehra Dun dedicated to high quality and independent research to address the most significant ecological and social issues of our times, in close partnership with local communities and social movements. In 1991, she founded Navdanya, a national movement to protect the diversity and integrity of living resources, especially native seed, the promotion of organic farming and fair trade. For last two decades Navdanya has worked with local communities and organizations serving more than 5,00,000 men and women farmers. Navdanya's efforts have resulted in conservation of more than 3000 rice varieties from all over the country and have established 60seed banks in 16 states across the country. In 2004 she started Bija Vidyapeeth, an international college for sustainable living in Doon Valley in collaboration with Schumacher College, U.K.
Dr. Shiva combines the sharp intellectual enquiry with courageous activism. She is equally at ease working with peasants in rural India and teaching in Universities worldwide.
Time Magazine identified Dr. Shiva as an environmental "hero" in 2003 and Asia Week has called her one of the five most powerful communicators of Asia.
Forbes magazine in November 2010 has identified Dr. Vandana Shiva as one of the top Seven most Powerful Women on the Globe.
Dr. Shiva has contributed in fundamental ways to changing the practice and paradigms of agriculture and food. Her books, "The Violence of Green Revolution" and "Monocultures of the Mind" have become basic challenges to the dominant paradigm of non-sustainable, reductionist Green Revolution Agriculture. Through her books Biopiracy, Stolen Harvest, Water Wars, Dr. Shiva has made visible the social, economic and ecological costs of corporate led globalisation. Dr. Shiva chairs the Commission on the Future of Food set up by the Region of Tuscany in Italy. She is a Board Member of the International Forum on Globalisation and a member of the Steering Committee of the Indian People's Campaign against WTO. She also serves on Government of India Committees on Organic Farming.
The area of Intellectual Property Rights (IPRs) and Biodiversity is another area where Dr. Shiva has contributed intellectually and through campaigns. Through her leadership and commitments, Dr. Shiva and her team at the Research Foundation for Science, Technology and Ecology successfully challenged the biopiracy of Neem, Basmati and Wheat. Besides her activism, she has also served on expert groups of government on Biodiversity and IPR legislation.
Biotechnology and Genetic Engineering are another dimension of Dr. Shiva's campaigning internationally. She has helped movements in Africa, Asia, Latin America, Ireland, Switzerland and Austria with their campaigns against genetic engineering. In 2003, with movements worldwide she launched the global citizens campaign on the WTO GMO dispute between U.S and Europe.
Dr. Shiva's contributions to gender issues are nationally and internationally recognized. Her book, "Staying Alive" dramatically shifted the perception of Third World women. In 1990 she wrote a report for the FAO on Women and Agriculture entitled, "Most Farmers in India are Women." She founded the gender unit at the International Centre for Mountain Development (ICIMOD) in Kathmandu and was a founding Board Member of the Women Environment and Development Organization (WEDO).
She has initiated an international movement of women working of food, agriculture, patents and biotechnology called, Diverse Women for Diversity. The movement was launched formally in Bratislava, Slovakia on 1-2 May 1998. Diverse Women for Diversity has carried out studies for the National Commission of Women and the Department of Science and Technology.
Dr. Shiva is on the National Board of Organic Standards of India. She also works with the Governments of Kerala, Madhya Pradesh, Bihar and Uttaranchal for the promotion of organic farming. She has been invited by the Planning Commission to be a member of the expert group on environment, the expert group on nutrition and the expert group on voluntary sector.
She serves on Prince Charles's expert group on Sustainable Agriculture. Dr. Shiva is a member of President Zapatero's Scientific Committee. She has been invited by the Prime Minister of Bhutan to help Bhutan go 100% organic.
Dr. Shiva's books include Soil not Oil, Earth Democracy, Water Wars, Patents Myth and Reality, Tomorrow's Biodiversity, Stolen Harvest, Biopiracy—The Plunder of Nature and Knowledge, Monocultures of the Mind—Biodiversity, Biotechnology and Agriculture, Ecofeminism, The Violence of the Green Revolution, Ecology and the Politics of Survival, Staying Alive.
Dr. Shiva has been a visiting professor and lectured at the Universities of Oslo, Norway, Schumacher College, U.K. Mt. Holyoke College, U.S., York University, Canada, University of Lulea, Sweden, University of Victoria, Canada, and Universite libre de Bruxelles, Belgium. In 2011, Dr. Shiva was the Wayne Morse Chair at the University of Oregon in Eugene.
Dr. Shiva has received honorary Doctorates from University of Paris, University of Western Ontario, University of Oslo and Connecticut College.
Among her many awards are the Alternative Nobel Prize (Right Livelihood Award, 1993), Order of the Golden Ark, Global 500 Award of UN and Earth Day International Award. Lennon ONO grant for peace award by Yoko Ono in 2009, Sydney Peace Prize in 2010, Doshi Bridgebuilder Award, Calgary Peace Prize and Thomas Merton Award in the year 2011.
Dr. Vandana Shiva has also worked in a feature film "Harmony" (alongwith other prominent global personalities) produced by Prince of Wales which addresses critical global issues and inputs from Global leaders including The Prince of Wales which gives a new perspective on how the world can globally, locally and personally meet the challenges we are facing today.
For more information, visit www.navdanya.org.
Jul. 21, 2017 01:50PM EST
Will Rose / Greenpeace
Eleven peaceful activists from the Greenpeace ship Arctic Sunrise have taken to the water in inflatable boats with handheld banners to oppose the Statoil Songa Enabler oil rig, 275 km North off the Norwegian coast, in the Arctic Barents sea.
The banners say: "People Vs. Arctic Oil" and are directed at Statoil and the Norwegian government, which has opened a new, aggressive search for oil in the waters of the Barents Sea.
Keep reading...
Show less
Jul. 21, 2017 10:34AM EST
Dominion Pipeline Monitoring Coalition
The Federal Energy Regulatory Commission (FERC) paved the way Friday for the 600-mile, 42-inch fracked gas Atlantic Coast Pipeline to proceed when it issued the final environmental impact statement (FEIS). A joint project of utility giants Duke Energy and Dominion Energy, the Atlantic Coast Pipeline would move fracked gas from West Virginia into Virginia and North Carolina.
In April, the Sierra Club submitted more than 500 pages of legal and technical comments on FERC's draft EIS, which were joined by more than 18,000 individual comments detailing opposition to the project. The pipeline has been met with widespread opposition, with more than 1,000 people participating in public hearings across the three affected states. The Sierra Club recently requested that FERC issue a new environmental review document analyzing information that came in after or late in, the public comment process.
Keep reading...
Show less
Jul. 21, 2017 08:25AM EST
Greenpeace / PolluterWatch
By Jessica Corbett
"It's time Rex Tillerson step down or be removed," said Gigi Kellett of Corporate Accountability International, following an announcement on Thursday that ExxonMobil will pay $2 million for violating U.S. sanctions against Russian officials while the now-secretary of state was the company's CEO.
"ExxonMobil demonstrated reckless disregard for U.S. sanction requirements," according to enforcement filing released by the Treasury Department's Office of Foreign Assets Control (OFAC), which issued the penalty. Though the fine is reportedly the maximum penalty allowed, it's pittance to one of the world's most profitable and powerful corporations, which last year reported a profit of $7.8 billion.
Keep reading...
Show less
Jul. 21, 2017 11:15AM EST
New analysis from Amory B. Lovins debunks the notion that highly unprofitable, economically distressed nuclear plants should be further subsi­dized to meet financial, security, reliability and climate goals. The analysis, which will appear shortly in The Electricity Journal, shows that closing costly-to-run nuclear plants and reinvesting their saved operating costs in energy efficiency provides cheaper elec­tricity, increases grid reliability and security, reduces more carbon, and preserves (not distorts) market integrity—all without subsidies.

Keep reading...
Show less
Jul. 21, 2017 08:44AM EST
Oil Change International / Twitter
By Christian Detisch and Seth Gladstone
In the wake of Senate Republicans' ever-deepening debacle over their flailing attempts to strip health insurance from 22 million people, Majority Leader Mitch McConnell is desperate to do something—anything—to show that he can get legislation passed. To this end, he's bypassing the standard committee review process to push a complex 850+ page energy bill straight to the full Senate floor. Perhaps not surprisingly, this legislation, the Energy and Natural Resources Act of 2017, would be a disaster for public health and our climate.
Keep reading...
Show less
Jul. 21, 2017 08:11AM EST
Rooftop solar panels on a beach house in southern Florida. TAI VIINIKKA / CC BY-NC-ND 2.0
A new law passed this week in South Miami will require all new homes built in the city to install solar panels. The measure, which was inspired by a proposal from a teenage climate activist, will go into effect in September.
The text of the ordinance details the climate impacts facing South Miami.
Keep reading...
Show less
Jul. 21, 2017 10:27AM EST
www.youtube.com
Keep reading...
Show less
Jul. 21, 2017 08:49AM EST
iStock
By Katherine Paul and Ronnie Cummins
A recent series of articles by a Washington Post reporter could have some consumers questioning the value of the U.S. Department of Agriculture's (USDA) organic seal. But are a few bad eggs representative of an entire industry?
Consumers are all for cracking down on the fraudulent few who, with the help of Big Food, big retail chains and questionable certifiers give organics a bad name. But they also want stronger standards, and better enforcement—not a plan to weaken standards to accommodate "Factory Farm Organic."
Keep reading...
Show less


Get EcoWatch in your inbox