This website uses cookies to ensure you get the best experience while browsing it. By clicking 'Got It' you're accepting these terms.
Dr. Caldicott Tells of Fukushima's Lethal Toll and Meeting Ronald Reagan
Oct. 16, 2014 12:52PM EST
Energy

The great Dr. Helen Caldicott graced the Solartopia Green Power & Wellness Show this week with her unique assessment of the health effects of Fukushima and the rest of the nuclear power industry.
She tells us about what's happening to the renewable industry in Australia, and why Dr. James Hansen needs to reassess his views on atomic energy.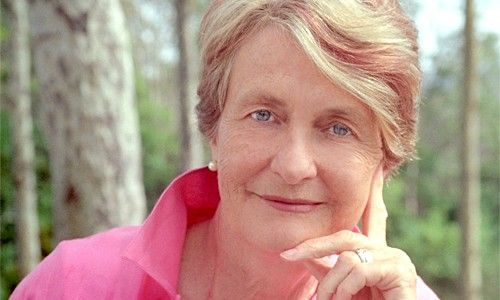 "Nuclear Power Plants are cancer factories and bomb factories ... because any country that has a nuclear reactor makes 500 pounds of plutonium a year and you need 10 pounds to make an atomic bomb ... so the nuclear power industry in this country in its wisdom and in Japan, Canada and elsewhere is selling nuclear reactors as fast as it can ... and they will have enough plutonium to make enough atomic bombs for the next half a million years ... cause that's how long the plutonium lasts ...," said Dr. Caldicott.
Then she shared one of modern American history's most critical episodes. In the early 1980s, during the global campaign for a nuclear freeze, Helen met Patty Davis, the daughter of Ronald and Nancy Reagan. Davis figured that Dr. Caldicott might be one of the few people who might reach her father about the dangers of nuclear war.
So she brought Helen to the White House. Dr. Caldicott quickly sized up the President and determined to treat him "like a patient." He was already showing early signs of the Alzheimer's disease that would eventually claim him … and much of his second term in office.
For more than an hour Dr. Caldicott talked with the world's most powerful about what atomic war might do to the human race. It was, she said, a uniquely long meeting with our oldest president.
And, apparently, it did have an impact. Hear all about it on my Solartopia Green Power & Wellness show:
Harvey Wasserman's SOLARTOPIA GREEN POWER & WELLNESS SHOW is at www.prn.fm. He wrote SOLARTOPIA! Our Green-Powered Earth & edits www.nukefree.org.
YOU MIGHT ALSO LIKE
Corporate Personhood Is the Ebola Virus of Climate Chaos
Shut California's Fukushima: Diablo Must Go
Fukushima's Children are Dying
EcoWatch Daily Newsletter
Tuna auctions are a tourist spectacle in Tokyo. Outside the city's most famous fish market, long queues of visitors hoping for a glimpse of the action begin to form at 5 a.m. The attraction is so popular that last October the Tsukiji fish market, in operation since 1935, moved out from the city center to the district of Toyosu to cope with the crowds.

gmnicholas / E+ / Getty Images
Kristan Porter grew up in a fishing family in the fishing community of Cutler, Maine, where he says all roads lead to one career path: fishing. (Porter's father was the family's lone exception. He suffered from terrible seasickness, and so became a carpenter.) The 49-year-old, who has been working on boats since he was a kid and fishing on his own since 1991, says that the recent warming of Maine's cool coastal waters has yielded unprecedented lobster landings.
Nicole Greenfield is a writer at NRDC whose articles on religion, the environment, popular culture and social justice have appeared in many publications.
Aerial view of lava flows from the eruption of volcano Kilauea on Hawaii, May 2018. Frizi / iStock / Getty Images
Hawaii's Kilauea volcano could be gearing up for an eruption after a pond of water was discovered inside its summit crater for the first time in recorded history, according to the AP.
The Eqip Sermia Glacier is seen behind a moraine left exposed by the glacier's retreat during unseasonably warm weather on Aug. 1 at Eqip Sermia, Greenland. Sean Gallup / Getty Images
hadynyah / E+ / Getty Images
By Johnny Wood
The Ganges is a lifeline for the people of India, spiritually and economically. On its journey from the Himalayas to the Bay of Bengal, it supports fishermen, farmers and an abundance of wildlife.
The river and its tributaries touch the lives of roughly 500 million people. But having flowed for millennia, today it is reaching its capacity for human and industrial waste, while simultaneously being drained for agriculture and municipal use.
Here are some of the challenges the river faces.
Protesters gathered outside US Bank and Wells Fargo locations around the U.S. to protest investment in the Dakota Access Pipeline on Dec. 1, 2016. This photo is from a protest outside US Bank in south Minneapolis, Minnesota.
Fibonacci Blue / CC BY 2.0
By Jake Johnson
As a growing number of states move to pass laws that would criminalize pipeline protests and hit demonstrators with years in prison, an audio recording obtained by The Intercept showed a representative of a powerful oil and gas lobbying group bragging about the industry's success in crafting anti-protest legislation behind closed doors.
Reposted with permission from our media associate Common Dreams.

DESIREE MARTIN / AFP / Getty Images
Wildfires raging on Gran Canaria, the second most populous of Spain's Canary Islands, have forced around 9,000 people to evacuate.