Dozens Rally in Denver Demanding Presidential Candidates Address Climate Change
Oct. 03, 2012 07:48PM EST
Climate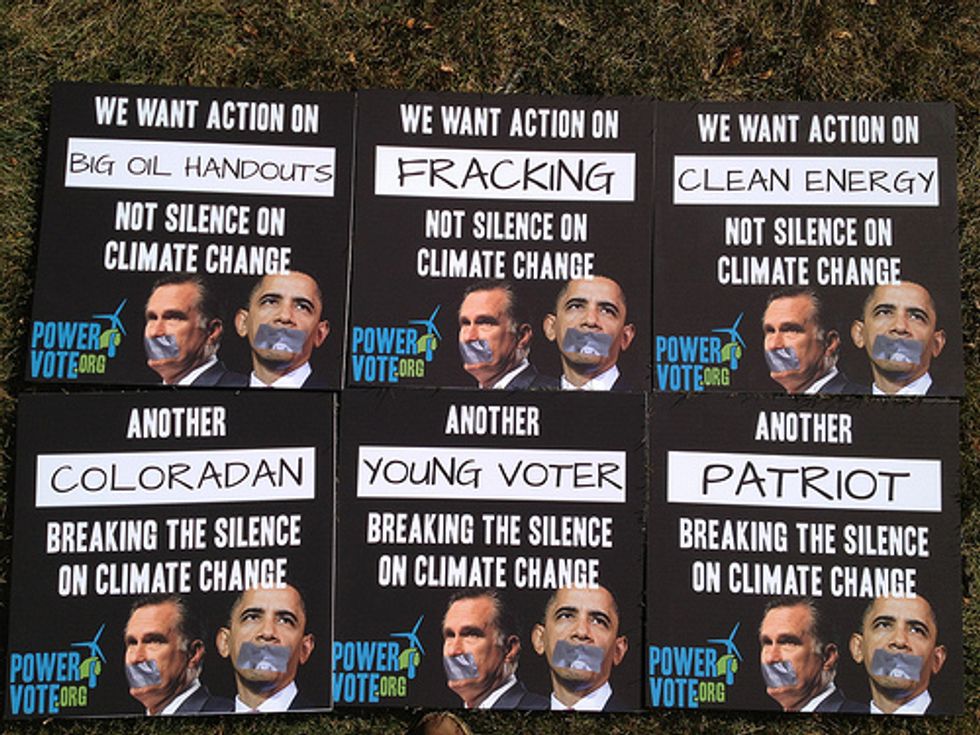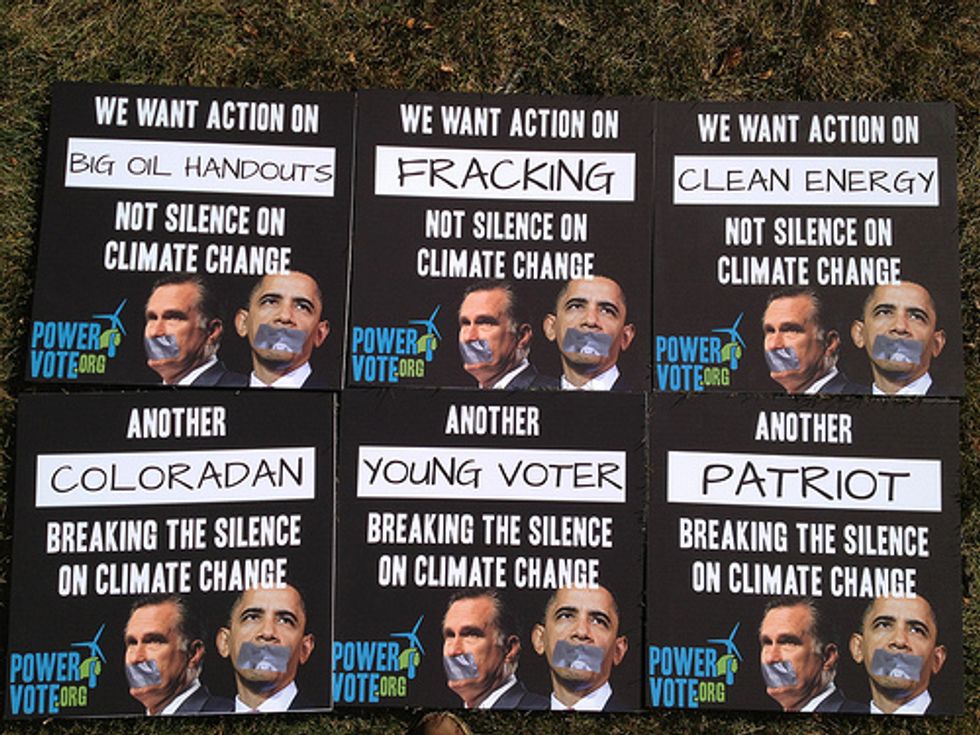 Today dozens of parents, youth, activists, evangelicals and other concerned citizens gathered outside the Presidential Debate area on the University of Denver Campus demanding that the candidates explain their plans for addressing what many consider the most serious issue currently facing humanity—the destabilization of our planet's climate.
"Climate change is one of the most important issues for young people, but addressing it has been shockingly absent from the campaign. Young voters across the country are calling on President Obama and Mitt Romney to break the silence on climate change and stand up to Big Oil and King Coal by offering plans for clean energy that match the scale of the climate crisis," said Whit Jones, campaign director for PowerVote and Energy Action Coalition.
Neither of the presidential candidates has yet explained their plans for addressing the issue.
Today's event follows on the heels of a Friday petition delivery by nine environmental organizations of 160,000 signatures to Jim Lehrer urging him to ask a question about climate change during tonight's first presidential debate in Denver.  
"The climate crisis and continued over-dependence on fossil fuels are crippling our economy, health, foreign policy, and national security," said Micah Parkin, Colorado organizer for 350 Action Fund, which was one of several groups organizing the rally. "It's time for our Nation's leaders to wake up, take responsibility, and chart a determined new course—one that breaks our fossil fuel addiction, transitions us to a sustainable energy future, and ensures a healthy, livable planet for this and future generations."
After this past summer's extreme weather dealing with the climate crisis is increasingly on the minds of voters, with 61 percent of undecided voters in a recent poll saying this is an issue they will consider when casting their vote.
On Oct. 1, dozens of Colorado parents and kids gathered in downtown Denver for a "Climate Parents Rally" to call on the presidential candidates to explain their plans to reduce fossil fuel emissions, rapidly scale up clean energy and protect children from the climate change-fueled fires, droughts, floods and storms that are increasingly wracking our nation.
The rally featured the unveiling of a colorful billboard in the heart of downtown Denver picturing a young girl asking presidential candidates, "Which way will you lead us—toward deepened climate crisis or toward climate solutions?"
Visit EcoWatch's CLIMATE CHANGE page for more related news on this topic.
EcoWatch Daily Newsletter