This website uses cookies to ensure you get the best experience while browsing it. By clicking 'Got It' you're accepting these terms.
DOT Issues Emergency Order for Stricter Standards to Transport Crude Oil by Rail
Feb. 26, 2014 10:39AM EST
Energy
The U.S. Department of Transportation (DOT) yesterday issued an Emergency Order requiring all shippers to test product from the Bakken region to ensure the proper classification of crude oil before it is transported by rail, while also prohibiting the transportation of crude oil in the lowest-strength packing group.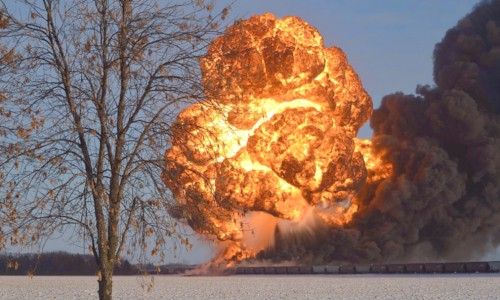 "Today we are raising the bar for shipping crude oil on behalf of the families and communities along rail lines nationwide—if you intend to move crude oil by rail, then you must test and classify the material appropriately," said DOT Secretary Anthony Foxx. "And when you do ship it, you must follow the requirements for the two strongest safety packing groups."
"From emergency orders to voluntary agreements, we are using every tool at our disposal to ensure the safe transportation of crude," Foxx said.
Emergency orders are issued to protect the public and environment from the likelihood of substantial harm created by an imminent hazard. Yesterday's Emergency Order—the fourth from DOT in less than a year—was issued in response to recent derailments involving trains carrying crude oil from the Bakken region and out of concerns over proper classification that are currently under investigation as part of Operation Classification, also known as the "Bakken Blitz."
Effective immediately, those who offer crude oil for transportation by rail must ensure that the product is properly tested and classified in accordance with federal safety regulations. The Emergency Order also requires that all Class III crude oil shipments be designated as Packing Group I or II, thereby requiring the use of a more robust tank car. Packing Group III, a lower risk designation, will not be accepted until further notice.
Shippers are required to use nine hazard classes as a guide to properly classify their hazardous materials. Proper classification will ensure that the material is placed in the proper package and that the risk is accurately communicated to emergency responders. Shipping crude oil—or any hazardous material—without proper testing and classification could result in material being shipped in containers that are not designed to safely store it, or could lead first responders to follow the wrong protocol when responding to a spill.
In addition to Operation Classification, which includes crude oil spot inspections and investigations, Pipeline Hazardous Material Safety Administration will be in Minot, ND, this week conducting a classification workshop. Field personnel will present training at the 60th Annual State Fire School sponsored by the North Dakota Firefighters Association to provide information about hazmat response, including how to use the Emergency Response Guidebook.
Visit EcoWatch's ENERGY page for more related news on this topic.

EcoWatch Daily Newsletter
Colombia rainforest. Marcel Oosterwijk / CC BY-SA 2.0
Many of us think of the Amazon as an untouched wilderness, but people have been thriving in these diverse environments for millennia. Due to this long history, the knowledge that Indigenous and forest communities pass between generations about plants, animals and forest ecology is incredibly rich and detailed and easily dwarfs that of any expert.
picture-alliance / Newscom / R. Ben Ari
By Wesley Rahn
Plastic byproducts were found in 97 percent of blood and urine samples from 2,500 children tested between 2014 and 2017, according to a study by the German Environment Ministry and the Robert Koch Institute.

Pexels
Medically reviewed by Daniel Bubnis, MS, NASM-CPT, NASE Level II-CSS
Hot yoga has become a popular exercise in recent years. It offers many of the same benefits as traditional yoga, such as stress reduction, improved strength, and flexibility.
Lara Hata / iStock / Getty Images
By SaVanna Shoemaker, MS, RDN, LD
Rice is a staple in many people's diets. It's filling, inexpensive, and a great mild-tasting addition to flavorful dishes.
An image of the trans-alaskan oil pipeline that carries oil from the northern part of Alaska all the way to valdez. This shot is right near the arctic national wildlife refuge. kyletperry / iStock / Getty Images Plus
The Trump administration has initialized the final steps to open up nearly 1.6 million acres of the protected Alaskan National Wildlife Refuge to allow oil and gas drilling.
Kaboompics / Pexels
Tensions between lawmakers and several large manufacturing companies came to a head on Capitol Hill this week during a hearing on toxic fluorochemicals in U.S. drinking water.