This website uses cookies to ensure you get the best experience while browsing it. By clicking 'Got It' you're accepting these terms.
Doo Doo Chicken—The New Pink Slime
Apr. 03, 2012 10:55AM EST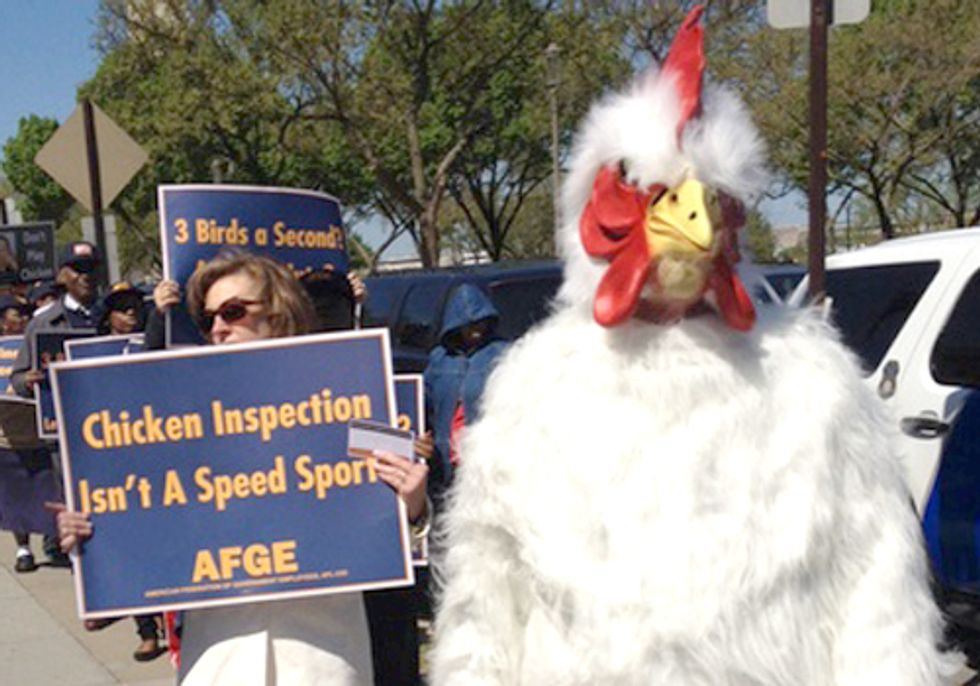 By Walker Foley
Some consumer advocates are marking a swift victory after Beef Products Inc. (BPI) announced the shutdown of three of its four factories last week. But pink slime is just the frothy tip of the repulsive, risky, potentially unsafe meat iceberg floating in our food supply.
In case you've been out of the country for the past two weeks and missed the pink slime hysteria, here's the gist. In 2002, U.S. Department of Agriculture (USDA) microbiologist Gerald Zirnstein dubbed BPI's lean, finely textured beef trimmings (LFTB) "pink slime." Zirnstein's neologism lay dormant for the next 10 years until mainstream media and consumer activists rallied around the term and asked not, "Where's the beef," but, "What's the beef?"
LFTB is made from all the leftover fatty bits too hard to traditionally separate and package. So, BPI's facilities spin the bits in a high-temperature, high-speed centrifuge to separate the fat from the meat. Then they bathe the meat in an ammonia solution to kill harmful strains of E. coli and other bacteria, grind it up, and mix it into the ground beef we then slap on the grill or roll into meatballs.
Food industry scientists are asserting the slime is safe, as is the USDA and even some consumer advocates.
"Pink slime" is not the only industrialized meat treated with unappetizing chemicals. The USDA sanctions the use of chlorine, tri-sodium phosphate (that is normally used to clean cement) and hypobromous acid (that is used to clean swimming pools) to treat poultry for salmonella and sterilize feces that might still be on carcasses because the production line speeds are too excessive and cannot be visually detected. Sure, it might be safe to eat, but as with "pink slime," it speaks to a food safety system that is increasingly reliant on chemical cocktails that don't have to be labeled on the products that are treated and, thus, keep consumers in the dark about how their food is produced.
While chasing the pink slime story, the media missed a much bigger threat to our food's safety. Granted, HIMP—the Hazard Analysis and Critical Control Points (HACCP)-based Inspection Models Project—isn't as memorable of a catch phrase as pink slime, but its implications are more sickening.
Since 1998, the USDA has been experimenting with this program that gives the job of monitoring the safety and quality of poultry to the poultry processors and drastically increases the number of birds federal inspectors must examine at a time. Food & Water Watch has found evidence of food contamination in many of the test slaughter facilities, including bits of beak, feathers, lungs, oil glands, bile and even fecal matter still on carcasses after employee inspection. In 2011, some of the chicken facilities' average error rate was 64 percent, but anywhere between 87 and 100 percent in turkey slaughter facilities.
Why are they moving the responsibility of food regulation from food regulators to food producers? To save money. Of course, proper consumer safety has a price, but so do the lives of the thousands of Americans who get sick and even die from foodborne illnesses lurking in the meat we eat.
Perhaps The Young Turks can put it better:
You know things are bad when USDA meat inspectors join consumer advocates and concerned citizens to protest on the steps of the USDA, which happened on April 2. Among the signs calling on USDA not to put chicken company profits ahead of consumer safety, and folks in chicken suits, the union for USDA inspectors and Food & Water Watch spoke to the crowd about how expansion of the HIMP program jeopardizes food safety.
While members of the media did come out to cover the rally, HIMP probably won't make tomorrow's front-page news or the lead punch lines of the late-night talk circuit. But if the program is expanded, which could happen as soon as October, we could be seeing a lot more headlines about serious food-related illnesses crop up. Which is downright repulsive.
For more information, click here.
EcoWatch Daily Newsletter
Protesters march during a "Friday for future" youth demonstration in a street of Davos on Jan. 24 on the sideline of the World Economic Forum annual meeting. FABRICE COFFRINI / AFP / Getty Images
By Andrea Germanos
Youth climate activists marched through the streets of Davos, Switzerland Friday as the World Economic Forum wrapped up in a Fridays for Future demonstration underscoring their demand that the global elite act swiftly to tackle the climate emergency.
chuchart duangdaw / Moment / Getty Images
By Tim Radford
The year is less than four weeks old, but scientists already know that carbon dioxide emissions will continue to head upwards — as they have every year since measurements began — leading to a continuation of the Earth's rising heat.
Lucy Lambriex / DigitalVision / Getty Images
By Katey Davidson
Each year, an estimated 600 million people worldwide experience a foodborne illness.
While there are many causes, a major and preventable one is cross-contamination.
picture alliance / dpa / F. Rumpenhorst
By Arthur Sullivan
When was the last time you traveled by plane? Various researchers say as little as between 5 and 10 percent of the global population fly in a given year.
A Starbucks barista prepares a drink at a Starbucks Coffee Shop location in New York. Ramin Talaie / Corbis via Getty Images
By Cathy Cassata
Are you getting your fill of Starbucks' new Almondmilk Honey Flat White, Oatmilk Honey Latte, and Coconutmilk Latte, but wondering just how healthy they are?