Don't Frack with New York—Albany Becomes 95th NY Municipality to Enact Fracking Ban
Apr. 18, 2012 10:10AM EST
Energy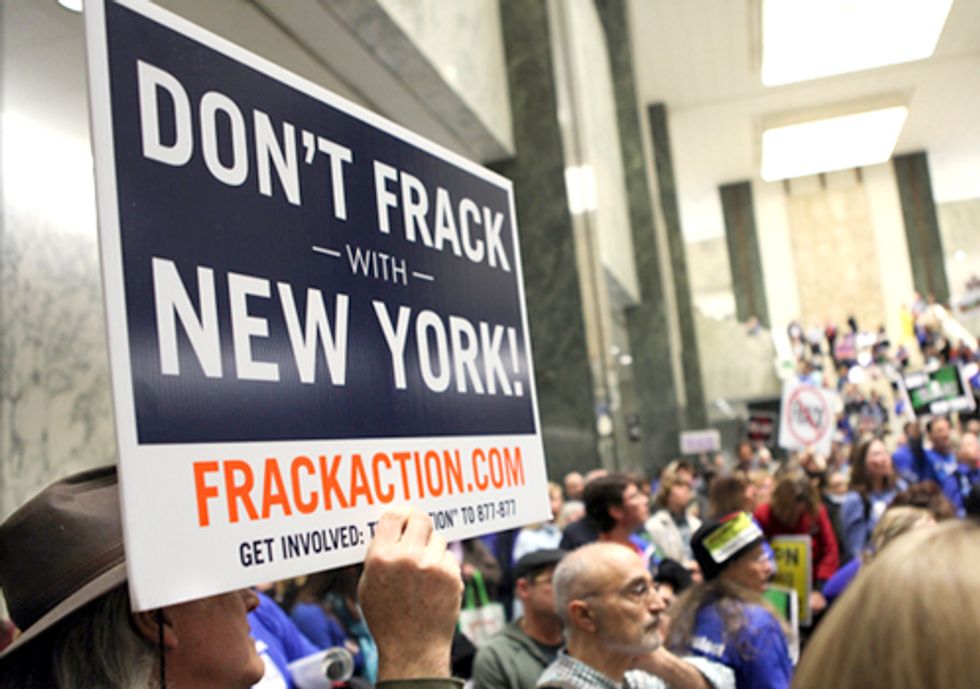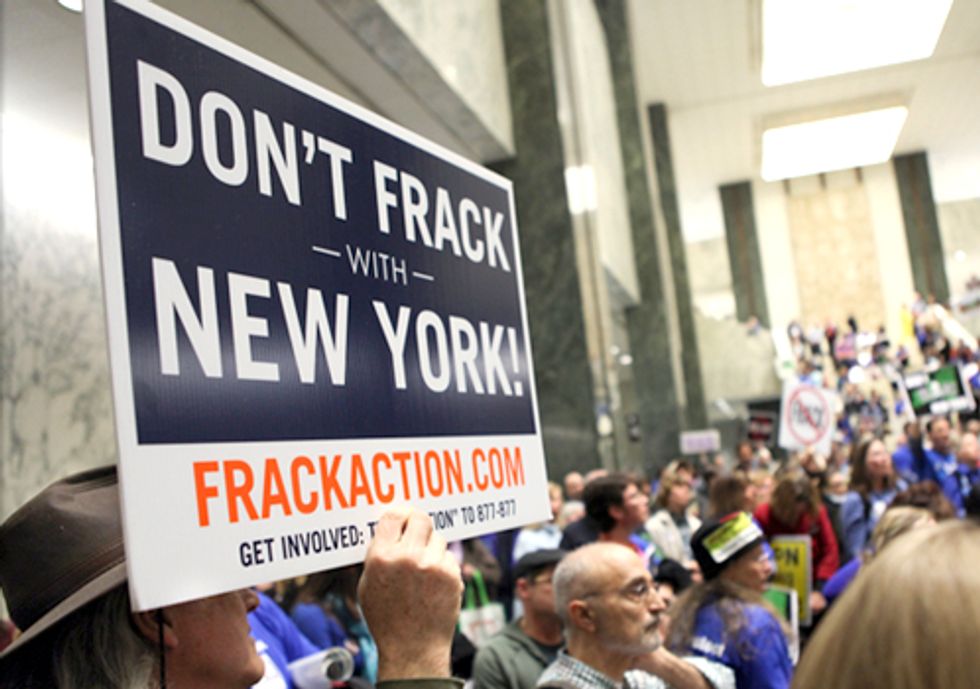 The Albany Common Council passed a ban on fracking, 10-2. The same ban had passed last year, on Oct. 11, 2011, but had been vetoed by Albany Mayor Jennings and the override attempt had come one vote short (9-5). This is a great victory for the anti-fracking movement, and shows the building momentum of the opposition to fracking.
The vote makes Albany the 95th New York municipality to enact a ban on fracking. Those 95 municipalities represent 1.2 million New Yorkers.
"We applaud the Albany Common Council for joining almost a hundred other municipalities across New York in acting on the will and best interests of their residents by banning fracking," said John Armstrong, communications director with Frack Action.
Local leaders in Syracuse and Buffalo, which have also passed fracking bans, expressed support for Albany joining the nearly one hundred cities with a ban in place. Buffalo is the second largest city in New York State and is where the local ban movement started in 2011. Buffalo has banned fracking/wastewater in the city, and this March they also passed a resolution calling on Gov. Cuomo to ban fracking statewide.
"I applaud the Albany Common Council's vote to ban fracking within their city limits," said Buffalo Councilmember Joseph Golombek Jr., sponsor of Buffalo's fracking ban. "Many times, politicians are accused of putting their own interests before the community's. The Albany Common Council's vote, along with the votes conducted by many other municipalities in New York State, show that the citizens of their communities come first, especially when it deals the dangerous impact fracking has on the environment."
Participants in the rally before the vote also called on Gov. Cuomo to follow the lead of municipalities across the state and ban fracking in New York.
"Governor Cuomo should heed the growing body of science that shows fracking cannot be done without sacrificing our health, environment, and economy," said Julia Walsh, campaign director of Frack Action. "The decision on fracking rests with Governor Cuomo—if he breaks it, he owns it."
"Banning fracking from the City of Albany and drilling wastes from our local treatment and disposal facilities is more than just a symbolic act—we are already finding the hazardous by-products of fracking discarded well outside the current zone of drilling, with little state oversight or concern," said Roger Downs, conservation director for the Sierra Club Atlantic Chapter. "We applaud the Albany Common Council for filling the leadership void on industrial gas development. Governor Cuomo has offered only the assurances of a half-baked regulatory program to New Yorkers who stand to lose everything to this out-of-control industry. We hope this stand in Albany does not go unnoticed."
Background
High volume hydraulic fracturing, combined with horizontal drilling, involves pumping millions of gallons of water, chemicals and sand underground to extract natural gas from shale bedrock. Multiple studies show how inherently dangerous it is. Most New Yorkers are wary of fracking. A recent Marist poll found a majority of New Yorkers oppose legalizing fracking due to its potential to contaminate New York's watersheds with carcinogens and other toxicants.
With or without regulations in place, fracking is a menace to public health. It lays down blankets of smog, fills roadway with trucks hauling hazardous materials, sends sediment into streams, and generates immense quantities of radioactive, carcinogen-laced waste for which no fail-safe disposal options exist.
Since fracking began in states outside of New York, there have been more than a thousand reports of water contamination. New studies link fracking-related activities to contaminated groundwater, air pollution, illness, death and reproductive problems in cows, horses and wildlife, and most recently human health problems. A recent study from the Colorado School of Public Health found that those living within a half-mile of a natural gas drilling site faced greater health risks than those who live farther away.
New York has seen a surge of local fracking bans enacted across the state. Overall, 94 towns and 6 counties have enacted bans or moratoria in New York State.  Sixty-eight municipalities are also considering or staging a ban or moratorium. In the past month, Buffalo, the second largest city in New York, and Niagara Falls both passed resolutions calling for Gov. Cuomo and the state legislature to pass a statewide ban on fracking.
The Buffalo Common Council also recently passed a resolution of support for bills S4220/A7218 a fracking ban in New York, stating that a law to prohibit natural gas drilling in New York will protect residents and neighbors from the harmful effects of drilling, as well as safe-guarding air, land, and local waterways. The DEC, while prohibiting fracking in certain watersheds in Syracuse and New York City, has not prohibited drilling in any Western New York watersheds.
For more information, click here.
—————
Stay up-to-date on the latest fracking news by clicking here.
EcoWatch Daily Newsletter
Related Articles from EcoWatch
Recent Stories from EcoWatch