'Don't Frack Denver' Coalition Urges Mayor and City Council to Enact Immediate Moratorium
Feb. 10, 2015 05:00PM EST
Energy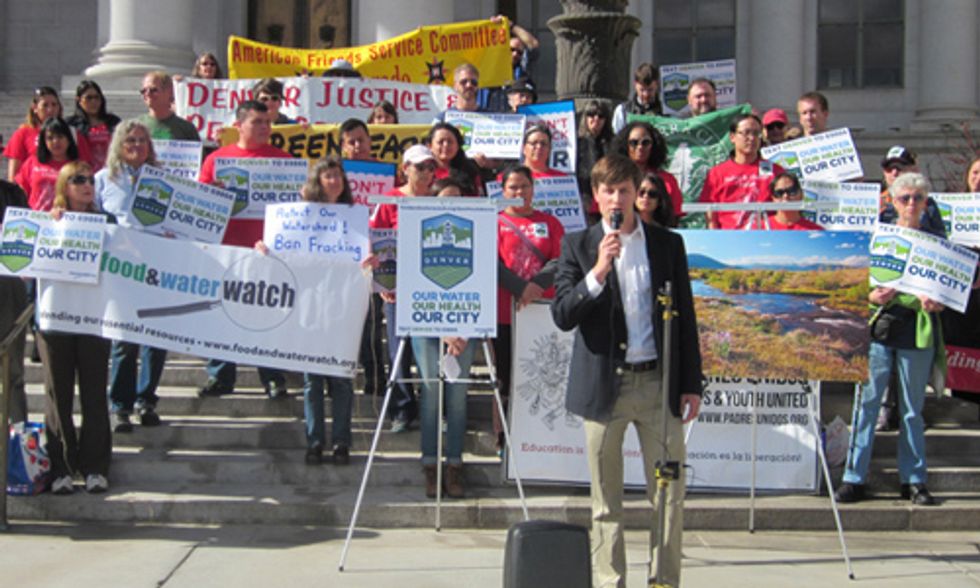 Today a coalition of environmental activists, labor and community groups, health workers, and faith and business leaders launched a campaign called "Don't Frack Denver," designed to push back against the efforts to bring fracking to the city and the surrounding South Platte River Basin. Following a press conference in front of the Denver City and County Building, the group visited Mayor Michael B. Hancock's office to deliver a letter urging the mayor and city council to keep fracking out of Denver.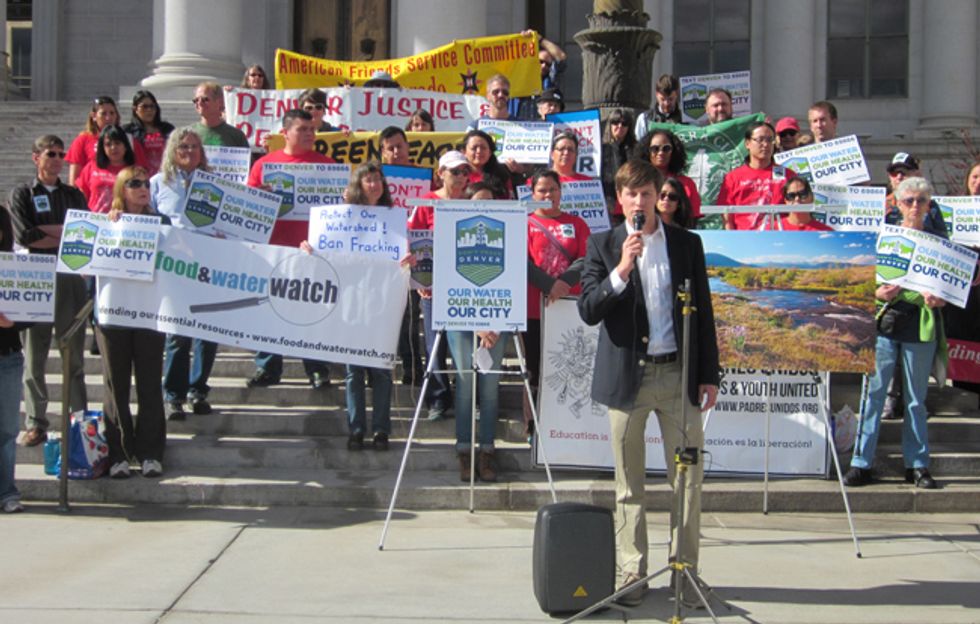 "We need to put a moratorium on fracking in Denver to make sure that my family and thousands of others like mine don't live in fear for our health, safety and property," said Ronda Belen of the Green Valley Families Against Fracking, one of nearly two dozen organizations and businesses that participated in the action.
Denver-area activists have become concerned because oil and gas companies have already signed leases in Denver suburbs, and homebuilding company Oakwood Homes, which has entering into such leases, has retained mineral rights under its Green Valley Ranch development in Denver. The Denver Post pointed out that the mayor lives at Green Valley Ranch, and Oakwood Homes CEO Pat Hamill, who backed a pro-industry ballot proposal last year, is a major campaign donor to the mayor.
"Fracking makes Coloradans sick, drives down property values and contaminates our public water and clean air," added Sam Schabacker, western region director with Food & Water Watch. "Denver's exceptional quality of life is too precious to risk: fracking must not take place in our community or watershed."
Don't frack Denver protesting at City and County building, want moratorium on fracking in Denver. pic.twitter.com/w0hSxk1cXF

— Jennifer Kovaleski (@JennKovaleski) February 10, 2015
The Don't Frack Denver coalition is also worried about a proposed plan by the Bureau of Land Management to lease 280,000 acres of federal land in the South Platte River watershed for fracking. The river supplies about a third of Denver's drinking water and is also a prime recreation area. While the city of Denver has no direct control over that area, the Don't Frack Denver coalition is asking Mayor Hancock and city council to pressure the Bureau of Land Management not to proceed with this plan.
"As a Colorado brewery, we rely on clean, Colorado water for our livelihood," said Betty Wang, co-owner of Denver's CAUTION; Brewing Company and one of the participants in today's action. "Anything that threatens the cleanliness of our Rocky Mountain water is a direct threat to us as a business."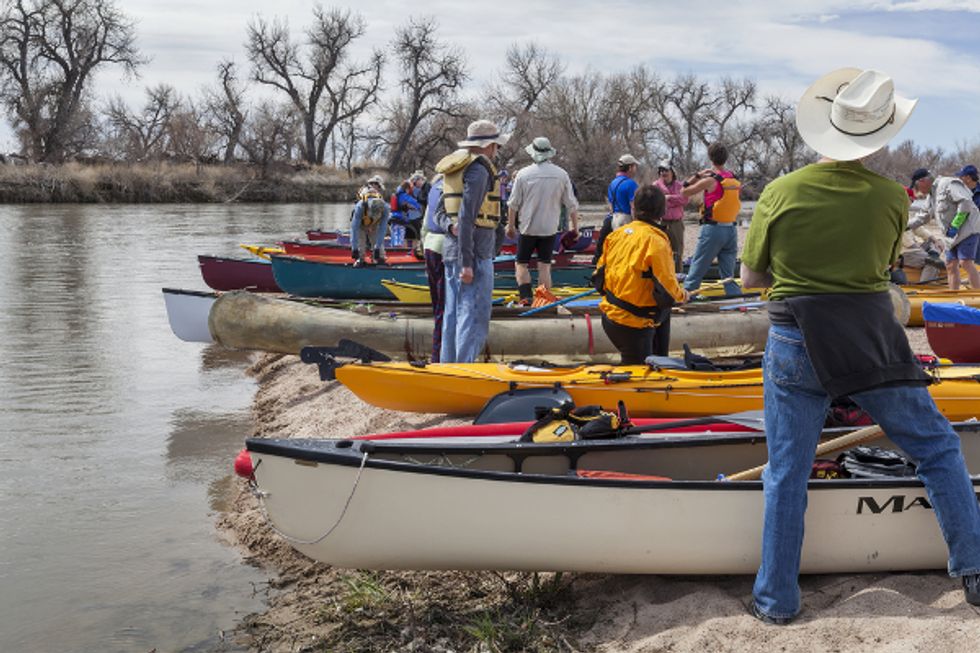 Photo credit: Shutterstock
Colorado has been a fracking battleground, as cities such as Boulder, Lafayette, Longmont and Fort Collins have voted to delay and/or ban the process, while in Loveland, a ban failed last year after anti-frackers were outspent 100 to 1 by the oil and gas industry. The Colorado Oil and Gas Association (COGA) has been fighting those citizen bans in court, insisting that its business interests are protected under the state's Oil and Gas Act and trump the rights of citizens to determine what goes on in the borders on their towns.
Last year, four pro- and anti-fracking measures were removed from the state ballot after an agreement was hammered out between Congressman Jared Polis, who was preparing to turn in signatures supporting more local control over fracking, and Governor John Hickenlooper. The agreement included the formation of an 19-member task force, comprising both citizens and oil and gas industry representatives, to hammer out a plan to submit to the legislature.
Mayoral spokeswoman Amber Miller told The Denver Post that the mayor supports the task force and its work to "develop responsible recommendations for the entire state that will allow our burgeoning energy sector to succeed while maintaining the integrity of our environment and quality of life."
Anti-fracking activists are not taking a wait-and-see approach, however.
"We simply do not know enough about fracking's impacts on the land, air, water—and ultimately, of course, on us—to allow it to continue and proceed unabated in our very backyard," said Reverend Nelson Bock of Colorado Interfaith Power and Light. "Moreover, we are called as stewards to safeguard those resources and ecosystems not only for our own well-being but for the well-being of all."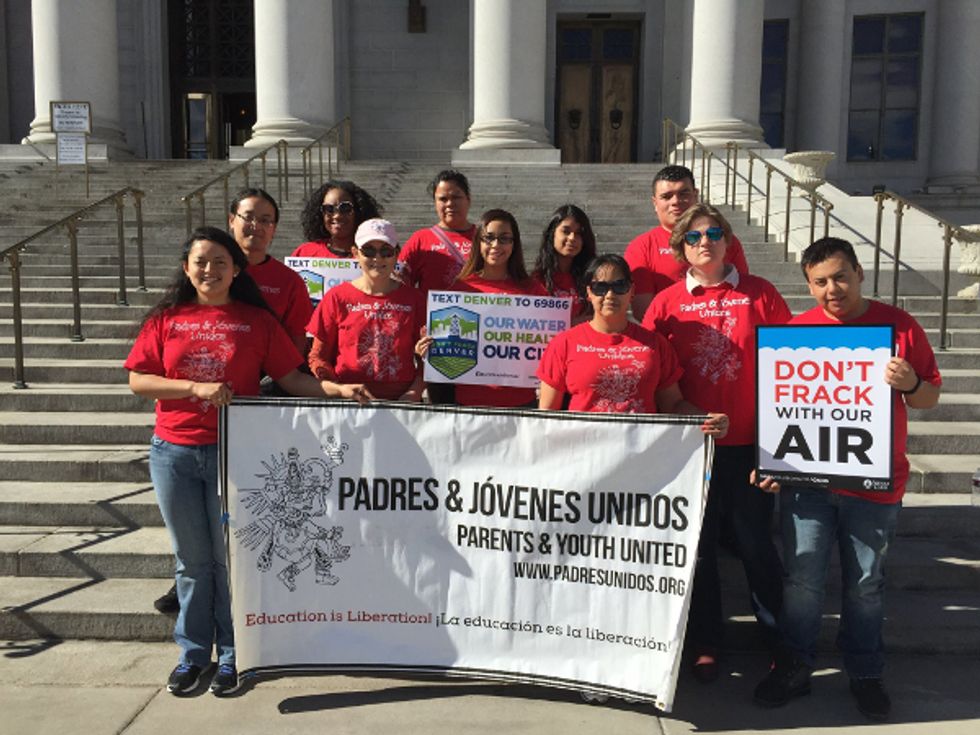 "The Colorado Progressive Coalition is against fracking anywhere in Colorado but we are especially concerned that companies continue to target low-income, communities of color for their reckless environmental practices," said the group's executive director Mike Roque. "These communities have the least amount of political power to fight back against the big corporations and their government supporters. We call upon Mayor Hancock and city council to stop fracking in Denver."
YOU MIGHT ALSO LIKE
Battle for Democracy in Fracking Fight Continues in Colorado
Why Is It Legal to Cause Fracking Earthquakes In Colorado?
Democrat Jared Polis Pulls Anti-Fracking Initiatives at Last Minute from Colorado Ballot
EcoWatch Daily Newsletter