Donald Trump Slapped With Fine for Pollution From His Private Jet
Jan. 08, 2016 04:49PM EST
Climate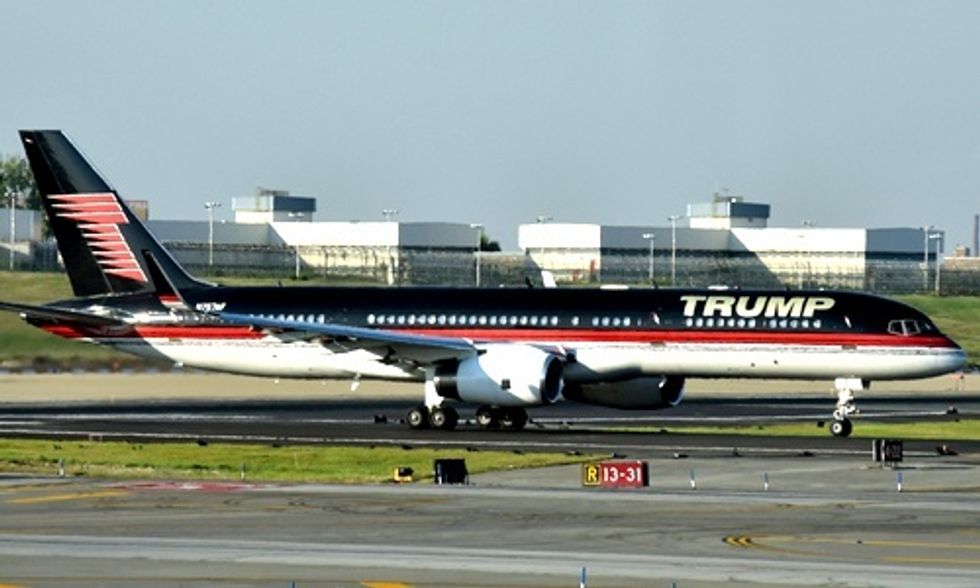 Donald Trump has been having a tough time in the UK lately. First, he lost his appeal with the UK Supreme Court to halt a Scottish wind farm project near his resort in Aberdeenshire. Next, a parliamentary petition, backed by more than 500,000 people, was launched to bar Trump from entering the UK. And now, a UK agency is slapping him with a fine for carbon pollution from one of his private jets.
Donald Trump fined for pollution from one of his private jets https://t.co/LBX02bcIRh

— The Guardian (@The Guardian)1452264627.0
Trump faces fines of €2,152 ($2,339) for a flight to the UK in a plane owned by a firm called DJT Operations I LLC, part of the Trump Organization.
The UK's Environment Agency, which is charged with enforcing the European Union's Emissions Trading System (ETS), published an updated list of those facing fines on Tuesday. The agency issued the fines to 25 operators, totaling more than £750,000 (about $1.1 million), because they failed to purchase carbon permits to cover their emissions, The Guardian said.
Those fined along with Trump are various private and commercial jet operators, including the Bahrain Royal family, insurance giant AIG and 21st Century Fox America, the company chaired by Rupert Murdoch.
"The EU Emissions Trading System is an important means of regulating emissions from aviation operators," Liz Parkes, Environment Agency deputy director of climate change and business services, told The Guardian. "The Environment Agency's enforcement activity is part of coordinated action across Europe."
The trading system is designed to limit carbon pollution and mitigate climate change.
"Under ETS rules, polluters must hand over a carbon permit for every ton of carbon pollution emitted, or pay a €100 [$109] per ton fine," Politico explained. "The permits are often given to airlines for free and can also be purchased. The current price is about €8 [$8.72] per permit."
Trump failed to hand over the carbon permits by the end of April 2013, as required by law, said Politico.
Trump, whose mother was Scottish, opened his luxury golf resort in Aberdeenshire in 2012, the period covered by the fines. He has been embroiled in controversy since he bought the Menie estate there in 2006. He has not publicly responded to the fines, but The Guardian said, news of the fines is "unlikely to impress Trump," who has called global warming "bullshit" and a concept "created by and for the Chinese in order to make U.S. manufacturing non-competitive."
On Wednesday, Trump threatened to withdraw $1 billion in investments from Scotland if the UK follows through on the petition to ban him from the country. The petition, which Parliament will debate on Jan. 18, was launched after Trump called for a "total and complete shutdown" of Muslims coming to the U.S.
YOU MIGHT ALSO LIKE
Marco Rubio Calls Exxon Scandal 'Nothing But a Left-Wing Effort to Demonize Industry'
10 Foods That Could Disappear Because of Climate Change
EPA Scientists Call Foul on Fracking Study, Say Findings 'Inconsistent With Data Presented'
EcoWatch Daily Newsletter
Related Articles from EcoWatch
Recent Stories from EcoWatch