Donald Trump: Keystone XL Pipeline Would Have 'No Impact' on The Environment
Aug. 21, 2015 10:31AM EST
Energy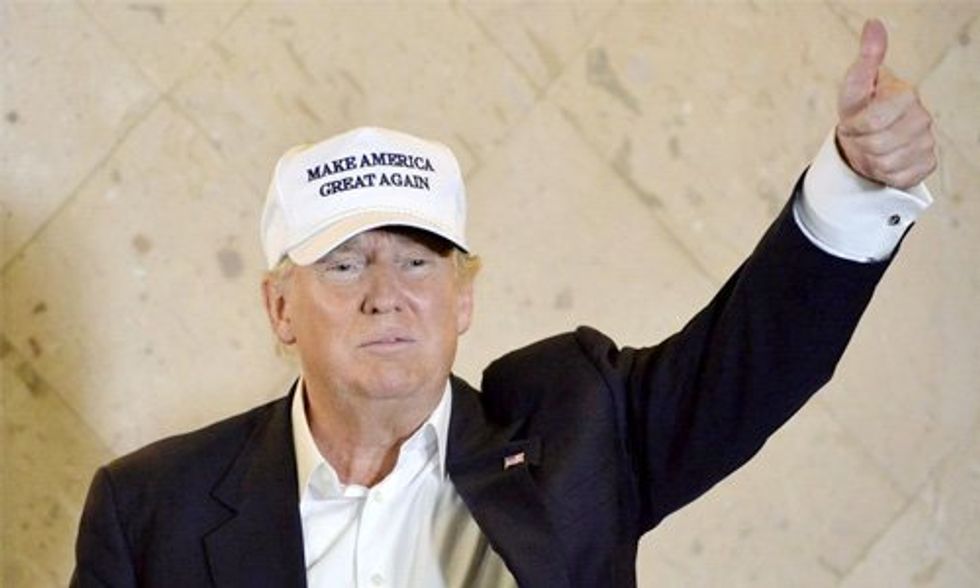 Republican presidential candidate Donald Trump believes that the Keystone XL pipeline would have "no impact" on the environment and, if elected president, he said he will "immediately approve" the project.
If I am elected President I will immediately approve the Keystone XL pipeline. No impact on environment & lots of jobs for U.S.

— Donald J. Trump (@realDonaldTrump) August 18, 2015
Trump says 1,179-mile tar sands pipeline would have 'no impact' on the environment http://t.co/BkY9oSDUjp pic.twitter.com/20FqKdvlpq

— ThinkProgress (@thinkprogress) August 20, 2015
Though, the proposed pipeline's impact has been widely debated, it's rare for a policymaker (or would-be policymaker in Trump's case) to claim that there would be no environmental impact.
"Even the U.S. State Department said that, while there would not be a major impact on climate change, the pipeline would likely experience spills in the course of its lifetime," reports Think Progress.
Trump has been very vocal in his support of the project, which comes as no surprise given his personal disclosure statements last month, which revealed he holds at least $250,000 worth of stock in TransCanada Pipelines Ltd., the Canadian company hoping to build the pipeline.
The Keystone pipeline will create 20,000 jobs and lower gas prices. But Obama says No. Dumb.

— Donald J. Trump (@realDonaldTrump) December 27, 2011
Trump's financial disclosure forms also revealed his extensive holdings in many of the largest fossil fuel companies.  
The project, which is still under review by the Obama administration, is supported by "nearly all Republicans, including their presidential candidates," according to CNN.
In March, Republicans in the House and Senate passed a bill authorizing the construction of the pipeline, which President Obama vetoed.
Lindsey Graham used the first GOP primary debate as an opportunity to call out Hillary Clinton for wavering on the pipeline, saying, "Hillary Clinton won't build the Keystone pipeline. I will." And it's not just conservatives who are critical of Clinton's stance (or lack thereof) on Keystone. She has come under intense scrutiny from environmentalists for not opposing the project outright.
Though she has called climate change "one of the defining threats of our time," environmentalists want to see her take a strong stance on pressing issues such as fracking, Arctic drilling and the Keystone XL pipeline. She has dodged a stance on the pipeline by saying she doesn't want to second guess the President on an issue that she has personally worked on while at the State Department. But it appears Clinton is finally acknowledging her so-called "climate credibility gap" because after saying she was "skeptical" of President Obama's plans to allow drilling in the Arctic a few weeks ago, she officially came out against Arctic drilling earlier this week.
The Arctic is a unique treasure. Given what we know, it's not worth the risk of drilling. -H — Hillary Clinton (@HillaryClinton) August 18, 2015
There is little doubt that the move comes at least in part because Clinton's top competitor for the Democratic nomination, Bernie Sanders, is very vocal on climate issues. Last month, he called Clinton out for her silence on Keystone.
"I have helped lead the opposition against the Keystone pipeline," said Sanders. "I don't believe we should be excavating or transporting some of the dirtiest fuel on this planet. I think Secretary Clinton has not been clear on her views on that issue."
Her evolving position on Arctic drilling has left many wondering if she won't have the same change of heart when it comes to the Keystone pipeline.
YOU MIGHT ALSO LIKE
Hillary Clinton's Keystone XL Crisis
Hillary Clinton: Arctic Drilling Is 'Not Worth the Risk'
6 Reasons Why the Nurses Union Endorsed Bernie Sanders Over Hillary Clinton
EcoWatch Daily Newsletter