Donald Trump Enters the Presidential Race
Jun. 16, 2015 02:56PM EST
Climate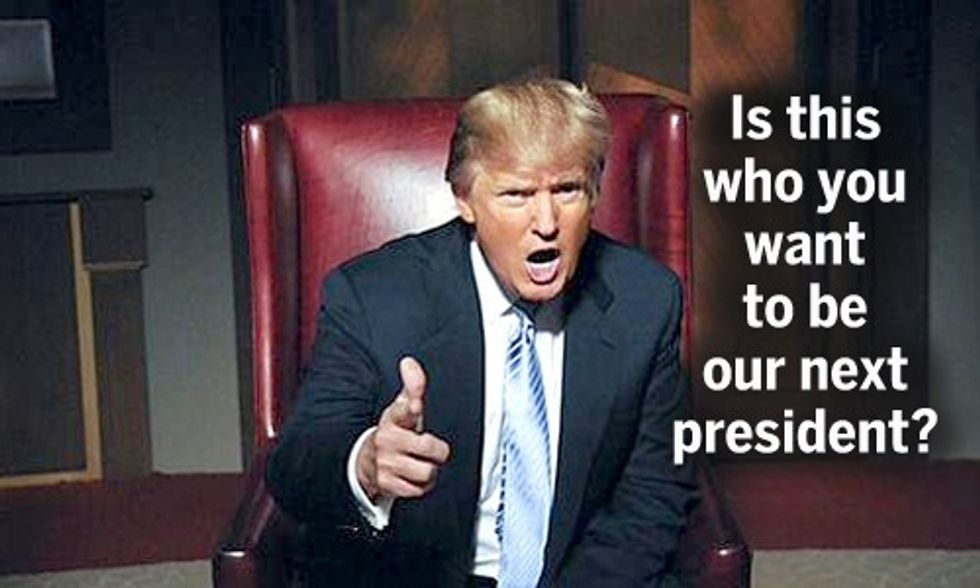 [Editor's note: Neil Young's manager has since released a statement saying that Trump was not authorized to use his song and the Canadian rocker is apparently a Bernie Sanders fan.]
After several election cycles of trolling the public, Donald Trump has finally announced an official bid for the White House.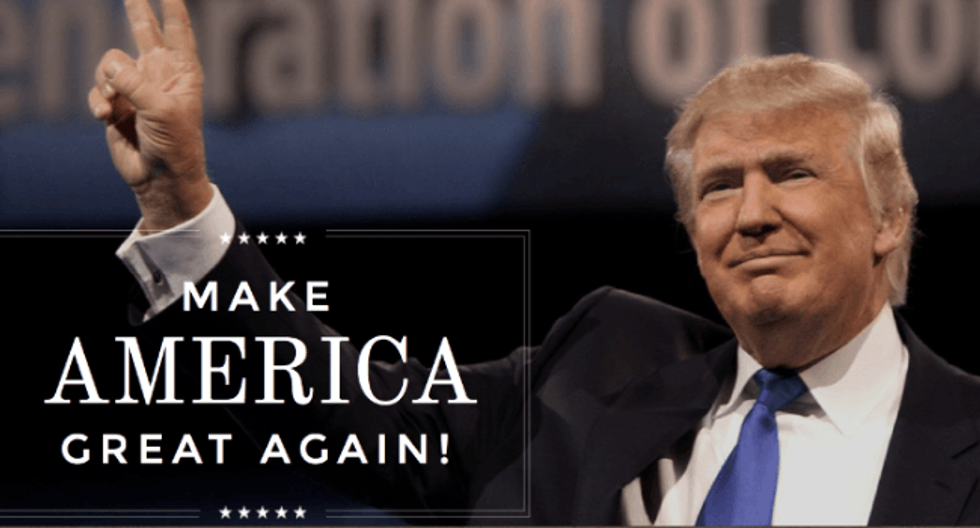 Earlier this morning, I tuned into Periscope with 4,300 other viewers and watched the Celebrity Apprentice star make his way to a podium with Neil Young's "Rockin' in the Free World" blasting in the background. (The Donald's song choice is especially strange since it's a 1989 takedown of George H.W. Bush's presidential administration, and Neil Young is a noted environmentalist, who's vehemently against the kind of unfettered capitalism that Trump has built his career on).
Trump declared to a noisy crowd gathered at Trump Tower in New York City, "I am officially running for president of the United States and we are going to make our country great again," referring to his official campaign slogan.
The rambling and bombastic speech covered the usual conservative talking points—creating jobs, protecting national security and repealing Obamacare.
I am officially running for President of the United States. #MakeAmericaGreatAgain https://t.co/Ct0lNu7kz0

— Donald J. Trump (@realDonaldTrump) June 16, 2015
Trump, who has never held public office, also flaunted his incredible wealth. "I'm really rich," he crassly pointed out. "That's the kind of thinking you need for this country. It sounds crass, it's not crass."
Donald Trump just became the 12th Republican to enter the presidential race. That's pretty much all we've got. pic.twitter.com/aUq9ZPPlE6

— The Democrats (@TheDemocrats) June 16, 2015
While the real estate mogul did vow to rebuild the country's infrastructure, his announcement marks yet another climate denier throwing himself into the ring.
Check out what the avid Twitter user has said before on the topic (via Mother Jones).
Record cold temperatures in July - 20 to 30 degrees colder than normal. What the hell happened to GLOBAL WARMING?

— Donald J. Trump (@realDonaldTrump) July 14, 2014
NBC News just called it the great freeze - coldest weather in years. Is our country still spending money on the GLOBAL WARMING HOAX?

— Donald J. Trump (@realDonaldTrump) January 25, 2014
Any and all weather events are used by the GLOBAL WARMING HOAXSTERS to justify higher taxes to save our planet! They don't believe it $$$$!

— Donald J. Trump (@realDonaldTrump) January 26, 2014
The concept of global warming was created by and for the Chinese in order to make U.S. manufacturing non-competitive.

— Donald J. Trump (@realDonaldTrump) November 6, 2012
Oh Donald. If anything, extreme weather is proof of climate change. Here's another convoluted Trump tweet against renewable energy.
Wind turbines are not only killing millions of birds, they are killing the finances & environment of many countries & communities.

— Donald J. Trump (@realDonaldTrump) October 17, 2012
No matter how aggravating he is, Donald Trump is rich, famous and loud enough to stand out in this increasingly large field of GOP presidential candidates. That's why his annoucment is significant. His candidacy could affect who becomes the party's nominee as only the top 10 ranking candidates in national polls will be selected to appear at the first few Republican primary debates, shutting out less popular names.
The good news is, Trump doesn't stand a chance at winning the nod: roughly 57 percent of his own political party have an unfavorable view of him.
Here's a video Trump released last month touting his now-official campaign slogan, "Make America Great Again:"
YOU MIGHT ALSO LIKE
Ted Glick: Why Climate Activists Should Support Bernie Sanders
Hillary Clinton: Climate Change Is 'One of the Defining Threats of Our Time'
Republican Businessman Pledges $175 Million to Convince GOP to Act on Climate Change
EcoWatch Daily Newsletter
Related Articles from EcoWatch
Recent Stories from EcoWatch