Donald Trump Blames Intern for Tweet Insulting Monsanto, Ben Carson and Iowa Republicans
Oct. 23, 2015 10:46AM EST
Food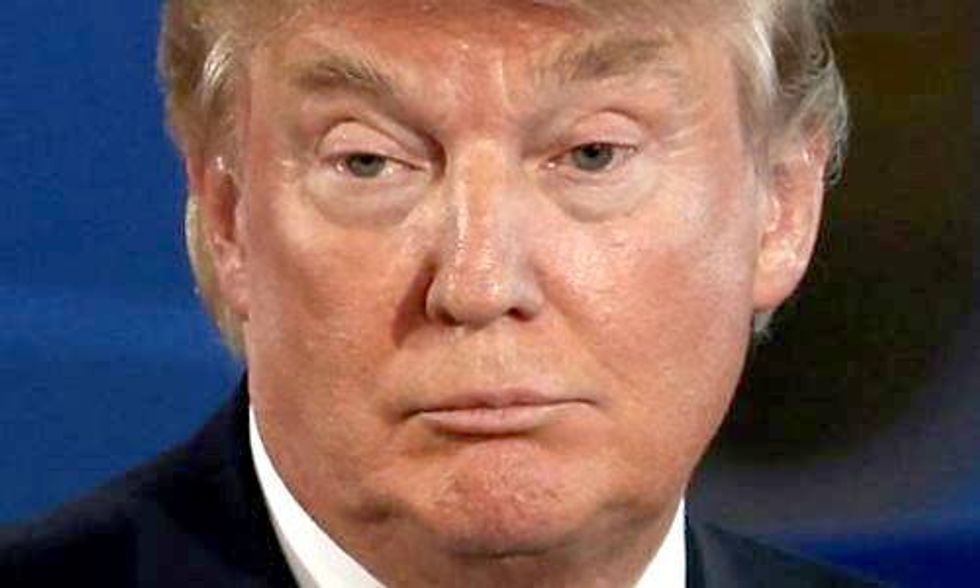 Presidential candidate Donald Trump has backtracked on a retweet that insulted Monsanto, his Republican rival Ben Carson and Iowa Republicans all at the same time.
The retweet in question? "Ben Carson is now leading in the polls in Iowa ... Too much Monsanto in the corn creates issues in the brain?" Ouch.
The original missive was sent by Twitter user @mygreenhippo after new polling showed that the retired neurosurgeon had soundly knocked the billionaire real estate mogul off his GOP presidential front-runner mantle (28 percent to Trump's 19 percent, according to the Des Moines Register/Bloomberg Politics) for the first time since Trump dominated the polls in the summer.
#BenCarson is now leading in the #polls in #Iowa... Too much #Monsanto in the #corn creates issues in the brain? @realDonaldTrump #GOP

— Nicolas R-V (@Nicolas R-V)1445526362.0
According to CNN, "this is the first major poll to find Trump trailing by a significant margin nationally or in the four early states since late June."
If it was sincere, Trump's retweet to his 5 million Twitter followers not only sounded like sour grapes about Carson's surge, it targeted Iowans who hold a lot of clout in the all-important Iowa caucus that kicks off the election season.
The retweet also shunned Monsanto, which has a major presence in Iowa, with facilities in 18 different cities in the state. While Monsanto doesn't exactly have a sterling public reputation (its nickname is MonSatan after all), let's also not forget that the agribusiness/biotech giant is a major GOP donor.
This could explain why Trump has backpedaled on the tweet, but as CNN observed, when Trump was asked in August if he endorses his retweets, he said, "Well I do retweets, and I mean, to a certain extent, I do, yeah. I think that's right. Do you want me to say no? You know, I retweet, I retweet for a reason."
Trump frequently uses Twitter to rouse support from his rabid fan base while provoking his detractors at the same time. Here's a recent Trump tweet about climate change, which he famously considers a "hoax."
It's really cold outside, they are calling it a major freeze, weeks ahead of normal. Man, we could use a big fat dose of global warming!

— Donald J. Trump (@Donald J. Trump)1445261430.0
Trump's Iowa polling retweet has since been deleted, and, I imagine, his poor intern heard "You're fired!" from the former Apprentice boss after making the alleged social media faux pas.
The young intern who accidentally did a Retweet apologizes.

— Donald J. Trump (@Donald J. Trump)1445540371.0
Incidentally, Trump's latest Twitter misstep brings to memory that other time his campaign pulled the same "my intern did it" excuse after one of his retweets featured imagery of soldiers in uniforms similar to those worn by Nazi troops.
aaaandd trump deleted his nazi 2016 tweet. but screenshots are forever http://t.co/pTpuVZv9xH

— Joe Perticone (@Joe Perticone)1436900479.0
YOU MIGHT ALSO LIKE
Why Donald Trump and Bernie Sanders Are Rock Stars Among the Working Class
6 of Donald Trump's Most Outrageous Tweets on Climate Change
Lawsuits Mount Against Monsanto's 'Cancer-Causing' Weedkiller
2.6 Billion Pounds of Monsanto's Glyphosate Sprayed on U.S. Farmland in Past Two Decades
EcoWatch Daily Newsletter