Don Blankenship Goes on Trial in Massey Mine Blast That Killed 29
Oct. 02, 2015 09:22AM EST
Energy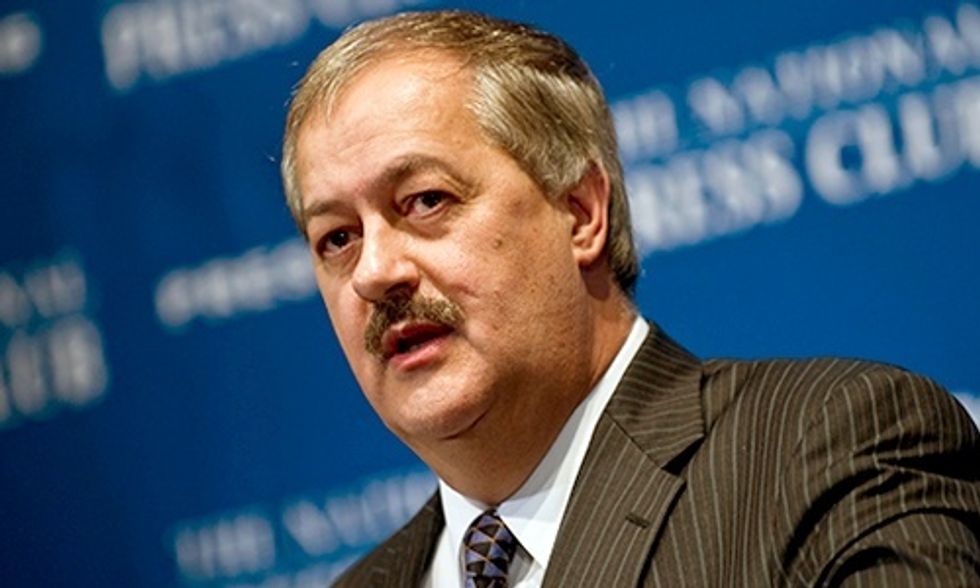 Don Blankenship's, the former CEO of Massey Energy Co., trial started yesterday in what NBC News describes as "the biggest corporate accountability case in years." Blankenship resigned as CEO eight months after one of its mines exploded in West Virginia in 2010, killing 29 miners.
Trial begins for CEO at helm during 2010 mining disaster https://t.co/kRR5IadXG9 https://t.co/OdwMIsODsC

— The Atlantic (@The Atlantic) 1443727539.0
Last November, a federal grand jury indicted Blankenship on charges that he deliberately flouted safety standards leading to the death of the 29 miners at Upper Big Branch Mine (UBB). He has been accused of "having tipped off managers about federal safety inspections ahead of time before the explosion and of having tried to cover up the company's mismanagement after the explosion," according to NBC News.
"Blankenship knew that UBB was committing hundreds of safety-law violations every year and that he had the ability to prevent most of the violations that UBB was committing," the indictment said. "Yet he fostered and participated in an understanding that perpetuated UBB's practice of routine safety violations, in order to produce more coal, avoid the costs of following safety laws and make more money."
The U.S. Mine Safety and Health Administration investigation in 2011 revealed that "broken equipment failed to douse a small methane gas fire, which ignited coal dust in a giant blast that ended up as the deadliest U.S. mine accident in more than 40 years." Blankenship, to this day, denies any wrongdoing.
Several family members of UBB Mine victims were present as the trial began, reports WCHS-TV8 in Charleston, West Virginia. Jury selection began yesterday and will carry over into Friday and Monday as 300 potential jurors will be brought in from around the state.
If he's convicted in U.S. District Court in Charleston, West Virginia, he could face up to 31 years in prison for "conspiracy to violate safety laws, defrauding the federal government, securities fraud and making false statements to the Securities and Exchange Commission," says NBC News.
"Prosecutors have produced memos, testimony and other evidence they say show Blankenship prioritized profits over safety measures that could have saved lives," says AP's Jonathon Mattise.
"He battled unions, spent millions as lead puppeteer behind Republican state politics and fought regulators over safety and environmental rules, which his mines often broke," explains Mattise. He once described himself as "the most hated man in Mingo County." Though, many would say that hatred extends much farther.
Robert F. Kennedy, Jr. had this to say about Blankenship in a report on EcoWatch last fall:
Don Blankenship once boasted to me that it was impossible to conduct mountaintop removal mining without violating the law. He prided himself on his cold-blooded capacity for turning America's purple mountains majesty into coal company cash. His criminal mind allowed him to view the human beings of Appalachia as disposable production units. He is a sociopath and gangster whose gift was felonious greed and a stone-cold heart that allowed him to put his yearning for money and power ahead of human lives. Those qualities had great value to his friends and investors: the Wall Street robber barons. But they were poison and destruction to the noble communities of coal country.  We can't bring back the towns he destroyed, the lives he took, the mountains he flattened, the rivers he poisoned, but there is some consolation in knowing that he's getting what he deserves: three hots and a cot and long days in the company of fellow criminals of lesser appetites and lesser distinction.
Read page 1
Many, such as Ellen Smith, managing editor of the trade publication Mine Safety and Health News, have noted that the trial serves as a "terribly important" opportunity for prosecutors to ensure accountability among corporate executives. "That is the one thing that under U.S. corporate law it's nearly impossible to do—to hold the person at the top responsible," Smith told NBC station WSAZ of Huntington, West Virginia.
Last November, the plaintiff's attorney hailed the grand jury's decision, saying, "For the first time in my memory, the CEO of a major coal producer is being held criminally accountable for the atrocious conduct that occurred on his watch."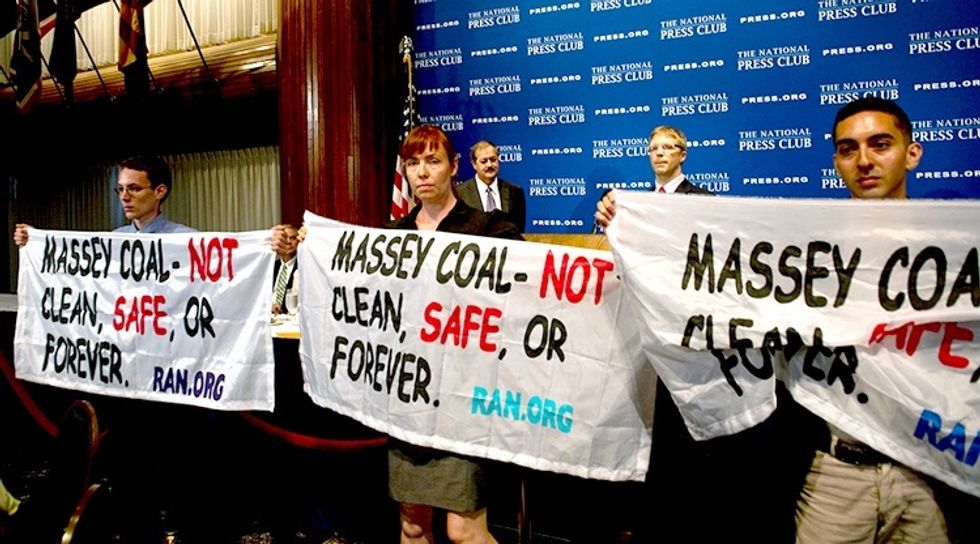 Even if Blankenship is convicted, he has left a brutal legacy behind. In a great exposé on Blankenship, Tim Murphy at Mother Jones says:
The irony is that, even at the nadir of Blankenship's power, his ideology is ascendant. He transformed West Virginia not just physically (entire towns have been wiped out by Massey's footprint), but politically. Now, by playing off fears of creeping government involvement, the coal industry has strengthened its grip on state politics. Lawmakers friendly to the industry, with financial support from Blankenship, have won sweeping victories at the ballot box and used their mandate to roll back health and safety regulations while trumpeting the survival-of-the-fittest capitalism that was Blankenship's gospel. The man on the mountaintop may have fallen, but the widespread impact of his legacy shows no signs of diminishing.
Still, in a sign of the times, the company that took over Massey in 2010—Alpha Natural Resources Inc.—declared bankruptcy in August. "Coal, as an investment class, is effectively finished," says Carl Pope, former CEO and chairman of the Sierra Club. Renewable energy is becoming rapidly cheaper, while coal is not doing so well.
In July, Pope said:
What happened to coal company share values? In the last five years, a coal company has gone bankrupt on the average every month. The second largest U.S. coal company, Alpha, after one bankruptcy and reorganization, was just dumped from the NY Stock Exchange because its price fell below $1.00. Even a coal producer (Walter) whose output, metallurgical coal, still enjoys a strong market had to file for bankruptcy. The biggest U.S. coal company, Peabody, which traded in 2011 at $73, is now selling at $1.29. The bond markets have abandoned coal. All coal company debt is now graded "junk." In the last quarter the three worst performing major U.S. bonds were all coal:
Alpha Natural Resources: -70 percent
Peabody: -40 percent
Arch: -30 percent
In the ultimate sign of the times, Google announced in June that it will be opening its newest data center—which will be 100 percent powered by renewable energy—at the site of a soon-to-be retired Tennessee Valley Authority (TVA) coal plant in Alabama. Perhaps the headline of this article sums it up the best, Goodbye coal, hello renewables.
YOU MIGHT ALSO LIKE
Al Gore Blasts GOP Climate Deniers, Thom Hartmann Says Throw Them in Jail
How to Finance the Global Transition from Fossil Fuels to Renewable Energy
Robert Reich: Why Bernie Sanders Is So Popular
John Oliver to Stephen Colbert: I Couldn't Care Less About Donald Trump
EcoWatch Daily Newsletter
Related Articles from EcoWatch