This website uses cookies to ensure you get the best experience while browsing it. By clicking 'Got It' you're accepting these terms.
Does your Representative Vote Against Clean Air and Take Polluter Money?
Sep. 13, 2012 05:45AM EST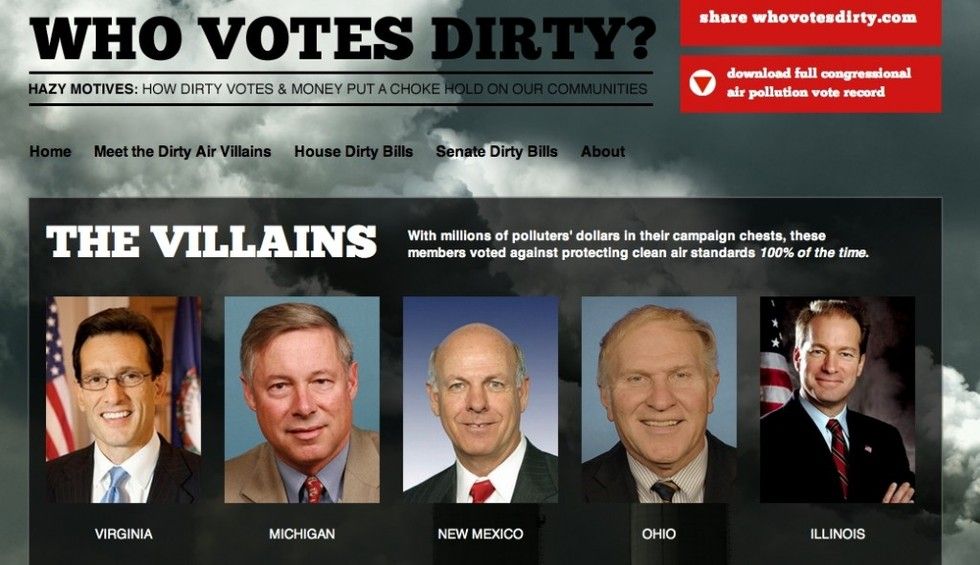 When your child's football game is cancelled because of bad air quality or your parent has respiratory trouble because of smog, it's hard to know which dirty power plants or factories are causing the problem. It's also difficult to know which Congressmen or Senators are making it easy for industries to pollute your air. 
Unless you follow the trail of votes. Now the Natural Resources Defense Council (NRDC) Action Fund has made it easy to do just that. Clean air has been front and center in this Congress, and the NRDC Action Fund and Environment America analyzed recent voting patterns to discover who is standing up for public health and who isn't.
An astounding 192 members of the U.S. House of Representatives voted against clean air every opportunity they got. (Plus, we named Speaker of the House, John Boehner, a villain for scheduling all the dirty air votes.) In the Senate, 39 lawmakers did the same. We dubbed these folks the Dirty Air Villains.
Luckily Washington still has heroes too:  99 Representatives and 43 Senators championed the safeguards that keep mercury, lead, arsenic and other air toxins out of our air. And they took far less money from polluters on average than their Congressional peers who voted the wrong way.
But we went one step further and looked at the air quality data for congressional districts as well. No community benefits from a vote for more pollution, but some are hurt more than others. A large number of the Dirty Air Villains—48 in the House and 25 in the Senate—represent people living in towns and cities ranked among the most polluted areas in America.
Why would a lawmaker vote to make their constituents' air even more likely to cause asthma, heart attacks, and cancer? I can't tell you what's in politicians' hearts, but I can tell you what's in their campaign chests.
NRDC Action Fund analysis found that House members who took more than $100,000 from polluters over the course of their career voted against clean air standards twice as many times as those who accepted less than $100,000 from dirty industries. In the Senate, members taking more than $500,000  in career contributions from polluters voted against clean air protections three times as often on average as those taking less.
Ordinary citizens can feel overwhelmed by the amount of money pouring into politics these days. How can we compete against deep-pocketed coal companies or oil refineries?
The answer is: by raising our voices and spreading the word. Some members of Congress count on voters back home not knowing the consequences of each vote they cast—or each campaign check they cash. If you don't know, then you can't express outrage at the polls.
Take Ohio for instance, which has three of its major metro areas ranked within the 25 worst areas for air pollution in the country. Ohio Senator Rob Portman voted against clean air at every opportunity he had while taking over $670,000 in contributions from polluters during his congressional career. And if you live in Cleveland-Akron area,  which has the country's 14th most polluted air for year-round soot, you can find out that Rep. Jim Renacci voted to block clean air standards every chance he got, the same congressman who took over $140,000 in polluter contributions over his career.
This is powerful information—information that can combat the influence of money and help sway elections. This year's races don't rest on swing voters. They will be won by whoever inspires more of their base to turn out at the voting booth. Let the information about clean air votes and polluter contributions WhoVotesDirty.org inspire you to vote—and tell your friends and family to do the same.
Top battleground states this election have a mix of Villains and Heroes:
Colorado: Four members of Colorado's delegation are Dirty Air Villains: Reps Scott Tipton (R-CO3), Doug Lamborn (R-CO5), Cory Gardner (R-CO4) and Michael Coffman (R-CO6). Three members are Clean Air Heroes: Senators Mark Udall (D-CO) and Michael Bennet (D-CO), and Rep. Diana DeGette (D-CO1).
Florida: Florida is represented by fifteen Dirty Air Villains: Senator Marco Rubio (R-FL) and Reps. Sandra Adams (R-FL24), Vern Buchanan (R-FL13), Ander Crenshaw (R-FL4), John Mica (R-FL7), Richard Nugent (R-FL5), Bill Posey (R-FL15), David Rivera (R-FL25), Tom Rooney (R-FL16), Ileana Ros-Lehtinen (R-FL18), Dennis Ross (R-FL12), Steve Southerland (R-FL2), Cliff Stearns (R-FL6), Daniel Webster (R-FL8) and Allen West (R-FL22). Florida has four Clean Air Heroes: Senator Bill Nelson (D-FL) and Reps. Theodore Deutch (D-FL19), Debbie Wasserman-Schultz (D-FL20), and Alcee Hastings (D-FL23).
Illinois: Illinois' delegation includes seven Dirty Air Villains: Reps. Peter Roskam (R-IL6), Joe Walsh (R-IL8) and Adam Kinzinger (R-IL11) (each of whose districts overlap with the 18th dirtiest MSA in the US for soot pollution) and Randall Hultgren (R-IL14), Donald Manzullo (R-IL16), Robert Schilling (R-IL17) and John Shimkus (R-IL19). Illinois also has five Clean Air Heroes: Senator Richard Durbin (D-IL) and Reps. Luis Gutierrez (D-IL4), Michael Quigley D-(IL5), Bobby Rush (D-IL1) and Janice Schakowsky (D-IL9).
Iowa: Iowa has three Dirty Air Villains, Senator Charles Grassley (R-IA) and Reps. Tom Latham (R-IA4) and Steve King (R-IA5). The state has one Clean Air Hero, Senator Harkin (D-IA).
Michigan: Michigan has eight Dirty Air Villains: Reps. Dan Benishek (R-MI1), Bill Huizenga (R-MI2), Justin Amash (R-MI3), Fred Upton (R-MI6), Tim Walberg (R-MI7), Mike Rogers (R-MI8), Candice Miller (R-MI10) and Thaddeus McCotter (R-MI11). The state has five Clean Air Heroes: Senator Carl Levin (D-MI) and Reps. Hansen Clarke (D-MI13), John Conyers (D-MI14), Dale Kildee (MI-5) and Sander Levin (D-MI12).
Nevada: Nevada has one Dirty Air Villain, Rep. Joseph Heck (R-NV3), and one Clean Air Hero, Senate Majority Leader Harry Reid (D-NV).
New Hampshire: New Hampshire has one Dirty Air Villain, Rep. Frank Guinta (NH-1), and one Clean Air Hero, Senator Jeanne Shaheen (D-NH).
New Mexico: New Mexico has one Dirty Air Villain, Rep. Steve Pearce (R-NM2). New Mexico has three Clean Air Heroes, Senators Tom Udall (D-NM) and Jeff Bingaman (D-NM), and Rep. Ben Lujan (D-NM3).
North Carolina: North Carolina's four Dirty Air Villains are Senator Richard Burr (R-NC) and Reps. Renee Ellmers (R-NC2), Virginia Foxx (R-NC5) and Patrick McHenry (R-NC10). North Carolina's four Clean Air Heroes are Senator Kay Hagan (D-NC) and Reps. Brad Miller (D-NC13), David Price (D-NC4) and Melvin Watt (D-NC12).
Ohio: Ohio's fourteen Dirty Air Villains include Senator Rob Portman (R-OH), Speaker of the House John Boehner (R-OH8) and Reps. Steve Chabot (R-OH1) (whose district includes the Cincinnati-Middletown-Wilmington, OH-KY-IN MSA which ranks 21st in the nation for Ozone pollution and eighth for year-round particulate pollution), Jean Schmidt (R-OH2) (whose district includes the Cincinnati-Middletown-Wilmington, OH-KY-IN MSA which ranks 21st worst for Ozone pollution and 8th for year-round particulate pollution), Michael Turner (R-OH3), Jim Jordan (R-OH4), Robert Latta (R-OH5), Bill Johnson (R-OH6), Steve Austria (R-OH7), Patrick Tiberi (R-OH12), Steven LaTourette (R-OH14) and Jim Renacci (R-OH16) (both of whose districts overlap part of the Cleveland-Akron, OH MSA which is the nation's 14th most polluted for year round soot), Steve Stivers (R-OH15) and Bob Gibbs (R-OH18.) Ohio's three Clean Air Heroes include Senator Sherrod Brown (D-OH) and Reps. Betty Sutton (D-OH13) and Dennis Kucinich (D-OH10).
Pennsylvania: Pennsylvania's eleven Dirty Air Villains are Senator Patrick Toomey (R-PA) and Reps. Mike Kelly (R-PA3), Glenn Thompson (R-PA5), Patrick Meehan (R-PA7) and Joseph Pitts (R-PA16) (whose districts include the Philadelphia-Camden-Vineland, PA-NJ-DE-MD MSA which is ranked 16th worst for ozone pollution and 10th worst for year-round particulate pollution and #22 for Short-term particulate pollution), Michael Fitzpatrick (R-PA8), William Shuster (R-PA9), Thomas Marino (R-PA10), Lou Barletta (R-PA11), Charles Dent (R-PA15) and Timothy Murphy (R-PA18)( whose district includes the  Pittsburgh-New Castle, PA MSA which is ranked 20th for ozone pollution and 6th for Year-round particulate pollution and #6 for Short-term particulate pollution). Pennsylvania's four Clean Air Heroes are Robert Brady (D-PA1), Mike Doyle (D-PA14), Chaka Fattah (D-PA2) and Allyson Schwartz (D-PA13).
Virginia: Virginia's six Dirty Air Villains are Reps. Scott Rigell (R-VA2), Randy Forbes (R-VA4), Robert Hurt (R-VA5), Bob Goodlatte (R-VA6), House Whip Eric Cantor (R-VA7) and Morgan Griffith (R-VA9). Virginia's three Clean Air Heroes are Reps. Gerry Connolly (D-VA11), James Moran (D-VA8) and Robert Scott (D-VA3).
Wisconsin: Wisconsin's five Dirty Air Villains are Senator Ron Johnson (R-WI) and Reps. Paul Ryan (R-WI1), James Sensenbrenner (R-WI5), Sean Duffy (R-WI7) and Reid Ribble (R-WI8). Wisconsin's Clean Air Hero is Rep. Tammy Baldwin (D-WI2).
Visit EcoWatch's AIR page for more related news on this topic. 
EcoWatch Daily Newsletter
Ryan Hagerty / USFWS
It's become a familiar story with the Trump administration: Scientists write a report that shows the administration's policies will cause environmental damage, then the administration buries the report and fires the scientists.
A coalition of some of the largest environmental groups in the country joined forces to file a lawsuit in federal court challenging the Trump administration's maneuver to weaken the Endangered Species Act.
beyond foto / Getty Images
By Kimberly Holland
Children who eat a lot of gluten in their earliest years may have an increased risk of developing celiac disease and gluten intolerance, according to a new study published in JAMATrusted Source.
Joe Raedle / Getty Images
By Jake Johnson
Calling the global climate crisis both the greatest threat facing the U.S. and the greatest opportunity for transformative change, Sen. Bernie Sanders unveiled today a comprehensive Green New Deal proposal that would transition the U.S. economy to 100 percent renewable energy and create 20 million well-paying union jobs over a decade.
The Parties to CITES agreed to list giraffes on Appendix II of the Convention on International Trade in Endangered Species (CITES) today at the World Wildlife Conference or CoP18 in Geneva. Such protections will ensure that all giraffe parts trade were legally acquired and not sourced from the poached giraffes trade and will require countries to make non-detriment findings before allowing giraffe exports. The listing will also enable the collection of international trade data for giraffes that might justify greater protections at both CITES and other venues in the future.

The WHO stressed that more research is needed on the potential health risks of microplastic ingestion. luchschen / iStock / Getty Images Plus
The UN's health agency on Thursday said that microplastics contained in drinking water posed a "low" risk at their current levels.
However, the World Health Organization (WHO) — in its first report on the potential health risks of microplastic ingestion — also stressed more research was needed to reassure consumers.
Brazil's right-wing President Jair Bolsonaro is giving President Trump a run for his money in the alternative facts department.
Washington Gov. Jay Inslee, who made solving the climate crisis the center of his presidential campaign, is dropping out of the 2020 Democratic primary race.