This website uses cookies to ensure you get the best experience while browsing it. By clicking 'Got It' you're accepting these terms.
Does the 'Horsemeat Scandal' Have You Thinking Differently About What You Eat?
Feb. 19, 2013 08:02AM EST
By Lasse Bruun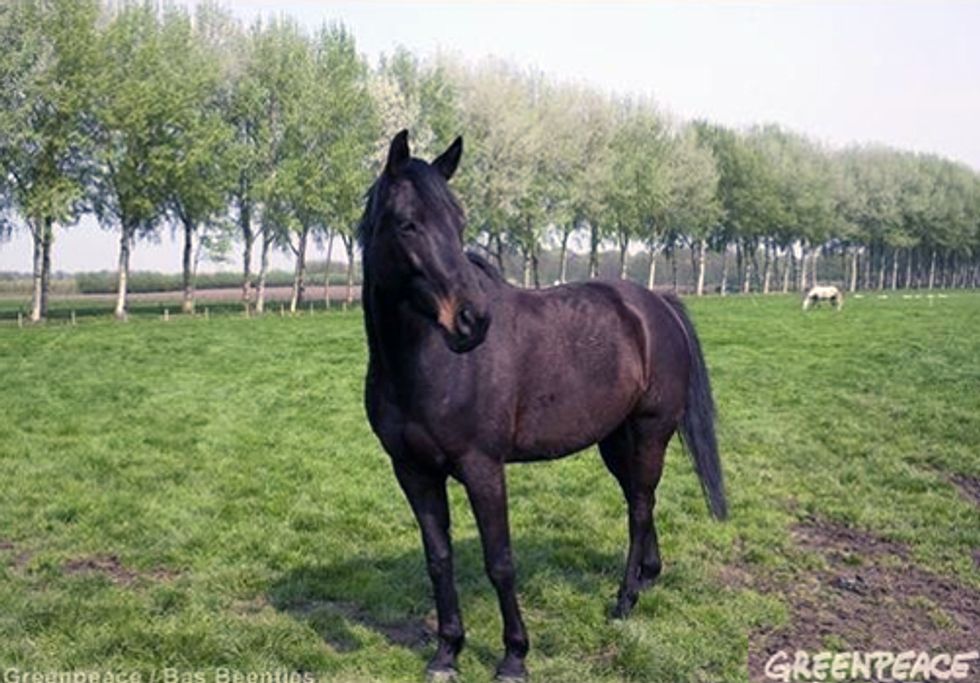 Over the past couple of weeks the "horsemeat scandal" has topped news headlines, revolted consumers and forced retailers and producers to come clean and revise their supply chains.
This is firstly a story of mislabelling, but mostly another insight into the untrustworthy and opaque food industry that is trying to cater to an ever growing appetite for cheap and abundant meat.
The scandal has once again put the spotlight on a broken food system geared to feed luxury food (meat) to already overfed people in the global North, while disregarding the environmental, biodiversity and socioeconomic problems associated with the livestock industry, let alone the dietary needs of the global South.
Today, the global North—countries including the U.S., Canada, Australia and Europe—is eating far too much meat and the so-called BRICS countries (Brazil, Russia, India, China and South Africa) are rapidly catching up, fueled by the aspirational status eating meat projects.
The vast consequences of the large scale meat production and consumption has been described several times, most recently in a United Nations Environment Programme (UNEP) commissioned report, Our Nutrient World, which calls on the global North to halve its meat consumption.
As lead author, professor Mark Sutton puts it: "If we as Europe go for optimum consumption, not always the most of everything, it's going to improve health and benefit the environment. There's an optimum to be found between what's on your plate and helping the environment."
And the message is slowly starting to resonate with policy makers. The Swedish government, for example, has just proposed a tax on meat in an attempt to lower meat consumption.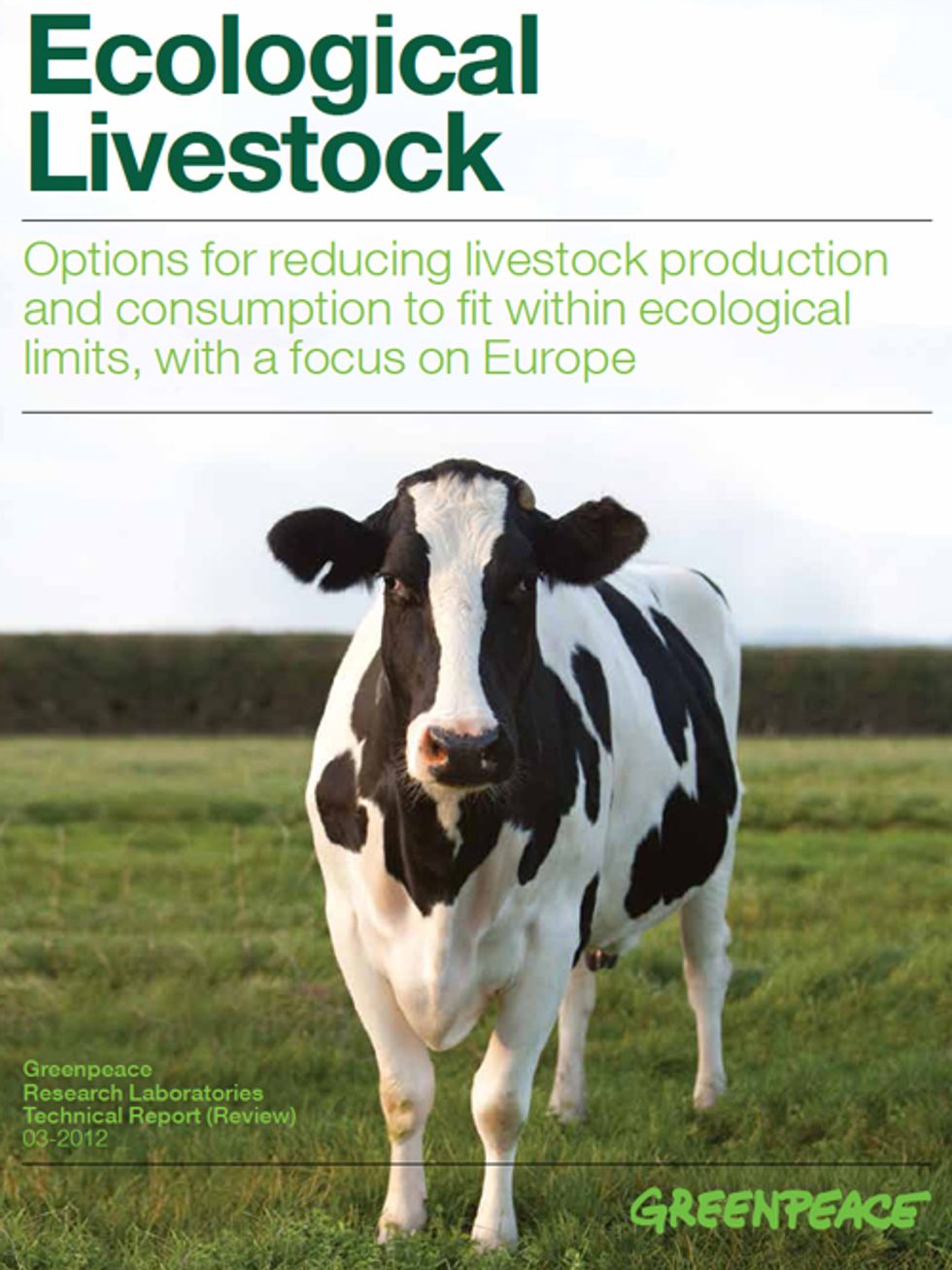 Looking specifically at Europe, Greenpeace International has just released a report that explores how we can reduce livestock production and consumption to fit within ecological limits, such as biodiversity, climate change and water use. The report finds that if agriculture systems are ecologically optimised it will not only protect the ecosystems but play a key role in achieving global food security.
So while being a step in the right direction, cutting down on meat consumption as the UNEP recommends, is just part of the equation.
The nature of the production system is equally important. This coupled with the fact that just a handful of companies are dominating global food production, makes it a daunting task no stakeholder can take on alone. Policymakers, producers and consumers alike will therefore need to roll up their sleeves.
In order to feed the world equitably—now and in the future—eating meat like we do today in the global North is simply not an option.
So while the horse meat issue has created a small earthquake for the food system, we need a seismic shift that will change the current broken food system into a functional one. This would be a system based on ecological farming and have you and I cutting dramatically down on our meat consumption. While the first will be a gradual process, the latter can be started today.
Lasse Bruun, Senior Campaigner, Greenpeace International
Visit EcoWatch's FOOD page for more related news on this topic.
——–
Tell the FDA to Deny Approval of GE Salmon:
EcoWatch Daily Newsletter
People walk across the bridge near Little Raven Court in downtown Denver. Younger Americans increasingly prefer to live in walkable neighborhoods. Helen H. Richardson / The Denver Post via Getty Images
By David B. Goldstein
Energy efficiency is the cornerstone of any country's plan to fight the climate crisis. It is the cheapest option available, and one that as often as not comes along with other benefits, such as job creation, comfort and compatibility with other key solutions such as renewable energy. This has been recognized by the International Energy Agency (IEA) for at least a decade.
Activists from Extinction Rebellion New York City engaged in nonviolent direct action to confront climate change outside City Hall on April 17, 2019. Erik McGregor / Pacific Press / LightRocket via Getty Images
By Andrea Germanos

Over 500 groups on Monday rolled out an an action plan for the next president's first days of office to address the climate emergency and set the nation on a transformative path towards zero emissions and a just transition in their first days in office.

The Ladakh region of India, pictured above, is a part of the Himalayan mountain region of the upper Indus Valley which is the most vulnerable water tower, according to researchers. Suttipong Sutiratanachai / Moment / Getty Images
Jet stream triggered heat waves could threaten food production in several important breadbaskets, including central North America.
Carl Wycoff /
CC BY 2.0
Researchers have pinpointed a previously underexamined threat to global food production, and they warn it will only get worse as the climate crisis intensifies.

By Jennifer Molidor, PhD
Climate change, habitat loss and pollution are overwhelming our planet. Thankfully, these enormous threats are being met by a bold new wave of environmental activism.