This website uses cookies to ensure you get the best experience while browsing it. By clicking 'Got It' you're accepting these terms.
Documentary on Mountaintop Removal Coal Mining Now Available on DVD
Nov. 03, 2011 08:35AM EST
Energy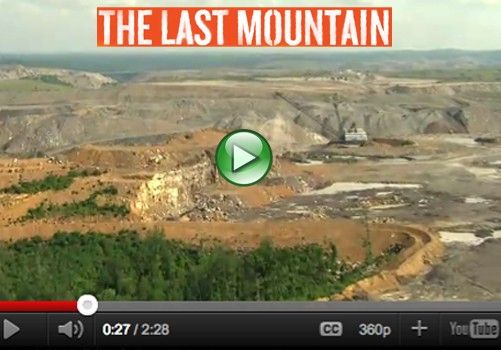 The Last Mountain, a documentary on the destructive power of Big Coal, is now available on DVD.
You can purchase it on Amazon or rent it through Netflix. Either way, do not miss seeing this powerful, true film about the battle being fought over a mountain in the valleys of Appalachia.
It's a battle with severe consequences that affect every American, regardless of social status, economic background or location. It is a battle that has taken many lives and continues to do so the longer it's waged. It's a battle over protecting our health and environment from the destructive power of Big Coal.
The mining and burning of coal is at the epicenter of America's struggle to balance its energy needs with environmental concerns. Nowhere is that concern greater than in Coal River Valley, West Virginia, where a small but passionate group of ordinary citizens are trying to stop Big Coal corporations like Massey Energy from continuing the devastating practice of mountain top removal.
A spellbinding tour along the frontlines of America's most spirited battle over the environment and the economy set deep in the heart of Appalachian West Virginia, this consciousness-raising film captures a rowdy band of citizens as they try to stop a giant coal company from blowing up a pristine mountain for its coal. The daring solution proposed by this small Appalachian community takes on national significance when Robert F. Kennedy Jr. joins the Appalachian families to fight the extraordinary and insidious power of Big Coal.
Featuring the stunning visuals of Appalachia, The Last Mountain is a passionate and personal tale that highlights the extraordinary power of ordinary Americans when they fight for what they believe in, showcasing a battle for the future of energy that affects us all.
Check it out today on Amazon or through Netflix.
For more information, click here.
EcoWatch Daily Newsletter
Last week, the Peruvian Palm Oil Producers' Association (JUNPALMA) promised to enter into an agreement for sustainable and deforestation-free palm oil production. The promise was secured by the U.S. based National Wildlife Federation (NWF) in collaboration with the local government, growers and the independent conservation organization Sociedad Peruana de Ecodesarrollo.
Pixabay
Leaked documents show that Jair Bolsonaro's government intends to use the Brazilian president's hate speech to isolate minorities living in the Amazon region. The PowerPoint slides, which democraciaAbierta has seen, also reveal plans to implement predatory projects that could have a devastating environmental impact.
XL CATLIN SEAVIEW SURVEY / THE OCEAN AGENCY
Hope may be on the horizon for the world's depleted coral reefs thanks to scientists who successfully reproduced endangered corals in a laboratory setting for the first time, according to Reuters.
Last week we received positive news on the border wall's imminent construction in an Arizona wildlife refuge. The Trump administration delayed construction of the wall through about 60 miles of federal wildlife preserves.
PhotoAlto / Frederic Cirou / Getty Images
Drinking water treated with fluoride during pregnancy may lead to lower IQs in children, a controversial new study has found.
National Institude of Allergy and Infectious Disease
A Greenpeace rally calls for a presidential campaign climate debate on June 12 in Washington, DC. Sarah Silbiger / Getty Images