This website uses cookies to ensure you get the best experience while browsing it. By clicking 'Got It' you're accepting these terms.
Documentary Exposes Fossil Fuel Industries Assault on the Wild West
Sep. 04, 2014 03:21PM EST
Sometimes it seems like there's no frontier left unspoiled by greed and the potential for profit.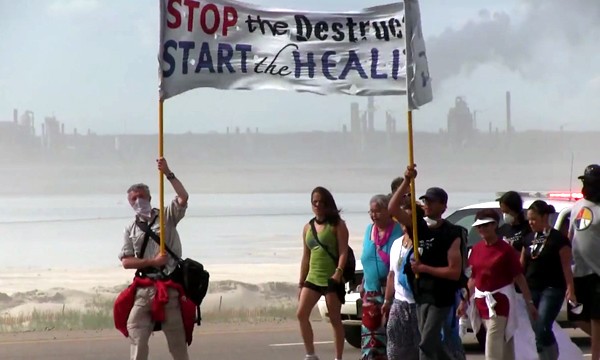 A new documentary, Last Rush for the Wild West: Tar Sands, Oil Shale and the American Frontier, by filmmaker Jennifer Eckstrom, talks about another piece of the American landscape under assault from the fossil fuel industry: the strip mining of more than a million acres of tar sands and oil shale in eastern Utah. It addresses the wilderness landscapes that would be destroyed, increased pollution it would bring to already heavily polluted Salt Lake City and threat to the Colorado River watershed, which provides drinking water to 36 million people.
The state of Utah has already approved the project despite a lack of studies about the potential impact on the water supply, and there has already been strong backlash.
"I made this film because of the magnitude of destruction on the horizon in America if strip mining for tar sands and oil shale is allowed to gain momentum," said Eckstrom, who has a long record of environmental activism. "The massive strip mines that have already been approved by the State of Utah, under the public's radar, are unprecedented and out of step with the needs of humanity on many levels. Too often we realize the foolishness of our decisions after the fact. We now have a rare opportunity to stop this really bad project before it begins."
Last Rush for the Wild West will debut in the heart of the impacted area, screening at the Moab International Film Festival in Utah on Sept. 19.
According to the film's Facebook page, "The recreation mecca of Moab, Utah is a front-line community positioned directly downstream from proposed tar sands and oil shale strip mines. Moab residents would be among the first in the Colorado River watershed to be impacted by pollution inevitably created by this type of mining practice."
If you can't get out to Moab, watch the trailer here:
YOU MIGHT ALSO LIKE
Permanent Protest Setup at Proposed Tar Sands Strip Mine in Utah
First U.S. Tar Sands Mine Approved in Utah
PeopleImages / E+ / Getty Images
By Daniel Ross
Hurricane Florence, which battered the U.S. East Coast last September, left a trail of ruin and destruction estimated to cost between $17 billion and $22 billion. Some of the damage was all too visible—smashed homes and livelihoods. But other damage was less so, like the long-term environmental impacts in North Carolina from hog waste that spilled out over large open-air lagoons saturated in the rains.
Hog waste can contain potentially dangerous pathogens, pharmaceuticals and chemicals. According to the state's Department of Environmental Quality, as of early October nearly 100 such lagoons were damaged, breached or were very close to being so, the effluent from which can seep into waterways and drinking water supplies.
This picture taken on May 21, 2018 shows discarded climbing equipment and rubbish scattered around Camp 4 of Mount Everest. Decades of commercial mountaineering have turned Mount Everest into the world's highest rubbish dump as an increasing number of big-spending climbers pay little attention to the ugly footprint they leave behind. DOMA SHERPA / AFP / Getty Images
China has closed its Everest base camp to tourists because of a buildup of trash on the world's tallest mountain.
Researchers tested the eggs of Arctic northern fulmers like these in Nunavut, Canada.
Fiona Paton / Flickr
By Madison Dapcevich
Plastics have been recorded in every corner of the world, from the remote icy waters of Antarctica to the bellies of deep-sea fishes. Now, preliminary findings presented at this year's American Association for the Advancement of Science (AAAS) annual meeting in Washington, DC suggest that bird eggs from the high Arctic—one of the most remote wildernesses on the planet—show evidence of contamination from chemicals used in plastics.

A small Australian rat that lived on a 12 acre island in the Great Barrier Reef has become the first mammal to go extinct primarily because of human-caused climate change, the Australian Government confirmed Monday.
The Bramble Cay melomys was first declared extinct after a 2014 search on Bramble Cay, its native island in the Torres Strait, between Queensland, Australia and Papua New Guinea, according to a 2016 report by the University of Queensland and the Queensland government.