This website uses cookies to ensure you get the best experience while browsing it. By clicking 'Got It' you're accepting these terms.
Documentary Exposes Fossil Fuel Industries Assault on the Wild West
Sep. 04, 2014 03:21PM EST
Energy
Sometimes it seems like there's no frontier left unspoiled by greed and the potential for profit.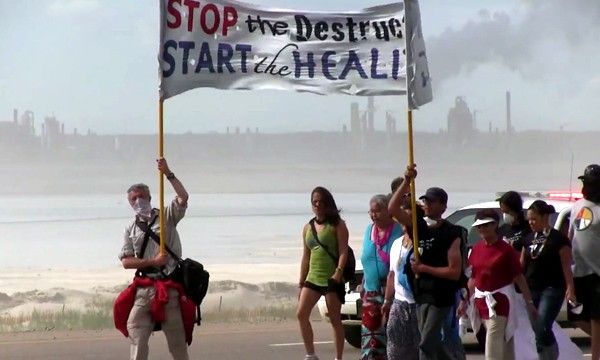 A new documentary, Last Rush for the Wild West: Tar Sands, Oil Shale and the American Frontier, by filmmaker Jennifer Eckstrom, talks about another piece of the American landscape under assault from the fossil fuel industry: the strip mining of more than a million acres of tar sands and oil shale in eastern Utah. It addresses the wilderness landscapes that would be destroyed, increased pollution it would bring to already heavily polluted Salt Lake City and threat to the Colorado River watershed, which provides drinking water to 36 million people.
The state of Utah has already approved the project despite a lack of studies about the potential impact on the water supply, and there has already been strong backlash.
"I made this film because of the magnitude of destruction on the horizon in America if strip mining for tar sands and oil shale is allowed to gain momentum," said Eckstrom, who has a long record of environmental activism. "The massive strip mines that have already been approved by the State of Utah, under the public's radar, are unprecedented and out of step with the needs of humanity on many levels. Too often we realize the foolishness of our decisions after the fact. We now have a rare opportunity to stop this really bad project before it begins."
Last Rush for the Wild West will debut in the heart of the impacted area, screening at the Moab International Film Festival in Utah on Sept. 19.
According to the film's Facebook page, "The recreation mecca of Moab, Utah is a front-line community positioned directly downstream from proposed tar sands and oil shale strip mines. Moab residents would be among the first in the Colorado River watershed to be impacted by pollution inevitably created by this type of mining practice."
If you can't get out to Moab, watch the trailer here:
YOU MIGHT ALSO LIKE
Permanent Protest Setup at Proposed Tar Sands Strip Mine in Utah
First U.S. Tar Sands Mine Approved in Utah
EcoWatch Daily Newsletter
By Anne-Sophie Brändlin
October 16 marks World Food Day this year, a day celebrated every year by the United Nations' Food and Agriculture Organization (FAO).
World Food Day is a call to make healthy and sustainable diets affordable and accessible for everyone, while nurturing the planet at the same time.
Graphical representation of vertical pectoral herding by whale in Southeast Alaska. Prey are denoted in yellow. Whale deploys an upward-spiral bubble-net to corral prey and establish the first barrier; pectorals then protract to form a 'V' shape around the open mouth (depicted by blue arrows), creating a second physical barrier.
Kyle Kosma / Royal Society Open Science /
CC BY 4.0
When you have a whale-sized appetite, you need to figure out some pretty sophisticated feeding strategies. They mysteries of how a humpback whale traps so much prey have eluded scientists, until now.
California Yosemite River Scene.
Mobilus In Mobili / Flickr /
CC BY-SA 2.0
An advisory panel appointed by Trump's first Secretary of the Interior, Ryan Zinke, has recommended privatizing National Parks campgrounds, allowing food trucks in and setting up WiFi at campgrounds while also reducing benefits to seniors, according to the panel's memo.
Strips of native prairie grasses planted on Larry and Margaret Stone's Iowa farm protect soil, water and wildlife.
Iowa State University / Omar de Kok-Mercado, CC BY-ND
In Haiti, Action Against Hunger screens children for malnutrition. Christophe Da Silva / Action Against Hunger, Haiti
By Dr. Charles Owubah
As a child growing up on a farm in Ghana, I have personally known hunger. The most challenging time was between planting and harvesting – "the hunger season." There were many occasions when we did not know where the next meal would come from.
Today, on World Food Day, I think of the 820 million people around the world who are undernourished.
A Lyme disease warning on Montauk, Long Island, New York.
Neil R / Flickr
Biomedical engineers have developed a new, rapid test capable of detecting Lyme disease in just 15 minutes.
Brown bear fishing for salmon in creek at Pavlof Harbor in Tongass National Forest, Alaska. Wolfgang Kaehler / LightRocket / Getty Images
The Trump administration has moved one step closer to opening Earth's largest intact temperate rainforest to logging.
The Democratic primary candidates take the stage during Tuesday's debate. SAUL LOEB / AFP via Getty Images
On Tuesday night, the Democratic presidential candidates gathered for what The Guardian said was the largest primary debate in U.S. history, and they weren't asked a single question about the climate crisis.