Do You Live Near One of the 1,300 Most Toxic Sites in America?
Oct. 05, 2015 01:10PM EST
More than 1,300 Superfund sites are littered across the U.S. These are the places that the U.S. Environmental Protection Agency (EPA) has deemed so contaminated with hazardous waste that they need long-term response plans to deal with the clean up. You might imagine these sites to be bubbling with bright green and orange goo, but most are much more inconspicuous and their whereabouts aren't always obvious to the public.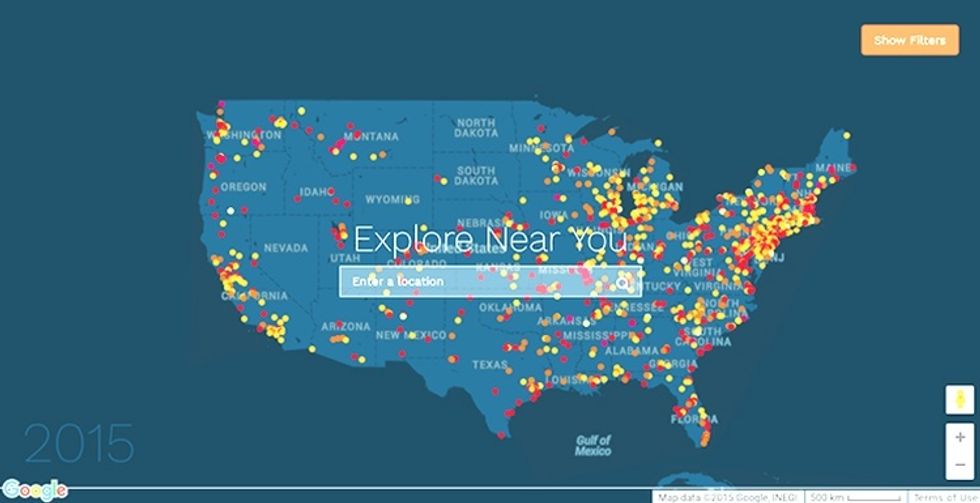 A screenshot of the interactive map Brooke Singer developed for ToxicSites. Photo credit: ToxicSites.us
So media artist Brooke Singer decided to do something about it. Her new website, ToxicSites, features an interactive map, detailing all existing Superfund sites and updated in real-time as the EPA adds more data. Click on one of the colored dots and you'll get all kinds of information about the company responsible, the contaminants involved, the possible health concerns and the populations living nearby.
ToxicSites is part informational and part social media since it allows people who have been affected by a Superfund site to share their stories—that's one social platform that would definitely need a "dislike" button.
YOU MIGHT ALSO LIKE
Elon Musk's SolarCity to Begin Mass-Producing 'World's Most Efficient' Solar Panel
Finally … Uber for Bicycles Is Here
New Report Exposes Hidden Fracking Subsidy on Public and Tribal Lands
Even Climate Denier Ben Carson Says We Should Power America With Renewables
EcoWatch Daily Newsletter
Recent Stories from EcoWatch