This website uses cookies to ensure you get the best experience while browsing it. By clicking 'Got It' you're accepting these terms.
85% of Tampons Contain Monsanto's 'Cancer Causing' Glyphosate
Oct. 26, 2015 12:44PM EST
Glyphosate, a widely popular herbicide that has been linked to cancer by the World Health Organization's cancer research arm, was detected in 85 percent of cotton hygiene products tested in a preliminary study from researchers at the University of La Plata in Argentina.
---
Sixty-two percent of the samples also tested positive for AMPA (or aminomethylphosphonic acid), a derivative of glyphosate.
Photo credit: Shutterstock
According to Revolution News, the samples—which included gauze, swabs, wipes and feminine care products such as tampons and sanitary pads—were purchased from local supermarkets and pharmacies in the La Plata area.
The findings were presented last week at the third national congress of Doctors of Fumigated Towns in Buenos Aires.
"Eighty-five percent of all samples tested positive for glyphosate and 62 percent for AMPA, which is the environmental metabolite, but in the case of cotton and sterile cotton gauze the figure was 100 percent," Dr. Damian Marino, the study's head researcher, told the Télam news agency (via RT.com). An English translation of the Télam report can be read here.
"In terms of concentrations, what we saw is that in raw cotton AMPA dominates (39 parts per billion, or PPB, and 13 PPB of glyphosate), while the gauze is absent of AMPA, but contained glyphosate at 17 PPB," said Dr. Marino.
Dr. Medardo Avila Vazquez, president of the congress, said (via RT.com) that the result of this research is "very serious when you use cotton or gauze to heal wounds or for personal hygiene uses, thinking they are sterilized products, and the results show that they are contaminated with a probably carcinogenic substance.
"Most of the cotton production in the country is GM [genetically modified] cotton that is resistant to glyphosate. It is sprayed when the bud is open and the glyphosate is condensed and goes straight into the product."
Glyphosate is the key ingredient in biotech giant Monsanto's Roundup, the most popular weedkiller in the U.S. "Roundup Ready" cotton, soy and corn crops have been genetically modified to withstand application of the herbicide.
In fact, farmers sprayed 2.6 billion pounds of Monsanto's glyphosate herbicide on U.S. agricultural land between 1992 and 2012, according to the U.S. Geological Survey.
In 2015, the U.S. Department of Agriculture found that adoption of genetically modified-varieties, including those with herbicide tolerance, insect resistance or stacked traits, accounted for 94 percent of the nation's cotton acreage.
The graph below from the U.S. Department of Agriculture indicates an upward trend on the country's adoption of genetically modified soybean, corn and cotton.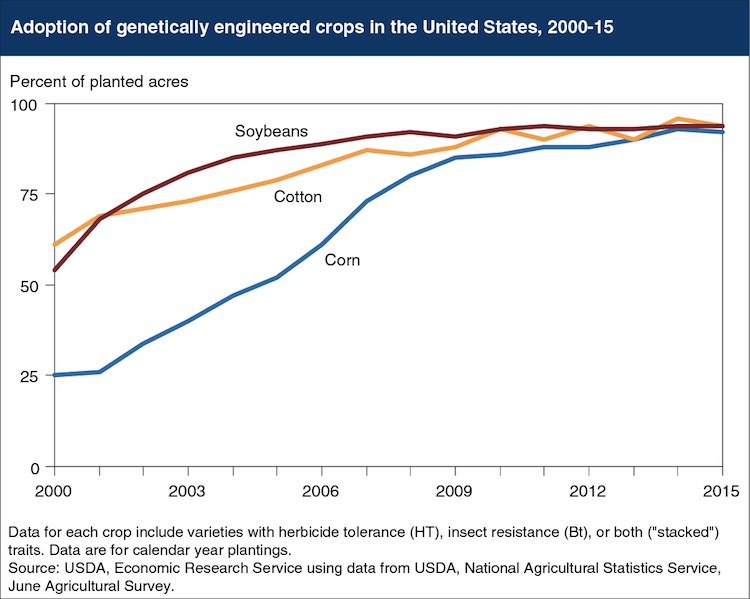 Monsanto maintains the safety of their product, citing its approval from the U.S. Environmental Protection Agency, which "classified the carcinogenicity potential of glyphosate as Category E: 'evidence of non-carcinogenicity for humans.'"
Monsanto is also demanding a retraction of the World Health Organization's classification of glyphosate as a possible carcinogen.
This is not the first time that the chemical makeup of feminine care products has been put under the lens. A 2013 report by Women's Voices for the Earth detailed how the feminine care industry sells products containing unregulated and potentially harmful chemicals, including preservatives, pesticides, fragrances and dyes.
Related Articles Around the Web
EcoWatch Daily Newsletter
By Ana Santos Rutschman
The world of food and drug regulation was rocked earlier this month by the news of a change in leadership at the Food and Drug Administration. Commissioner Scott Gottlieb resigned and will step down in early April. His temporary replacement is Dr. Ned Sharpless, director of the National Cancer Institute.
MartinPrescott / iStock / Getty Images
On Wednesday the U.S. Environmental Protection Agency (EPA) announced the first 20 chemicals it plans to prioritize as "high priority" for assessment under the Toxic Substances Control Act. Given the EPA's record of malfeasance on chemicals policy over the past two years, it is clear that these are chemicals that EPA is prioritizing to ensure that they are not properly evaluated or regulated.
Strawberries top the Environmental Working Group's "Dirty Dozen" list of U.S. produce most contaminated with pesticides. DANIEL LEAL-OLIVAS / AFP / Getty Images
Which conventionally-grown fruits and vegetables in the U.S. are most contaminated with pesticides? That's the question that the Environmental Working Group answers every year with its "Dirty Dozen" list of produce with the highest concentration of pesticides after being washed or peeled.
A drilling rig in a Wyoming natural gas field. William Campbell / Corbis via Getty Images
A U.S. federal judge temporarily blocked oil and gas drilling on 300,000 acres of federal leases in Wyoming Tuesday, arguing that the Bureau of Land Management (BLM) "did not sufficiently consider climate change" when auctioning off the land, The Washington Post reported.
Mizina / iStock / Getty Images
Oats are widely regarded as one of the healthiest grains you can eat, as they're packed with many important vitamins, minerals, and fiber.
JPMorgan Chase building in New York City. Ben Sutherland / CC BY 2.0
By Sharon Kelly
A report published Wednesday names the banks that have played the biggest recent role in funding fossil fuel projects, finding that since 2016, immediately following the Paris agreement's adoption, 33 global banks have poured $1.9 trillion into financing climate-changing projects worldwide.
Sriram Madhusoodanan of Corporate Accountability speaking on conflict of interest demand of the People's Demands at a defining action launching the Demands at COP24. Corporate Accountability
By Patti Lynn
2018 was a groundbreaking year in the public conversation about climate change. Last February, The New York Times reported that a record percentage of Americans now believe that climate change is caused by humans, and there was a 20 percentage point rise in "the number of Americans who say they worry 'a great deal' about climate change."
The head of England's Environment Agency has urged people to stop watering their lawns as a climate-induced water shortage looms. Pexels
England faces an "existential threat" if it does not change how it manages its water, the head of the country's Environment Agency warned Tuesday.