Do Artificial Sweeteners Affect Blood Sugar and Insulin?
Sugar is a hot topic in nutrition. Cutting back can improve your health and help you lose weight.
Replacing sugar with artificial sweeteners is one way to do that. However, some people claim that artificial sweeteners aren't as "metabolically inert" as previously thought. For example, it's been claimed that they can raise blood sugar and insulin levels.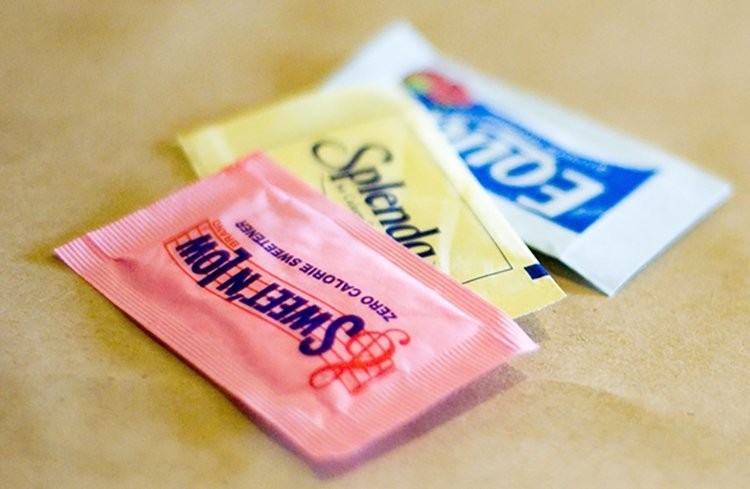 This article takes a look at the science behind these claims.
What are Artificial Sweeteners?
Artificial sweeteners are synthetic chemicals that stimulate the sweet taste receptors on the tongue. They are often called low-calorie or non-nutritive sweeteners.
Artificial sweeteners give things a sweet taste, without any added calories (1).
Therefore, they're often added to foods that are then marketed as "health foods" or diet products.
They're found everywhere, from diet soft drinks and desserts, to microwave meals and cakes. You'll even find them in non-food items, such as chewing gum and toothpaste.
Here's a list of the most common artificial sweeteners:
Bottom Line: Artificial sweeteners are synthetic chemicals that make things taste sweet without any extra calories.
What Causes Blood Sugar and Insulin Levels to Rise?
We have tightly controlled mechanisms to keep our blood sugar levels stable (2, 3, 4).
Blood sugar levels increase when we eat foods containing carbohydrates.
Potatoes, bread, pasta, cakes and sweets are some foods that are high in carbohydrates.
When digested, carbohydrates are broken down into sugar and absorbed into the bloodstream, leading to an increase in blood sugar levels.
When our blood sugar levels rise, our body releases insulin.
Insulin is a hormone that acts like a key. It allows blood sugar to leave the blood and enter our cells, where it can be used for energy or stored as fat.
If blood sugar levels drop too low, our livers release stored sugar to stabilize it. This happens when we fast for prolonged periods, like overnight.
There are theories on how artificial sweeteners may interfere with this process (5).
1. Insulin is released in response to the sweet taste.
2. Regular use changes the balance of our gut bacteria. This could make our cells resistant to the insulin we produce, leading to both increased blood sugar and insulin levels.
Bottom Line: Eating carbohydrates causes a rise in blood sugar levels. Insulin is released to bring blood sugar levels back to normal. Some claim that artificial sweeteners may interfere with this process.
Do Artificial Sweeteners Raise Blood Sugar Levels?
Artificial sweeteners won't raise your blood sugar levels in the short-term.
So, a can of diet coke, for example, won't cause a rise in blood sugar.
However, in 2014, Israeli scientists made headlines when they linked artificial sweeteners to changes in gut bacteria.
Mice, when fed artificial sweeteners for 11 weeks, had negative changes in their gut bacteria that caused increased blood sugar levels (6).
When they implanted the bacteria from these mice into germ-free mice, they also had increases in blood sugar levels.
Interestingly, the scientists were able to reverse the increase in blood sugar levels by changing the gut bacteria back to normal.
However, these results haven't been tested or replicated in humans.
There is only one observational study in humans that has suggested a link between aspartame and changes to gut bacteria (7).
The long-term effects of artificial sweeteners in humans are therefore unknown (8).
It is theoretically possible that artificial sweeteners can raise blood sugar levels by negatively affecting gut bacteria, but it hasn't been tested.
Bottom Line: In the short-term, artificial sweeteners won't raise blood sugar levels. However, the long-term effects in humans are unknown.
Do Artificial Sweeteners Raise Insulin Levels?
Studies on artificial sweeteners and insulin levels have shown mixed results.
The effects also vary between different types of artificial sweeteners.
Sucralose
Both animal and human studies have suggested a link between sucralose ingestion and raised insulin levels.
In one study, 17 people were given either sucralose or water and then administered a glucose tolerance test (9).
Those given sucralose had 20 percent higher blood insulin levels. They also cleared the insulin from their bodies more slowly.
However, results are mixed and other human studies have shown no effect (10).
Aspartame
Aspartame is perhaps the most well-known and most controversial artificial sweetener.
However, studies have not linked aspartame with raised insulin levels (11, 12).
Saccharin
Scientists have investigated whether stimulating the sweet receptors in the mouth with saccharin leads to an increase in insulin levels.
Results are mixed.
One study found that mouth washing with a saccharin solution (without swallowing) caused insulin levels to rise (13).
Other studies have found no effects (14, 15).
Acesulfame Potassium
Acesulfame potassium (acesulfame-K) can increase insulin levels in rats (16, 17).
One study in rats looked at how injecting large amounts of acesulfame-K affected insulin levels. They found a massive increase of 114-210 percent (16).
However, the effect of acesulfame-K on insulin levels in humans is unknown.
Summary
The effect of artificial sweeteners on insulin levels seems to be variable and the results are inconclusive. It may also depend on the individual.
For now, no high-quality human trials exist, so we don't definitively know their effects on insulin.
Bottom Line: Sucralose and saccharin may raise insulin levels in humans, but the results are mixed and some studies find no effects. Acesulfame-K raises insulin in rats, but no human studies are available.
Can You Use Artificial Sweeteners if You have Diabetes?
Diabetics have abnormal blood sugar control due to a lack of insulin and/or insulin resistance.
In the short-term, artificial sweeteners won't raise your blood sugar levels, unlike high intakes of sugar. They are considered safe for diabetics (14, 18, 19, 20, 21, 22).
However, the health implications of long-term use are still unknown.
Bottom Line: Artificial sweeteners do not raise blood sugar levels and are considered safe alternatives to sugar for diabetics.
Should You Avoid Artificial Sweeteners?
Artificial sweeteners have been declared safe by regulatory bodies in the U.S. and Europe.
However, they also note that health claims and long-term safety concerns require more research (24).
Although artificial sweeteners may not be "healthy," they are at the very least significantly "less bad" than refined sugar.
If you eat them as part of a balanced diet, then there is no strong evidence that you should stop.
However, if you're concerned, then you can use other natural sweeteners instead or just remove sweeteners altogether.
This article was reposted from our media associate Authority Nutrition.
YOU MIGHT ALSO LIKE
8 Processed Foods You Can Easily Make at Home From Scratch
13 Foods That Help Fight Inflammation
6 Incredible Health Benefits of Fennel
Disturbing footage of a snake in Goa, India vomiting an empty soft drink bottle highlights the world's mounting plastic pollution crisis.
Keep reading...
Show less
By Melissa Hellmann
When her eldest son was in elementary school in the Oakland Unified School District, Ruth Woodruff became alarmed by the meals he was being served at school. A lot of it was frozen, processed foods, packed with preservatives. At home, she was feeding her children locally sourced, organic foods.
Keep reading...
Show less
May. 28, 2017 01:33PM EST
Laurie Woolever
By James O'Hare
There are 20 million people in the world facing famine in South Sudan, Somalia, Nigeria and Yemen. In developed nations, too, people go hungry. Venezuela, for instance, is enduring food insecurity on a national level as a result of economic crisis and political corruption. In the U.S., the land of supposed excess, 12.7 percent of households were food insecure in 2015, meaning they didn't know where their next meal would come from.
Keep reading...
Show less
May. 28, 2017 01:22PM EST
Melwater, Greenland ice sheet. Diane Tuft
Artists are taking the climate crisis into frame and the results are emotional, beautiful and stirring.
So you've seen the best climate change cartoons and shared them with your friends. You've showed your family the infographics on climate change and health, infographics on how the grid works and infographics about clean, renewable energy. You've even forwarded these official National Oceanic and Atmospheric Administration graphs that explain the 10 clear indicators of climate change to your colleagues at the office.
Keep reading...
Show less
May. 27, 2017 01:11PM EST
As the Trump administration moves full speed ahead on boosting the oil and fossil fuel industry, opposition to increased pipeline construction is cropping up in different communities around the country.
Keep reading...
Show less
May. 27, 2017 01:02PM EST
Minke whale stranding near Havergate Island in Suffolk. MCGA.
By Simon Evans
Last Saturday, two dead whales washed up on the coast of Suffolk, in eastern England, and a third was spotted floating at sea.
What happened next illustrates how news can spread and evolve into misinformation, when reported by journalists rushing to publish before confirming basic facts or sourcing their own quotes.
Keep reading...
Show less
May. 27, 2017 01:22PM EST
By Monica Amarelo and Paul Pestano
Sun safety is a crucial part of any outdoor activity for kids, and sunscreen can help protect children's skin from harmful ultraviolet rays. Kids often get sunburned when they're outside unprotected for longer than expected. Parents need to plan ahead and keep sun protection handy in their cars or bags.
Keep reading...
Show less
May. 27, 2017 01:02PM EST
By Joe McCarthy
A lot of people take part in community clean-up efforts—spending a Saturday morning picking up litter in a park, mowing an overgrown field or painting a fence.
Keep reading...
Show less


Get EcoWatch in your inbox