This website uses cookies to ensure you get the best experience while browsing it. By clicking 'Got It' you're accepting these terms.
Ditching Fossil Fuels and Switching to 100% Renewables No Problem, Says Stanford Study
Jun. 11, 2015 11:30AM EST
Business
Is it possible for the U.S. to ditch fossil fuels? The answer is yes, according to researchers and engineers from Stanford University and U.C. Berkeley, who have developed a state-by-state plan to convert the country to 100 percent renewable energy in less than 40 years.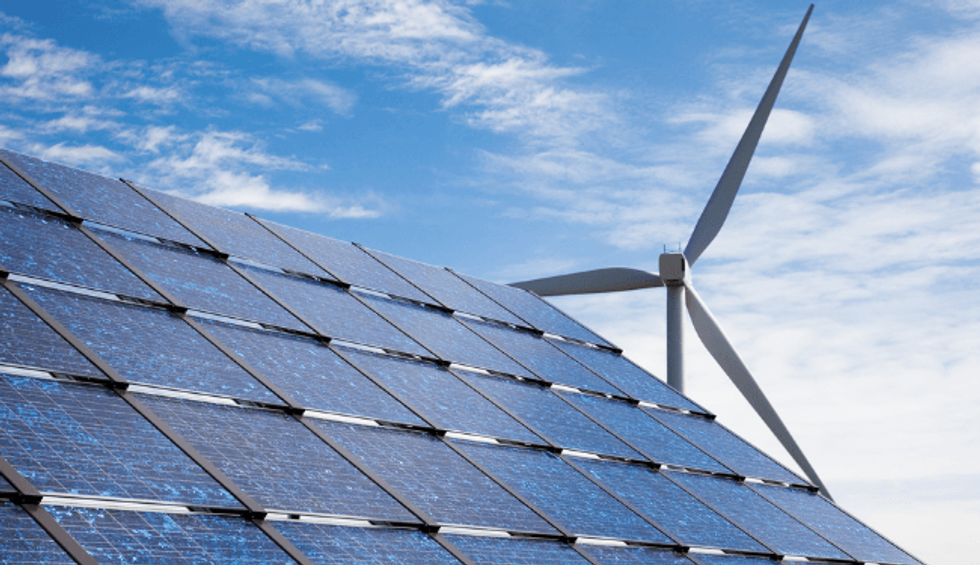 Photo Credit: Shutterstock
The study, published in the Energy and Environmental Sciences, showcases how each state can replace fossil fuels by tapping into renewable resources available in each state, such as wind, solar, geothermal, hydroelectric, and even small amounts of tidal and wave power.
The report, led by Stanford civil and environmental engineering professor Mark Z. Jacobson and U.C. Berkeley researcher Mark Delucchi, argues that converting the current energy infrastructure into renewable energy will help fight climate change, save lives by eliminating air pollution, create jobs and also stabilize energy prices.
You can check out an interactive map summarizing the plans for each state at The Solutions Project, an organization of scientists, business leaders and other forward-thinking minds with a mission of accelerating the world's transition to 100 percent clean, renewable energy.
The project's concept has attracted high-profile funders including the Elon Musk Foundation and Leonardo DiCaprio Foundation, according to The Plaid Zebra.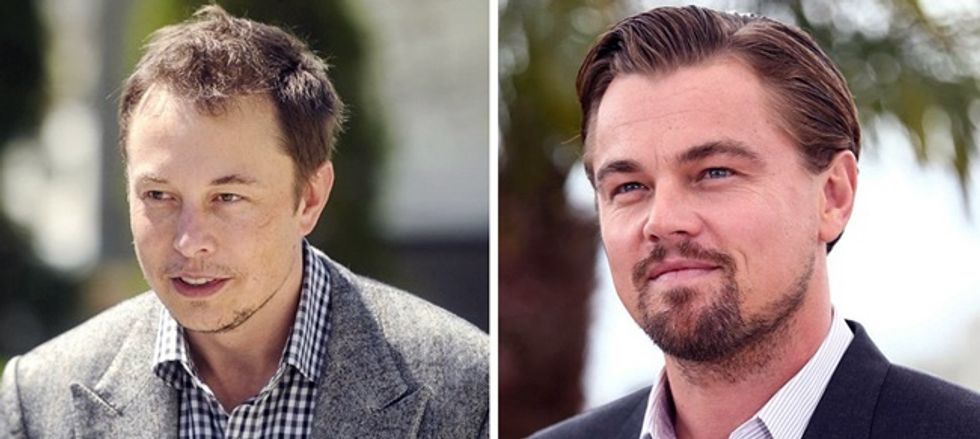 Board members of The Solutions Project include notable environmental advocates including filmmaker and founder of the the International WOW Company Josh Fox, co-founder and president of Mosaic Billy Parish, and actor and noted environmentalist Mark Ruffalo.
Stanford engineers develop state-by-state plan 2 convert U.S. to 100% clean, renewable energy by 2050 https://t.co/SIVHGHGCNk via @Stanford

— Mark Ruffalo (@MarkRuffalo) June 9, 2015
Undoubtedly, the plan involves a lot of difficult and expensive changes, but the authors believe that the complete transition to renewables is economically and technically viable.
"The main barriers are social, political and getting industries to change. One way to overcome the barriers is to inform people about what is possible," Jacobson said. "By showing that it's technologically and economically possible, this study could reduce the barriers to a large scale transformation."
According to a news release, the study's authors examined each state's current energy usage in four sectors: residential, commercial, industrial and transportation. For each sector, they then analyzed the current amount and source of the fuel consumed—coal, oil, gas, nuclear and renewables—and calculated what the fuel demands would be if replaced with electricity. (This includes all the cars on the road becoming electric, as well as homes and businesses fully converting to electric heating and cooling systems). They then calculated how this new electric grid could be powered using only renewable energy resources available in each state.
"When we did this across all 50 states, we saw a 39 percent reduction in total end-use power demand by the year 2050," Jacobson said. "About 6 percentage points of that is gained through efficiency improvements to infrastructure, but the bulk is the result of replacing current sources and uses of combustion energy with electricity."
Check out South Carolina, for instance (you can see the infographics for the other 49 states here):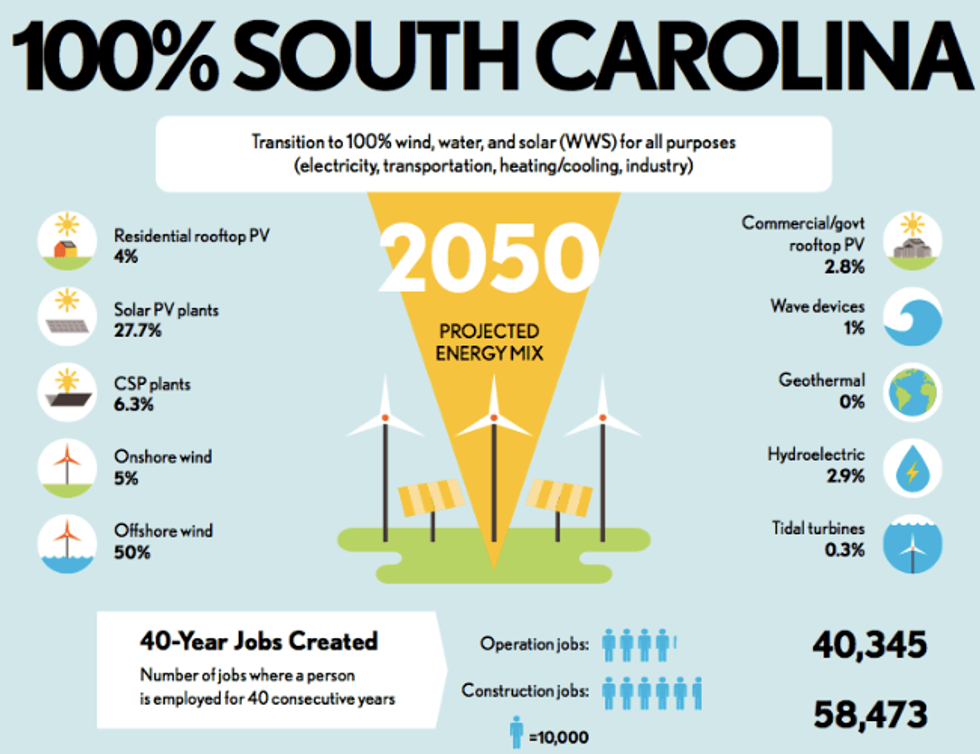 The good news is that several states are already on their way. For example, Washington state already meets 70 percent of its current electricity needs from existing hydroelectric sources.
Yes, the upfront cost of the massive conversion would be expensive, however the study's authors argue it would even out over time and the environmental benefits are clear.
"When you account for the health and climate costs—as well as the rising price of fossil fuels—wind, water and solar are half the cost of conventional systems," Jacobson said. "A conversion of this scale would also create jobs, stabilize fuel prices, reduce pollution-related health problems and eliminate emissions from the United States. There is very little downside to a conversion, at least based on this science."
Check out Jacobson's 2013 appearance on The Late Show with David Letterman, where he explains his plan of transitioning the country to clean energy.
YOU MIGHT ALSO LIKE
Hawaii Enacts Nation's First 100% Renewable Energy Standard
12 Reasons Why Solar Is Having an Explosive Year
We Could Power Entire World on Renewables by 2025, Says Global Apollo Program
EcoWatch Daily Newsletter
Investing in grid infrastructure would enable utilities to incorporate modern technology, making the grid more resilient and flexible. STRATMAN2 / FLICKR
By Elliott Negin
The Royal Swedish Academy of Sciences' recent decision to award the 2019 Nobel Prize in Chemistry to scientists who developed rechargeable lithium-ion batteries reminded the world just how transformative they have been. Without them, we wouldn't have smartphones or electric cars. But it's their potential to store electricity generated by the sun and the wind at their peak that promises to be even more revolutionary, reducing our dependence on fossil fuels and protecting the planet from the worst consequences of climate change.
Two Javan rhinos deep in the forests of Ujung Kulon National Park, the species' last habitat on Earth. Sugeng Hendratno / WWF
The global population of the critically endangered Javan rhinoceros has increased to 72 after four new calves were spotted in the past several months.
A tiger looks out from its cage at a new resort and zoo in the eastern Lao town of Tha Bak on Dec. 5, 2018. Karl Ammann believes the "zoo" is really a front for selling tigers. Terrence McCoy / The Washington Post / Getty Images
Are tigers extinct in Laos?
That's the conclusion of a detailed new study that found no evidence wild tigers still exist in the country.
A group of scientists is warning that livestock production must not expand after 2030 for the world to stave off ecological disaster.
The largest wetland in Africa is in the South Sudan. George Steinmetz / Corbis Documentary / Getty Images Plus
Methane emissions are a far more powerful greenhouse gas than carbon dioxide – about 28 times more powerful. And they have been rising steadily since 2007. Now, a new study has pinpointed the African tropics as a hot spot responsible for one-third of the global methane surge, as Newsweek reported.