Ditching Fossil Fuels and Switching to 100% Renewables No Problem, Says Stanford Study
Is it possible for the U.S. to ditch fossil fuels? The answer is yes, according to researchers and engineers from Stanford University and U.C. Berkeley, who have developed a state-by-state plan to convert the country to 100 percent renewable energy in less than 40 years.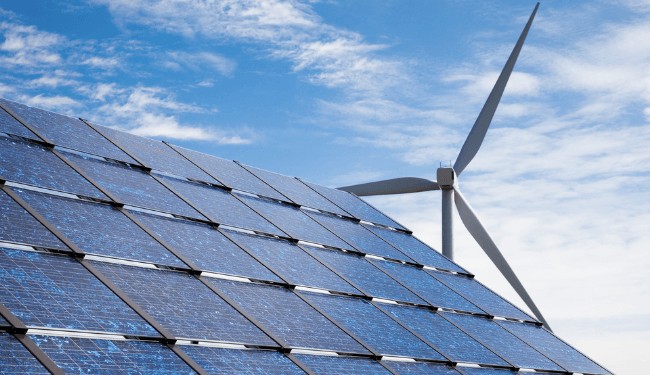 Photo Credit: Shutterstock
The study, published in the Energy and Environmental Sciences, showcases how each state can replace fossil fuels by tapping into renewable resources available in each state, such as wind, solar, geothermal, hydroelectric, and even small amounts of tidal and wave power.
The report, led by Stanford civil and environmental engineering professor Mark Z. Jacobson and U.C. Berkeley researcher Mark Delucchi, argues that converting the current energy infrastructure into renewable energy will help fight climate change, save lives by eliminating air pollution, create jobs and also stabilize energy prices.
You can check out an interactive map summarizing the plans for each state at The Solutions Project, an organization of scientists, business leaders and other forward-thinking minds with a mission of accelerating the world's transition to 100 percent clean, renewable energy.
The project's concept has attracted high-profile funders including the Elon Musk Foundation and Leonardo DiCaprio Foundation, according to The Plaid Zebra.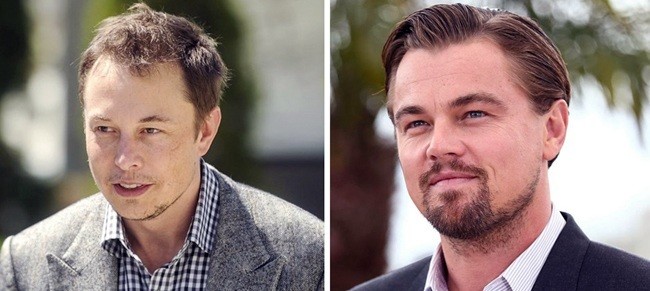 Board members of The Solutions Project include notable environmental advocates including filmmaker and founder of the the International WOW Company Josh Fox, co-founder and president of Mosaic Billy Parish, and actor and noted environmentalist Mark Ruffalo.
Stanford engineers develop state-by-state plan 2 convert U.S. to 100% clean, renewable energy by 2050 https://t.co/SIVHGHGCNk via @Stanford

— Mark Ruffalo (@MarkRuffalo) June 9, 2015
Undoubtedly, the plan involves a lot of difficult and expensive changes, but the authors believe that the complete transition to renewables is economically and technically viable.
"The main barriers are social, political and getting industries to change. One way to overcome the barriers is to inform people about what is possible," Jacobson said. "By showing that it's technologically and economically possible, this study could reduce the barriers to a large scale transformation."
According to a news release, the study's authors examined each state's current energy usage in four sectors: residential, commercial, industrial and transportation. For each sector, they then analyzed the current amount and source of the fuel consumed—coal, oil, gas, nuclear and renewables—and calculated what the fuel demands would be if replaced with electricity. (This includes all the cars on the road becoming electric, as well as homes and businesses fully converting to electric heating and cooling systems). They then calculated how this new electric grid could be powered using only renewable energy resources available in each state.
"When we did this across all 50 states, we saw a 39 percent reduction in total end-use power demand by the year 2050," Jacobson said. "About 6 percentage points of that is gained through efficiency improvements to infrastructure, but the bulk is the result of replacing current sources and uses of combustion energy with electricity."
Check out South Carolina, for instance (you can see the infographics for the other 49 states here):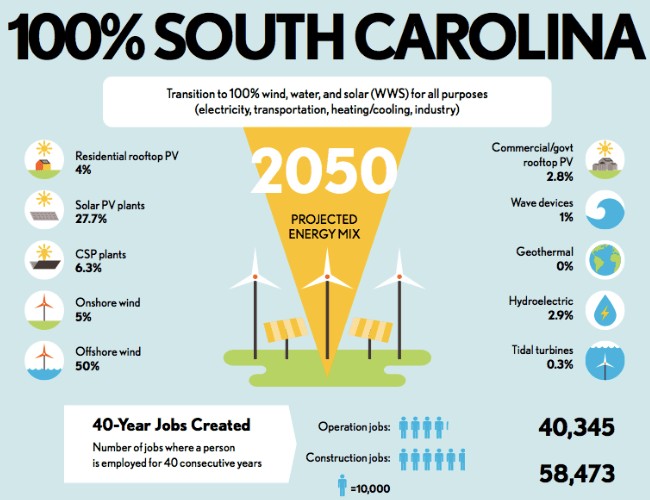 The good news is that several states are already on their way. For example, Washington state already meets 70 percent of its current electricity needs from existing hydroelectric sources.
Yes, the upfront cost of the massive conversion would be expensive, however the study's authors argue it would even out over time and the environmental benefits are clear.
"When you account for the health and climate costs—as well as the rising price of fossil fuels—wind, water and solar are half the cost of conventional systems," Jacobson said. "A conversion of this scale would also create jobs, stabilize fuel prices, reduce pollution-related health problems and eliminate emissions from the United States. There is very little downside to a conversion, at least based on this science."
Check out Jacobson's 2013 appearance on The Late Show with David Letterman, where he explains his plan of transitioning the country to clean energy.
YOU MIGHT ALSO LIKE
Hawaii Enacts Nation's First 100% Renewable Energy Standard
12 Reasons Why Solar Is Having an Explosive Year
We Could Power Entire World on Renewables by 2025, Says Global Apollo Program
Wikimedia Commons
By Stacy Malkan
Neil deGrasse Tyson has inspired millions of people to care about science and imagine themselves as participants in the scientific process. What a hopeful sign it is to see young girls wearing t-shirts emblazoned with the words, "Forget princess, I want to be an astrophysicist."
Keep reading...
Show less
www.youtube.com
By Andy Rowell
Any day now we will truly witness climate change in action. Within days at worst, maybe weeks at best, scientists predict that a huge section of the Larsen C ice shelf in Antarctica will break off into the ocean, in what is called a major "carving" event.
Keep reading...
Show less
www.youtube.com
President Trump visited Cedar Rapids, Iowa on June 21 to speak to a large crowd in the U.S. Cellular Center at a political rally organized by his campaign.
As Trevor Noah noted during The Daily Show episode last night (starts at 2:25), the real reason Trump has these rallies is to "get back in front of his loyal crowds and feed of their energy." Noah believes that "Trump supporters are so on board with their dude he can say anything and they'll come along for the ride."
Keep reading...
Show less
The Kamuthi solar plant in the southern Indian state of Tamil Nadu.
The rapid growth in renewable energy continues to put a dent in the demand for coal.
Coal India, the world's biggest coal mining company and producer of 82 percent of the country's coal, announced the closure of 37 mines that are financially "unviable."
Keep reading...
Show less
www.youtube.com
By Katie O'Reilly
Two years ago—long before coal became one of the most dominant and controversial symbols of the 2016 presidential election—Bloomberg Philanthropies approached production company RadicalMedia with the idea of creating a documentary exploring the U.S. coal mining industry. Last spring, they brought on Emmy-nominated director Michael Bonfiglio, tasked with forging a compelling story out of the multitudes of facts, statistics and narratives underlying the declining industry.
Keep reading...
Show less
Mayors for 100% Clean Energy
Keep reading...
Show less
www.youtube.com
Thanks to Newsy for their coverage on Thursday's news that the U.S. Fish and Wildlife Service removed grizzly bears in the Greater Yellowstone region from the Endangered Species List.
Watch above as Newsy explains that the decision comes despite serious concerns from the environmental and scientific community, and Tribal Nations about a declining, isolated grizzly bear population with diminishing food resources and record-high mortalities.
Keep reading...
Show less
www.facebook.com
By Francine Kershaw
Seismic airguns exploding in the ocean in search for oil and gas have devastating impacts on zooplankton, which are critical food sources for marine mammals, according to a new study in Nature. The blasting decimates one of the ocean's most vital groups of organisms over huge areas and may disrupt entire ecosystems.
And this devastating news comes on the heels of the National Marine Fisheries Service's proposal to authorize more than 90,000 miles of active seismic blasting. Based on the results of this study, the affected area would be approximately 135,000 square miles.
Keep reading...
Show less
By Jill Richardson
Is coconut oil:
good for you
bad for you
neither good nor bad
scientists don't know
The subject of this question is the source of a disagreement. Initially, the question was thought to be settled decades ago, when scientist Ancel Keys declared all saturated fats unhealthy. Coconut oil, which is solid at room temperature, is a saturated fat.
Keep reading...
Show less


Get EcoWatch in your inbox