This website uses cookies to ensure you get the best experience while browsing it. By clicking 'Got It' you're accepting these terms.
Ditching Fossil Fuels and Switching to 100% Renewables No Problem, Says Stanford Study
Jun. 11, 2015 11:30AM EST
Business
Is it possible for the U.S. to ditch fossil fuels? The answer is yes, according to researchers and engineers from Stanford University and U.C. Berkeley, who have developed a state-by-state plan to convert the country to 100 percent renewable energy in less than 40 years.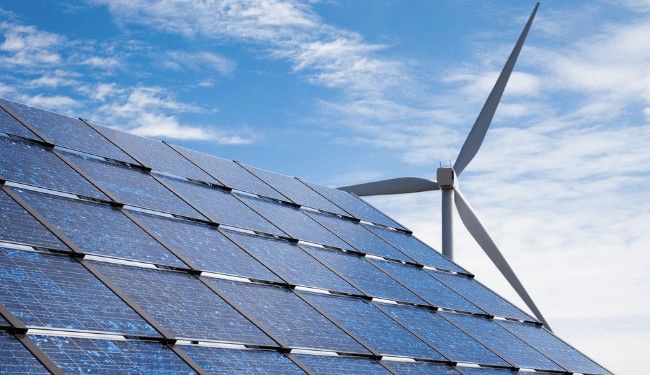 Photo Credit: Shutterstock
The study, published in the Energy and Environmental Sciences, showcases how each state can replace fossil fuels by tapping into renewable resources available in each state, such as wind, solar, geothermal, hydroelectric, and even small amounts of tidal and wave power.
The report, led by Stanford civil and environmental engineering professor Mark Z. Jacobson and U.C. Berkeley researcher Mark Delucchi, argues that converting the current energy infrastructure into renewable energy will help fight climate change, save lives by eliminating air pollution, create jobs and also stabilize energy prices.
You can check out an interactive map summarizing the plans for each state at The Solutions Project, an organization of scientists, business leaders and other forward-thinking minds with a mission of accelerating the world's transition to 100 percent clean, renewable energy.
The project's concept has attracted high-profile funders including the Elon Musk Foundation and Leonardo DiCaprio Foundation, according to The Plaid Zebra.
Board members of The Solutions Project include notable environmental advocates including filmmaker and founder of the the International WOW Company Josh Fox, co-founder and president of Mosaic Billy Parish, and actor and noted environmentalist Mark Ruffalo.
Stanford engineers develop state-by-state plan 2 convert U.S. to 100% clean, renewable energy by 2050 https://t.co/SIVHGHGCNk via @Stanford

— Mark Ruffalo (@MarkRuffalo) June 9, 2015
Undoubtedly, the plan involves a lot of difficult and expensive changes, but the authors believe that the complete transition to renewables is economically and technically viable.
"The main barriers are social, political and getting industries to change. One way to overcome the barriers is to inform people about what is possible," Jacobson said. "By showing that it's technologically and economically possible, this study could reduce the barriers to a large scale transformation."
According to a news release, the study's authors examined each state's current energy usage in four sectors: residential, commercial, industrial and transportation. For each sector, they then analyzed the current amount and source of the fuel consumed—coal, oil, gas, nuclear and renewables—and calculated what the fuel demands would be if replaced with electricity. (This includes all the cars on the road becoming electric, as well as homes and businesses fully converting to electric heating and cooling systems). They then calculated how this new electric grid could be powered using only renewable energy resources available in each state.
"When we did this across all 50 states, we saw a 39 percent reduction in total end-use power demand by the year 2050," Jacobson said. "About 6 percentage points of that is gained through efficiency improvements to infrastructure, but the bulk is the result of replacing current sources and uses of combustion energy with electricity."
Check out South Carolina, for instance (you can see the infographics for the other 49 states here):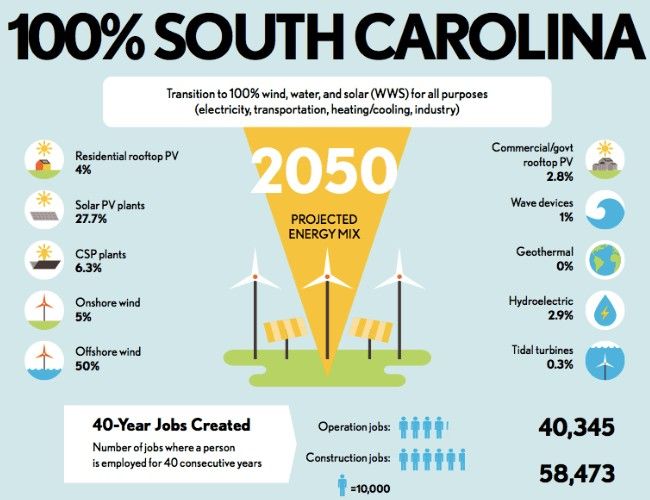 The good news is that several states are already on their way. For example, Washington state already meets 70 percent of its current electricity needs from existing hydroelectric sources.
Yes, the upfront cost of the massive conversion would be expensive, however the study's authors argue it would even out over time and the environmental benefits are clear.
"When you account for the health and climate costs—as well as the rising price of fossil fuels—wind, water and solar are half the cost of conventional systems," Jacobson said. "A conversion of this scale would also create jobs, stabilize fuel prices, reduce pollution-related health problems and eliminate emissions from the United States. There is very little downside to a conversion, at least based on this science."
Check out Jacobson's 2013 appearance on The Late Show with David Letterman, where he explains his plan of transitioning the country to clean energy.
YOU MIGHT ALSO LIKE
Hawaii Enacts Nation's First 100% Renewable Energy Standard
12 Reasons Why Solar Is Having an Explosive Year
We Could Power Entire World on Renewables by 2025, Says Global Apollo Program
EcoWatch Daily Newsletter
Bird watching in the U.S. may be a lot harder than it once was, since bird populations are dropping off in droves, according to a new study.
Amazon CEO Jeff Bezos announces the co-founding of The Climate Pledge at the National Press Club on Sept. 19 in Washington, DC. Paul Morigi / Getty Images for Amazon
The day before over 1,500 Amazon.com employees planned a walkout to participate in today's global climate strike, CEO Jeff Bezos unveiled a sweeping plan for the retail and media giant to be carbon neutral by 2040, 10 years ahead of the Paris agreement schedule.
For the past seven years, the Anishinaabe people have been facing the largest tar sands pipeline project in North America. We still are. In these dying moments of the fossil fuel industry, Water Protectors stand, prepared for yet another battle for the water, wild rice and future of all. We face Enbridge, the largest pipeline company in North America, and the third largest corporation in Canada. We face it unafraid and eyes wide open, for indeed we see the future.
The climate crisis often intensifies systems of oppression. Rieko Honma / Stone / Getty Images Plus
By Mara Dolan
We see the effects of the climate crisis all around us in hurricanes, droughts, wildfires, and rising sea levels, but our proximity to these things, and how deeply our lives are changed by them, are not the same for everyone. Frontline groups have been leading the fight for environmental and climate justice for centuries and understand the critical connections between the climate crisis and racial justice, economic justice, migrant justice, and gender justice. Our personal experiences with climate change are shaped by our experiences with race, gender, and class, as the climate crisis often intensifies these systems of oppression.

Lana Del Rey: "call her Doris Doomsday." Darren Gerrish / BFC / Getty Images Entertainment
By Emer McHugh
Popular music has, and always will be, informed by the political and social contexts from which it emerges.
It was early in the morning last Thursday, and Jonathan Butler was standing on the Fred Hartman Bridge, helping 11 fellow Greenpeace activists rappel down and suspend themselves over the Houston Ship Channel. The protesters dangled in the air most of the day, shutting down a part of one of the country's largest ports for oil.
By C.J. Polychroniou
Climate change is by far the most serious crisis facing the world today. At stake is the future of civilization as we know it. Yet, both public awareness and government action lag way behind what's needed to avert a climate change catastrophe. In the interview below, Noam Chomsky and Robert Pollin discuss the challenges ahead and what needs to be done.
Food manufacturer General Mills issued a voluntary recall of more than 600,000 pounds, or about 120,000 bags, of Gold Medal Unbleached All Purpose Flour this week after a sample tested positive for a bacteria strain known to cause illness.